From beauty boxes to meal kits and wine clubs to clothing subscriptions, My Subscription Addiction has reviewed a seemingly endless amount of subscription boxes.
If you think your mailbox is crowded, you should see ours. We've had everything from trendy workout gear and sparkly jewelry to cured meats and diapers delivered to our doorstep, so it's no wonder that our experts, writers and reviewers get asked the same question again and again: "What subscription box would you recommend?"
And with good reason. Over the years, the MSA team has discovered that there's truly a subscription box for everything (there's even one made specifically for diehard fans of the television show Friends). Despite reviewing thousands of products, subscriptions, kits and boxes, what we've realized is that there's a small core group that have truly stood the test of time.
These 13 monthly subscription boxes deserve top honors because they continue to set the standard for what a subscription should be. They're the best of the best and just keep getting better.
The Absolute Best Monthly Subscription Boxes of All Time
Why It's One of the Best: Love brands like tarte, MAC, Make Up For Ever and more? If so, then you've got to subscribe to Ipsy.
This monthly beauty subscription launched in 2012 and has consistently delivered an incredible value (around $50) in beauty products since. Popular and affordable, our readers have crowned Ipsy one of their favorite beauty subscriptions several years in a row. Each month, you'll get five full- and/or deluxe-size makeup, skincare, haircare and beauty products, all delivered in a makeup bag so cute, you might be tempted to use it as a clutch.
You'll take a quiz upon signing up so your deliveries align with your tastes and preferences, but your box will be a surprise. Plus, you can rate all the items you receive, so your products become more customized over time.
Cost: $12 per month. Sign up here.
Why It's One of the Best: Bespoke Post describes itself as boxes for people "who give a damn" and we couldn't agree more.
Launched in 2011, Bespoke Post is a high-quality men's monthly subscription box service that gives you a "mini lifestyle upgrade" in each box. Each month they expertly curate several new boxes around a theme. Last month's theme was "Off-Duty" and the box included a super soft long-sleeve t-shirt from Bread & Boxers Melange Long Sleeve Crew Neck (with a retail value of $34.95) and comfy, 100% organic sweatpants from Bread & Boxers valued at $59.95. Another Bespoke Post theme? The "Kempt" box, which focused on grooming. It included shampoo, conditioner and even a mud mask.
The subscription supports customization, as well. Subscribers can select which they want from new or past boxes — or skip that month. Think of Bespoke Post as a way to upgrade one aspect of your life every month. The value is consistently higher than the cost of the box, too.
Cost: $45 per month. Sign up here.
Why It's One of the Best: Even pets love a good mail day, which could be the reason why BarkBox is a reader-favorite monthly subscription box service for dogs.
While you're enjoying your latest subscription box, your pooch could be reveling in some surprises of their own. In each high-quality box, your pup will receive two bags of all-natural dog treats made in the U.S. or Canada, two innovative toys, and a chew, all inspired by a quirky new monthly theme. Past collections have been based around themes like "Dogsgiving," "Peanuts," and "Lick or Treat."
There's even a "super chewer" option for dogs who seem to destroy every toy they come in contact with or can't get enough of tug of war (sounds ruff). Prices start at $23 a box for a 12-month plan and include free shipping inside the 48 contiguous United States. Each box is valued at over $40.
Cost: $29.00 per month. Sign up here.
Why It's One of the Best: Allure magazine readers, rejoice! There's a box that brings the pages of the beloved beauty publication to life.
If thumbing through the latest issue of Allure isn't enough to get your makeup, haircare and skincare fix, it's time to sign up for the Allure Beauty Box, a monthly subscription box created by the experts and editors at Allure. Each month, subscribers receive deluxe- and full-sized beauty and makeup items, making it an easy way to try beauty trends and discover new brands.
While the box will cost you $23 a month, the six items inside will have a total value of over $100. Our most recent delivery included a full-size bottle of  U Beauty Resurfacing Compound (which boasts a retail value of $148.00), Christophe Robin Daily Hair Cream (valued at $43), Floss Lip Advocate in Your Honor (valued at $18), Madeca Derma Revitalizing Sheet Mask ($1.99), a sample of La Roche-Posay Anthelios Melt-in-Milk Sunscreen for Face & Body SPF 100, (estimated value $1.39) and Sisley Black Rose Cream Mask (estimated value $28.67). It's easy to see how the value of this box far outweighs the monthly subscription cost.
Need more convincing? Read our latest reviews of the Allure Beauty Box and learn more about newly launched products, beauty award-winners, and the occasional indie-beauty-brand find, too.
Cost: $23 per month. Sign up here.
ACTIVE DEAL: Expiring Soon! Get your first box for $16 (30% off) + a Free MILK Makeup Mascara
CODE: MILK
Why It's One of the Best: Looking for a meal kit subscription that will dazzle your tastebuds and add convenience to your dinnertime routine? HelloFresh is MSA's pick for best all-around meal delivery service, and it's one of our favorite all-time monthly subscriptions. You can't go wrong with this fan-favorite meal kit!
HelloFresh offers a variety of different subscription plans, and subscribers are able to choose from six different options to suit a variety of diets and lifestyles. Each one offers a slightly different subscription journey, but they all have a few things in common. All subscribers receive fresh ingredients and chef-designed recipes, and all of the meals are ready in about 20 minutes or less.
Cost: Starting at $56.95 per box. Sign up here.
ACTIVE DEAL: Limited Time Only! 65% Off your First Box, First Box Ships Free. No coupon needed - just use this link.
Why It's One of the Best: Menlo Club is one of our favorite clothing subscriptions for men for a number of reasons. Launched in 2002 by two best friends who met at USC (they used to be known as Five Four Club), Menlo Club provides quality men's clothing at a really fair price. Here's how it works: For $60/month, you will receive a delivery of Five Four, Grand AC athletic wear, or New Republic products. A recent box, which was curated around the theme "Comeback Kid," included a soft and comfortable 100% cotton button-down shirt in tones of grey and white and a classic-looking, cozy half-zip pullover sweater in black.
On average, you'll receive two items per month and every month is different. It's easy to exchange sizes, too. There's free shipping, and you can pause or cancel your account at any time. It's an easy way to update (or upgrade) your wardrobe, as noted by our Menlo Club reviews.
Cost: $60 per month. Sign up here.
Why It's One of the Best: Sometimes, looking for your next good book is a struggle. There's so many titles to choose from! Do you go with the bestseller? Try a new author? Finally order a copy of that title everyone's been talking about or simply ask your well-read friends for advice? Book of the Month wants to take the guesswork out of the next book you dive into. A fun and super easy way to ensure there's always a good book on your nightstand, this highly customizable subscription features a variety of genres so there's always something to pique your interest (and maybe even push you out of your comfort zone).
Here's how it works: Every month, you'll choose a new hardcover title from five options (take a look at their latest options here). As you turn the pages, you're actually reading alongside the Book of the Month community, which is just like joining a big, friendly book club. Your first book is $9.99 and after that, $14.99 a month. That's much more affordable than buying a brand new hardcover book at full price.
Even better? Oftentimes, you'll get access to newly released books before they are available for sale, too. So, subscribe and soon enough, you may become the friend others come to for book recommendations.
Cost: $14.99 per month. Sign up here.
8. BeautyFIX
Why It's One of the Best: Paging everyone totally obsessed with their skincare routine.
Step away from your bathroom mirror and toward your new favorite subscription: BeautyFIX. Created by the minds behind Dermstore, a one-stop-shop for skincare and beauty products, this month subscription brings the best in beauty to your doorstep. Each month, subscribers receive a mix of six or more full- and deluxe-travel-size products.
Previous boxes have included big name brands like Avene (which calls itself the leading skincare line in European pharmacies), Paula's Choice (cruelty-free, research-based skincare), Skinceuticals (a celebrity favorite), ByTerry, Jane Iredale and Juice Beauty.
Our most recent BeautyFIX review included Juice Beauty Bamboo Pore Refining Mask, .5 fl oz (valued at $9), Sachajuan Scalp Shampoo, 1 fl oz. (valued at $3.45), SkinCeuticals Phyto Plus, 4 ml (estimated value $11.60), Dr. Dennis Gross Skincare Alpha Beta Universal Daily Peel, 3 pack (estimated value $8.80), IMAGE Skincare I MASK Firming Transformation Mask, 2 oz. (retail value $55.00), and Dermstore Collection Plush Spa Headband (retail value $12.00).
Cost: $24.95 per month. Sign up here.
Why It's One of the Best: Simply put: Stitch Fix is the original online personal styling service, and it's still one of the best.
Launched in 2011, Stitch Fix's mission is to change the way people find clothes they love by combining technology with the personal touch of seasoned style experts. Their goal is to help you save time while evolving your personal style over time. Over the years, Stitch Fix has grown from catering to just women in a certain size range, to covering all sizes (plus size, maternity, petite). There are also options for men and kids.
Here's how it works: You'll fill out a profile, which gives your stylist all the info they need to send you five items they think you will love. That stylist is pulling from an extra deep closet full of classic pieces and trends you might want to try. They've got everything from comfortable down vests to of-the-moment tapered joggers to little black dresses (they've even got coatigans — a hybrid of a cardigan and a coat — that you can read all about in our most recent Stitch Fix review).
Tell your stylist what price range you want to make sure you stay within your budget. (If you keep all five items, you'll receive a 25% total discount.) If your first Fix isn't a perfect fit, don't worry. It usually takes a few tries with your feedback to get into a groove. You can schedule deliveries as you need them or on a regular basis.
Cost: $20 non-refundable styling fee per delivery. Sign up here.
Why It's One of the Best: Kiwi Crate has mastered making learning fun.
Every month, the minds at KiwiCo create hands-on science projects designed to spark curiosity and encourage discovery for children of all ages. Inside, kids receive all the supplies necessary for learning-based activities. Projects included in this subscription from KiwiCo cover a number of developmental areas including science, technology, engineering and art through problem-solving and imaginative play.
While Kiwi Crate box is suitable for ages 5 to 8, KiwiCo also offers a number of other subscription boxes for children of all ages.
Cost: $19.95 a month. Sign up here.
ACTIVE DEAL: Get your first month free with a 6 or 12 month subscription with code FUN
CODE: FUN
Why It's One of the Best: Winc is the original wine subscription box. Formerly known as Club W, Winc has reimagined the traditional wine club with their regularly-changing selection of small production wines that are sourced directly from vineyards and winemakers.
Whether you're new to wine or you've got a very particular palate, your Winc subscription will begin with a fun and easy survey where you can indicate your preferences. If you're not sure what your preferences are, or aren't super knowledgeable about wine, don't worry: The questions are designed to be easy for novices and the knowledgeable. Based on your answers, Winc suggests unique, affordable wines designed to please your palate. Not so sure about one of their recommendations? Changes can be easily made to your shipment.
A recent delivery included NV Finke's™ Brut Sparkling White Wine, a drink, bubbly beverage, 2019 L'Atelier du Sud® Viognier, which boasted floral and citrus notes and 2017 Matchlock Merlot, a jammy, berry-forward pour.
Curious about what else you can expect? Read our Winc reviews here.
Cost: Bottles start at $14.99. Sign up here.
Why It's One of the Best: Ready for a close, clean shave? Enter Dollar Shave Club, a subscription that totally transformed the way we think about razors.
While it was one of the original razor cartridge subscription services, Dollar Shave Club's product line has expanded and it now offers a range of unisex grooming products like toothbrushes, toothpaste, lotion, moisturizer, shave butter, shave gel, and shaving cream.
Upon signing up, new customers will fill out a grooming plan questionnaire to create a starter kit fully customized to their needs, or opt to purchase items a la carte. This super flexible approach to subscriptions and shopping means it's easy to keep your medicine cabinet stocked. There are no long-term commitments and it's easy to cancel.
Need more reasons to subscribe? Read our Dollar Shave Club reviews.
Cost: Starts at $5.00. Sign up here.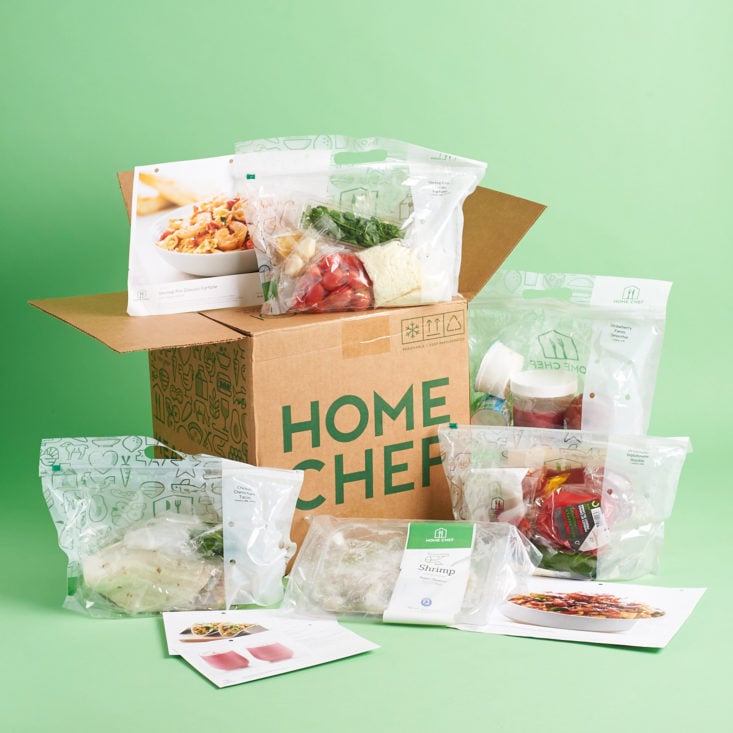 Why It's One of the Best: There are so many meal kit subscriptions to choose from, it can be hard to tell which one is best suited to your needs.
However, Home Chef is the meal kit subscription that every reviewer at MSA seems to agree on. There's a number of reasons why it's made this list: fresh ingredients, easy-to-follow recipes, an ever-changing menu of recipes ... the list goes on and on.
Here's how it works: Each week subscribers can browse Home Chef's rotating collection of recipes (which include vegetarian options) and make their selections for meals that will serve two, four or six people. After you've made your decisions, you'll receive chilled boxes of ingredients (meats, produce, spices, and more) as often as once per week in your meal delivery kit.
A recent delivery included delicious dishes like the oh-so-satisfying Pomodoro Pulled Pork Cavatappi,  Tex-Mex Pork Chili with Cheddar Tortilla Dippers (which was prepared in just 20 minutes!), and tasty Sweet Teriyaki Pork Lo Mein with Broccolini. Yum.
Cost: Meals start at $9.95 per serving. Sign up here.
Why It's One of the Best: Since 1901, Nordstrom has delivered fashion to the masses. Now, they'll deliver it to your doorstep with Trunk Club, the beloved department store's online personal styling service that aims to take the guesswork out of clothing subscriptions.
Here's how it works: After filling out a profile designed to inform your personal stylist of your sizing, preferences, and budget (pieces tend to retail anywhere from $40 to $300), your dedicated stylist will curate six to 12 high-quality clothing and accessory pieces. The best part? You get to review their choices before it ships. That means there will be no surprises and you'll only receive items you've approved.
After you receive your box, you'll only be charged for the items you keep. And while Trunk Club can be a subscription, it doesn't have to be. You can control the frequency of your deliveries and choose to order shipments on a one-off basis or make it a recurring thing.
Need to know more? Take a look at our Trunk Club reviews.
Cost: $25 non-refundable styling fee per box. Sign up here.
---
Looking for more subscription boxes? Check out our list of subscription boxes that you can try for $10 or less.