Books are magical little things. Anyone who is a book nerd already knows this, of course, but it's still astounding that something so small can make you feel such big and extraordinary things. They can transport you back in time, launch you into space, fulfill your secret desires, make you laugh until you cry (or just straight up make you cry), and make you become if only for a moment, someone else entirely. I can't think of anything else on this planet that holds that kind of power. Can you?
It's no surprise then that there is a multitude of book subscription boxes to choose from. With almost every age group, in every genre, and at every length of book covered, you will be able to find one that works for you. But, which one is that?
Well, every year, we ask our readers to share their top recommended subscriptions of all types. Then we ask our experts to share what they know about each subscription to make it easy for you to know which subscription is right for you. Below, you'll find our insights for shopping the best book subscription boxes and see our readers' top choices for every genre out there.
Top Subscription Boxes Featured In This List
And more! Keep reading to see the full details of the top subscriptions plus many more recommendations.
What To Look For When Shopping Book Subscriptions
There are a couple obvious things you will want to look for and a few not-so-obvious ones. First, who are you purchasing this subscription for? Yourself? Your kids? Your best friend? Make sure you know what genres they are interested in before buying. The last thing you will want to do is accidentally buy a romance novel subscription for your husband who prefers non-fiction books (or maybe that would work out in your favor!?).
Next, don't get in over your head. You know yourself best. How much free time do you have and how much time is dedicated to reading? Do you forego the Netflix binging of Emily in Paris to read your latest book? Or does it sit on your nightstand only to get picked up occasionally when you have time for a warm bath and a glass of wine? Make sure to choose a subscription that is doable for you and doesn't have you piling up books in your home hoping to "one day" get to them.
Some book subscriptions will also include other items in addition to the books like coffee, cute knick-knacks, and warm cozy socks to read in. If this is something you are interested in, then be sure to look for these over the subscriptions that send books alone.
So now, read on for our reader's recommendations for the best book subscription boxes for bibliophiles currently available. If we missed anything, drop us a comment. If you've tried one of these services, be sure to leave a quick review (even if you had a poor experience — your review can help other readers avoid subscription remorse).
The Most Popular Book Subscription Boxes
Read on for our reader's recommendations for the best book subscription boxes currently available. If we missed anything, drop us a comment. If you've tried one of these services, be sure to leave a quick review (even if you had a poor experience — your review can help other readers avoid subscription remorse).
Best Book Subscription for the Serious Reader
What's In This Book Subscription Box?
The OG subscription box is always a recurring favorite among our community of readers! Book of the Month is not only the oldest subscription box, but it has re-invented itself time and time again to consistently become one of the most popular ones out there.
The BOTM team selects five new hardcover books for subscribers to choose from. You pick which title you'd like to receive on the first of the month, or you can let Book of the Month choose for you. If you're not ready for a new title yet, you can choose to skip the month. Alternatively, if you're tearing through books, you can add up to two additional books to your order for $9.99 each!
Who Is This Subscription Good For?
Pretty much anyone that is a serious reader and wants to receive some of the best and newest books out there. You can browse each month's selections before you sign up which include new and early releases, Oprah's book club selections, Young Adult picks, and more. You can browse from a huge library of selections to make your monthly choice, including thrillers and nonfiction, too.
Pros
Books are chosen by readers, for readers
Widest selection of all the book clubs on this list
Easily skip months
Cons
Just books, there are no included fun add-ons
Only ships to US and military addresses
What Readers Say:
"Your no fuss box. Just a great book choice for a great price." - Nikkiaust17

"Couldn't be happier with Book of the Month!" - Ellie

"From one of the original book subscription boxes that remains head and shoulders above the othes. I tried several but went back to the Book of the Month Club because of their offerings." - Debra
Shipping: Only ships to US or military addresses. Shipping is always free!
Best Book Subscription for the Young Adult Genre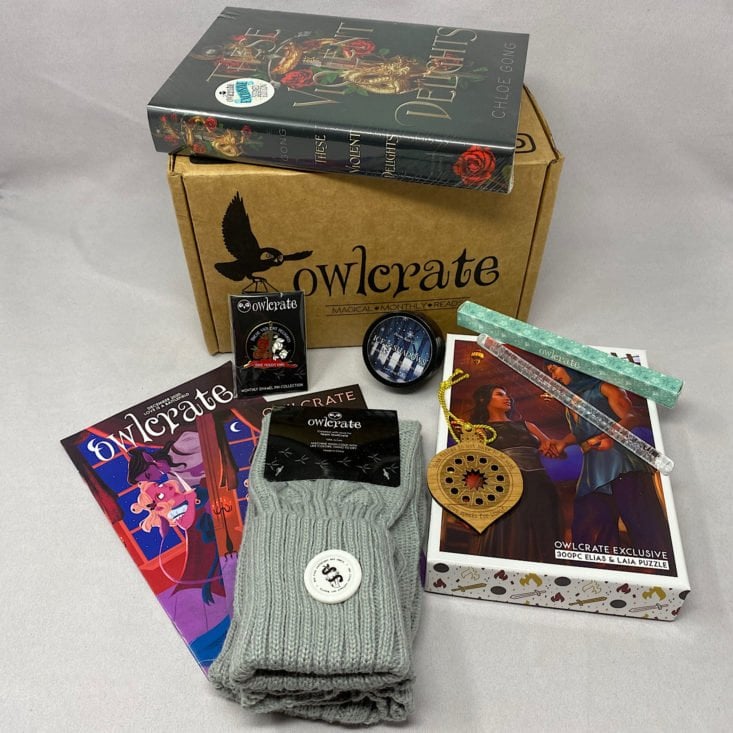 What's In This Book Subscription Box?
OwlCrate may be a YA book subscription, but adults love it, too! With your monthly membership, you'll receive a box featuring a new young adult title, accompanied by bookish items such as pins, accessories, small home goods, and other treats relevant to the theme. It's a whole literary experience designed to surprise and delight!
Who Is This Box Good For?
Anyone who enjoys reading books within the YA genre. (Don't deny it, you know you've got the full Harry Potter series stashed away.) The YA genre is actually incredibly diverse and you can find some fantastic book selections within its realm.
Pros
YA genre that is good for all ages
Extra goodies included
Cons
What Our Readers Say:
"95% of the items in the OwlCrate box are actually things I currently use. If not, it is perfect to gift. I have not been disappointed by one box yet in over a year." - Yolieville
"OwlCrate almost always give me a book I was wanting to read, or a book I never wanted to pick up but ended up loving. The extra goodies are more substantial and useful than other book boxes I've tried." - Sofia
"You get some fun items along with the book." - JodyE
Shipping: Ships worldwide. Shipping rates will be dependent on your country. US-$8.99, Canada-$14.99
Not ready to buy? Add it to your Or, if you want to learn more, check out all our
OwlCrate reviews
.
Best Book Subscription to Fully Immerse Yourself in the Pages
What's In This Book Subscription Box?
If you think opening a literary subscription box each month is fun, just wait 'til you see what Once Upon A Book Club has in store! This sub sends a new book each month, paired with small gifts and surprises to coordinate with pages. Open each gift as you read and get ready to feel fully immersed in the story. This unique take on a monthly book club is great for readers young and old, and makes an exciting gift subscription, too!
Who Is This Subscription Good For?
Anyone wanting to really get lost in the pages. Yea, we know this happens most of the time already, but with Once Upon A Book Club's unique subscription, it is even easier to do so! Past books have included mystery, historical fiction, contemporary fiction, and magical realism. They also offer a Young Adult box that features fantasy, sci-fi, contemporary, mystery, and more.
Pros
Book accessories help to make you feel as if you are truly "in the book"
Offer adult and young adult genres
Cons
Free shipping is only within the US
What Our Readers Say:
"Once Upon A Book Club is amazing. The work and details gone into this box are outstanding. A true treat." - Hallie
"Curated specifically toward the new release picked for the box, Once Upon a Book Club's gifts are perfect for anyone from the avid reader to the newbie. Once Upon A Book Club has great customer service and an extensive array of social media platforms that are fun, engaging, and helpful for the customer." - A
"Fantastic! I love how Once Upon A Book Club really brings the books to life!" - Wendy Waltrip
Shipping: Worldwide (with the exception of the UK). Free shipping within the US and Canada - $10, Internationally - $26.50
Best Book Subscription for the Youngest Readers
What's In This Book Subscription Box?
Lillypost will deliver four board books, three picture books, or a mixture each month, depending on your child's age. Plus, enjoy fun extras like stickers featuring their mascot Finley the Fox and details on their monthly coloring contest. For every box they ship, Lillypost also donates a book to a child in need. They have donated over 200,000 books to children across the US.
Who Is This Subscription Good For?
Children who are just getting into reading and learning how to read. Grab this subscription for any child in your life who loves books. This subscription starts with board books for the tiniest of readers up until your child is about 7 years old. If your child is already onto beginner chapter books, this subscription may be too young for them, so be sure to check out a few of our other children's book subscription boxes below!
Pros
They donate to children in need with the purchase of your subscription
Has a great "in-between" stage with both picture books and board books
Cons
What Our Readers Say:
"The boxes are thoughtfully assembled and always have quality books. It is my go-to gift for baby showers and birthdays!" - Nicole
Shipping: US and Canada, $4.95 shipping to the US, $7.95 shipping to Canada
Not ready to buy? Add it to your Or, if you want to learn more, check out all our
Lillypost reviews
.
Best Book Subscription That Is Not Actually a Book Subscription
What's In This Book Subscription Box?
Hunt a Killer is a monthly interactive subscription box that transforms you into a detective hot on the trail of a serial killer. It's all the thrill of watching your favorite true crime show or doing an escape room delivered to your door! Each month, you'll receive police files, case files, autopsies, evidence, pictures, audio files, and more—items that will immerse you in the experience and which you'll have to interpret in order to solve the mystery. Play alone or with friends. Need help? Check out their community of over 100,000 active members.
Who Is This Box Good For?
Live with someone who thinks they are a master crime-solver? Yep, this is the box for them! Let them play out all of their crime-fighting fantasies and have a fun night together while solving a new mystery each month. This isn't your usual suspect (see what I did there?) when it comes to book subscription boxes, but is a fun and unique way to read and use those critical thinking skills.
Pros
Fun for the whole family (get that competitiveness going!)
Ships worldwide
Cons
Once you've solved the mystery, you can't really go back and play again
Can be a little pricey
What Our Readers Say:
"I love the concept of Hunt A Killer." - Lola
Shipping: Ships worldwide, shipping rates vary depending on the address.
Best Book Subscription for Getting Signed Books
What's In This Book Subscription Box?
Not sure which YA or romance book to read next? Let The Bookworm Box decide for you! This book subscription box has various levels to choose from and offers a great collection of titles and bookish accessories. Each box includes a book autographed by the author (yes, each one), and higher subscription tiers also include fun book-related items such as an author letter, access to the e-book, and more. We also love that The Bookworm Box is a 501c3 non-profit and donates a portion of the proceeds from each box to charity.
Who Is This Box Good For?
Readers of the YA or Romance genres who also want to give back to people and communities in need. Plus, it's pretty cool to have a signed copy of every book that shows up at your door. I mean, who wouldn't want that!?
Pros
Digital subscription available
Signed books
Both adult and YA genres
Cons
There is no one-off box option to see if you like it (although you can just cancel after your first box ships)
They sell out quickly since they include autographed copies of the books and only receive so many
Shipping: US and internationally, Free US shipping and $14.95 Internationally
Active Deal
15% off first time subscribers
Use Coupon Code
BOOKWORMSFORACAUSE
Shop Bookworm Box
Best Book Subscription for the Bookish Extras

What's In This Book Subscription Box?
The FairyLoot box is a fantasy-themed YA book subscription that will send subscribers a hard-cover book each month along with 4-5 fun book accessories. Past accessories have included travel mugs, blankets, key chains, socks, and even an umbrella for those rainy (perfect reading weather) days!
Who Is This Box Good For?
The FairyLoot box is intended for teens who love magical and mysterious literary worlds. Teens will love reading along with the FairyLoot community and enjoy showing off their book-themed accessories. This is a great subscription that helps to continue to foster a love for reading in the next generation!
Pros
Additional themed items that go along with the book
Have both a UK and US/Canada site to help keep prices low on shipping
Cons
Currently a waitlist
If you want to skip a month, you have to cancel your subscription and then go back on the waitlist
Shipping is not free
Note: There is a waitlist as of October 2021 that you will have to join before gaining access to this limited subscription
Shipping: Ships internationally, shipping rates vary depending on country. US - $9.99-10.99, US Territories -$22.99, Military addresses: $22.99, Canada: $16.99
Not ready to buy? Add it to your Or, if you want to learn more, check out all our
FairyLoot reviews
.
Best Book Subscription That Will Have You Binge Reading All Night Long
What's In This Book Subscription Box?
The Bookish Box subscription offers a plethora of options, inviting you to sign up for the precise literary experience you're looking for. Offering many combinations of YA and adult books, The Basic box includes one book per month, while The Elite box offers one book plus 3 to 5 bookish novelty items!
Who Is This Subscription Good For?
Readers of fantasy, mystery, or thriller books. They offer both YA and Adult genres, making this a great combo subscription box for anyone looking to read while also showing off their love of books with fun accessories, including shirts, stationery, skincare products, candles, and more. All extra accessories are centered around an exciting theme each month.
Pros
Offers both Adult and YA genres
Includes extra book accessories to get into the reading mood
Cons
You can't skip a month, you have to actually cancel your entire subscription and then sign back up again the next month--which is a huge pain
They sell out quickly
Shipping: US and Internationally (excluding UK and Mexico), Shipping is free within the contiguous US
Best Book Subscription for the Reader of All Things Magical
What's In This Book Subscription Box?
LitJoy Crate offers readers two different subscription boxes. You can either subscribe to the Young Adult or the Magical boxes. The YA has three options: Young Adult Crate which comes with one signed YA book and 4-6 book-themed items, the Young Adult Book-Only which is just the signed book, or the Young Adult Item-only subscription, which is pretty much as it sounds, with only the fun book-themed items being included.
The next option is the Magical subscription which is shipped quarterly and includes a book and 6-8 themed book items.
Who Is This Box Good For?
While the box is marketed towards the YA group, it can be enjoyed by anyone who loves YA or the magical realm! The magical boxes are appropriate for children as young as eight years old, but many adults subscribe to one or both!
Pros
Offers both Young Adult and Magical genres
Includes signed books
Includes themed items
Cons
Shipping: Ships worldwide (excluding Israel, Mexico, Philippines, and South Africa), Shipping rates are dependent on country and carrier
Not ready to buy? Add it to your Or, if you want to learn more, check out all our
LitJoy Crate reviews
.
Best Book Subscription for...(Well, the Name Says It All!).

What's In This Book Subscription Box?
Read, Relax & Recharge by Introverts Retreat is a monthly book subscription box that curates and combines literary favorites and self-care practices. Each box comes with a novel written by a female author along with a sweet snack, beverage, candle, bath salts, or soaps. You can pick a specific book to be delivered, or let Read, Relax & Recharge choose a novel for you from their wide variety of genres (general fiction, romance, mystery/thriller, or young adult are all available).
Who Is This Subscription Good For?
This is the perfect subscription for anyone who values high-quality, self-care products — and hey, we think a good book is the perfect self-care accessory. Past items have included coffee, tea, candles, bath salts, and soap! Nothing better than making a warm cup of tea and relaxing in a hot bath while reading a great book!
Pros
You can choose your own book or let them pick one for you
You can just pay for a book subscription without the additional accessories
Cons
Only ships to the US
Shipping is not included
Shipping: US only, $10.00
Active Deal
Save 30% off your first box with a 3, 6, or 12-month subscription
Use Coupon Code
30PERCENT
Shop Introverts Retreat
Best Book Subscription For Kids of All Ages
What's In This Book Subscription Box?
Bookroo is a subscription box made just for kids from the ages of newborn to 12. Bookroo offers a Board Book Subscription (3 board books per month, ages 0-3), a Picture Book Subscription (2 hardcover picture books per month, ages 2-6), and a Chapter Book Subscription (2 chapter books per month, ages 7-10).
Who Is This Subscription Box Good For?
Children! Each book comes individually wrapped so your child can get even more excited about their monthly boxes. If you have two or more kids who would like to receive books, they offer a 15% sibling discount or you can choose to have the box alternate each month for the different ages.
Pros
Money-back guarantee (increasingly hard to find in subscription boxes)
If you receive a book you already have, they will send you a $5 off coupon when you send a photo of you re-gifting your duplicate book
Cons
What Our Readers Say:
"This is the cutest book club! I would never think to look at or get these books but I'm so happy that we got them. They are some of my favorite children's books I have read. Definitely worth a try." - Alonzo
Shipping: US only, $4.99
Not ready to buy? Add it to your Or, if you want to learn more, check out all our
Bookroo reviews
.
Best Book Subscription to Support an Independent Book Store
What's In This Book Subscription Box?
The Book Drop is a book subscription box from the independent bookstore Bethany Beach Books. They offer options for adults (including large print), young adults, middle-grade readers, and children. With multiple subscriptions to choose between, some plans include tea, coffee, or bubbly, whereas others offer a monthly jigsaw puzzle. Each book comes with a note from the shop explaining why they're eager to share the book with subscribers. Sign up to receive the genre group you're most interested in, then wait for your lesser-known title to arrive in eco-friendly packaging.
Who Is This Box Good For?
This subscription is really great for anyone. It includes all age groups with options for children, middle grade, YA, and adult readers. It even has options in large print as well! The Book Drop allows subscribers to read books they might not otherwise hear about. Plus your subscription helps an independent book store stay in business!
Pros
Supports an independent book store
Great for all ages and genres
Has plans that include a jigsaw puzzle as well
Cons
Puzzle subscription is currently only available to US readers
Shipping is not included
Shipping: US and International, US - $3.99, Canada - $20.99, Internationally - $29.99
Best Book Subscription That Is Tailored to Your Child
What's In This Book Subscription Box?
The Reading Bug Box is a book subscription box for children ages 0-13. The Reading Bug is actually an independent children's bookstore that wanted to bring its love for children's books to a broader audience. Hence, the Reading Bug Box was born! Each month your child will receive personally chosen books just for their age and reading level.
Who Is This Subscription Good For?
This box is great because it is one of the most tailored book subscription boxes out there. Before subscribing you will fill out a quiz where you can input your child's age and comfort level with books. The bookstore's staff will then individually handpick books out for your child. They do not send the same book to everyone, each month. This is definitely not a one size fits all book club. Therefore, this subscription box is great for any child aged 0-13.
Pros
Totally and completely tailored to your child
Books extend from ages 0-13 and can include any genre your child is interested in
Cons
Shipping: US and UAE, $2.99-shipping in the US, UAE is dependent on address
Best Book Subscription to Help Kids Learn About Diversity
What's In This Book Subscription Box?
Little Feminist's goal is to "diversify your bookshelf." Per the service's website, only 31% of children's books feature a female character, while only 13% feature a person of color. This book subscription club highlights authors with engaging new perspectives, and each shipment includes hands-on activities to bring the book to life. To that end, the curators spend about 6 months researching every selection and you will rarely be sent books that you could buy in stores.
Who Is This Subscription Good for?
Kid's ranging in age from 0-9. The books are all about body positivity, anti-racism, and inclusiveness and teach kids of all ages and genders how to be kind and inclusive to all.
Pros
Books you won't find in stores
Teaches kids inclusivity
Contains a parent letter on why the book was chosen and tips on how to get more out of the book
Cons
Can be a bit pricey
Only goes up to age 9
Shipping: Currently only to the US and Canada due to Covid shipping complications
Best Book Subscription to Diversify Your Library
What's In This Book Subscription Box?
Call Number is a Black literature subscription box that is carefully curated by its founder. As a librarian, Jamillah recognized the fact that there were very few books available for readers within the Black literature genre. By creating this book club, she hopes to make more Black authors known and show the world just how amazing many of these books are. Each quarter, a box will be delivered to your door that contains a book along with a custom spine label and catalog card for your organizational purposes. You'll also receive 2-4 bookish and library-related items that pertain to that month's book and theme. Call Number offers both fiction and nonfiction in book-only or complete box subscription plans, for a monthly, 3-month, or 6-month duration.
Who Is This Subscription Box Good For?
Any lover of books. While this subscription box is specifically curated to contain Black literature by Black authors, the books and stories themselves are for anyone who has a love of reading. And since the founder and curator of these boxes is a librarian herself, you know you are only going to get the best of the best. Choose from young adult, fiction, non-fiction, or indie genre boxes.
Pros
Multiple options including non-fiction and indie (self-published) books
Books are carefully curated by a librarian and will include a library packet (catalog card, spine label, label protector, and logo sticker)
Build up a much more diverse home library collection
Cons
Only ships quarterly
Shipping is not included
Shipping: Us only, shipping is dependent on address
Not ready to buy? Add it to your Or, if you want to learn more, check out all our
Call Number reviews
.
How to Get The Most Out of Your Book Subscription Once You've Picked
Once you've picked out the right box for you, follow our steps to help make sure you make the most of your new subscription.
Be sure to join any book club groups that your book subscription might offer. Some book club subscriptions offer private Facebook groups or community forums where you can chat about the book, ask questions, and have fun conversations with other like-minded book lovers!
If you find yourself having extra time on your hands, a lot of book subscriptions will allow you to adjust your book frequency or the number of books sent each shipment. Use this to your advantage and snag another book if you have a vacation coming up or just want to zone out from real life for a few days!
Many of these book subscriptions offer additional items within the box. They usually follow a theme and are recommended to use while reading your book. Make sure you do it! This can really help you dive even further into the book and the experience.
Loving your book subscription? Keep an eye on great deals they may release throughout the year and scoop one up for a fellow bibliophile. Book subscriptions make amazing gifts!
Factors We Considered When Reviewing These Book Subscriptions
This list features our fellow subscription fanatics' top choices, and we can confidently recommend the subscriptions above since we've researched and reviewed them all. Factors we considered when reviewing these book subscriptions include:
Quality - The book subscriptions above all pick quality titles and enjoyable reads. While you may not have heard of every author (one of the fun parts!), you can at least be assured that the books are vetted and chosen with care by the people behind these companies.
Price - Most book subscriptions have similar prices, although a few will be much on the pricier end. We make sure that what you get for your money is worth it!
Reviews - Our readers are a wealth of information when it comes to subscription boxes, so we make sure to read each one and take your thoughts into consideration!
That's it for the 2023 Subscription Box Award Winners in the Best Books category! Did your favorite literary subscription make the list?