If you're looking for motivation, inspiration, and high-quality gear to meet your health goals, fitness subscription boxes can help. These services offer everything from athletic apparel to full workout guidance, delivered on a regular schedule to help you build a better routine.
We asked our readers to give us their picks for the best fitness boxes available. These services have been vetted by real-world users (and we've thrown in promo links and coupon codes wherever possible to keep costs down). To make this list a little more useful, we've provided info to help you know exactly what you're getting in each delivery.
Top Subscription Boxes Featured In This List:
And more! Keep reading to see the full details of the top subscriptions plus many more recommendations.
What To Look For When Shopping for Fitness Subscriptions
When looking for any fitness subscription box that's right for you, it's important to consider what kind of fitness products you're looking to try. Some boxes cater toward fitness apparel for your active lifestyle; others introduce you to workouts, protein powders, and supplements to add to your fitness routine; and others look to show you accessories and equipment that cater to your exercise or health interests. With all of these different offerings, make sure the box you spend your money on will send you the products you're most excited about.
Most Popular Fitness Subscription Boxes
Ready to start sweating? Here are our readers' picks for the best fitness subscription boxes currently available. If we missed your favorite, leave us a comment (or head to the info page for each box to write a more detailed review).
Best Fitness Subscription Overall
What This Fitness Subscription Delivers
FabFitFun is one of our readers' all-time favorite subscriptions, and for good reason. This quarterly fitness subscription box features a variety of lifestyle and beauty items. In addition to high-quality cosmetics, apparel, and other goodies, you'll get access to FabFitFunTV, an online service with easy-to-follow exercise videos.
This service emphasizes the importance of a balanced approach to fitness — you'll get a wide variety of products with excellent overall value, curated to help you live your best life. Our readers are consistently impressed by the quality of this box, and they love the add-on program: Subscribers can order additional products at hefty discounts.
Pros
You can handpick a selection of items that come in your box
Every box comes with on-trend full-size items
Add-ons and pop-up sales feature great deals
Cons
Limited options for fitness items
You may see some overlap in products over time
What Our Readers Say:
"I think they always try to emphasize fitness as part of a balanced lifestyle, and I appreciate that." – TeacherMom

"Fabfitfun seems to support a very active lifestyle & encourage fitness whether it was vitamins & supplements, sliding workout disks, yoga gear, water bottles, etc., there is a ton of variety offered." – CaliGirlKatie
Best Box For: Women who want a steady supply of high-quality lifestyle products. This is also a great service for finding workout motivation; we can't say enough about the guided exercises on FabFitFunTV.
Shipping: Ships to the US and Canada.
Not ready to buy? Add it to your Or, if you want to learn more, check out all our
FabFitFun reviews
.
A Personal Stylist Subscription for Activewear
About This Fitness Subscription Box: Wantable Fitness is a personal styling subscription offering high-quality activewear. When you sign up, you'll take a quick quiz. A personal fitness stylist will take over from there — they'll hand-select the best leggings, sports bras, tops, bottoms, and outerwear to help you look (and feel) your best.
After receiving your box, you'll pay for the items you want to keep and send everything else back. The $20 styling fee applies to your total, and you'll receive a 20% discount if you keep 5 or more items.
We love personal stylist services, and Wantable is one of the best. Their fitness-specific subscription lets you explore new looks, and you'll be able to try everything before you buy it.
Pros
Boxes are created based on an in-depth quiz, so you will get items based on your fashion preferences
If you keep 5 or more items you get 20% off your order
You can go through the Wantable closet and request items for your next Edit
Cons
You only have 5 days to decide whether or not to keep your items
Some of the items are on the pricier side
Best Box For: People who want a hassle-free approach to activewear.
Shipping: Ships to the US.
A Fitness Subscription for Comfy Activewear
What This Fitness Subscription Delivers
Fabletics has quickly established its reputation as an apparel brand — its leggings are legendary.
With their VIP Flexible Membership, you'll get full fitness outfits at 40-50% off retail (and yes, that includes the yoga pants). Fabletics drops a new collection of women's products, patterns, and styles every week, and new arrivals arrive each month for menswear. You can shop the collection, skip the month, or save your monthly $49.95 credit for later.
Our readers love their figure-flattering pieces, plus-size offerings, and dependable quality. The company is also celebrity-endorsed: It was co-founded by Kate Hudson and features collections inspired by celeb partners like Demi Lovato, Liza Koshy, Vanessa Hudgens, and Maddie Ziegler.
Pros
Lightweight but durable material
Personalized to your taste via a style and activity quiz
New items available weekly
Activewear for sport or day-to-day style
Earn site credit with purchases
Cons
Have to select an outfit to get the most of your monthly subscription fee
Store credits expire within a year
Some items sell out quickly so users have to act fast
What Our Readers Say:
"So cute! So comfy! I adore this subscription and all the benefits that come with it!" – Blair
Best Box For: Anyone looking for stylish, functional workout clothes. Fabletics' monthly rate is slightly higher than other apparel subscriptions on this list, but their products are worth the premium — and members get substantial savings.
Shipping: Ships to the US, APO addresses, and Australia.
Not ready to buy? Add it to your Or, if you want to learn more, check out all our
Fabletics reviews
.
A Fitness Box for Athleisure and Active Apparel
What This Fitness Subscription Delivers
Ellie is a monthly fitness subscription for women. They mostly focus on workout clothes, but depending on your subscription tier, you'll also receive resistance bands, jump ropes, protein bars, and other accessories.
Once per month, you'll choose what you want from a selection of athleisure and fitness outfits, all of which are hand selected by a team of stylists. Sign up for the 2-item monthly plan to receive a top and bottom each month; go for the 3-item plan to get a top, sports bra, and bottom; or go big with the 5-item plan to get a monthly top, sports bra, bottom, and 2 accessories.
Pros
The outfits sent are all high quality that maintains their shape, don't pill, and stay vibrant in color
Get a full fitness outfit at an affordable price
The 5 item boxes also include accessories and/or equipment
Cons
The size range currently only goes up to a size XL
What Our Readers Say:
"I have to say Ellie is so worth the money. […] You get a complete outfit and two additional items that go with the box theme of being a fitness box. And if you have any size or any other issues with something you received customer service is so easy to work with." – Amanda
Best Box For: People looking for form-fitting workout gear with a few extras.
Shipping: Ships to the US.
Not ready to buy? Add it to your Or, if you want to learn more, check out all our
Ellie reviews
.
A Fitness Subscription for Meeting Macros
About This Fitness Subscription Box: Musclebox is a subscription service that sends workout gear, gym clothes, protein-packed snacks, and supplements. They offer three options: a box for men, a box for women, and a Protein Box. The Protein Box supplies plenty of — you guessed it — protein, so if you're tracking macros, it's an excellent option.
Expect 7+ items in each monthly box, including plenty of snacks, apparel, and workout inspiration. This fitness box is designed to help you get down to the gym and start throwing those weights around — it's serious stuff, and our readers love the no-nonsense approach.
Pros
The workouts that come with the box are intense and well explained
Great selection of high-protein snacks included in every box
The 7+ items in each box is more than other subscriptions
Cons
Box definitely caters more to bodybuilders than overall fitness enthusiasts
Best Box For: People who spend plenty of time at the gym (or need some inspiration to start a life-changing fitness journey).
Shipping: Ships to the US, Canada, Australia, UK, and Germany.
A Smart Way to Track Your Glucose Levels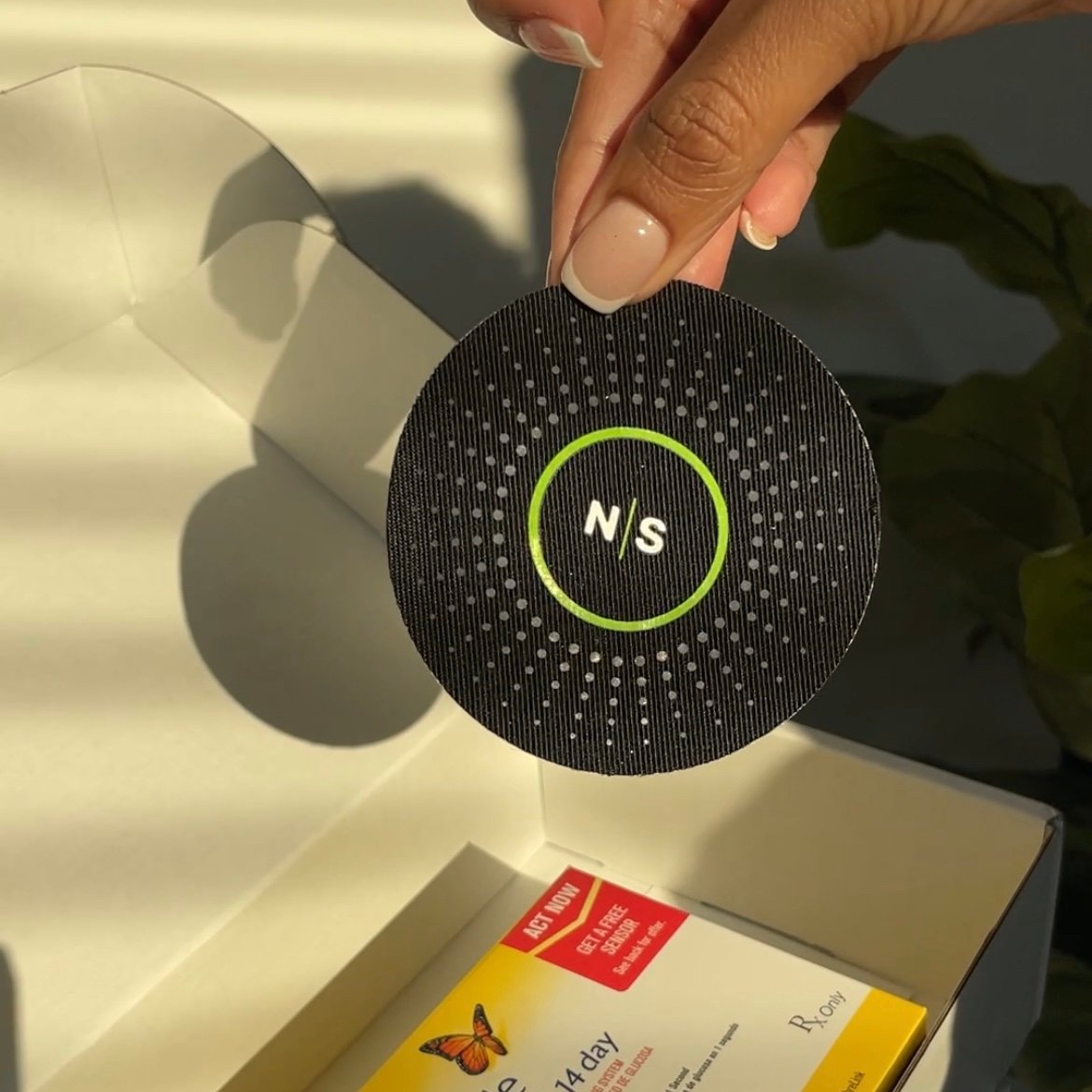 What This Fitness Subscription Delivers
Nutrisense combines a Continuous Glucose Monitor, a connected app, and expert dietitian support to give you information to take charge of your health. The small CGM device stays on the back of your arm to give you valuable feedback throughout the day via the connected app.
With the Nutrisense app, you can visualize your data and also track your daily activity by logging meals, exercise, mood, and sleep to see how these factors impact your glucose levels. With every Nutrisense subscription plan, you'll receive expert dietitian support from the start, so you can be sure that you're interpreting your health data accurately.
Pros
Receive 2 14-day CGM sensors per month
Expert ongoing dietitian support from the start
Gain valuable insights into your health
Cons
Cost is $250 per month but you can save with longer commitments
Requires a lot of input for maximum benefit
Best Box For: Anyone looking for a way to easily track their blood glucose levels and gain key insights into their health.
Shipping: Ships to the US.
Not ready to buy? Add it to your Or, if you want to learn more, check out all our
Nutrisense reviews
.
A Fitness Subscription for Mindful Living
What This Fitness Subscription Delivers
Don't let the name fool you. YogaClub is a fitness subscription that provides exercise outfits for just about any type of workout — not just yoga, although our readers love their yoga wear.
Subscribers create personalized outfits each month, choosing a combination of sports bras, leggings, tops, outerwear, and other cute separates. The clothes come from well-known apparel brands like Glyder, Free People, and Vie Active, and the price is affordable; you'll save about 50% off retail on average.
More importantly, this subscription is personalized, so you'll always get clothes that match your style. YogaClub also has an active online community, which can be a great resource for finding motivation and support for your fitness journey.
Pros
Sends pieces from premium brands
Has sizes up to 3XL
Styling quiz is in-depth to provide items you will love
Cons
Exchanging an item requires you to pay S&H
YogaClub doesn't cover returns
What Our Readers Say:
"Three boxes in and I love everything so far! I look forward to this box every month!" -Darlene

"I love it, need I say more? All the clothes fit perfect and they are cute and fun and comfortable! I would have never picked any of the items out for myself." -Mary Elizabeth
Best Box For: Anyone looking for high-quality athletic clothing at a great price.
Shipping: Ships to the US, Canada, and the UK.
Not ready to buy? Add it to your Or, if you want to learn more, check out all our
YogaClub reviews
.
A Fitness Subscription Box for Weightlifters
What This Fitness Subscription Delivers
The Lift Box is a monthly fitness subscription, containing various supplements, snacks, gear, and apparel. This box was started by veterans in 2017 and has since grown to a community of more than 10,000 fitness enthusiasts.
Each box contains a tank top or tee shirt (your choice), several servings of supplements, snacks, and a drink, as well as gear and accessories like lifting straps or shakers. This box promises a value of at least $82.
Good to Know: The Lift Box is veteran-owned and operated. They offer a military and first responder discount and ship to the US and overseas military bases.
Pros
Get a tee or tank in every box
Discover healthy and delicious snack options
Cons
Snacks, supplements, and protein isn't personalized based on dietary needs or restrictions
What Our Readers Say:
"Love the mix of products that are in the box each month. The best subscription I've ever had. Products are always useful, and the shirts are awesome!" -Briana

"Been getting the box for about 6 months now. Every box is amazing and has such a great variety of items. Packed with value very single month too. If you love fitness/lifting/supplements you will love this box!" -Emy
Best Box For: Anyone looking to try a mix of fitness-related products with a focus on weightlifting and high-protein supplements.
Shipping: Ships to the US for $3.95.
Not ready to buy? Add it to your Or, if you want to learn more, check out all our
The Lift Box reviews
.
A Fitness Box for Hiking and Camping
What This Fitness Subscription Delivers
Hiking and camping are great ways to meet your health goals, and Cairn's monthly fitness subscription box makes those outdoor trips much easier.
You'll start by entering some info about your sporting preferences and clothing sizes. Boxes typically include 3 items, with 2 pieces of gear, accessories, apparel, skincare, or emergency items, along with an energy bar or other nutritional product.
Our readers love Cairn's focus on functional outdoor gear. This makes an ideal gift for hiking fanatics, but it's also a great choice for treating yourself (and getting some inspiration for your next adventure).
Pros
Perfect for those looking for outdoor functional gear
Much more affordable than outdoor sports stores
Discounts are offered to those who choose a 6 or 12-month subscription
Cons
You may receive some basic outdoor items you already own
3-4 items feel lower than other boxes
What Our Readers Say:
"I can't wait for my Cairn box every month! Such useful surprises every month." – FaithFired
Best Box For: People who treat the outdoors as their personal gym. If you love camping and hiking, this is an affordable way to stay motivated.
Shipping: Ships to the US for free, Canada for $5, and internationally for $10.
Active Deal
Use code CHEER10 to get 10% off gift subs of 6+ months for monthly or 2+ quarters for quarterly
Shop Cairn
A Fitness Subscription for Outdoor Adventuring
What This Fitness Subscription Delivers
Wild Woman is a monthly subscription for women who love the outdoors. Whether you're an experienced outdoorswoman or you're just getting started, this box will give you plenty of practical help.
Each delivery includes gear, trail snacks, natural personal care products, and tips for embarking on your next adventure. It makes a great gift for any woman who loves camping or hiking, but if you're interested, pick it up fast — this box frequently sells out.
Pros
It's an outdoors subscription box geared toward women
Each month features a different virtue and a little explanation of how to incorporate it into your life
All of the products are readily useful for everyday life beyond outdoor activities
Cons
Some box values aren't much different than the original total prices of each item included--making the savings not so attractive
Best Box For: Women who love spending time outdoors (particularly if you're looking for some monthly motivation to stay active).
Shipping: Ships to the US and internationally.
How to Get The Most Out of Your Fitness Subscription Once You've Picked
Once you've found a fitness subscription that gets you motivated to get moving, you should make sure to get the most out of your subscription with the help of our MSA reviews, spoilers, and coupons. Keep up with our posts so you don't miss any chances to save some $$ or look ahead at what future boxes from your subscription will have--this will help you decide if you need to take a month off because the items aren't your style or get you excited for your goodies to arrive!
Factors We Considered When Reviewing These Fitness Subscriptions
We've built this list by polling readers and reading user reviews, but to make a useful list, we had to define what the term "fitness subscription box" actually means. In order to be eligible, each box had to offer something that supported an active lifestyle — we included subscriptions that cater to certain interests (for instance, outdoor living and yoga), but we also threw in plenty of general-audience boxes.
Our editors looked at several additional factors when sorting through reader recommendations:
Price and Overall Value - Typically, we try to include subscription boxes for every budget. However, we're not looking at price alone: We like to feel like we're getting great value for our money, and we know that our readers feel the same way. Our team looked at the average value of the items in each box to highlight services that offer savings when compared to retail.
Subscription Audience - As we wrote above, we looked for a variety of different types of subscriptions. We tried to avoid boxes that were too niche for a general audience, but we threw in a few well-curated boxes that cater to specific hobbies and lifestyles.
Versatility and Subscription Management Options - Not everyone needs a brand-new set of workout clothes every month. Our readers love options, so we're featuring fitness subscriptions with easy subscription management. Where possible, we also prioritized services that allow for some amount of customization, either through optional add-on products or personalized product selections.
Customer Service - Last but not least, we looked for services with reliable customer support. Every company occasionally encounters shipping errors or other issues — how they respond is important, so we picked companies with strong reputations.
If you'd like to see another fitness subscription added to this list, be sure to leave a comment. Also, we'll remind you that our readers depend on real-life reviews to make educated decisions — if you've used one of these services and you have time to leave a quick review, please do so!
That's it for our list of the best fitness & workout subscriptions of 2022! Which of these boxes helps you stay active?