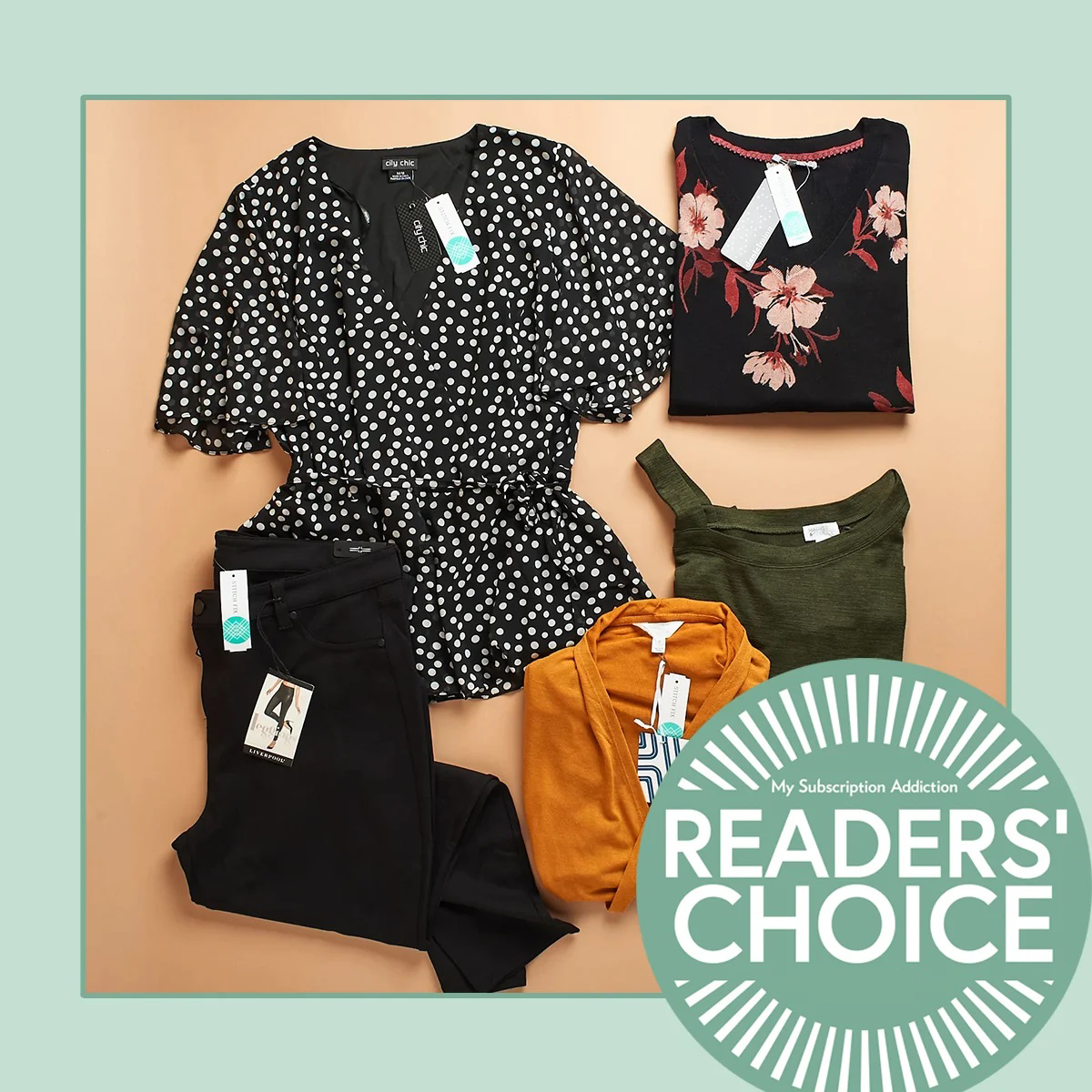 Curious about clothing subscriptions and styling services? We love the convenience of a great fashion box — and whether you're looking for fresh new pieces for a change of pace or trying to refresh your signature look on a budget, there's a clothing subscription option to help you meet your goals. But that's not all styling services are good for — clothing subscriptions make fantastic gifts for everyone from the least experienced in la mode to the established fashionista. Options for purchase and rentals, for women, men, and kids alike, for all sorts of budgets, are just a few clicks away.
Every year, we ask our readers to share their top recommended subscriptions of all types. Then we ask our experts to share what they know about each subscription to make it easy for you to know which subscription is right for you. Below, you'll find our insights for shopping clothing subscription boxes, and see readers' top choices for athleisure styling services, workwear subscription boxes, women's clothing, designer clothing to rent, and more.
The 24 Most Popular Clothing Subscription Boxes in 2023
Read on for our reader's recommendations for the best clothes subscription boxes in 2023! We've separated our list into the following sections: best for women and men, best for women, best for men, best for kids, and best for babies and toddlers.
The Best Clothing Subscription Boxes for Women and Men
The Best Clothing Subscription Boxes for Women Only
The Best Clothing Subscription Boxes for Men Only
The Best Clothing Subscription Boxes for Kids
The Best Clothing Subscription Boxes for Babies and Toddlers
How to Get The Most Out of Your Clothing Subscription Once You've Picked
Once you've picked out the right box for you, follow our steps to help make sure you make the most of your new subscription.
Speak up about your preferences. Most clothing subscriptions—both those offering rentals and those sending clothes to keep—start you off with a quiz. Take a deep breath and answer honestly. Choose the sizes that fit you now. Select your "safe," tried-and-true favorite colors and patterns. While your stylist (or the system's algorithm) gets to know what you like and you get to know the scope of what they offer, it's best to start with reliable colors and silhouettes you're likely to connect with.
Give it a few months. Like we said above, it takes time for you and your stylist to mutually learn each other's style. You may also learn things about yourself in the early months if you receive items you thought you'd like but it turns out you don't. This is why it's important to give a clothing subscription a solid few months to find its groove!
Get tips from our community. MSA readers are a fount of knowledge when it comes to clothing subscription services! Read our reviews, spoilers, and comments to pick up hot tips from regular subscribers, and of course, keep an eye out for a discount code so you can save a few bucks on your styled box!
Factors We Considered When Reviewing These Clothes Subscriptions
Clothing subscription boxes can help you expand your fashion sense and skip the shopping trips — but the quality of clothes subscriptions varies by brand. We asked our readers for their favorites, but we also researched each company before adding it to our list.
Some of the factors we considered when creating our rankings:
Variety - Some of us want name-brand clothing — others don't care much about the name on the tag. We chose recommendations that featured a variety of brands and styles. For personal stylist services, we looked for companies that truly provide a range of fashion options for their users.
Customer Service - This was an especially important factor when evaluating stylist services: If a company doesn't have a great track record of high-quality customer care, they didn't make our list. We looked for clothing subscription boxes that offer easy returns and hassle-free order management.
Overall Value - The value of clothing is subjective, of course, but we focused on style subscription services that offer excellent pricing relative to retail value. Many of these companies have detailed information pages that indicate the total approximate value of each box; if that information was available, we tried to include it in the description for each company.
Sizing Options - We've featured clothing boxes that offer sizing options for everyone. We also offer a list of the best plus-size subscription boxes for sizes 12-32, so if you didn't find an option in this list, be sure to check it out.
If we missed a style subscription service that you love — or if you've had an experience, positive or negative, with any of the brands we've featured — let us know in the comments.