If your closet is overflowing with mismatched outfits and too many individual items to count, then it's probably time to switch to a capsule wardrobe. Capsule wardrobes contain a set number of clothing items that can be easily mixed and matched to create endless outfit possibilities. Not only do they streamline the process of getting ready every day, but they also offer a more personalized and minimalistic approach to designing daily outfits.
While you can certainly build your own capsule wardrobe by shopping in person, it's a whole lot easier and fun to sign up for a clothing subscription service that sends you everything you need, several pieces at a time. Here, we'll review the 7 best subscriptions and styling services currently available that can help you build your capsule wardrobe in no time.
Build Your Own Capsule Wardrobe with These 7 Subscriptions and Styling Services
1. Cladwell - Best Smart Closet and Personal Styling App for Capsule Wardrobes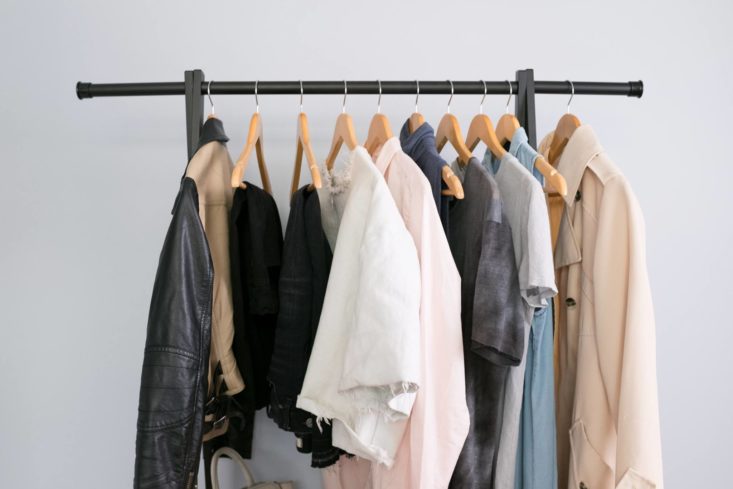 The Cost: $0 per month for the limited feature app. $4.99 per month for the full-feature app. $49 per month to work with a stylist and have access to the full-feature app. Subscribe here!
About the Subscription: Building your own capsule wardrobe has never been easier with this smart closet and personal styling app membership. Cladwell lets subscribers have access to their own smart closet where they can create, edit, schedule, or track outfits, as well as work with their own stylist. It's basically like a Wayfair for capsule collections!
You can choose to use the app for free and have access to limited features, or upgrade to have access to the full-feature app for only $4.99 per month. And if you need extra help with building your collection you can choose to work with a stylist for $49 per month (full-feature app included).
Cladwell's app lets you create endless outfit possibilities with features like 35+ free capsule wardrobe templates and the ability to browse 15,000 + clothing items and accessories. You can even track your cost per wear, remove clutter with personalized style analytics, and separate your clothes into "capsules" based on your activities, seasons, or trips.
If you sign up to work with a stylist they'll provide assistance with getting your smart closet set up, creating outfit lists and custom capsules, and shopping for you. All styling services are provided directly inside the app and you can communicate with your stylist via text or email.
Cladwell is available on both iOS and Android devices and is a wonderful styling service for both women and men.
2. Stitch Fix - Affordable Styling Service for Building Your Own Capsule Wardrobe
The Cost: $20 styling fee. Prices vary depending on what you pick. Free US shipping. Subscribe here!
About the Subscription: Stitch Fix is one of the most popular personal styling services for women (including plus sizes and maternity), men, and kids. When you sign up, you'll take a detailed survey about your personal style preferences, body shape, preferred silhouettes, price range, and more.
A Stitch Fix in-house stylist will then send you several clothing and accessory items personalized to your needs. Try everything on at home, and only keep what you love. Returns are free, and you get a discounted price for keeping everything.
Stitch Fix carries women's sizes 0-24W & XS-3X, men's sizes XS-3XL, and kids' sizes 2T-14. Not to mention they carry options for all budgets with women's and men's items ranging from $25–$500 and kids' items starting at $10 each.
Our readers report that their Stitch Fix stylist actually looks at their Pinterest boards, Instagram profiles, and other socials to see what they're wearing and liking - talk about going above and beyond! And while this isn't specifically a capsule wardrobe service, you can use Stitch Fix to create your own capsule and save some money compared to retail prices.
Check out our Stitch Fix details and reviews.
3. The Wardrobe Box - Best Secondhand Clothing Subscription Box for Seasonal Trends
The Cost: $65 per quarter, or $220 per year. Subscribe here!
About the Subscription: Looking to build your capsule wardrobe in the most sustainable way possible? If so, The Wardrobe Box is exactly the clothing subscription service you need to try.
Every quarter you'll receive 4 items of clothing along with 1 accessory from The Wardrobe Box's high-quality secondhand inventory based on your preferences combined with stylists' expertise and seasonal trends. This brand focuses on sending a mixture of professional and casual styles throughout the year and you're guaranteed to get plenty of versatile pieces of clothing.
The Wardrobe Box also offers several one-time purchase boxes like the Capsule Wardrobe Box and the Try On Wardrobe Box. The Capsule Wardrobe Box contains 6 items of clothing and 2 accessories and the Try On Wardrobe Box lets you test run The Wardrobe Box before committing to a subscription.
The Wardrobe Box offers something for everyone as it has options for both women and men in sizes XS-4XL.
4. Front Door Fashion - Best Styling Service Without a Fee
The Cost: $100 refundable deposit for each box. Only pay for what you keep. Subscribe here!
About the Subscription: Front Door Fashion is one of the few styling services that doesn't charge a styling fee. Instead, there's a $100 refundable deposit when requesting a box that goes toward your purchase, and the deposit is refunded if you keep less than $100 worth of clothes.
When signing up for Front Door Fashion you'll create a style profile and your stylist will put together 4 to 6 looks in your box. You'll basically receive a mini capsule wardrobe in a box, but you can keep what you love and send back what you don't.
Front Door Fashion prides itself on its inventory of designer clothing and independent labels and carries sizes ranging from 0 to 12 and XS to L.
If you happen to be in the Dallas, TX area then you can attend an in-person styling session in their studio! You can book a session here.
Check out our Front Door Fashion details and reviews.
5. Menlo Club - Best Online Stylist Service for Men
The Cost: $60 per month. Subscribe here!
About This Stylist Service: Many of the online personal stylist subscriptions we've covered have options for men, but this one's just for the gents. Menlo Club is a monthly men's clothing subscription that sends casual, classic, and fashion-forward garments styled to your tastes.
Similar to the other style subscriptions we've covered, members fill out a brief quiz with their style preferences. However, instead of paying for the individual pieces of clothing they choose, subscribers pay a flat $60 per month for a box of clothing.
Shipments typically have 2-3 items and you're able to receive items sizes XS-XXXL & 29-44. You can exchange anything you don't like, and you'll get discounts on new orders.
Menlo Club members also receive up to 25% off items in the Menlo House online store and free shipping on all orders. You'll get access to exclusive member-only items.
Check out our Menlo Club details and reviews.
6. Wantable - Best Clothing Subscription for Affordable Name Brands
The Cost: $20 styling fee. Prices vary depending on what you pick. Free US shipping. Subscribe here!
About the Subscription: Wantable is a personal styling service that sends high-quality clothing and accessories from brands like Free People, Thread & Supply, and Kut From the Kloth based on a user's style profile after taking a style quiz. There is a $20 styling fee that is applied to any purchase made from your "Edit" and if you keep 5 or more items, you receive a 20% discount as well.
Wantable offers three different styling subscription services for women, but its Style Edit plan is best suited for capsule wardrobes. In each box, you'll receive 7 handpicked pieces that can be paired together or mixed and matched with your current wardrobe.
Check out our Wantable Style Edit details and reviews.
7. Dia & Co - Best Styling Service For Plus Size Women
The Cost: $20 styling fee. Prices vary depending on what you pick. Free US shipping. Subscribe here!
About the Subscription: Dia & Co specializes in plus-size styles for women, from workwear to jeans and dresses. They offer tons of cute dresses, tops, and jackets⁠—everything you need for a fun, well-rounded capsule wardrobe.
Their personal styling service is great for putting together unexpected outfits and finding the right fit for your body. Dia & Co lets you try your picks at home and return whatever you don't plan on keeping. Your $20 styling fee goes towards what you decide to buy, and if you keep everything in the box, you'll get 25% off.
You can also shop their one-time seasonal boxes like the Business Ready Box, the Spring Essentials Box, and the Zodiac Box.
Check out our Dia & Co details and reviews.
What Did You Think Of Our List of the Best Subscriptions and Styling Services for Capsule Wardrobes?
Have you tried any of the above subscriptions? Do you have any additions to the list?
If so, make sure to let us know in the comments!
Capsule Wardrobe FAQs
What is a capsule wardrobe?
A capsule wardrobe contains a set number of clothing items that can be easily mixed and matched to create endless outfit possibilities.
How many clothes should be in a capsule wardrobe?
For best results, we suggest having at least 30 items in your capsule wardrobe.
What doesn't count in a capsule wardrobe?
Typically items like underwear and pajamas don't count. Some people also exclude clothing for special occasions.
What are the cons of a capsule wardrobe?
You may have a more limited selection of clothing items than what you're used to and you might have to do laundry more often.
How much should I spend on a capsule wardrobe?
$500-$1,000 should cover several high-quality pieces along with essential basics.
What color should I use in my capsule wardrobe?
It's completely up to you! However, neutral colors like black, white, navy, and gray are generally best.
How many colors should a capsule wardrobe have?
Most people start off with a smaller number of colors, like 5-9. However, you can always add other colors to your collection over time.
How many shoes should you have in a capsule wardrobe?
On average, it's generally best to have around 5-10 pairs.
Do you need a capsule wardrobe for each season?
Not necessarily, but it can help organize your collection by doing so.
Can a capsule wardrobe save money?
Absolutely! You can save hundreds of dollars each year by switching to a capsule wardrobe. Instead of buying new full-set outfits throughout the year, you can mix and match different pieces to create new styles.
Looking for the Perfect Clothing Subscription Box? Check Out These Articles!