Every year we ask you, our readers, to tell us your favorite subscription boxes. The results of the 2021 Readers' Choice Awards are in! This list features our fellow subscription fanatics' top choices for premium subscription boxes at or above the $50 price mark.
Ready to pamper yourself? Luxury subscription boxes give you a way to do that — if you don't mind spending a little cash.
Of course, "expensive" doesn't always mean a bad value. We asked our readers to name the best high-end luxury subscriptions that are worth the money, and we've compiled their responses into this list.
We've also included coupon codes and promo links to help ease the sticker shock. We're defining "luxury subscription box" as any service that charges $50 or more. We've prioritized services that deliver on their promise — if you're spending your hard-earned cash, we want to help you get the best possible deal.
Oh, and just for fun, we included a few subscriptions that are too expensive for...well, pretty much everyone. We don't expect you to buy it, but hey, if you're reading this on a private yacht, it might be exactly what you're looking for.
With that said, here are the best high-end subscription boxes in 2021. Get ready to treat yourself!
The $50+ Subscription Boxes Our Readers Say Are So Worth It
Our readers recommend these high-end subscriptions and think you will, as well:
The Cost: $49.99 per quarter. Subscribe here!
What Our Readers Say:
"I always gets nice things from FabFitFun- things I wouldn't ordinarily buy myself due to the cost but end up loving them." - Megan Abilez

"I like the ability to customize. It is a way to buy products for myself as a splurge. I also use a lot of their products for gifts. I have four sisters." - TeacherMom

"Such a fun subscription box to get every season! I love trying out products I've never would think of trying and have discovered some favorites through this subscription!" - Addie
About This Box: FabFitFun is more expensive than your standard lifestyle membership, but you'll get what you pay for.
Delivered quarterly, this box includes beauty supplies, lifestyle accessories, luxury skincare products, and much more. Each delivery has a retail value of $200 or more, and you'll receive full-size products — no sample sizes here.
FabFitFun members have access to special discounts (up to 75% off retail), and many boxes have customization options. By logging into your account, you can choose from a selection of hand-picked products to make sure that you're delighted with each delivery.
This is absolutely a high-end subscription box, but it offers remarkable value. Nothing beats a steady supply of useful, high-quality stuff, and FabFitFun delivers the goods.
Check out our FabFitFun reviews to learn more! Ships to the U.S. and Canada.
The Cost: $55 per quarter. Subscribe here!
What Our Readers Say:
"I loved my Glam Bag X when it arrived! I've been with Ipsy for years. I feel like they follow my profile well. The few items that are not for me, I have no problem gifting. I think keeping an open mind for products/brands received is the key to fully enjoy this subscription." – Bandaa

"I love everything that I received the my GBX!" – Diane804
About This Box: The IPSY Glam Bag is one of the most popular and glamorous makeup subscriptions around. Now subscribers can upgrade their membership to an even more luxurious level with the IPSY Glam Bag X. The Glam Bag X is a quarterly upgrade to existing IPSY subscriptions, offering even more high-end, celebrity curated products.
IPSY Glam Bag X deliveries are limited edition curations organized by influencers or celebrities. Get a peek into the best and most premium makeup and beauty products used and loved by some of the most iconic stars. Bags are valued at $500 or more, but you get access to all these items for so much less.
To get the IPSY Glam Bag X you have to have an existing IPSY subscription. Once you're signed up, you're able to add on the Glam Bag X upgrade to your account, and start receiving bonus products every quarter. 
Check out our Ipsy Glambag X reviews to learn more! Ships to the U.S. and Canada.
The Cost: $99.99 per quarter. Subscribe here!
ACTIVE DEAL: Use code SPRING25 to save $25 off your first box
CODE: SPRING25
What Our Readers Say:
"What can I say? Any box that includes Missoni towels will win my heart forever!" - inkchick

"I love Curateur (Box of Style) it's my seasonal luxury splurge!" - Amanda
About This Box: What's more luxurious than fresh, curated style? Not much, and that's why our readers love CURATEUR. With a selection of premium beauty products and styling tools, this quarterly box offers a taste of the high life for a relatively low price. 
So, what exactly do you get? The Spring Curation CURATEUR box featured a Jules Kae Zola bag, Vita Fede Cassio earrings, Hugh & Grace renewing night serum, and other high-end goodies. Members can regularly select from add-ons, and new members can get all of those optional gifts — CURATEUR estimates the value of their entry box at over $850.

Given the per-box cost, this is a tremendous bargain (even if it is one of the more expensive lifestyle boxes we've found).
Check out CURATEUR reviews to learn more! Ships to the U.S., Canada, the UK, and Australia.
The Cost: $159 per quarter. Subscribe here!
What Our Readers Say:
"BREO BOX never disappoints! I love how they always include new tech and useful items that I always end up using!" – Teresa Stas
About This Box: We'll admit that we thought we'd have a robot maid by now. Hey, that's what The Jetsons promised us.
While we're waiting for the technology to catch up to our favorite cartoons, we'll enjoy the high-value gadgets in the BREO BOX. This quarterly box focuses on tech, but there's something for everybody: Each of the 5-8 items are useful, brand-name tools.
You'll find everything from wireless earbuds and smart jump ropes to travel bidets and biometric padlocks. It's stuff you never knew you needed, but once you've used it, you can't live without it.
The curation follows a seasonal theme, and all of the items are "trending." They've got that "where'd that come from?" factor that makes subscription boxes such a great addition to your life. Oh, and there are perks: Members earn rewards and have access to special discounts.
Check out all of our BREO BOX reviews to learn more! Ships to the continental U.S. for free ($20 to HI, AK, and U.S. territories), Canada for $35, and worldwide for an additional cost.
The Cost: $58.95 per month. Subscribe here!
ACTIVE DEAL: Get 10% off any subscription!
CODE: MSABH10
What Our Readers Say:
"The products are amazing quality and you get a lot more than your money's worth!" - Sabrina
About This Box: This skincare box goes for quality over quantity — you'll only receive 2 beauty products per month. The price might seem a little steep at first, but if you've paid for premium skincare products, you know that they're worth the investment. You can't put a price on clear, healthy skin (and if you did, that price would be more than $58.95 per month). 
Beauty Heroes curates life-changing products with non-toxic, clean ingredients. This high-end subscription box typically includes one larger "hero" product and one deluxe sample "sidekick" product. The company vets all of their brands carefully; products cannot include ingredients banned in Japan, Canada, the United States, or the European Union, and the Beauty Heroes site contains additional info about stuff that they won't allow (parabens, animal-tested ingredients, non-biodegradable substances, and other harmful stuff).
Put simply, Beauty Heroes does the research to find the best skincare products in the world, then ships them to your door. If the monthly pricetag is a bit high, you can save by signing up for a long-term subscription (the 12-month subscription, for instance, cuts the price-per-box down to $39.95).
Check out all of our Beauty Heroes reviews to learn more! Ships to the U.S. for free, Canada for $11.95, and all other international destinations worldwide for $18.95
The Cost: $99 per quarter + shipping. Subscribe here!
What Our Readers Say:
"Beachly box is the best subscription service I have ever had." - MSA reader
About This Box: You might not think of beach gear as luxurious, but if so, that's because you haven't checked out Beachly yet.

This luxury subscription box gives you everything you need to hit your favorite private beach (or, in our case, an overcrowded public beach) in style. Each quarter, you'll receive full-size beauty products, seasonally appropriate clothes, home decor, and accessories. Everything has a beach theme, but not the type of beach theme you'd see in your parents' bathroom — expect soft color palettes, high-quality materials, and chill vibes.

With selections from popular beachy brands like S'Well, Roxy, and Sunnylife, this box provides a relaxing taste of the oceanside. It's one of our readers' favorite lifestyle boxes, and every purchase supports Heal the Bay, an ocean & watershed protection organization based in Los Angeles.

Check out our Beachly reviews to learn more! Ships to the U.S. for $4.95 (including Alaska and Hawaii) and Canada for $11.95.
The Cost: $59.99 per quarter + shipping. Subscribe here!
What Our Readers Say:
"Every box is like unwrapping the most beautiful and luxurious gift. I feel so incredibly pampered when this box arrives! The packaging is gorgeous and thoughtful--it feels like it was prepared and sent by a best friend." - Lori

"It is a treat for myself!" - Bluegrassmom3

"The value on this box is amaze-balls." - Jenny
About This Box: Margot Elena Discovery Box is a subscription box from the female designer & team behind Lollia, TokyoMilk and Library of Flowers.

This one's all about pampering. You'll receive fragrances, stationery, and a luxurious mix of body, beauty, and hair care products. All products are full-sized, and the elegant packaging gives you that "wow" factor as you open each delivery.

While the Margot Elena Discovery Box doesn't announce the contents of each box until it ships — hey, the surprise is part of the fun — you can check out past boxes on their site. They also post teasers on social media, so if you enjoy a bit of sleuthing, you'll get a sense of what you're getting.
Check out our Margot Elena Discovery Box reviews to learn more! Ships to the contiguous U.S. for $6.95.
The Cost: $69.95 per box (bimonthly) + shipping. Subscribe here!
COUPON: Use code MSA15 to get 15% off your first box!
What Our Readers Say:
"If you value quality over quantity and appreciate Scandinavian design, this is the one for you." – Jenny
About This Box: Does minimalist decor count as a luxury? It certainly does with Norli Box, a bi-monthly subscription filled with Scandinavian home decor and accessories. 
Scandinavian homemakers often embrace the concept of hygge, which balances form, function, and comfort. The goal is to bring a simple feel of coziness into each living space, and Norlii Box is one of the best ways to start bringing some hygge into your homestead.

You'll find gorgeously designed dishware, kitchen tools, accents, and more. We'd recommend checking out our reviews (linked below) to see examples of previous boxes; Norlii offers a wonderful way to embrace minimalism, and it easily justifies its bi-monthly cost.

Check out our Norlii reviews to learn more! Ships to the U.S. and Canada.
The Cost: Rent one-off pieces starting at $30 per item, $89 per month for up to 4 items per month, $135 per month for up to 8 items per month (2 shipments), or $199 per month for up to 16 items per month (4 shipments). Subscribe here!

About This Box: The name says it all — Rent the Runway gives you access to high fashion on a rental basis. You'll be able to dress like a celebrity without filling your closet (or emptying your wallet). 
Whether you're looking for a chic dress for a gala or everyday wear, Rent the Runway's expansive selection allows you choose occasion-appropriate apparel and accessories from the comfort of your home. Items arrive in pristine condition — the service handles all the dry cleaning and removes damaged items from circulation — and you can return your rentals at any time to receive something new. 
You'll find brands like Kate Spade New York and Badgley Mischka alongside options from up-and-coming boutiques. Unlike many rental services, you can also pick up designer handbags, jewelry, and sunglasses.

Clothing rental subscriptions help you keep your budget while regularly refreshing your wardrobe. They're also better for the environment, and Rent the Runway lets you explore new trends without a long-term commitment.

Check out our Rent the Runway reviews to learn more! Ships to the U.S.
The Cost: $50 per quarter. Save with an annual subscription. Subscribe here!
What Our Readers Say: 
"A splurge but great value." - Jane
About This Box: The GQ Best Stuff Box is a quarterly men's subscription from GQ Magazine. Where or not you're a reader, you know that the GQ brand is all about class, comfort, and convenience, and that's exactly what you get with each box.
You'll receive over $200 worth of products, curated for discerning gentlemen (or gentlemen who are trying to become a bit more, ahem, discerning). You'll find style accessories, apparel, grooming products, and electronics, along with how-to articles and video tutorials to help you get the most out of each box.
From sunglasses to sweatpants, the GQ Best Stuff Box lives up to its name. While some items are unisex, this box is geared towards men — keep that in mind when ordering.
Check out our GQ Best Stuff Box reviews to learn more! Ships free to the U.S.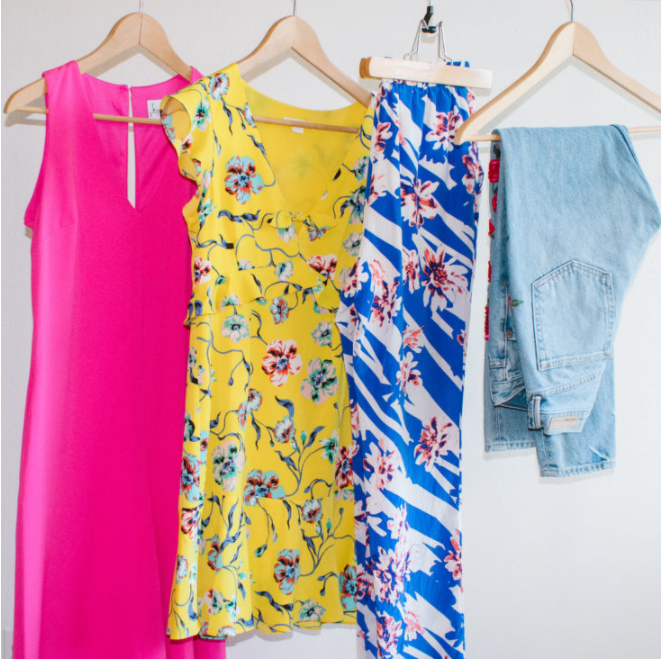 The Cost: Plans start at $79 per month after a trial month.
Coupon: Use code TRYUNLIMITED to get 2 months of the Unlimited plan for $99. Subscribe here!
What Our Readers Say: 
"I am nothing short of OBSESSED with Armoire!!! Where has this service been my entire life?! I have all my needs covered from business to events to weekend brunch and date night. All of it for $150 per month! Game changer and I'm in love. Definitely check it out.." – Rian
About This Box: Our readers absolutely love Armoire, a curated clothing rental service specializing in high-end styles.
When you sign up, you'll take a quick style quiz. The site's algorithm suggests apparel, and personal stylists help to curate a collection that works for you — whether you're into bold colors or minimalist patterns, you'll find something that suits you.

Select what you want, and Armoire delivers your clothing to your door. The algorithm learns over time, so the quality of the suggestions gradually improves. As with Rent the Runway, this rental service lets you wear items from top brands without spending a ton of money. 
Of course, it's on our list of high-end subscription boxes, so Armoire isn't cheap — but it justifies its value, regardless of whether you choose the least expensive option (4 items per month for $79) or the most expensive (unlimited items for $249 per month). Our advice: Try it out. Armoire can change the way you dress, and it's a great way to save closet space without sacrificing your personal style.
Check out our Armoire reviews to learn more! Ships to the U.S.
Ultra-Luxury Subscription Boxes That May (or May Not) Be Worth the Splurge
We promised luxury, and we meant it. These boxes certainly aren't for everyone — in fact, most people won't be able to justify the cost. They're still fun to explore, particularly if you have, ahem, expensive tastes.
If you're looking for the most expensive subscription boxes on the market, here are a few options. 
The Cost: $25,000 per quarter. Subscribe here (and then send us an extra $10,000 for providing the recommendation).

Coupon: Are you kidding?
What Our Readers Say: 
"Who's going to buy this subscription box is just a billionaire o_o .. And I seriously prefer to have choice than surprise high price jewels" – MinnieX
About the Box: Jewelry subscriptions range in price, but the Opulent Box is certainly the most expensive option we've ever seen. In fact, it's the most expensive subscription on our site — and something tells us that they won't be sending us a free review box anytime soon.
For the low, low price of $100,000 per year, you'll receive jewelry from Gucci, Bulgari, Tiffany and Co., Cartier, and other luxury brands. The service starts with a style quiz that collects information about your favorite brands, styles, and colors. 
We haven't tried the Opulent Box, but if you're spending hundreds of thousands of dollars per year on jewelry, it might provide a good return on investment. Sure, it's expensive, but...well, it's a high-end luxury jewelry box. We're not sure what else we'd expect.
Check out our Opulent Box page here for more information. 
The Cost: $399 annually. Subscribe here.
About This Box: Cigar by Vices provides — you guessed it — cigars. Their quarterly boxes include premium cigars, accessories, and items that "add to the experience." That might mean luxury candles, drinking glasses, or other items to stash next to your humidor.
The subscription's website also promises "access to exclusive cigar events, special offers on limited edition cigars, and intimate podcast interviews with cigar makers." Needless to say, this is a box for aficionados — our users haven't reviewed this yet, and cigars aren't really our thing, so we haven't tried it out. 
Still, if you're looking for a cigar subscription, Cigar by Vices is certainly an option. 
Check out our Cigar by Vices page to learn more.
The Cost: $269 quarterly
About This Box: This home decor box actually seems to offer high-quality items that justify the price (although we should note that My Subscription Addiction has not received this box, and our users haven't submitted any reviews yet).
L'Atelier delivers functional home decor, ethically sourced from independent artists. The price is high compared to other home decor & lifestyle boxes, but users can choose from three options (Modern Farmhouse, Eclectic, or Boho-Chic) and read information about each of the artists on the company's site. 
For $269 per box, L'atelier provides plenty of products. For example, the Boho-Chic subscription box includes items like coasters, plant holders, pillows, and bead garlands. Annual subscribers also receive a discounted price, priority shipping, and early access to information about each box.
This is one of the most expensive options on our site, but L'atelier is dedicated to supporting artists, and they're a family-owned business. If you're looking for home decor, this box might suit your needs (and if you order it, be sure to leave a review on My Subscription Addiction). 
Check out our L'atelier product page for more information.