Subscription Box Gift Ideas
Hanging home for the holidays? We are, too. Our favorite way of making this time of year feel as special as ever is with subscription box gifts! Our gift guide provides ideas for single-month surprises that'll wow your loved ones, alongside ongoing subscription services that'll please your people for months to come. What options are out there? So many! Boxes for skincare goodies, gourmet foods, and premium gear, plus subscription services that'll please fashion-lovers, bookworms, DIY-doers, and more.
If you're not sure where to begin, visit our categorized gift guide lists below. We've organized our top gift subscription box picks into general buckets like gifts for men and gifts for women, as well as by interest. Your family and friends are going to feel so loved!
---
Jump To A Category:
---
Gifts for Men
For Men: Bespoke Post
Bespoke Post ($45) is a high-quality lifestyle subscription that offers a few different themed boxes each month. Is your gift recipient outdoorsy, into trendy food and drink, or into sprucing up their home and closet? Bespoke Poke subscribers get to pick exactly which box they want to get want, so you can't go wrong. Get a digital or physical Bespoke Post gift card here.
For Men: Breo Box
Breo Box ($159) is a luxury quarterly subscription that includes 6-9 gadgets, cool accessories, and tech products in each seasonal delivery. We've received products from notable brands like FujiFilm, Sur la Table, and even an Amazon Echo! They have multiple gift options, which you can find here.
Looking for a unique gift idea for a deserving husband, dad, or friend? These subscription boxes consistently deliver on quality and cool-factor, whether you give them as a one-off gift or treat your favorite guy several months of a subscription service. Included are ideas that check all the boxes: T-shirts and menswear, collectibles, ideas to tickle their taste buds, & more. Read more.
---
Gifts for Teens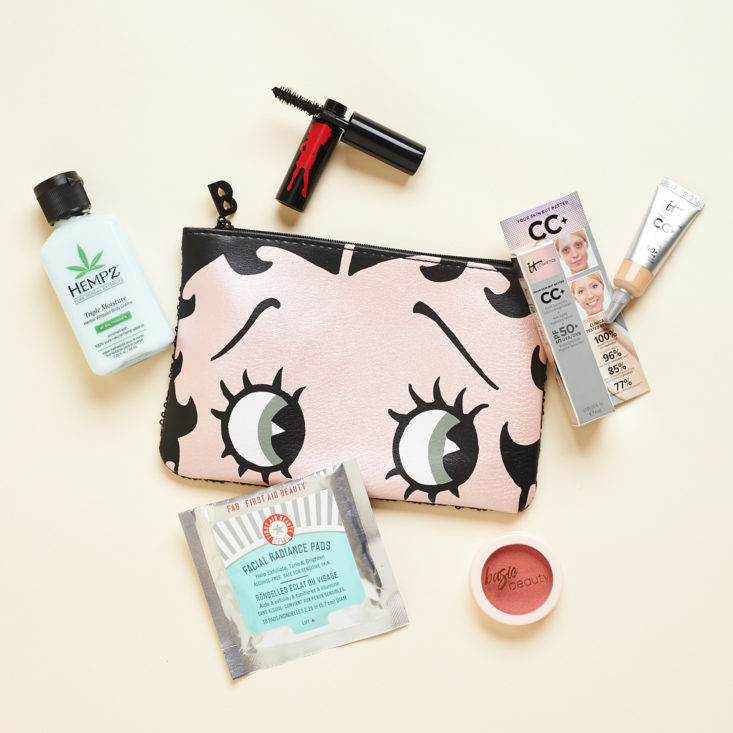 For Teens: Ipsy Glam Bag
Ipsy Glam Bag ($12) is one of our readers' most-loved beauty brands. They send 5 makeup and beauty products (full and deluxe samples) in a cute new makeup bag each month. It's a fun and affordable way for teens getting a beauty routine to experiment and explore new looks. (Ipsy does not offer gift cards, but you can create an account on behalf of your giftee.)
For Teens: Eureka Crate
Eureka Crate ($29.95) is a STEM-focused subscription from KiwiCo for ages 14+. Eureka Crate projects use science and math to solve real-world problems while inspiring the teens to become creative innovators. Each month, they'll receive all the material and instructions needed to create a functional, lasting object with a focus on engineering. Send a Eureka Crate gift here.
Do you always seem to catch your teen or tween stealing goodies from your subscription boxes? Why not get them a subscription box of their own this year? We considered 1000s of subscription boxes and came up with this list of our favorite subscriptions for teenage girls and boys. Read more.
---
Gifts for Kids
For Kids: KiwiCo
KiwiCo (starting at $19.99) features monthly hands-on STEAM projects for kids of all ages, from 0 to 16+! Each crate targets a different age range, with activities and toys customized to each child's interests and capabilities. Upgrade to add a book to each delivery for even joy every month! Choose a box to gift or purchase a gift card here.
For Kids: MEL Science
MEL Science ($34.90) is an educational box featuring 2-3 science experiments and DIYs per kit. The MEL Kids box features augmented reality lessons in the form of an interactive in-app science experience. The MEL Chemistry subscription includes all the ingredients and instructions necessary to carry out safe-for-kids chemistry experiments. Customize a gift certificate here.
Bring a smile to your favorite kiddo's face month after month after month! Children's subscription boxes deliver everything from toys and educational goodies to clothes, books, and essentials. Each box is a new surprise to unwrap! Read more.
---
Unique Gifts for Everyone
Unique Gifts: Vinyl Moon
Vinyl Moon ($26) is the only mixtape-style Record of the Month Club. That means every LP is exclusive and features a variety of bands, so it's a perfect gift for the vinyl collector in your life (especially if you're not sure what's already in their collection). Top notch artwork and colorful pressings help make it especially gift-worthy; get started here.
Unique Gifts: Quirky Crate
Quirky Crate ($36.95) is a fun subscription gift for the young-at-heart, guaranteed to be full of unique items that your giftee won't already own. We love the patterned socks, exclusive enamel pins, and bright accessories— plus it will always put a smile on your face. Get started here.
One of our favorite things about gifting subscription boxes is that you can give curated "gift box" without doing all the shopping and assembly yourself! This holiday season, there are a few standout boxes that we think would be great gifts for the people on your list who are so hard to buy for. These are boxes that provide exclusive products and experiences that are always well curated, and/or offer lots of flexibility for the recipient. Read more.
---
---
Monthly Food & Drink Gifts
---
More Gift Ideas
Love surprises? These Christmas countdown calendars let you unwrap a new gift every day of the holiday season! There are advent calendars for every interest, with presents that range from traditional toys to the hottest beauty products. Treat yourself, or impress someone you love with one of these unique gifts. Click into our guides below to find the top picks by category. Read more.
See More: 19 Best Chocolate of the Month Clubs
Who wouldn say no to opening a box of delightful new chocolates from specialty shops every month in 2021? This list features a variety of chocolate clubs, ranging from gourmet selections to truffles and beyond. Read more.
Topping a slice of baguette, smothered in jam, or teamed up with pepperoni between crackers, cheese is the star of the charcuterie board. This list features the best rated cheese of the month clubs, showcasing monthly cheese subscriptions that send specialty blocks ranging from local offerings to international must-trys. Read more.