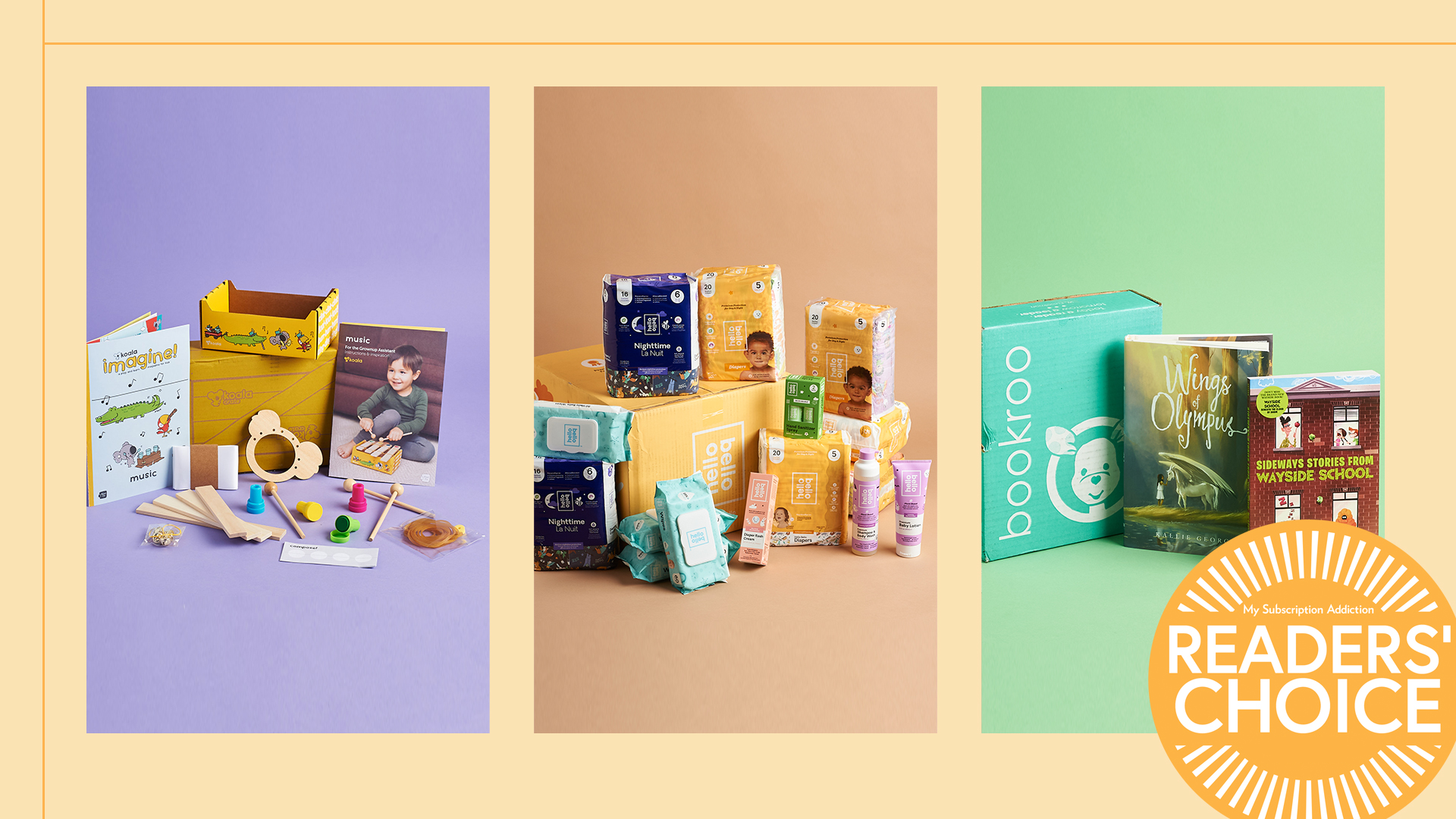 Wouldn't it be great to have a subscription on hand that could provide you with almost everything you need to raise a newborn? While having a child can be the most exciting and rewarding experience for parents, it can also be stressful at times due to unforeseen expenses or feeling like you don't have everything you need to take care of your new baby. Thankfully, there are plenty of baby subscriptions available today to help relieve some of the stress that's inevitable with this stage of life, whether it's ensuring you have enough diapers to keep you covered for a few weeks at a time or having the right toys that your baby will enjoy and are safe and made of sustainable materials.
Every year, we ask our readers to share their top recommended subscriptions of all types. Then we ask our experts to share what they know about each subscription to make it easy for you to know which subscription is right for you. Below, you'll find our insights for shopping baby subscription boxes, and see readers' top choices for toys, diapers, books, and more.
Top Subscription Boxes Featured In This List:
And more! Keep reading to see the full details of the top subscriptions plus many more recommendations.
What To Look For When Shopping Baby Subscriptions
In order to get the most bang for your buck when using a baby subscription, you'll want to consider the following factors before deciding on one:
Product Variety: Does this subscription offer enough options for the products and services you're looking for? You'll want to choose a baby subscription that gives you plenty of options for the types of products you're looking to buy (i.e. diaper styles, books, toys, clothing) in addition to other products you may find useful in the future that you didn't previously think of purchasing.
Ingredient Sourcing: Are the products you're buying from this brand sourced sustainably and use the cleanest ingredients and materials possible? Make sure that the brand you choose is 100% transparent about where it sources its ingredients and the types of ingredients it uses in your child's products. You definitely don't want to expose your newborn to potentially harmful ingredients that could lead to issues like rash, hives, or allergic reactions.
Cost: Is the brand affordable or at least cost-effective compared to what you could get in stores? Make sure to choose a brand that offers services that are competitively priced against products from store-bought brands and offers customer perks and discounts that you normally wouldn't be able to enjoy while shopping in person.
The Most Popular Baby Subscription Boxes
Read on for our reader's recommendations for the best baby subscription boxes currently available. If we missed anything, drop us a comment. If you've tried one of these services, be sure to leave a quick review (even if you had a poor experience — your review can help other readers avoid subscription remorse).
Best Baby Subscription Box for Learning and Play
What's In This Baby Subscription Box
KiwiCo was voted as the best subscription box for kids in the 2022 readers' choice awards and, not surprisingly, its baby subscription box Panda Crate happens to be one of the most popular baby subscription boxes for educational toys and games. Panda Crate is designed for children ages 0-24 months and helps babies and toddlers learn through playing, exploring, and interacting with their parents and other family members.
Panda Crate offers the following baby subscription boxes that are based on your child's developmental stage and delivered on a bi-monthly basis:
Bond with Me, 0-2 months - Includes products like Tummy Time Mirror, Swaddle Blanket, Milestone Pillow, and Cards
Sense with Me, 3-6 months - Includes products like Crinkle Tag Toy, Soft Rattle Blocks, Teething Ring
Explore with Me, 7-12 months - Includes products like Coin Box Puzzle, Bead Maze, Poppy's Day Out
Count with Me, 13-18 months - Includes products like Stacking Cups, Shape Puzzles, Counting Cards
Solve with Me, 19-24 months - Includes products like Peg Puzzle, Squishy Shapes, Lacing Beads
Each Panda Crate subscription box comes with activity cards, at-home activity suggestions, and KiwiCo's Wonder Magazine, which is a research-based publication focused on early parenthood, to provide parents with the most effective strategies and helpful tips to promote healthy childhood development.
Pros
Based on baby's developmental stage
5 subscription boxes for babies
Includes toys and educational materials
Cons
You can't choose the toys or products
Only one box is available per stage
Boxes are based on average developmental stages
What Readers Say:
"My brother bought my son a year worth of KiwiCo boxes, and my son LOVES the toys that come in it. All the toys we have gotten so far have been very sturdy and made of wood. I love that they are all learning toys, and are QUIET! It's so easy to get loud toys for kids, but it's hard to get quiet toys that they like. The"crates" go based off of your child's age, which is fantastic! Except, my son was born premature, and there (to my knowledge) is not a place to specify that when signing up. So, my son is behind developmentally, as well as physically, so some of the items in his crate (ie, flash cards) are a bit advanced for him right now. We will just keep them for later! I also love how they come with a book, but I don't feel like you need to pay for the extra book, unless you want it."

-Rebecca Weidensee
Shipping: Ships to the US for free, international shipping starts at $4.95 per month.
Best Baby Subscription Box for Sustainable Toys
What's In This Baby Subscription Box
If you're looking to stock up on Montessori-style toys that foster educational play, Lovevery is worth a look. Each Baby Play Kit by Lovevery contains toys that are built to last and made with high-quality materials such as sustainably harvested wood, organic cotton, non-toxic paint, and natural rubber.
Baby Play Kits are developmental staged-based and are designed to help younger children build color recognition, visual exploration, and fine motor skills. The following six kits are available for babies ages 0-12 months and are delivered every 3 months:
The Looker Play Kit, Weeks 0-12 - This Play Kit helps babies build new brain connections with high-contrast images and black and white sensory mittens.
The Charmer Play Kit, Months 3-4 - This Play Kit lets your baby explore with their mouth, eyes, and hands as their personality emerges and their social awareness grows.
The Senser Play Kit, Months 5-6 - This Play Kit helps your baby investigate the world around them while working on getting themself closer to what looks and sounds exciting to them.
The Inspector Play Kit, Months 7-8 - This Play Kit makes the most of your baby's natural curiosity about how things work with opportunities to explore texture, practice nesting, and stacking, and learn about object permanence.
The Explorer Play Kit, Months 9-10 - This Play Kit is designed to help babies experiment with gravity, practice balance, and begin coordinating both sides of their body.
The Thinker Play Kit, Months 11-12 - This Play Kit encourages your baby to define and organize information while engaging their budding imagination.
Pros
Based on baby's developmental stage
6 Baby Play Kits available
Safe, eco-friendly toys
Cons
You can't choose the toys or products
Only one box is available per stage
Boxes are based on average developmental stages
Shipping: Free shipping on all Play Kits in contiguous US & Canada.
Not ready to buy? Add it to your Or, if you want to learn more, check out all our
Lovevery reviews
.
Best Baby Subscription Box for Cute Diapers, Wipes, & More
What's In This Baby Subscription Box
Hello Bello is Kristen Bell and Dax Shepard's baby and personal care line that offers subscriptions for diaper and wipes bundles, training pants, vitamins, and more. They offer one of the most affordable diaper subscriptions available today and each bundle comes with adorable prints and fun, festive designs.
Your bundle can contain up to 7 packs of diapers in your chosen size (NB-6) and pattern, and you can also order up to 4 packs of wipes as well. When selecting your diapers, you'll be able to pick up to 7 different designs from among ~25+ choices and all diapers are ultra-soft and hypoallergenic.
Unlike other diaper subscriptions, you can select up to 2 different sizes if you're ordering for more than one child and will receive 15% off of add-on items like supplements and skincare. Finally, you'll also receive a special freebie in your first order and randomly throughout the year.
Hello Bello allows you to set your delivery for every 3, 4, or 5 weeks and you can edit what's in your bundle until 24 hours before it ships, so you never have to worry about running out of supplies.
Pros
Offers a diaper and wipe subscription
25+ adorable designs to choose from
Receive 15% off on other items
Cons
Freebies are only guaranteed in 1st order
No cotton diapers are available
Wetness indicator only available on sizes N-2
What Readers Say:
"These diapers are the ONLY brand that my son doesn't break out in. He has very sensitive skin and eczema. Other brands he will break out with in one diaper change. Im so thankful for this brand, they are soft, comfortable, and always updating with cute designs. I enjoy being able to pick out what designs I want with my month subscription and it's easy to exchange un opened packs for a bigger size when you out grow them. I'm super excited they came out with training pants since again this is the only brand that doesn't upset his skin. Not to mention there are several pull up designs to chose from too. Might as well make diaper changes exciting."

-Cari
Shipping: Ships to the contiguous US (free), Alaska, Hawaii ($25), APO/FPO addresses ($29-$33, depending on weight).
Not ready to buy? Add it to your Or, if you want to learn more, check out all our
Hello Bello reviews
.
Best Baby Book Subscription for Lesser-Known Titles
What's In This Baby Subscription Box
Bookroo is an award-winning book club that offers a monthly book subscription for kids ages 0-12. Its Board Book Club is just for babies and toddlers ages 0-3 and each board book box comes with three board books (around 8-14 pages each) along with an insert that highlights the books and offers exclusive details, like insights from authors and illustrators.
A distinct feature of Bookroo is that it favors sending hidden gems, rather than the classics that fill most children's libraries shelves. Here are some titles you may come across if you subscribe to Bookroo for your baby:
Mrs. Peanuckle's Fruit Alphabet
Animal Numbers
Jane Foster's ABC
1-2-3, You Love Me
Pros
3 board books per box
Contains lesser-known titles
Offers credit if you receive a book you have already
Cons
Cannot select which books you want to read
Only sends books once a month
Cannot swap books if you already own the same title
What Readers Say:
"We started with a subscription for the board books, and now we are receiving a box of picture books every month. We have loved both. Our daughter is still a little baby, but my husband and I love to open and read the books together. It is wonderful that we already have a collection of books that we look forward to reading to her. We live in a small rural town more than an hour and a half away from a dedicated bookstore, so I love that I can count on books getting delivered to us every month. I think that the selection of books is really nice too, and we receive a great variety of books that we would not have otherwise known about."

-Emily Hunt
Shipping: Shipping is $4.99 per box to anywhere within the United States (including APO/DPO).
Not ready to buy? Add it to your Or, if you want to learn more, check out all our
Bookroo reviews
.
Best Baby Subscription for Leak-Proof Diapers
What's In This Baby Subscription Box
Coterie's diaper subscription provides customers with a monthly supply of diapers for sizes NB-06 and its diapers are hypoallergenic, dermatologist tested and recommended, and free of harsh chemicals. What sets Coterie apart from competing brands is its wicking system and superior absorbency - Coterie's diapers have 70% more liquid capacity, 4x faster absorbency, and 3x drying power compared to leading brands and they're also the only diaper brand that has their safety report available online.
Diapers are delivered every 4 weeks and there are 6 packs included with each box. The number of diapers included in the bundle ranges from 108 to 198, depending on the size of your baby (more diapers for younger kids).
Pros
Diapers remain drier for longer and have 70% more liquid capacity than competitors
Hypoallergenic and dermatologist tested and recommended
Free of fragrances, dyes, and major contaminants
Cons
Diapers may run small
No prints available
Costs anywhere from $0.20-$0.40+ more per diaper compared to standard brands
What Readers Say:
"If I could give this brand a 10 I would. The quality is unmatched, my little has a sensitive bum and has had maybe one rash. The material is so soft and absorbent. I have not changed her diaper in the middle of the night since I switched to Coterie. I love the coverage of the actual diaper. She's got thick thighs and a long torso. These diapers are a match made in heaven."

-Ajiah
Shipping: Ships to all 50 states, but is unable to ship to P.O. Boxes, APO, and FPO addresses. Free standard shipping on orders over $49. Orders under $49 incur a $7.50 shipping fee and Trial Pack orders incur a $5.00 shipping fee.
Best Baby Subscription Box for Diaper Bundles with Freebies
What's In This Baby Subscription Box
The Honest Company is a natural baby and beauty brand founded by Jessica Alba that offers a bundle subscription for its sustainable, fragrance-free, and super-absorbent diapers and plant-based wipes. Each diaper and wipe bundle comes with 7 packs of diapers (sizes N-6) and 4 packs of plant-based baby wipes (72 wipes per pack).
You can select up to 7 different patterns for diapers (including white) and choose from 5 classic wipes with cute box designs or 2 types of nourishing and hydrating wipes. Additionally, you'll receive 15% off on extras like diaper rash cream or organic body oil and receive a free gift with every third purchase.
In addition to its diaper and wipes bundle subscription, Honest also offers single-item subscriptions for your favorite products. You'll save 5% on each item you subscribe to and Honest offers free shipping if your order exceeds $50.
Pros
Offers diaper and wipes bundle subscription
Can subscribe to favorite items
You'll receive freebies with every 3rd purchase
Cons
Fewer designs for diapers than some other brands
Slightly more expensive than other diaper and wipe bundles
Shipping: Ships to the US, Canada, and APO/FPO addresses. Free shipping on any order over $40 shipped within the contiguous US.
Best Baby Subscription Box for Most Board Books
What's In This Baby Subscription Box
Lillypost is a monthly book subscription box that offers books for children ages 0-7. Each baby subscription box contains 4 board books along with fun stickers for your child to enjoy.
You can expect to find titles such as the following in your baby book subscription box:
Chick 'n' Pug
Little Green Peas
Penguin and Pinecone
A Book of Sleep
Dear Zoo
Pros
4 board books per box
Can receive seasonal books
Cons
No refund or discount if you receive a book you already own
Cannot select books
What Readers Say:
"The boxes are thoughtfully assembled and always have quality books. It is my go-to gift for baby showers and birthdays!"

-Nicole Stark
Shipping:
Ships to the US and Canada for $4.95.
Not ready to buy? Add it to your Or, if you want to learn more, check out all our
Lillypost reviews
.
Popular Baby Subscription Box for Books
What's In This Baby Subscription Box
Little Fun Club offers a monthly book subscription for children ages 0-12. Parents can subscribe to receive either 2 or 3 books per month and the cost of this baby subscription box decreases for long-term orders, so keep that in mind — pre-paying for an annual subscription will significantly reduce the cost of each box.
Each book included in your box has been selected based on merit, meaning these are either books from The Association for Library Service to Children or award-winning books or books by distinguished authors. You can expect to come across titles such as the following:
Duck and Goose Find a Pumpkin by Tad Hills
Ten Little Fingers by Annie Kubler
Who Says? (Sassy) by Dave Aikins
Pros
Choose 2 or 3 books per order
Annual subscription plan available
Books are from distinguished authors
Cons
Other book subscriptions may contain more titles
Shipping: There is a $5 shipping and handling fee per box for subscribers whose shipping address is within the U.S. Addresses outside of the U.S. are subject to a shipping charge that is calculated before the initial sign-up process.
Best Quarterly Baby Toy and Book Subscription Box
What's In This Baby Subscription Box
Delivered every three months, Hoppi Box includes 3-5 full-size toys picked by child development experts. Each baby subscription box is personalized to meet (and nurture) developmental milestones and contains at least one book along with a selection of educational toys and games.
You'll receive and new box in March, June, September, and December, and can expect to find toys such as wooden shape puzzles, magnetic blocks, a mini bulldozer, and sort and count cups.
Pros
Includes toys and a book
Made from durable, eco-friendly materials
Designed to be a surprise every 3 months
Cons
No customization
Cannot choose toys or books
Based on developmental averages
What Readers Say:
"We LOVE Hoppi Box! The quality of every item in this subscription was top notch, and I was amazed at how thought out each toy was in my son's box. The book he received allows him to learn listening skills and grow his imagination. The accordion plays "wonderful" (I use this term lightly as a 2 year old playing an instrument can be interesting! lol) music that builds coordination and helps foster a love for music. The magnet puzzle teaches hand eye coordination and critical thinking as my son tries to navigate the balls through the maze. The bricklaying sand kit teaches your child to build and create. Perhaps my son's favorite toy of them all was the play fruit! He has always enjoyed tasks that hone his fine motor skills, and with this he sat for a good 30-40 minutes cutting the fruit in half and putting it back together. I can not speak enough wonderful things about this subscription! The memories it made my child and I are priceless. What are you waiting for? Make you and your child "hoppi" with the Hoppi Box!"

-The SIMPLE Moms
Shipping: Shipping is FREE to U.S. domestic addresses. There is an additional $15 charge to Canadian addresses.
Not ready to buy? Add it to your Or, if you want to learn more, check out all our
Hoppi Box reviews
.
How to Get The Most Out of Your Baby Subscription Once You've Picked
Once you've picked out the right box for you, follow our steps to help make sure you make the most of your new subscription.
Check for coupons before buying. As you know, we have the best coupons around here at MSA. Make sure to keep an eye on our feed for special deals and also read our reviews and brand pages for the best coupons before subscribing.
Personalize your subscription. Make sure to update your subscription so that it works for you! Want to skip a delivery, or receive a box more often? Always update your preferences before your next order so that you can get the best all-around experience that's tailored to your needs and current schedule.
Check for limited edition items. Several of the above baby subscription brands offer occasional seasonal and limited edition items. Sometimes this may be a unique pattern for diapers, while other times you may find holiday-themed books or toys. Always check each brand's site to ensure you don't miss out on limited opportunity items.
Factors We Considered When Reviewing These Baby Subscriptions
This list features our fellow subscription fanatics' top choices, and we can confidently recommend the subscriptions above since we've researched and reviewed them all. Factors we considered when reviewing these subscriptions include:
Brand's History - How long has the brand been around and what do consumers say? Many of the baby subscriptions we reviewed above have existed for several years and have superior ratings left by the majority of their customers. These brands are well-established and have worked hard to develop consumer trust and loyalty. Now, that doesn't necessarily mean that you shouldn't try new brands, however, it can be extremely helpful to rely on brands that have a proven history of excellence among consumers and have shown that they meet a variety of demands and interests.
Overall Quality - Baby toys and supplies can run up quite the bill over the course of a few years so you want items that will last. These subscriptions offer an excellent overall value compared with what you'd find in retail stores (and in many cases, these brands go above and beyond their retail counterparts).
Sourcing - Where and how does a brand source its products? We tried to include as many brands as possible that offer items that are non-toxic, eco-friendly, and made sustainably.
Your Reviews: Last, but not least, we value your input and designed this list with your feedback in mind. Readers like you help us to develop the best lists possible by leaving your honest reviews on our brand pages and commenting on related reviews and posts.