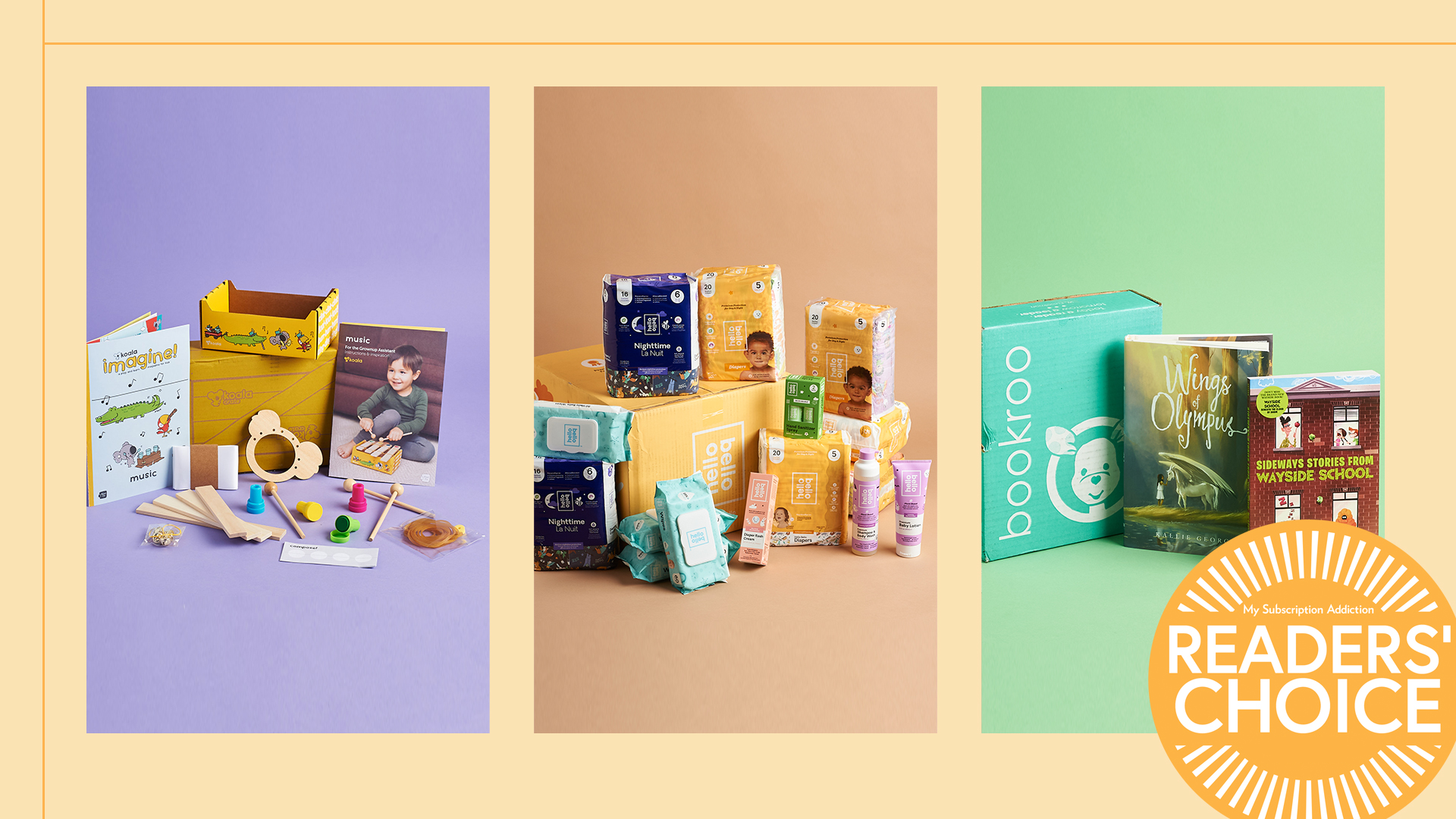 I'll never forget what it was like to have a newborn - I was over the moon to finally have my little girl here, yet filled with overwhelming anxiety over wondering whether or not I had everything I needed to take care of her properly (and of course, spoil her rotten). While my husband and I had all of our bases covered, I couldn't help but feel like life would have been a bit easier if we had had access to an on-demand service for the essentials like diapers, wipes, you name it. In fact, I think most parents find themselves in this same boat - you think you have everything you need until you realize you're totally in over your head...
Thankfully, there are plenty of baby subscription boxes available today to help relieve some of the stress that's inevitable with this stage of life. Every year, we ask our readers to share their top recommended subscriptions of all types. Then we ask our experts to share what they know about each subscription to make it easy for you to know which subscription is right for you. Below, you'll find our readers' top choices for the best subscription boxes for babies in 2023 for everything ranging from toys and books to diapers and clothes, as well as organic baby food.
Top Baby Subscription Boxes Featured In This List:
The 10 Best Subscription Boxes for Babies in 2023
Read on for our reader's recommendations for the best baby subscription boxes currently available. If we missed anything, drop us a comment. If you've tried one of these subscription boxes, be sure to leave a quick review (even if you had a poor experience — your review can help other readers avoid subscription remorse).
Best Baby Subscription Box for Stage-Specific Baby Toys
About the Box:
KiwiCo was voted as the best subscription box for kids in the 2023 readers' choice awards and, not surprisingly, its baby subscription box Panda Crate always ranks highly among the best baby subscription boxes each year. Panda Crate is designed for children ages 0-36 months and helps babies and toddlers learn through playing, exploring, and interacting with their parents and other family members.
Panda Crate offers the following baby subscription boxes that are based on your child's age and developmental stage, delivered on a bi-monthly basis:
Bond with Me, 0-2 months - Includes products like Tummy Time Mirror, Swaddle Blanket, Milestone Pillow, and Cards
Sense with Me, 3-6 months - Includes products like Crinkle Tag Toy, Soft Rattle Blocks, Teething Ring
Explore with Me, 7-12 months - Includes products like Coin Box Puzzle, Bead Maze, Poppy's Day Out
Count with Me, 13-18 months - Includes products like Stacking Cups, Shape Puzzles, Counting Cards
Solve with Me, 19-24 months - Includes products like Peg Puzzle, Squishy Shapes, Lacing Beads
Each Panda Crate subscription box comes with activity cards, at-home activity suggestions, and KiwiCo's Wonder Magazine, which is a research-based publication focused on early parenthood, to provide parents with the most effective strategies and helpful tips to promote healthy childhood development.
To date, KiwiCo now offers Pana Crate Plus as well which includes 10–12 developmental skills per crate (vs. 6-10 in the standard subscription) along with 1–2 grow-with-me Plus products and 1–2 additional play guides. Each Panda Crate Plus box is valued at $150+.
Pros
Baby toys based on child's age and development
5 subscription boxes for babies
Choose from regular Panda Crate or Plus
Cons
You can't handpick the toys
Boxes are based on average developmental stages
Shipping: Ships to the U.S. for free, international shipping starts at $5.95 per month.
Best Subscription Box for Cute Diapers, Wipes, & More
About the Box:
Hello Bello is Kristen Bell and Dax Shepard's baby and personal care line that offers baby subscription boxes for diaper and wipes bundles, training pants, vitamins, and more. They offer one of the most affordable diaper subscriptions available today and each bundle comes with adorable prints and fun, festive designs.
Your bundle can contain up to 7 packs of diapers in your chosen size (NB-6) and pattern, and you can also order up to 4 packs of wipes as well. When selecting your diapers, you'll be able to pick up to 7 different designs from among ~25+ choices and all diapers are ultra-soft and hypoallergenic.
Unlike other diaper subscriptions, you can select up to 2 different sizes if you're ordering for more than one child and will receive 15% off of add-on items like supplements and skincare. Finally, you'll also receive a special freebie in your first order and randomly throughout the year.
Hello Bello allows you to set your delivery for every 3, 4, or 5 weeks and you can edit what's in your bundle until 24 hours before it ships, so busy parents never have to worry about running out of supplies.
Pros
Offers a diaper and wipe subscription
25+ adorable designs to choose from
Receive 15% off on other items
Cons
Freebies are only guaranteed in 1st order
Wetness indicator only available on sizes N-2
Shipping: Ships to the contiguous U.S. and APO/FPO addresses (free for orders $75+, $4.99 for orders between $35 & $74.99, and $9.99 for orders under $35), Alaska and Hawaii ($25), and Canada ($11.99).
Not ready to buy? Add it to your Or, if you want to learn more, check out all our
Hello Bello reviews
.
Best Baby Book Subscription Box
About the Box:
Bookroo is an award-winning book club that offers a monthly book subscription for kids ages 0-12. Its Board Book Club is just for babies and toddlers ages 0-3, and each board book box comes with three board books (around 8-14 pages each) along with an insert that highlights the books and offers exclusive details (like insights from authors and illustrators).
A distinct feature of Bookroo is that it favors sending hidden gems, rather than the classics that fill most children's libraries' shelves. Here are some titles you may come across if you subscribe to Bookroo for your baby:
Mrs. Peanuckle's Fruit Alphabet
Animal Numbers
Jane Foster's ABC
1-2-3, You Love Me
Pros
3 board books per box
Contains lesser-known titles
Offers credit if you receive a book you have already
Cons
Cannot select which books you want to read
Cannot swap books if you already own the same title
Shipping: Shipping is $4.99 per box to anywhere within the United States (including APO/DPO).
Not ready to buy? Add it to your Or, if you want to learn more, check out all our
Bookroo reviews
.
Best Baby Food Subscription Box for Organic Baby Food
About the Box: 
Little Spoon offers certified organic baby food blends that are available in 6 different stages (depending on your child's age) that are designed to help your baby transition from single-ingredient purees to multi-ingredient blends. All meals are Clean Label Project verified and are free of added sugars, preservatives, and additives.
Little Spoon offers baby food subscription plans for 1-3 meals per day (14, 28, or 42 blends per delivery) that are shipped every 2 weeks. Baby Blends are available in both traditional flavors, such as apple, pear, and zucchini, as well as in seasonal and specialty blends including pumpkin spice, piña colada, and pitaya pineapple spinach banana coconut oil.
Have a toddler in your house too? Little Spoon also offers Biteables, Plates, and Smoothies for kids ages 1+.
Pros
All meals are organic
Different stage blends based on your child's age
Simple favorites as well as delicious unique blends
Cons
Food comes in plastic containers (#5 PP plastic)
No meat-based options
Shipping: Ships for $6 per box to the contiguous United States.
Active Deal
Use code HEALTHYKIDDO to get $20 Off Your First Order
Use Coupon Code
HEALTHYKIDDO
Try Little Spoon
Not ready to buy? Add it to your Or, if you want to learn more, check out all our
Little Spoon reviews
.
Best Baby Subscription Box for Mommy and Me Products
About the Box:
Are you looking for a baby subscription box that also offers something for moms? Look no further than Baby and Sunshine!
Baby and Sunshine's subscription box comes with a mixture of items that are designed for both mom and baby, such as footed onesies, soft fabrics and blankets, pregnancy leggings, and nursing bras. You can also expect to find other products like handmade lotion, baby bowls and spoons, pacifiers, and more.
Back in November 2021, I reached out to Baby and Sunshine to obtain details on their sourcing for fabrics. This is the response I received:
"Some of the vendors we work with do have items with certifications such as GOTS, SGS, ASTM, or WRAP. Other partner vendors have fabrics that have been tracked through the production chain to prevent commingling but have not gone through the process of obtaining certifications...not all items will be organic cotton, some are cashmere, or a mix of cotton and spandex, bamboo viscose and spandex, along with other fabrics."
Pros
Get to pamper mom and baby
Contains a mix of clothing, self-care products, baby products, and more
Many products are made with organic ingredients
Cons
Can't handpick items
Some vendors don't use organic ingredients
Shipping: Free shipping to the U.S.
Best Rental Service for Organic Baby Clothing
About the Box: Wish you could go fully organic for your baby's clothing, but are worried about the cost? Don't worry, UpChoose offers a rental service for organic baby clothing.
UpChoose realizes that full sets of organic clothing can rack up quite the bill as your baby continues to grow, so they decided to make it possible for more families to go organic.
You can select from the following subscription options:
The Mini - 12 items (5 bodysuits, 5 one-pieces, and 2 pairs of pants) that are available to rent for $29 per month pre-loved, or $59 new.
The Standard - 22 items (8 bodysuits, 8 one-pieces, 2 pairs of pants, 1 sweater/top, 3 bibs) that are available to rent for $49 per month pre-loved, or $99 new.
The Full Set - 56 items (10 bodysuits, 10 one-pieces, 2 pairs of pants, 5 bibs, plus a mix of towels, toys, hats, and more ) that are available to rent from $89 per month pre-loved, or $139 new.
UpChoose sources its clothing from top organic brands including Under the Nile, Kate Quinn, Finn and Emma, L'ovedbaby, Colored Organics, and Burt's Bees Baby. Customers can further customize their baby clothes subscription by selecting their preferred styles and colors before purchasing.
And, if you become too attached to a certain outfit (or two) you can keep it rather than return it with the rest of the set. If you have rented a set for at least three months, you can keep up to two items for a flat fee of $10 per item for a bodysuit, pants, hat, or toy, or $15 per item for a one-piece, towel, or blanket. If you've rented your set for less than three months, the costs go up to $20 and $30 respectively. Any additional item kept will be charged based on its retail price.
Pros
All clothing is organic
Choose from pre-loved or new
Different colors and styles to choose from
Cons
Some people may prefer to receive fewer items of clothing per box
Some items are a bit expensive to keep
Shipping: Ships to the U.S. for free both ways.
Not ready to buy? Add it to your Or, if you want to learn more, check out all our
UpChoose reviews
.
Best Baby Subscription Box for Build Your Own Bundles
About the Box:
Honest is a natural baby and beauty brand founded by Jessica Alba that offers a bundle subscription for its sustainable, fragrance-free, and super-absorbent diapers and plant-based wipes. Each diaper and wipe bundle comes with 7 packs of diapers (sizes N-6) and 4 packs of plant-based baby wipes (72 wipes per pack).
You can select up to 7 different patterns for diapers (including white) and choose from 5 classic wipes with cute box designs or 2 types of nourishing and hydrating wipes. Additionally, you'll receive 15% off on extras like diaper rash cream or organic body oil and receive a free gift with every third purchase.
In addition to its diaper and wipes bundle subscription, Honest also offers single-item subscriptions for your favorite products. You'll save 5% on each item you subscribe to and Honest offers free shipping if your order exceeds $50.
Want to save even more? Honest now offers a Build Your Own Bundle where you can take your pick of up to 3 premium items per bundle from a select list of products for mom and baby and save an average of 30% off per shipment.
Pros
Offers diaper and wipes bundle subscription
Can subscribe to favorite items
You'll receive freebies with every 3rd purchase
Cons
Fewer designs for diapers than some other brands
Slightly more expensive than other diaper and wipe bundles
Shipping: Ships to the U.S., Canada, and APO/FPO addresses. Free shipping on any order over $50 shipped within the contiguous US.
Best Baby Subscription Box for Sustainable Baby Toys
About the Box:
If you're looking to stock up on Montessori-style toys that foster educational play, Lovevery is worth a look. Lovevery's play kits come with toys that are built to last and are made with high-quality materials such as sustainably harvested wood, organic cotton, non-toxic paint, and natural rubber.
Baby Play Kits are developmental staged-based and are designed to help younger children build color recognition, visual exploration, and fine motor skills. The following six kits are available for babies ages 0-12 months and are delivered every 2 months:
The Looker Play Kit, Weeks 0-12 - This Play Kit helps babies build new brain connections with high-contrast images and black-and-white sensory mittens.
The Charmer Play Kit, Months 3-4 - This Play Kit lets your baby explore with their mouth, eyes, and hands as their personality emerges and their social awareness grows.
The Senser Play Kit, Months 5-6 - This Play Kit helps your baby investigate the world around them while working on getting them closer to what looks and sounds exciting to them.
The Inspector Play Kit, Months 7-8 - This Play Kit makes the most of your baby's natural curiosity about how things work with opportunities to explore texture, practice nesting, and stacking, and learn about object permanence.
The Explorer Play Kit, Months 9-10 - This Play Kit is designed to help babies experiment with gravity, practice balance, and begin coordinating both sides of their body.
The Thinker Play Kit, Months 11-12 - This Play Kit encourages your baby to define and organize information while engaging their budding imagination.
Lovevery also offers 12 different toddler subscription boxes for children ages 1-4 as well.
Pros
Based on baby's developmental stage
6 Baby Play Kits available (under 12 months old)
Safe, eco-friendly toys
Cons
You can't choose the toys or products
Boxes are based on average developmental stages
Shipping: Free shipping on all Play Kits in the contiguous U.S. & Canada.
Not ready to buy? Add it to your Or, if you want to learn more, check out all our
Lovevery reviews
.
Best Baby Subscription for Premium Leak-Proof Diapers
About the Box:
Coterie's diaper subscription provides customers with a monthly supply of diapers for sizes NB-06, and its diapers are hypoallergenic, dermatologist tested and recommended, and free of harsh chemicals. What sets Coterie apart from competing brands is its wicking system and superior absorbency - Coterie's diapers have 70% more liquid capacity, 4x faster absorbency, and 3x drying power compared to leading brands and they're also the only diaper brand that has their safety report available online.
Diapers are delivered every 4 weeks and there are 6 packs included with each box. The number of diapers included in the bundle ranges from 108 to 198, depending on the size of your baby (more diapers for younger kids).
Pros
Diapers remain drier for longer and have 70% more liquid capacity than competitors
Hypoallergenic and dermatologist tested and recommended
Free of fragrances, dyes, and major contaminants
Cons
Diapers are much more expensive than other brands
No prints available (if you like cute designs)
Shipping: Ships to all 50 states, but is unable to ship to P.O. Boxes, APO, and FPO addresses. Free standard shipping for orders over $49 in the contiguous U.S. Orders under $49 in the contiguous U.S. incur a $7.50 shipping fee and Trial Pack orders incur a $5.00 shipping fee. Only express shipping is available for Alaska and Hawaii for $25.
Best Monthly Subscription For Surprise Baby Clothes
About the Box:
Surprisly offers exactly what you think it would - monthly surprises of clothing that are stylish and downright adorable. Since each box's items are chosen at random, customers are only required to provide details on the birthday or due date of their baby, their desired clothing type, and the clothing size they currently need.
Each monthly subscription box includes three outfits total - one for playtime, one for the day out, and one for nighttime. Some outfits might include tunic and leggings, coveralls, pajamas, top and pants, or a dress and jumper. Suprisly features a wide range of stylish brands such as Tuesday June, Silkberry Baby, Parade, Oliver & Rain, Little Green Radicals, Rabbit Skip Road, and more.
I reached out to the brand in November 2021 to obtain additional details on how they source their clothing. This is the response I received:
"We source our clothing that are made from organic cotton fabrics from global brands. Many of the brands we carry are GOTS certified."
Pros
3 different outfits per month
Sourced from organic brands
Includes options for different outings
Cons
Can't handpick items
No rental option
Shipping: Shipping is free for all shipments within the United States.
Not ready to buy? Add it to your Or, if you want to learn more, check out all our
Surprisly reviews
.
Factors We Considered When Reviewing These Baby Subscription Boxes
This list features our fellow subscription fanatics' top choices for baby subscription boxes, and we can confidently recommend the subscription services above since we've researched and reviewed them all. Factors we considered when reviewing these subscription boxes include:
Brand's History - We reviewed baby subscription boxes that are well-established and have a proven history of excellence among consumers, and especially our readers.
Overall Quality - These baby subscription boxes offer baby toys and supplies that are high value compared to retail stores and are designed to last.
Sourcing - We included as many baby subscription boxes as possible that offer non-toxic, eco-friendly, and sustainably-made products.
What Do You Think About the 10 Best Baby Subscription Boxes?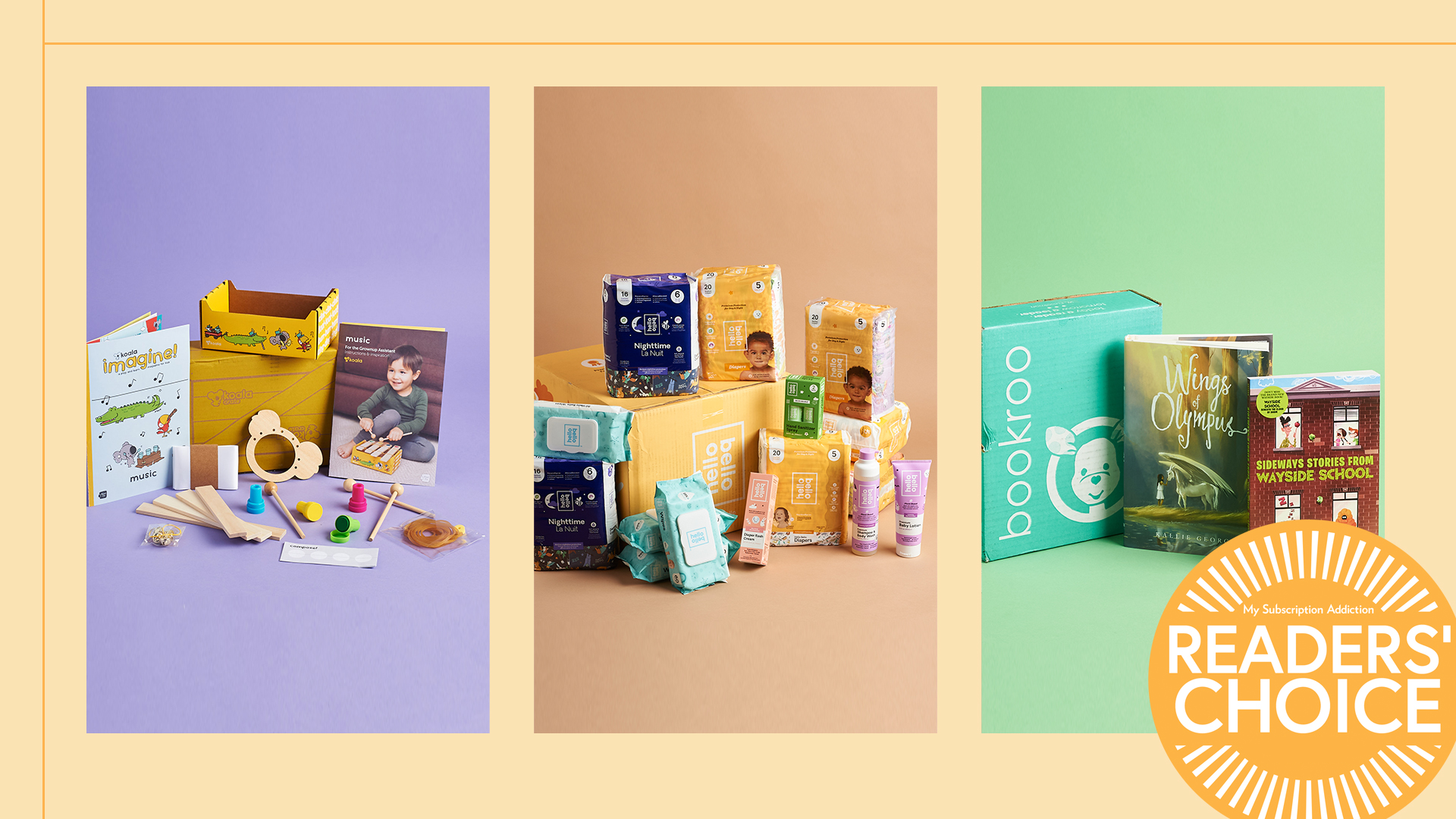 That's it for our list of the best baby subscription boxes in 2023! Did you discover your new favorite baby subscription box? Are there other subscription boxes we should add to the list? Let us know in the comments section below and make sure to leave an honest review if you've tried any of these subscription boxes.