9 Best Kids Meal Delivery Services 2021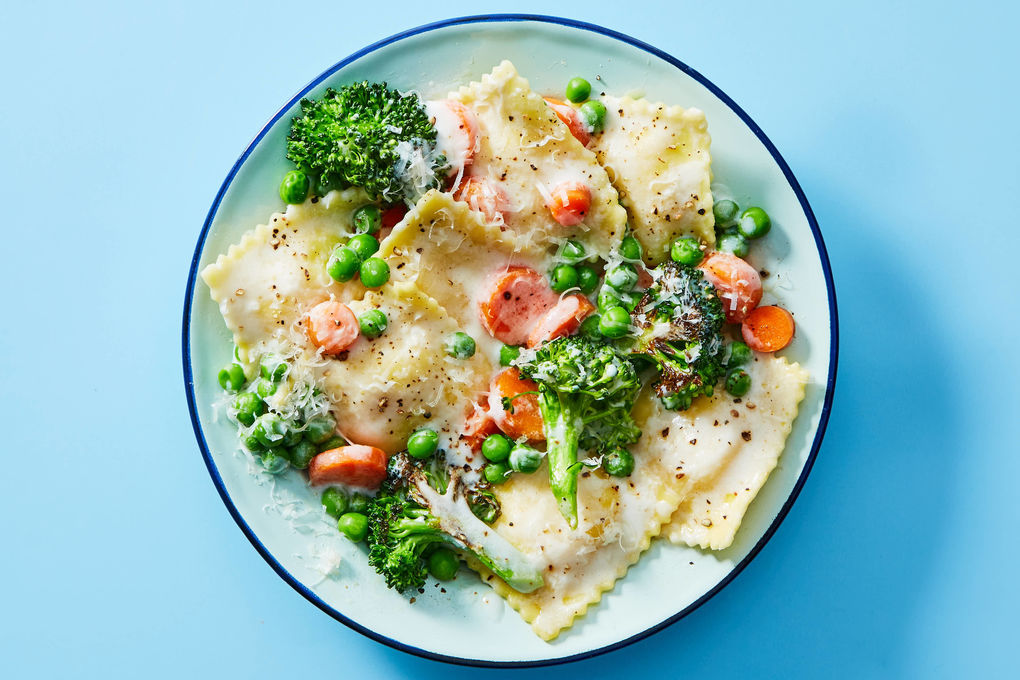 Feel like you're out of time, energy and appetizing ideas when it comes to feeding your family? Kids meal delivery services can help by taking stress out of mealtimes.
There are options for all kinds of kids, from picky eaters who would rather clean their room than eat a piece of broccoli to those with adventurous palates who can't wait to try new flavors and spices, to those with dietary restrictions and food allergies.
Even better? There are a number of choices for children of all ages. There's even a meal delivery service designed for infants spanning six to 14 months, which makes introducing your baby to their first solids easy (and nutrient-rich). 
So, whether you're feeding one tiny mouth or a multitude, this list of nutritious, delicious, and reassuringly reliable meal delivery services and subscriptions for babies and kids will have your whole family looking forward to their next meal.
Kids Meal Delivery Services
What You Get: Yumble is a kids meal delivery service specializing in fully-prepared kid-friendly made with seasonal, fresh, natural, and nutritious ingredients.
Yumble's balanced recipes are so delicious, your child might not even realize they're getting a generous serving of nutrient-rich vegetables with every bite. When possible, Yumble uses organic produce and humanely-raised, antibiotic and hormone-free meats.
Here's how it works: Choose whether you'd like to receive 6 meals per week (good for 1 kid), 12 per week (recommended for 1-2 kids), or 24 meals per week (for 2-3 kids), then head over to their menu to explore what's being offered.
Recent dishes include a cheesy veggie casserole with broccoli and corn (a gluten-free option packed with calcium, fiber, and Vitamin C), pizza bagel and veggies (which can be served warm or cold), garden vegetable chili and quinoa (a vegetarian meal which features tomatoes, squash, carrots,  beans and lentils).
Want to know more about what to expect? Our recent Yumble reviews should help.
Age range: 12 months to 12 years, with an emphasis on children ages 3 to 6 years old
Dietary restrictions: All Yumble foods are free of peanuts and tree nuts, but they are not made in a nut-free kitchen. Some meals are marked as being free of milk, gluten, soy, eggs, or are vegetarian, but the kitchen is not entirely free of these ingredients.
Cost: Starts at $47.94 per week. Sign up here.
What You Get: Starting the process of introducing your baby to solid foods? Yumi provides baby food in the form of healthy purees and finger foods to ensure your child's experience includes organic, non-GMO, low-sugar and allergen-free options.
Everything Yumi makes is organic free of the eight most common allergens (milk, eggs, peanuts, tree nuts, fish, crustacean shellfish, wheat, and soy). Their menu includes 70 options that rotate weekly, and are made fresh in California each week.
First-time eaters may receive thinner, single-ingredient purees like tasty dragonfruit and butternut squash. For infants six months and older, there are thicker options like Japanese sweet potato and pear. After seven months, more ingredients are introduced, like purple sweet potato and blackberry and chickpea and carrot.
Yumi features a number of options across infancy, divided into stages. Single-ingredient purées for four month olds and up, multi-ingredient smooth purées for seven month olds and up, multi-ingredient chunky purées for nine month olds and up, and bites/puffs for 11 month olds and up. 
All foods are delivered in 4.5 oz. recyclable jars. Check out our Yumi review to learn more.
Age range: 6 to 14 months
Dietary restrictions: All Yumi foods are free of milk, eggs, peanuts, tree nuts, fish, crustacean shellfish, wheat, and soy.
Cost: Starts at $35 per week (1 meal per day at $4.30 per meal). Sign up here.
COUPON: Use code MSA50 to get 50% off your first purchase!
What You Get: Little Spoon is a baby food subscription that provides fresh, allergen-free purees that are made with organic ingredients. 
Little Spoon's recipes (which are designed by experts) feature over 100 organic ingredients and are designed to make the transition to solids simple for you and enjoyable for your child. Their Babyblends (which are chunky purees) collection have previously featured carrot mango coconut milk turmeric, spinach mango banana hemp, kale white bean and pear basil.
They also offer Boosters, which contain vitamins and probiotics in powder form, meant to be added to your baby's food to help build brain function, stave colds away, promote gut health, and improve immune strength.
Here's how it works: You'll take an introductory quiz to indicate your child's allergies and known favorite flavors, and Little Spoon will create a meal plan for you. They encourage trying a variety of their offerings to expose your child to a number of different flavors and help them build their palate.
Deliveries are shipped every two weeks. You can learn more about Little Spoon here.
Age range: 4 months and up
Dietary restrictions: All Little Spoon foods are free of milk, eggs, peanuts, tree nuts, fish, crustacean shellfish, wheat, and soy, however their facility does produce other foods which do contain allergens.
Cost: Plans starting at $13.88 per week. Sign up here.
What You Get: Looking to the whole family? Nurture Life is a meal delivery service that creates pre-portioned, nutritionally balanced meals for kids four months to 13 and up (that means adults, too).
Meals (like chicken biryani with organic veggies and brown rice and cheesy pesto tortellini with chicken, among all others) are prepared fresh using in-season and locally sourced ingredients when available. All recipes are free of artificial colors and flavors, trans fats, and high fructose corn syrup.
Here's what you and your family can expect come mealtime with Nurture Life. For babies 10 to 24 months, there are dishes like pureed tofu, sesame, soy, carrot and zucchini. Toddlers (ages 1-4 and up) will be excited to try meals along the lines of BBQ pulled pork with cornbread muffin and carrots, while kids (ages 5-11 and up) can look forward to offerings like Teriyaki salmon with rainbow veggie rice. And for teens and adults (age 13 and up), classics like chicken parmesan await.
Nurture Life also offers healthy snack add-ons (2-4 servings each), which, like the meals offered, are designed by pediatric dietitians. Want to learn more? Read our Nurture Life reviews.
Age range: 4 months to 13+ years
Dietary restrictions: The Nurture Life kitchen is free of peanuts, tree nuts (except coconut), and shellfish. The kitchen does contain coconut, dairy, eggs, fish, soy, and wheat.
Cost: Prices start at $6.89 per meal. Sign up here.
What You Get: Backed by science, Raised Real specializes in organic, plant-based food for babies and toddlers. 
All meals average less than 5g of sugar and are made from real fruits and vegetables, then flash-frozen to maintain freshness.
Here's how it works: While all the menu items are available to explore on their website, Raised Real has subscribers take a quiz to tell about your child's age and food preferences, and they'll select meals to send you. The thinking behind their approach is to help expand your baby's palate and expose them to a multitude of healthy ingredients.
Recent dishes include hearty breakfast oats with acai, banana, raspberry and cranberry seed oil (which is loaded with fiber and antioxidants), and anytime meals like red pepper paired with black beans, cumin, cilantro and avocado oil.
An added bonus? Raised Real subscriptions includes access to the Real Hotline, which you can text with questions about nutrition and food for your baby, or as they say, "if you just need a pep talk." They also offer exclusive discounts to partners like ezpz and more.
Age range: 6 months to 2 years
Dietary restrictions: Every Raised Real meal is gluten-free, and free of milk, eggs, peanuts, tree nuts, fish, crustacean shellfish, wheat, and soy. Some meals contain coconut.
The Cost: Starts at $65.88. Ships every two or four weeks. Sign up here.
What You Get: Created by a neurosurgeon, Cerebelly creates farm-fresh, nutrient-rich organic baby food blends packaged in pouches.
The minds behind Cerebelly's menu include pediatricians, nutritionists, and food scientists, who created baby food that'll provide nutrition to help support your baby's growing brain and body. These blends — like pea spinach pear, black bean sweet potato and carrot chickpea — are suited to baby's first solids and developing toddlers alike.
Here's how it works: You'll start by taking a quiz that shares info about your child's developmental milestones and then be shown a variety of recommendations that provide nutrients specific to your kid's age and development window. You can add their suggestions to your box or customize based on your child's preferences. Boxes are delivered every two weeks and come in 14, 28, 42, or 56 packs.
Age range: 4-6 months to toddlers and young children
Dietary restrictions: All Cerebelly foods are free of milk, eggs, shellfish, fin fish, tree nuts, peanuts, wheat, and soybeans, however Cerebelly foods are manufactured in a facility that uses tree nuts for other products.
Cost: Starts at $40.46 every other week Sign up here.
What You Get: With Kid Snack Box, snacktime might become your child's favorite part of the day.
This monthly subscription box for kids features five to eight healthy snacks (like SkinnyPop popcorn, crunchy mini-cookies from Enjoy Life, and organic squeezable applesauce from North Coast). All selects are approved by Kid Snack Box's in-house dietitian/nutritionist. Past deliveries have also included granola bars (you might catch yourself sneaking a mini KIND bar out of your child's stash), fruit and veggie pouches, portable nut butters, and more.
Pack them in your child's lunchbox, keep a few in your car or tote them around in a purse or bag to prevent anyone from getting hangry.
Age range: Toddler and up
Dietary restrictions: Gluten-free and nut-free options available
Cost: Starting at $15 per month. Sign up here.
Creative Food Subscriptions for Kids
What You Get: Foodstirs has simplified organic baking in a fun, family-friendly way.
These baking kits are a great way to keep little hands busy (and bellies full) with easy, delicious recipes. Foodstirs pride themselves on being a "junk-free bakery," and do so by using clean ingredients and less sugar in their kits. They're also kosher and have been verified by the Non-GMO Project.
These brownie, cake, and cookie mixes feature high-quality, pre-made mixes that have no preservatives or artificial ingredients, so you can expect to see ingredients like organic heirloom flour, all-natural food dyes, and fair trade chocolate. 
Some recent kits have featured colorful unicorn pops, galaxy-inspired doughnuts (which we recently made, read our Foodstirs review here) and a stack of rainbow pancakes.
All of Foodstirs' offerings are as creative and cool-looking as they are delicious, so fire up your Instagram because you can expect to receive kits for everything from decorated summery sugar cookies to Halloween-themed, spooky sweets.
Age range: 6 years and up
Dietary restrictions: Nuts aren't used in any Foodstirs recipes, however dry mixes are prepared and packaged using equipment that may come into contact with tree nuts, as well as egg and soy. Currently, only their Organic Vanilla Frosting Mix is gluten-free. All recipes are kosher.
Example recipes: Snowman frosted sugar cookies, firecracker treat pops, little monster cupcakes
The Cost: $25.99. Order a Foodstirs kit here.
COUPON: Use code MSA20 to save 20% off on subscriptions & more!
What You Get: If your child is eager to get into the kitchen, Baketivity is a great way to begin.
Designed to help you connect with your children over a fun activity, each month Baketivity delivers pre-portioned ingredients needed to bake one batch of something delicious like red velvet cupcakes, whoopie pies, chocolate chunk cookies, cinnamon buns and bagels. 
Every box includes an ingredients list, easy-to-follow step-by-step instructions, and an activity book to make the kid-friendly kitchen operation educational. Each month's recipe is pre-determined and available to view on the Baketivity website, so you can plan your subscription accordingly. 
Want to learn more? Read our Baketivity reviews.
Age range: 4 to 10 years
Dietary restrictions: All recipes are certified kosher. Wheat-free and gluten-free options are available. Baketivity does not accommodate nut allergies at this time.
Cost: $34.95 per month. Save with longer subscriptions. Sign up here!
COUPON: Use code MSA10 to save 10% off your first box!
---
Want to learn more about meal delivery services and subscriptions?
Check these articles out: