Every year we ask you, our readers, to tell us your favorite subscription boxes. The results of the 2021 Readers' Choice Awards are in! This list features our fellow subscription fanatics' top choices for wellness and self-care.
Wellness and self-care incorporates many different areas of life with one common link: taking care of you. Whether it's finding mindfulness in yoga, pampering yourself with some new bath products, or incorporating a healthier lifestyle with vitamins in your day, these services will help you live your best life.

We asked our readers for their favorite wellness subscription boxes, and we've researched each company to provide an overview of what they offer. You'll also find promo links and coupons to help you try these subscriptions while maintaining your budget.
Most Popular Wellness and Self-Care Subscription Boxes
Below you'll find the best subscription boxes in the category of wellness and self-care, determined by real votes from our readers. If we missed one, let us know — leave a comment at the end of this article or head to a service's info page to write a detailed review. Or, you can explore wellness subscriptions at your own pace by browsing boxes in The Directory.
The Cost: From $20 per month. Subscribe here!
What Our Readers Say:
"I love the variety and personalization." – J
About the Box: Do you struggle to maintain a healthy supplement routine? Let Care/of take all the pain out of buying (and taking) vitamins and wellness products. This wellness subscription box ships personalized daily vitamin packs along with additional wellness items to your doorstep each month.
To get started, fill out the personalized quiz about your diet and lifestyle. Care/of will build you your own custom health plan, backed by actual science and vetted by nutritionists. All Care/of products are made from the most effective bio-available ingredients possible, designed to help you feel your very best. They're also sustainably sourced.
Each box comes with 30 individual packs of vitamins. Your daily pack contains your curated mix of supplements — perfect to grab on the go. Keep forgetting to take your Care/of each day? Try using their app, where you can track how many days in a row you use your packs. You'll achieve milestones with longer and longer streaks. 
If you've got a good idea of your nutritional needs, you can build your own mix from their line of 30 vitamins, minerals, probiotics, powders, and more. Modify your custom vitamin packs at any time and try out new supplements whenever you'd like. Our readers love the versatility of this wellness subscription box; it's an excellent way to upgrade your vitamins without spending a ton of time on research.

Check out our Care/of reviews to learn more. Ships to the U.S. and Canada.
The Cost: $30-$40 per month, depending on products. Subscribe here!
About the Box: Here's another great way to find the supplements your body actually needs. When you sign up with Ritual's autoship, you'll receive a 30-day supply of multivitamins catered to your age range and dietary needs.

Rituals' vegan-friendly, delayed-release capsules contain only the essential vitamins and minerals you need — nothing more. The products are clean, simple, and backed by their scientific advisory board, so you'll have confidence in every supplement. They also offer detailed traceability info on their site along with scientific research and detailed how-to guides.

Choose between age-based multivitamins, essential protein shakes, or even pre- and post-natal vitamin packs for your monthly order. You can add products, modify your shipping date, or cancel your subscription at any time.

Check out our Ritual reviews to learn more. Ships for free to the U.S.
The Cost: $34.95 per box (bimonthly). Subscribe here!
What Our Readers Say:
"Great value box, good variety of products including beauty, health, snacks/tea and jewelry. No problems with shipping. Canceling was a breeze too, fast customer service." – User
About the Box: Love Goodly is a wellness subscription box dedicated to sharing healthy, non-toxic, cruelty-free beauty and lifestyle products. The Love Goodly founders wanted to make it easy for women to discover new and exciting products that are actually useful — and free from harmful chemicals. 
Each delivery includes a mix of 4-5 full-size beauty, wellness, personal care products valued at $60 or more. You'll also find the occasional healthy snack, eco-friendly accessory, or home-goods product. All Love Goodly selections are non-toxic, eco-friendly, and vegan. 
Plus, a portion of each box sold is donated to a different cause each month. With Love Goodly, you can truly make an impact with the way you shop. Our readers love that approach (and we're inclined to agree).

Check out our Love Goodly reviews to learn more. Ships free to the U.S. and to Canada for $16.
The Cost: Individual units of vitamins fall into the range of $10-60.00 per 30-day supply, depending on needs and preferences. Subscribe here!
What Our Readers Say:
"Their gummy supplements are delicious!" – Piper
About the Box: Looking to start a healthier lifestyle? Not sure where to begin? Let Hum Nutrition help. The company offers high-quality supplements designed for your lifestyle. We've covered a few other supplement boxes in this list, but Hum Nutrition stands out for the extent of their personalization.
This nutrition-based wellness subscription box offers curated supplement plans based on your personal dietary needs. To get started, fill out a short personal quiz, and then a Hum Nutrition nutritionist will build a unique plan.
You'll still have the ability to edit your shipment — pick and choose the vitamins that focus on the areas most important to you, and you're good to go. The pricing is affordable, and you'll get discounts for larger orders.

Check out all our Hum Nutrition details for more info. Orders of $50.00 or more ship free to the U.S. For orders under $50.00, a $5.95 shipping fee applies within the U.S. and $10.95 for international destinations.
The Cost: Varies based on what's included in your personalized packs, but supplements start at just $0.06/day. Subscribe here!
About the Box: Taking vitamins and supplements is a great practice — when you can remember to do it. Persona Nutrition sends subscribers personalized packs of vitamins with a month-to-month subscription. You'll start by taking a short health quiz to tell them about your current habits and needs, and they'll recommend combinations of vitamins suited to you, including AM, PM, and nighttime packs if needed.

If you're wondering which vitamin subscription to grab, we'd recommend checking out these services individually. Determine whether one approach will work better for your lifestyle; we love how Persona puts their supplements into easy-to-carry envelopes, but you might prefer a different approach. In any case, all of the supplement subscriptions on this list are popular with our readers, and they're all great options for staying on top of your intake.

Check out our Persona reviews for more information on subscribing. Ships to the U.S.
6. Nutrisense – A Smart Way to Track Your Glucose Levels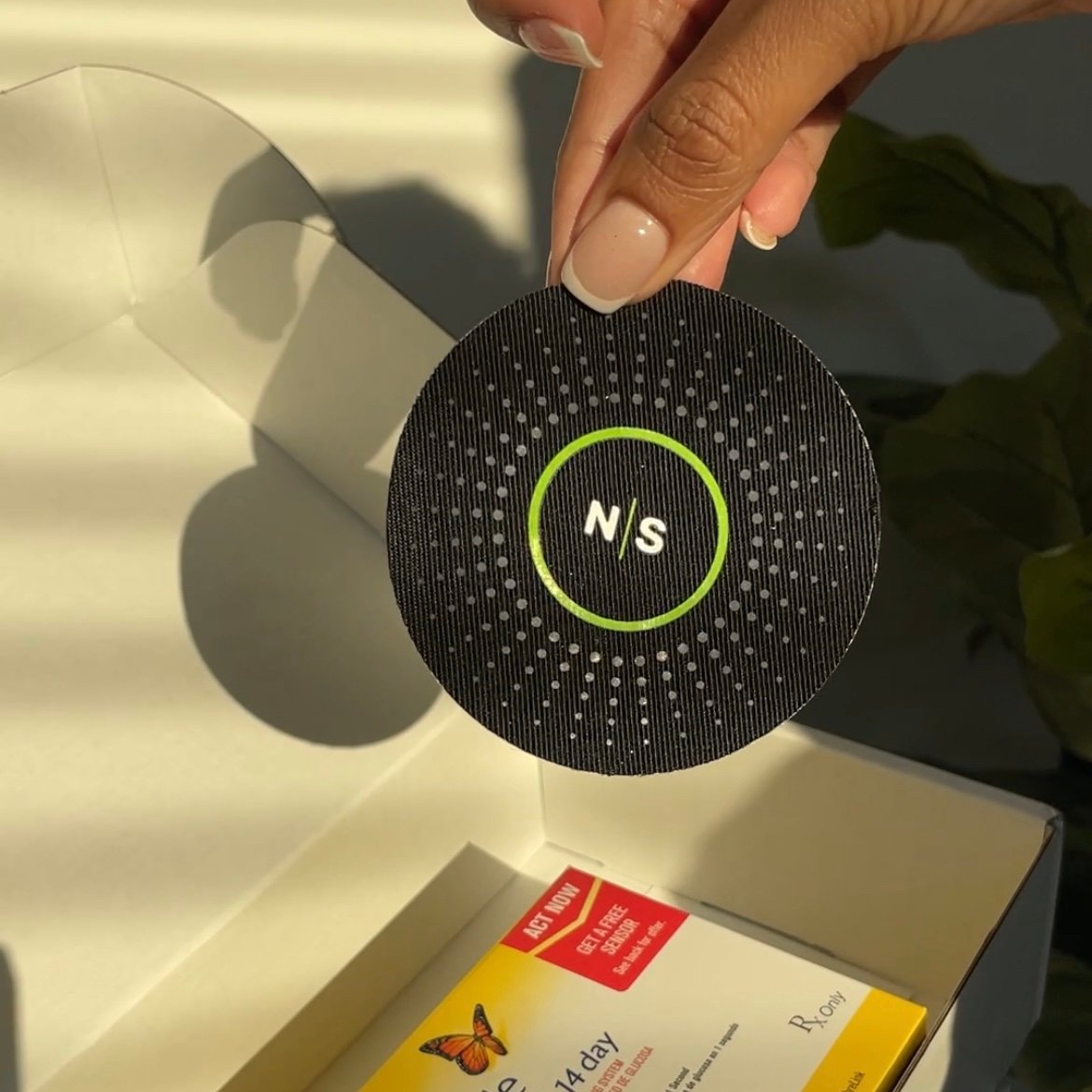 The Cost: $250 per month.  Subscribe here!
ACTIVE DEAL: Get $25 off your order!
CODE: MSA25
About the Subscription: Nutrisense combines a Continuous Glucose Monitor, a connected app, and expert dietitian support to give you information to take charge of your health. The small CGM device stays on the back of your arm to give you valuable feedback throughout the day via the connected app.
With the Nutrisense app, you can visualize your data and also track your daily activity by logging meals, exercise, mood, and sleep to see how these factors impact your glucose levels. With every Nutrisense subscription plan, you'll receive expert dietitian support from the start, so you can be sure that you're interpreting your health data accurately.
Ships to the U.S.
The Cost: $49.99 per quarter. Subscribe here!
What Our Readers Say:
"I like that FabFitFun tries to include wellness as part of their customization each box." – TeacherMom
"Nice mix of health items and other general items for women." – MSA reader
About the Box: It's wellness and fitness, it's style, and it's fun all in one ever-popular quarterly box: FabFitFun is one of our readers' all-time favorite subscriptions, and if you're looking for a box that nurtures personal growth, this is an excellent pick. 
Sign up, and you'll receive a wellness box each season. Previous boxes have included cosmetics, sleep masks, wireless earbuds, gym bags, and totes — and that's just scratching the surface.  In addition to lifestyle items and beauty products, subscribers get access to FabFitFunTV, which is packed with high-quality exercise videos.

FabFitFun packs a ton into each shipment, and you'll get access to incredible discounts through their add-on program. You'll also have a chance to choose a few of the items in your box.

This wellness subscription box is geared towards female subscribers, so guys will probably want to check out one of the other services on this list, but we'd recommend checking out a few previous boxes to see why FabFitFun is such a hit with our readers. 
Check out our FabFitFun reviews for more info! Ships to the U.S. and Canada.
The Cost: $59.00 per month. Save with a longer subscription. Subscribe here!
About the Box: Honey & Sage Co. is a women's wellness care package filled with natural beauty products like bath salts and organic seasonal goods. You'll get 3 seasonal apothecary goods (typically 1 drinkable, 1 body care, and 1 skincare), 2 seasonal ritual goods (think candles, incense, books, seeds, artisan treats), and access to a private group that focuses on monthly wellness practices.

There's a firm focus on artisanal goods, and the active community can provide plenty of inspiration for achieving your goals. If you're looking for like-minded people to help you on your journey, Honey & Sage Co. has a lot to offer.

Check out our Honey & Sage Co. reviews to learn more. Ships worldwide.
The Cost: $50.00 per month. Save with a longer subscription. Subscribe here!
About the Box: BarBella Box is a women's fitness subscription box filled with premium fitness apparel, gear, accessories, snacks, supplements, workout tips, and much more. 
Each month, this box features a mix of 4-6 well-known and new-to-market brands. You'll get athletic clothing, workout gear, healthy snacks, and other goodies. It's ideal for CrossFit fans (many of the featured brands specialize in the CrossFit market), but anyone looking to adopt a more active lifestyle will find plenty of satisfying selections.
BarBella Box has excellent customer service, which helps to make up for one of the main drawbacks of this box: The selections often include clothes, but while the checkout page allows you to choose your sizing, the apparel items come from several different brands with different sizing methods. In other words, you may find yourself returning some items. Fortunately, the support staff does their best to accommodate subscribers.

Check out our BarBella Box reviews to learn more! Ships worldwide with the exception of Colombia and Mexico.
The Cost: $24.00 per month. Save with a longer subscription. Subscribe here!
About the Box: Fit Lifestyle Box is a monthly fitness subscription box built to complement your wellness journey. You'll receive a full-size product (previous wellness boxes have included t-shirts, tank tops, and shaker bottles), 2-3 healthy snacks, 3-5 lifestyle samples, and a 30-day challenge workout that changes each month.

Boxes are available for men and women; choose your gender, preferred size for apparel, and fitness goal, then wait for your motivation to arrive. For the price, this wellness subscription box provides plenty of value, and it's a helpful tool for staying on top of your exercise regimen.

Check out our Fit Lifestyle Box reviews for more information on subscribing. Ships to the U.S. for $6.
The Cost: $59.95 per month for the #SuperSnacker box and $34.95 for the regular size box. Subscribe here!
About the Box: CLEAN.FIT box is a monthly box of healthy snacks and superfoods. You won't find any artificial ingredients here: CLEAN.FIT believes that clean eating supports both fitness gains and long-term wellness goals, and their wellness box is carefully curated to feature healthful products.

It's ideal for gluten-free, dairy-free, vegetarian, vegan, and Paleo diets, and all items are non-GMO and free from artificial preservatives, flavors, colors, or sweeteners. Each regular box has 9+ items inside (18+ in the #SuperSnacker size). You'll also get a workout plan in every box.

Check out our CLEAN.FIT box reviews to learn more. Ships worldwide.
The Cost: $45.83 per month for the deluxe box, $40.33 per month for the mini mailer + digital membership, and $22.50 per month for the digital-only membership. Subscribe here!
About the Box: We also featured Do a Shot of Yoga in our list of the best yoga subscriptions, so check out that article if you're looking for yoga inspiration.

This box bills itself as a yoga book club, but it provides quite a bit more than reading material. Choose from several tiers: the digital subscription sends downloadable master classes, a 10-day yoga challenge, and access to bonus materials to further your practice; the Mini Mailer level sends all of the aforementioned plus a hard copy of the yoga book of the month; and the Deluxe subscription includes all of those materials along with 3-4 yoga self-care items.

The selections include snacks, tea, apparel, and physical books. You'll also receive access to the Yoga Nerds Doing Shots of Yoga community, which is a great resource for getting answers to your workout questions. The community hosts weekly yoga coaching sessions through a livestream, so whether you're an experienced practitioner or you're just getting started, you'll stay inspired.
Check out our Do a Shot of Yoga details for more information. Ships worldwide for $5.99 for the Mini Mailer, $8.99 for the Deluxe box.
The Cost: $34.99 per month. Save with longer subscriptions. Subscribe here!
About the Box: TheraBox is a monthly self-care subscription focused on inspiring happier lives. Each box incorporates 1 happiness boosting activity inspired by research in mindfulness, psychology, and neuroscience. The goal is to "rewire" your brain for a more positive approach to life

TheraBox also includes 6-8 wellness products sourced from vendors that produce natural, organic products. Previous boxes have included aromatherapy, clean beauty/skincare, and unique lifestyle goodies. Themes and items change each month, so it's always a delightful surprise!
Check out our TheraBox reviews to learn more. Ships to the U.S. for $5.95, $14.99 for Canada, and $25 for all other countries.
The Cost: $54.99 (CAD) per month. Subscribe here!
About the Box: Each month, The Barbell Box scours the fitness world for the newest, coolest, and most effective products. You'll receive supplements, clothing, and fitness gear for truly epic training sessions. 
Selections are curated to match a selected monthly theme, but you'll always receive a well-rounded mix of products to enhance your workouts and fuel your motivation. Whether you're building muscle or cutting fat, this wellness subscription box will keep you on track.

Check out our The Barbell Box details for more information. Ships to the U.S. for free from Canada.
---
That's it for 2021 Winners for Best Wellness Subscription Boxes! Did your favorite make the list?
---