I was totally stoked when I first learned a few years ago that free subscription boxes exist. As someone who was completely new to the subscription box scene, I couldn't help but want to try out as many different boxes as possible to figure out my niche. It seemed like many of the leading brands across all subscription categories were offering free boxes and out-of-this-world deals.
However, due to the soaring popularity and ever-growing demand for subscription boxes recently, most of these companies took a major step away from their original offerings. Now, trying to find a legitimate free subscription box has become the equivalent of finding a needle in a haystack. What once only took one or two clicks to discover turned into digging through dozens of pages on Google for hours on end - just to find almost nothing worthwhile.
Luckily, there are still a handful of subscription services that offer your first box for free, or at least offer a free trial period. Not only that but there are also a few sites that will send out free sampler boxes, many of which don't require you to pay shipping fees.
Here, we'll take a look at the best free subscription boxes that are available today along with other brands that offer free trials, free sample boxes, and more. While not all of these options are technically free subscription boxes, they're still worth trying if you love sample-sized goodies or want a subscription box test run.
Looking For A Free Subscription Box? Check Out These Subscription Box Deals!
Best First Month Free Subscription Boxes
Free Subscription Box Offer: Use this link to get your first box for FREE with coupon code mysubaddictxoxo! You won't even pay a shipping charge (just remember to cancel before the trial period ends if you're unsatisfied with your subscription).
About the Box: Rocksbox (regularly $21/month) is a monthly subscription box for jewelry rental. Yes, you read that right — you rent jewelry, wear it as long as you'd like, then return it in a prepaid shipping envelope when you're ready for something new.
If you decide to keep a piece, your monthly fee goes towards your purchase (the fee doesn't roll over from month to month). It's an affordable way to keep your accessories fresh.
Rocksbox is a fun jewelry subscription service if you want to try out new looks or can't afford to purchase fine jewelry. It's best geared toward teens and younger adults, but women of all ages love this subscription.
If you're not ready to commit to purchasing jewelry and are looking for a more affordable option for fashion, then Rocksbox is totally worth trying out.
Check out our Rocksbox Reviews to learn more about this box.
Free Subscription Box Offer: Get your first box free when you sign up for a 12-month subscription. Just pay $3.49 for shipping. Learn more here.
About the Box: GlossyBox is a beauty and subscription box service that sends five deluxe and full-size products to your door every month for $18 (with free shipping to the U.S.).
Each month, GlossyBox delivers a nourishing haul of amazing cosmetics, skincare, and other must-have items in full and deluxe sizes.
Filled with a fabulous combination of notable and under-the-radar brands, this box has proven itself to be the tried-and-true beauty box, beloved by subscribers worldwide for its quality, value, and variety.
Check out all our GlossyBox reviews.
Free Subscription Box Offer: Get your first month of Curology for free. No coupon is needed! Your trial may include products like anti-aging treatment, a cleanser and moisturizer set, and a lip balm. You'll pay only $4.95 in shipping.
About the Box: Curology is a personalized prescription skincare subscription service that targets acne. On signup, you're paired with a licensed dermatologist. From there, you'll receive products specifically designed for your skin, including prescription medications (if appropriate).
Deliveries arrive on a monthly or bi-monthly basis. Curology takes the stress out of acne care, and our users give the service high marks.
Check out our Curology Reviews to learn more about what to expect from this box.
Free Subscription Box Offer: Receive your first shipment completely free with code NADINE.
About the Box: Nadine West is a clothing subscription and styling service for women, offering trendy apparel in sizes from S to 3X. Subscribers fill out a style quiz collecting basic info about their preferences. They're matched with a stylist who hand-selects an outfit (2-4 items) every month. There is no styling fee, but there is a shipping fee ($9.78) that is credited toward the cost of anything you keep. Their items are priced lower than other styling services, ranging from $10 – $25 per piece.
Check out our Nadine West reviews to see what you can expect from this subscription box.
This deal is completely free. But you will have to pay for any items you want to keep. Think of it as a completely free way to try a styling service.
Free Subscription Box Offer: Right now you can receive your first box for free by using code FREEBOX during checkout. The only thing you'll need to pay for is shipping. Just keep in mind that you have to sign up for a recurring subscription first - but you can always choose to cancel your membership before the next month's fee hits. Click here to learn more.
About the Box: Project Home DIY lets families create themed decorations by providing all of the essential supplies they need along with written and video instructions to follow. Each monthly project is completely different from others offered by Project Home DIY and several happen to be multifunctional, like trays and calendars
First-time subscribers will receive the Essential Starter Kit to help get them started and it includes a glue gun, 10 glue sticks, one paintbrush, one sanding block, a 10-pack of matte acrylic paints, and a paint tray all for free. The only items families need to supply themselves include those such as a hammer, water, a screwdriver, tape, and scissors.
Check out our Project Home DIY reviews to learn more!
Best Subscriptions That Offer A Free Trial
Free Trial Offer: Get a free trial with samples of Lumin products for free! Pay only $3 shipping. Just use this link to sign up.
About the Box: Lumin delivers luxurious skincare products for men — there's nothing quite like it on the subscription market, and options are available for younger men, athletes, older men, and any guy who's ever wanted a better skincare routine. Free trials are available for each of Lumin's skincare subscription boxes. Past that point, the products are reasonably priced, but you can cancel within 30 days to avoid charges.
You can choose from the following 3 options for your trial set:
Classic Maintenance Set - Moisturizing Balm, Charcoal Cleanser, Exfoliating Rub
Anti-Fatigue Essentials Bundle - Moisturizing Balm, Charcoal Cleanser, Exfoliating Rub, Dark Circle Defense
Age Management Bundle - Moisturizing Balm, Anti-Wrinkle Serum, Dark Circle Defense
Check out our Lumin page to learn more about what to expect from this box.
Free Trial Offer: Get your first box (15 pairs) for just $1 shipping. No coupon required — just use this link.
About the Box: Hubble is a monthly subscription box with premium (yet affordable) contact lenses. Produced with state-of-the-art injection molding, Hubble lenses are an alternative to those expensive dailies you'd get from your local optometrist's office.
If you already have a prescription, Hubble's free trial is well worth checking out (and if you don't have a prescription, their site provides resources for finding a cheap eye exam). We're never going to complain about free stuff — and given that you'll get 30 lenses (15 pairs total) in your trial box, the $1 shipping fee is well worth the expense.
Check out our Hubble Contact Lenses Review to learn more about what to expect when you sign up!
Free Trial Offer: Try MEL Science free for 14 days. Just pay shipping. Learn more here.
About The Box: If your child loves science and performing hands-on experiments, then you'll want to check out the kids' subscription boxes from MEL Science. Here are the options they offer for different age groups:
MEL STEM (ages 5-9) includes fun buildable projects to explore with MEL's interactive app.
MEL Physics (8-14) introduces lessons from the laboratory to teach the principles of physics.
MEL Chemistry (10-16) explores 2-3 science activities and DIYs per kit and there's a strong focus on hands-on learning.
MEL Med (14+) has debuted as the first medical subscription for teens, giving them the opportunity to practice at home with professional tools, and diagnose patients in a virtual hospital.
Check out all our MEL STEM reviews.
Best Sample Boxes That Are Completely Free
About the Box: PINCHme sends you a free box full of monthly samples to try. After completing your profile, you can request your first batch of goodies. All they ask in return for their free sample offer is for you to provide an honest review of the product.
Past samples include personal care items, electric hair removal devices, lens wipes, beauty products, dog food, and everything else in between. This sample box is great for monthly surprises.
Check out our PINCHme reviews to learn more about what to expect when you sign up!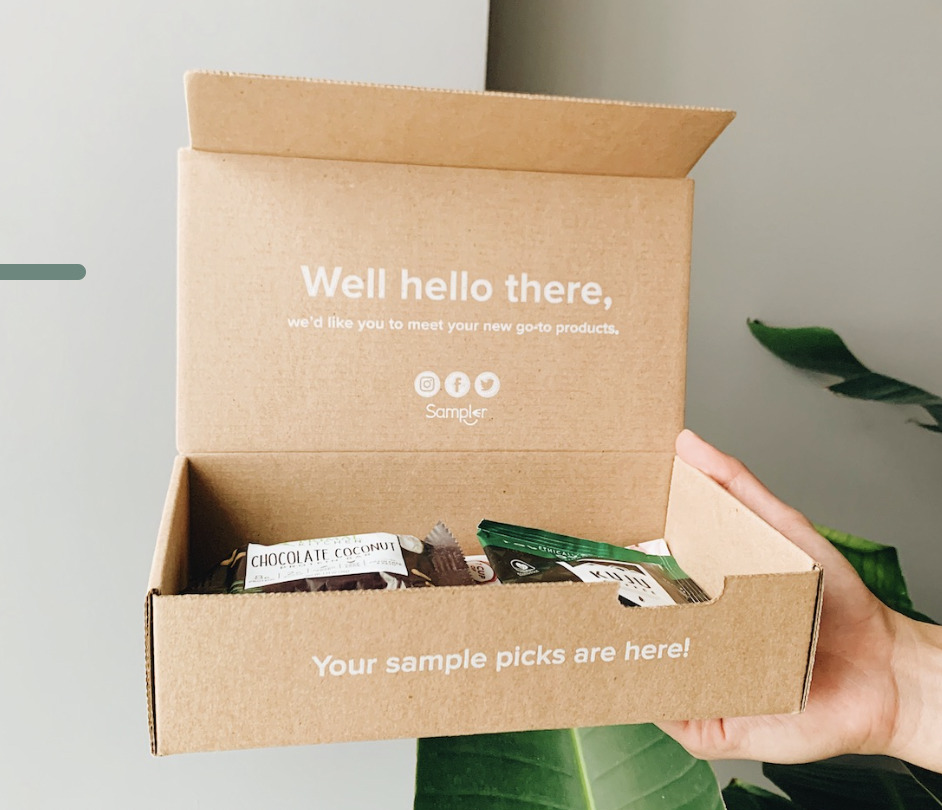 About the Box: Every month, Sampler allows you to try various samples from major brands that correspond to your specific tastes and preferences. It offers everything from drinks and beauty products to makeup and snacks. Sampler is very similar to other free subscription boxes, but they're one of the very few that actually tailors its samples based on your feedback.
Something to keep in mind is that Sampler occasionally works with brands that require a small shipping and handling fee to cover shipping alone. Usually, this is only for full-size products and you can decline these offers. However, prices are similar to, or less than, most cheap subscription boxes.
Check out our Sampler Box reviews to learn more about what to expect when you sign up!
About The Box: Here's another box that will never ask for your credit card information and will always remain free. You can become a member by signing up on their site.
Every 24 hours, you have the opportunity to qualify for a Daily Goodie Box. Each box comes with free samples and full-sized products. All you have to do after is leave a review about the products you tried.
In the past, members have received boxes with over eight different products to try out – for free!
Check out our Daily Goodie Box details here to learn more!
Best Free Sample Box With A Small Shipping Fee
The Cost: $6.98 quarterly (for shipping). Subscribe here!
About The Box: The Walmart Beauty Box is an excellent way to sample beauty products sold exclusively at Walmart. They'll send you an entire box with samples and full-size beauty products each season, including nail polishes, makeup, toothpaste, deodorants, and more.
You can expect to receive at least six beauty products in your box, and all you'll ever have to pay is $6.98 for shipping and handling! Considering the box has a retail value of $20, this is one of the best deals out there.
Check out our Walmart Beauty Box details and reviews here!
---
And if you want even more deep discounts + cheap boxes, check out our list of 28 subscription boxes you can try for $10 or less.