Hungryroot Review - I Tried This Meal Kit and Grocery Delivery Service
Grocery shopping and healthy eating made fast and easy
Hungryroot is a grocery and meal delivery service that makes healthy eating fun and easy. It allows you to easily grocery shop online and simplifies the cooking process by supplying a meal kit with everything you need for any meal of the day.
Hungryroot offers plenty of nutritious meals for just about every diet and you have more control over the ingredients you receive than a lot of other meal delivery services. It was formerly 100% vegan but has since introduced meats and other animal-based products to its ever-increasing product lineup.
In this Hungryroot review, I share my full experience cooking and trying out 8 different meals from Hungryroot. The meal kits I received were vegan and gluten-free and included all the groceries I needed for breakfast, lunch, and dinner for one week.
This package was sent to us at no cost to review. (Check out our review process post to learn more about how we review boxes.)
What Is Hungryroot?
You can think of Hungryroot as a one-click grocery store trip. If traditional meal kits aren't quite your thing, and you like the flexibility of selecting pre-planned meals AND adding grocery store items into your box, then Hungryroot is certainly worth a try.
Hungryroot offers multiple plans for meal kits that vary in cost. Each plan issues credits that can be used to scoop up fully-planned meals or a la carte items in the grocery section.
Each meal kit for lunch/dinner is designed to include a protein, pasta or grain, a veggie, and usually a sauce or dressing. There are also desserts, ready-to-eat snacks, sides, breakfast foods, and more that can be chosen.
The bulk of Hungryroot's meal kits require you to follow recipes and cook, however, there are also options for ready-to-eat meals as well.
How Much Does Hungryroot Cost?
The price of your Hungryroot subscription depends on how many recipes you want to try out each week as well as how many servings you need. Weekly plans range from as little as $66 to as much as $135 if you're signing up for just lunch and/or dinner. However, if you add on breakfast, snacks, or sweets you can expect to pay a bit more.
At the bare minimum, you'll be required to sign-up to receive at least 3 recipes (lunch/dinner) per week with 2 servings each. Each serving for this plan costs $9.99 and there's a shipping fee of $6.99 that will be added to your order (all orders under $70 have a shipping fee).
The largest plan you can sign-up to receive includes 4 recipes (lunch/dinner) with 4 servings each. Each serving in this plan costs $8.49, but shipping is free which makes the final cost come out to $135.84.
To top it off, you can also add breakfast items, snacks, and sweets to your plan. You can add anywhere from 2-10 (2-3, 4-6, or 7-10) servings of breakfast items and sweets as well as 2-12 (2-4, 5-7, or 8-12) servings of snacks.
Each minimum option for add-ons (breakfast, snacks, or sweets) typically adds another $7-10 to your plan. For example, if you order the minimum recipe plan which costs $66.93 (recipes + shipping), and then add 2-3 breakfast/sweets or 2-4 snacks you can expect to pay a final cost of $76.92.
Does Hungryroot Accommodate Dietary Restrictions And Food Preferences?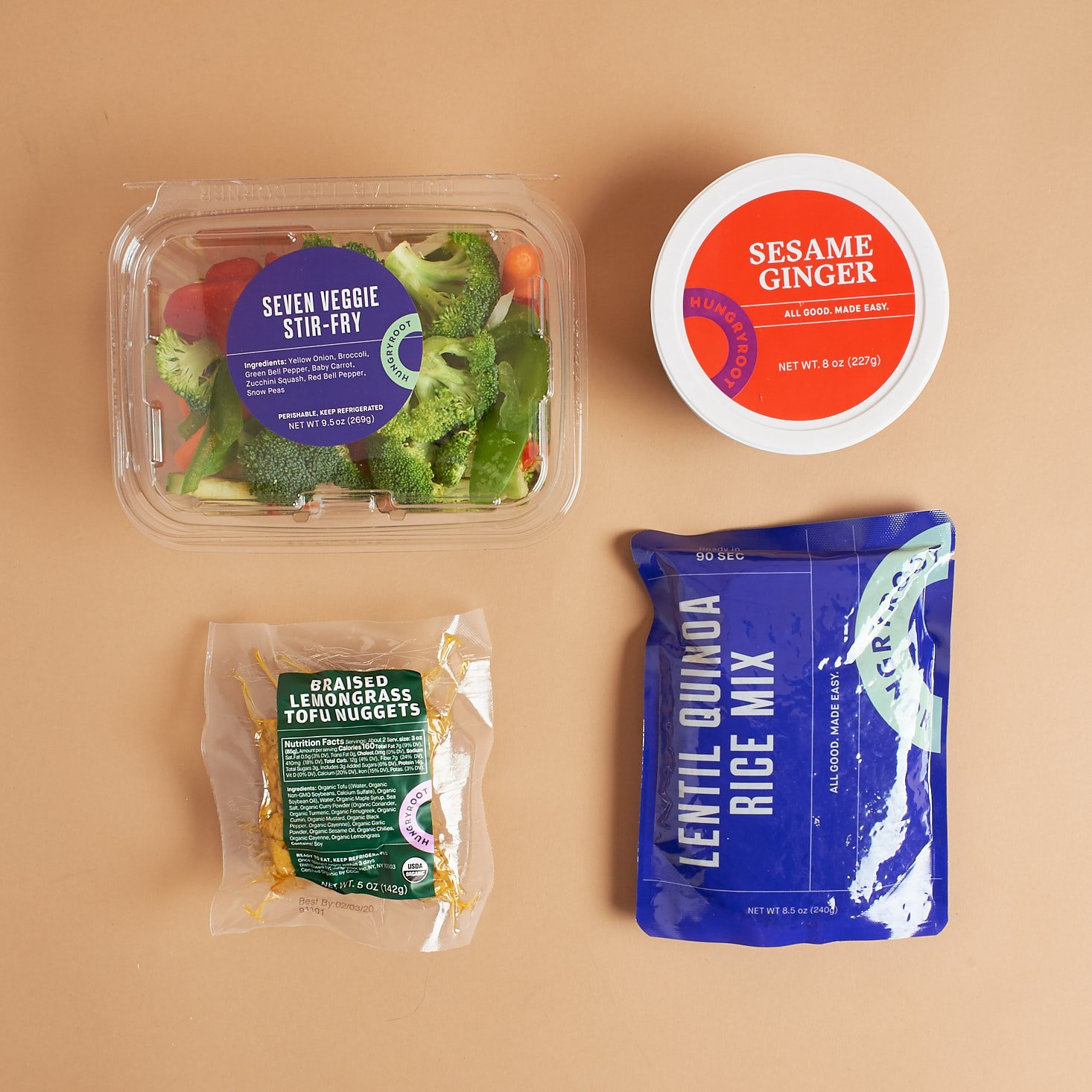 Yes! Hungryroot accommodates its meal plans for several different dietary preferences and restrictions. You can set your weekly meal plan to only have grocery items that are free of dairy, peanuts, tree nuts, eggs, soy, gluten, and shellfish. You can also set your food preferences to vegan, vegetarian, or pescatarian as well as choose specific proteins to receive.
When first signing up you can select your dietary needs in your Food Profile. By doing so, Hungryroot will only show and send you groceries that meet your specific dietary needs. To be extra cautious, you can also set any items that don't work for you to 'Never' to avoid receiving them in future deliveries.
Something to keep in mind is that Hungryroot defines allergen-free products as food items not containing any of the selected allergens in their ingredients. Thus, some grocery items may be processed in the same facility as certain allergens. To ensure that specific meals in your meal plan aren't processed with specific allergens you can contact Hungryroot's support team here, or take a look at the item's description by clicking on its photo on the Groceries page.
My Hungryroot Review - Here Are The Healthy Meals I Got To Try For A Week!
I was eager to try out Hungryroot for an entire week! I have been (mostly) vegan for about 2.5 years and my biggest obstacle is actually cooking a meal rather than just grabbing some quick veggies and hummus for dinner. And while I don't have Celiac disease, I feel much better when I avoid or limit gluten so I opted for a vegan and gluten-free weekly meal plan.
For this review I received the Medium Box which contained all the groceries required to make the following meals:
Tacos
Rice Bowl with Green Beans
Veggie Noodles with Beyond Bolognese
Pasta Dish
Cherry Chia Maple Oatmeal
Ancient Grain Pancake Mix
Moroccan Spiced Chickpea Tagine
Cookie Dough
Here's a closer look at each of the meals I got to try along with my thoughts and overall experience!
My Hungryroot Meals
Meal 1: Tacos
I knew that using the super blend salad in this was a bit unconventional, but holy heck I loved it! I sautéed about half of the bag, spread the spicy refried beans onto microwave-warmed shells, then added the cabbage-y/Brussels-y salad and avocado crema. I also added some salsa from my pantry and, voila, in literally 5 minutes dinner was served!
These tacos easily rivaled my favorite taco truck ones, which I found really exciting. Overall, this one was a big hit for me.
Meal 2: Rice Bowl with Green Beans
I love green beans, but for some reason, I never think to buy them. These ones were crisp, vibrant, and just beautiful.
Per the recipe instructions, I steamed them up in just a few moments. (Seriously, why don't I make these all the time??!) I like my hot meals to be evenly hot, so I popped the brown rice quinoa blend and the crunchy carrot lentil mix in the microwave for about 90 seconds, plated those items, then drizzled a bit of the lemon tahini dressing on top.
Even though I actually don't recall including the tahini in my order, this meal definitely would have been too dry without a sauce of some sort, so I was grateful for it. That said, it was a little too lemony for my tastes. Next time, I'd probably try a different sauce.
Overall with everything considered, the meal was fast, filling, and beautiful to look at.
Meal 3: Veggie Noodles with Beyond Bolognese
I don't consider myself a "foodie" per se, but I suppose it would be hard to deny that I'm a little snobby about what I eat. Some days though, a girl just wants to feel like her belly is being hugged—this meal was exactly the hug I was craving! It had a nostalgic, Hamburger-Helper-esque vibe to it, despite having fresh, healthy ingredients that are, in fact, quite sophisticated.
I don't have children, but I can see how this could be a good meal to sneak some plants into the kiddos!
I've only ever baked a spaghetti squash in the oven while it was still in its shell, so I wasn't sure how pan-frying it (per Hungryroot's directions) would go. I was pleasantly surprised that after just a few minutes it was very easy to break apart into "noodles."
I pan-fried the Beyond Burger meat as well. I may have left it on a minute or two too long, however, the extra crispy sear may have been what made it seem so nostalgic (don't tell my mom I said that!).
A generous squeeze of the Superfood tomato sauce (which I LOVE) and, bada-bing, dinner is served!
Meal 4: Pasta
I have to admit, this meal didn't live up to my expectations, though I take full responsibility for it because I customized the recipe!
I tried to give it a flavor boost with some black pepper, red pepper flakes, and vegan parmesan, but it just didn't quite get there. If I'd had sun-dried tomatoes I definitely would have added them.
The good news is, I really liked the pesto and had lots of leftover pesto to add to other meals throughout the week.
Breakfast 1: Cherry Chia Maple Oatmeal
This week I had a few extra credits in my budget so I played around with some other meal options. These breakfast oats arrived in a dented cardboard container though the plastic wrapper around the rim was still intact.
I used water rather than milk as was suggested as a possible way of preparing the oats. They had a nice tartness from the cherries, but I didn't pick up much of the maple.
It made for a quick, hearty breakfast. Beware, however, this oatmeal has 14 total sugars per serving, 12 of which are added. I'd probably get these again should ever I find myself with two Hungryroot credits to burn.
Breakfast 2: Ancient Grain Pancake Mix
These pancakes were pretty standard nutrition-wise, and they were good! I had to add much, much more water than the instructions called for in order to make the batter thin enough, and even then I probably could have used a tiny bit more.
I topped them with vegan butter, syrup, and blueberries. I think next time I'll try them with some almond butter and/or a sprinkle of cinnamon.
Intuitively, something seemed off in the instructions, but I measured out the mix as they suggested (although with double the amount of water) expecting to yield 6 pancakes—more than enough for just me. 13 pancakes later, I guess I'm set for the week!
I'm also not convinced that the servings per container math is correct. If it was, there should be enough mix to make 2 full batches with even a bit to spare. However, there's not even a full cup's worth left in the package. This isn't a dealbreaker for me, but for someone looking to stretch this mix to its fullest, I thought it was worth noting.
Lunch: Moroccan Spiced Chickpea Tagine
I discovered tagine at a Moroccan restaurant in San Francisco many years back and fell in love, so I was really excited to see it on the Hungryroot grocery list. There is a touch of heat/spice to it which may not be to everyone's liking, but it's also mellowed by a hint of sweetness. The container held plenty for a very substantial lunch, and perhaps even a late-day snack.
If I could, I'd include this in my order every week.
Dessert: Cookie Dough!
Friends, I may need an intervention. This week I got not one, not two, but three containers of cookie dough! Granted, I think the third was some kind of mystery surprise much like the lemon tahini sauce, however, I am not complaining.
Truly, I find myself quite happy with a small spoonful (or two...) of the raw stuff after a meal. However, I figured I should do right by you and actually bake up a batch.
I wasn't as crazy about the Oatmeal Spice in its raw form. Baked, they were better, though still not my favorite. The nutmeg did make my whole house smell divine. I only baked two from the Almond Chickpea tub (you can't have all of my joy!) and I think they fared better than the oatmeal ones in the oven, as well.
The instructions said to bake for 13-15 minutes, however, I had to leave these in for much longer. 21 minutes, to be exact—oven temperatures vary and mine is very old! When I checked on them the first time, I noticed they hadn't flattened out at all the way cookies usually do, so I smashed them down a bit with the back of a spoon. Finally, they did start to look browned around the edges. Once they'd cooled a little, I really enjoyed the texture—slightly crisp on the outside and soft in the middle.
It's hard to say anything bad about any cookie, especially a warm one straight out of the oven, but I think I'll stick to the raw dough.
The Verdict - My Honest Thoughts On Hungryroot
Overall, I feel Hungryroot does a really great job of keeping things fast and easy. Their site is user-friendly, they offer a decent variety of grocery item options without feeling too overwhelming, and their meal preparation is simple, straightforward, and super fast.
I would like to see better quality control on the fresh vegetables and more prominent alerts as far as order cut-off times. For the most part, though, everything I received was tasty, nutritious, and very well-prepped for a fast and easy meal. I have enjoyed learning the Hungryroot system, as well as the reminder that healthy, delicious food really can be super simple to prepare.
As a single gal, I would definitely bump down to the small box at this point, especially now that I've built up a stock of pantry items and sauces. Many of the meals feed more than one, and most of the grocery items can be mixed and matched to make other recipes.
I can see how Hungryroot's meal kit delivery service would be extremely family-friendly and a big win for busy parents. I think it would also be a great plan for folks who are new to or not so comfortable in the kitchen but still want to cook fresh meals.
Will you be trying Hungryroot? If you are a current subscriber, what has your experience been like?
Want Another Opinion Of Hungryroot?
Check out our other Hungryroot review written by Lindsey Morse, or read 40+ reviews left by our readers here.
Hungryroot FAQs
What is Hungryroot?
Hungryroot is a grocery and meal delivery service that makes healthy eating fun and easy. It allows you to do grocery shopping online and simplifies the cooking process by supplying a meal kit with all the food items you need for any meal of the day.
How much does Hungryroot cost a month?
The smallest plan starts at $70 and comes with free shipping. It consists of 3 two-serving meals. The price of other plans depends on how many breakfasts, lunches, dinners, snacks, and sweets you want for the week.
How much is shipping for Hungryroot?
Shipping is free for orders over $70. Orders under $70 have a shipping fee of $6.99.
Does Hungryroot have real meat?
Yes! Although Hungryoot is best known for its plant-based meals, it also offers animal-based products like beef, bison, and poultry.
Where does Hungryroot deliver?
Hungryroot currently delivers to just the contiguous United States. Sorry, Alaska and Hawaii!
Can you pick your own food with Hungryroot?
Yes! Hungryroot will automatically add all the food for your meal kit each week, but you can edit your delivery before it ships. You can clear your entire upcoming delivery as well as add or remove specific items. You can enjoy the convenience factor of letting Hungryroot choose your meals for you or have full autonomy with this meal kit service.
Can I lose weight with Hungryroot?
Absolutely! There are tons of options for healthy food that can assist with weight loss when paired with proper exercise and lifestyle modifications. When building your meal plan you can choose to add on breakfast items as well as meals for lunch and dinner that have 500 calories or less.
How many meals do you get with Hungryroot?
The minimum required plan comes with 5 recipes for 2 people (10 servings), or you can order the maximum which comes with 4 recipes for 4 people (16 servings) which covers lunch and dinner along with up to 7-10 servings of breakfast items, 8-12 servings of snacks, and 7-10 servings of sweets.
Articles To Read Next!