Hungryroot Review - I Tried It for an Entire Month
It's simple, straightforward, and super fast
Hungryroot is a personalized grocery service that "makes it easy to eat healthy." There are three plan levels varying in cost, and each issues credits which can be used to scoop up fully-planned meals or a la carte items in the grocery section. Each pre-set meal is designed to include a protein, a pasta or grain, a veggie, and usually a sauce or dressing. There are also desserts, ready-to-eat snacks, sides, breakfast foods, and more that can be chosen.
Hungryroot currently offers dietary preferences to cater to dairy-free, peanut-free, tree nut-free, egg-free, soy-free, vegan, vegetarian, pescatarian, and gluten-free needs, though they do offer carnivorous options as well.
I have been (mostly) vegan for about 2.5 years and find my biggest obstacle is actually cooking a meal rather than just grabbing some quick veggies and hummus for dinner. I am excited to have fresh, super easy, and hot meal options delivered right to my door each week. No more excuses for not cooking!
This package was sent to us at no cost to review. (Check out our review process post to learn more about how we review boxes.)
About Hungryroot
The Subscription Box: Hungryroot
The Cost: You can choose from 3 plans:
The Small Box: 3 or more two-serving meals (32 credits) for $69 per week

The Medium Box: 4 or more two-serving meals (47 credits) for $99 per week




The Large Box: 5 or more two-serving meals (62 credits) for $129 per week
The Products: A curated or self-selected delivery of fresh, healthy foods that can be combined in different ways
Ships to: Most zip codes in the 48 contiguous states and Washington D.C.


I was eager to try Hungryroot for 4 consecutive weeks as part of MSA's Wellness Month! I'll be exploring different Hungryroot offerings and options each week and updating this review, so stay tuned!
Then you are prompted to set your grocery preferences, indicating if you'd like to receive certain items "often," "sometimes," or "never."
If you're just now joining me on my Hungryroot journey, keep scrolling to start with Week 1!
Hungryroot Review - Week 4
This week's review is of The Medium Box: 4 or more two-serving meals (47 credits) for $99 per week
I put together this week's meals with the same protein/veggie/"bed" system as last week. I also kept in mind that I had some leftovers from earlier in the month as well as extras from my pantry, which is how I wound up churning out 5 meals, a snack, and a cookie dough. However, it seems in Week 4 I broke the system.
Like in Week 3, I decided to go rogue and piece together my own meals rather than using the meal ideas Hungryroot suggested. However, this time I must have drawn a bit too far outside of the lines because the recipe list only included 2 meals rather than the 5 I had concocted in my head. I realized as I went to prepare them that this could be a challenge because I immediately forgot how to cook everything! Should you find yourself in a similar predicament, fear not dear friends, the Hungryroot website shows cooking instructions for many grocery items and some have them included on the packaging. (There's also good ol' Google if you're really in a jam.)
You may notice that there are two containers of black beans. One of these was supposed to be that delicious Tagine I loved so much in Week 2. After submitting my order, I received an email from Hungryroot saying they'd had a spike in demand, therefore they had subbed it out for Cuban Spiced Black Beans. I was disappointed, especially since I already had a container of them ordered, but in the grand scheme, it was not a huge deal to me. They are stamped as being good for a few more weeks so they won't go to waste.
Ok, let's see how I did!
Meal 1: Curry Yuba Noodles & Veggies
One of my favorite things about Hungryroot is that there is a nice mix of familiar (to me, at least) ingredients as well as foods I've never had. The ginger tahini yuba noodles, for example! Yuba noodles are made from the skin that forms on the surface of soy milk when it's heated to make tofu blocks. If you've followed along on my whole 4 week journey, you may recall that I'm not super into tofu/soy products, but I do enjoy them on occasion and appreciate the protein punch they provide. I wasn't sure what to expect with these noodles, but I was pleasantly surprised. Texture-wise they held up; flavor-wise the curry sauce blended well with the ginger tahini. The curry sauce was really yummy. Hungryroot suggested I also make the rice with this meal, but the noodles felt like enough so I decided to save the rice for another day.
I could definitely see this meal coming out of the kitchen of a restaurant. With a mere 10 minutes from refrigerator to table, I'd call this one a win!
Sadly, however, veggies weren't super fresh. When deciding what to cook first, I noticed that the stir-fry veggies weren't looking their best so I figured I had better get those cooked quickly. Just like in Week 1, I gave them a good rinse, picked out all of the funky pieces, and the rest was ok. Still, this does not make for an especially great experience.
Meal 2: Rice Bowl 
I had this meal in Week 2 and loved it, so why not enjoy it again? Preparation did take a smidge longer than some of the other meals due to the roasting process, but the taste is totally worth it. I may have taken the vegetables from the oven just a bit too soon because they were a bit firmer than they probably should have been. Nonetheless, they were totally tasty. I love the mix of colors and textures in this meal, as well as how good the herbs make my kitchen smell. I added some pesto leftover from last week. Solid meal.
Meal 3: Tacos 
It's common knowledge that tacos are delicious, but Hungryroot is teaching me that they can be way easier to whip up than I had previously considered! When I was putting in this week's order, I had planned to pump up this meal with some of my own pantry items. One thing I hadn't expected was for there to be so much leftover (even without the second container of beans). To me, that makes this meal an extra good value! I'm glad I saved the credits I would have used on their avocado crema for other things and instead picked up a fresh avocado. I also added some red pepper from my fridge to the shaved Brussels and topped everything with a salsa that I really enjoy. Super fast, super pretty, super delicious. I'm very happy with this meal.
Meal 4: "Cheesy" Shells & Broccoli
Last week I wasn't super crazy about the shell pasta dish, and I assumed it was just my own poor choice of ingredients. I figured my new attempt at a pasta-based recipe would be a slam dunk -- you can't go wrong with "cheesy" pasta, right? Well, what I've discovered is I am just personally not wild about the Banza shells. They are too heavy and dense for my liking. I also found that I was not as crazy about the cashew cheddar as I'd expected to be. I'm not counting it out just yet, though. With lots of sauce leftover, I will definitely test it out in other mix-and-match recipes. For me, the best part of this meal was the simple, steamed broccoli.
Meal 5: "Cheesy" Lentil Salad & Pasta
Pasta redemption! I fell in love with this chickpea cavatappi in Week 2, and I am still swooning. The shape of the noodle is somehow more pleasing to my belly than the shells, although I can't explain why since the only difference seems to be the shape. I also found the garlic parm "cheese" to be far more flavorful than the cheddar. The smoky green lentil salad added texture, visual appeal, and the vegetable component I like to have with my dinner. This meal was beyond perfect on a chilly, rainy evening. The ultimate comfort meal! (I was actually able to stretch this one into 5 small meals--woohoo!)
Snack: Lemon Artichoke Quinoa Cup
I wasn't planning on ordering this particular item because, to be honest, it didn't sound very appealing to me. However, my friend convinced me to give a try based on her glowing recommendation. I will admit, I liked it! I don't think it's something I'd include on my order every time, but if I had a few extra credits to burn, I'd consider snagging this again for a fast lunch/snack.
Dessert: Cookie Dough
My dearest, darling almond chickpea cookie dough, how I do love thee so. I only wound up with one tub this week, and boy, was that a mistake. Even with only eating a spoonful (or two...) after meals, I ran out quickly and have been desperately missing it. Note to self: always order at least two tubs!
The Final Verdict
Thank you for coming along this 4-week Hungryroot journey with me!
Overall, I feel Hungryroot does a really great job of keeping things fast and easy. Their site is user-friendly, they offer a decent variety of grocery item options without feeling too overwhelming, and their meal preparation is simple, straightforward, and super fast. I would like to see better quality control on the fresh vegetables and more prominent alerts as far as order cut-off times. For the most part though, everything I received was tasty, nutritious and very well-prepped for a fast and easy meal. I have enjoyed learning the Hungryroot system, as well as the reminder that healthy, delicious food really can be super simple to prepare.
I also appreciate the variety of ways one can make Hungryroot work for them:
1) Set and Forget: Simply tell them what your dietary needs/preferences are as well as how frequently you'd like to receive particular items and let them take care of the rest!
2) Order from the Menu: Log in each week to see which full meals have been selected for you, then opt to keep or swap them out. You get to ensure you will enjoy what you receive, but don't have to do too much work to chart it out.
3) Take the Reins: Totally scrap the suggested menu and build your own grocery list. In my opinion, you get the most bang for your buck this way, however it is definitely a lot more work on the front end.
4) Combine the Two: Keep the Hungryroot-suggested full meals that you like, swap out individual items in place of those you don't.
As a single gal, I would definitely bump down to the small box at this point, especially now that I've built up a stock of pantry items and sauces. Many of the meals feed more than one, and most of the grocery items can be mixed and matched to make other recipes. I can see how Hungryroot system would be extremely family-friendly and a big win for busy parents. I think it would also be a great plan for folks who are new to or not-so-comfortable in the kitchen but still want to cook fresh meals.
I hope that this four-week-long review has been helpful! Will you be trying Hungryroot? If you are a current subscriber, what has your experience been like?
Hungryroot Review - Week 3
This week's review is of The Medium Box: 4 or more two-serving meals (47 credits) for $99 per week
For Week 3, things went slightly awry, but mistakes are always lessons learned! For starters, I scrapped the entire menu created by Hungryroot and instead created what I felt to be the ultimate grocery list for my tastes, only to realize I had a very busy week of dinner engagements and likely would not have time to enjoy the delivery. No worries! Hungryroot lets you skip a week, no questions asked. I contacted their customer service and had the order paused. I was then fairly surprised to learn via email that there would be no delivery for the following two weeks after that due to the holidays. Although disappointing since, for me, those two weeks were actually fairly quiet and would have been perfect for cooking at home, I'm happy that the folks at Hungryroot were able to take the time off to enjoy with their friends and families.
When I had opted to skip, I didn't think about the weekly menu changes (Hungryroot updates their menu options weekly with new and fresh offerings) and that some of my previous choices might not be available. Therefore, when I logged back in three weeks later, my selections were gone. Fortunately, I had written down most of what I'd wanted so I was able to rebuild my original list with some new additions pretty quickly.
On the subject of customization and scheduling, it's important to call out that there is a crucial cut-off time to remember: All changes made to your delivery must be submitted before 12 pm ET (9 am PT) the Thursday before your next box is shipped.
Ok, onto the food (and that cookie dough)!
While I was reworking my grocery list, I had meals in mind that basically aimed to include a protein, a veggie, and a "bed" of some sort such as rice, spaghetti squash, or a tortilla shell. The meals I created in my mind with this week's ingredients weren't exactly as Hungryroot plotted them out on the recipe list, but their ideas worked well for me.
Meal 1: Tacos
Everything in this week's box was SUPER fresh, unlike a few of the veggie components from last week. I knew that using the superblend salad in this was a bit unconventional, but holy heck I loved it! I sautéed about half of the bag, spread the spicy refried beans onto microwave-warmed shells, then added the cabbage-y/Brussels-y salad and avocado crema. I also added some salsa from my pantry and, voila, in literally 5 minutes dinner was served!
These tacos easily rivaled my favorite taco truck ones, which I found really exciting. However, the crema did get a bit lost in this dish. Frankly, I wasn't super wild about it in Week 2 either, so I think going forward I'd save the credits for something else and pick up an avocado at the store. Overall, this one was a big hit for me.
Meal 2: Rice Bowl with Green Beans
I love green beans, but for some reason I never think to buy them. These ones were crisp, vibrant, and just beautiful. Per the recipe instructions, I steamed them up in just a few moments. (Seriously, why don't I make these all the time??!) As noted in Week 1, I like my hot meals to be evenly hot, so I popped the brown rice quinoa blend and the crunchy carrot lentil mix in the microwave for about 90 seconds, plated those items, then drizzled a bit of the lemon tahini dressing on top. Even though I actually don't recall including the tahini in my order, this meal definitely would have been too dry without a sauce of some sort, so I was grateful for it. That said, it was a little too lemon-y for my tastes. Next time, I'd probably try a different sauce. Overall with everything considered, the meal was fast, filling, and beautiful to look at.
Meal 3: Veggie Noodles with Beyond Bolognese
I don't consider myself a "foodie" per se, but I suppose it would be hard to deny that I'm a little snobby about what I eat. Some days though, a girl just wants to feel like her belly is being hugged—this meal was exactly the hug I was craving! It had a nostalgic, Hamburger-Helper-esque vibe to it, despite having fresh, healthy ingredients that are, in fact, quite sophisticated. I don't have children, but I can see how this could be a good meal to sneak some plants into the kiddos!
I've only ever baked a spaghetti squash in the oven while it was still in its shell, so I wasn't sure how pan-frying it (per Hungryroot's directions) would go. I was pleasantly surprised that after just a few minutes it was very easy to break apart into "noodles." I pan-fried the Beyond Burger meat as well. I may have left it on a minute or two too long, however, the extra crispy sear may have been what made it seem so nostalgic (don't tell my mom I said that!). A generous squeeze of the Superfood tomato sauce (which I LOVE) and, bada-bing, dinner is served!
Meal 4: Pasta
I have to admit, this meal didn't live up to my expectations, though I take full responsibility for it because I customized the recipe! I think I was remembering Meal 2 from Week 2 and how much I loved it. The roasted veggies weren't available this week, but I still thought this dish would work. It did not. It took somewhat longer to prepare due to the chickpea pasta shells having to cook, and the flavors were all just very bland.
I tried to give it a flavor boost with some black pepper, red pepper flakes, and vegan parmesan, but it just didn't quite get there. If I'd had sun-dried tomatoes I definitely would have added them. The good news is, I really like the pesto and have lots of leftover pesto to add to other meals this week.
Breakfast 1: Cherry Chia Maple Oatmeal
This week I had a few extra credits in my budget so I played around with some other meal options. These breakfast oats arrived with a dented cardboard container. Though the plastic wrapper around the rim was still intact, things technically could have snuck under and in. I didn't get too nervous about this and, for the sake of the review, I continued on with the taste test! I used water rather than milk as was offered as a possible way of preparing the oats. They had a nice tartness from the cherries, but I didn't pick up much of the maple. It made for a quick, hearty breakfast. Beware, however, this oatmeal has 14 total sugars per serving, 12 of which are added. I'd probably get these again should ever I find myself with 2 Hungryroot credits to burn.
Breakfast 2: Ancient Grain Pancake Mix
These pancakes were pretty standard nutrition-wise, and they were good! I had to add much, much more water than the instructions called for in order to make the batter thin enough, and even then I probably could have used a tiny bit more. This time I topped them with vegan butter, syrup, and blueberries. I think next time I'll try them with some almond butter and/or a sprinkle of cinnamon.
Intuitively, something seemed off in the instructions, but I measured out the mix as they suggested (although with double the amount of water) expecting to yield 6 pancakes—more than enough for just me. 13 pancakes later, I guess I'm set for the week! I'm also not convinced that the servings per container math is correct. If it was, there should be enough mix to make 2 full batches with even a bit to spare. However, there's not even a full cup's worth left in the package. This isn't a dealbreaker for me, but for someone looking to stretch this mix to its fullest, I thought it was worth noting.
Lunch: Moroccan Spiced Chickpea Tagine
I discovered tagine at a Moroccan restaurant in San Francisco many years back and fell in love, so I was really excited to see it on the Hungryroot grocery list. I had actually tried to get it in Week 2, but it was not available then. Wowee—it was worth the wait!  There is a touch of heat/spice to it which may not be to everyone's liking, but it's also mellowed by a hint of sweetness. The container held plenty for a very substantial lunch, and perhaps even a late-day snack. If I could, I'd include this in my order every week.
Dessert: Cookie Dough!
Friends, I may need an intervention. This week I got not one, not two, but three containers of cookie dough! Granted, I think the third was some kind of mystery surprise much like the lemon tahini sauce, however I am not complaining. Truly, I find myself quite happy with a small spoonful (or two...) of the raw stuff after a meal. However, I figured I should do right by you and actually bake up a batch.
I wasn't as crazy about the Oatmeal Spice in its raw form. Baked, they were better, though still not my favorite. The nutmeg did make my whole house smell divine. I only baked two from the Almond Chickpea tub (you can't have all of my joy!) and I think they fared better than the oatmeal ones in the oven, as well.
The instructions said to bake for 13-15 minutes, however, I had to leave these in for much longer. 21 minutes, to be exact—oven temperatures vary and mine is very old! When I checked on them the first time, I noticed they hadn't flattened out at all the way cookies usually do, so I smashed them down a bit with the back of a spoon. Finally, they did start to look browned around the edges. Once they'd cooled a little, I really enjoyed the texture—slightly crisp on the outside and soft in the middle.
It's hard to say anything bad about any cookie, especially a warm one straight out of the oven, but I think I'll stick to the raw dough.
Additional Items: Rice Varieties
I ended up with some extra grocery items this week:  a bag of RightRice and a bag of Broccoli Rice. I didn't have a way to work these into my menu, but the broccoli is fresh enough to carry over into next week, and the RightRice will stay good for quite some time. One of the benefits of the Hungryroot credit system is that you can add some staple items to your pantry that could be used in a pinch!
Week 3 Verdict
Despite the hiccup of losing my original customized menu and my own mismatched recipe creation, I was happy with almost every item this week. I've learned that I prefer customizing my shipments because I like to be in control and steer away from the sauces - just watch for that cut-off time! Would I have been disappointed in any of Hungryroot's pre-set meals, the way I was with my pesto pasta this week? Probably not, because they do know what combinations tend to work well together. In the end, this was a week of learning and COOKIE DOUGH! Part of the fun of cooking, for me, is in trying new flavor profiles and combos, and I like that Hungryroot allows space for this to happen.
At this point, I am really appreciating the ease and speed with which satisfying meals can go from refrigerator to table. As a lazy-in-the-kitchen single gal, this is nice. I would imagine that for anyone who is responsible for cooking for others, this would be fantastic!
What will Week 4 bring?
Hungryroot Review - Week 2
This week's review is of The Medium Box: 4 or more two-serving meals (47 credits) for $99 per week
For Week 2, I took a little more control over the menu. I reviewed the pre-planned meals the folks at Hungryroot put together for me. I noticed that if you don't like one of the items within the pre-set meal, you can delete it, but you have to delete the whole meal and re-add the ingredients you do what. This turned out to be a nice discovery, because I realized I could rework all of the meals to how I wanted them. Away with all those sauces! Farewell to tofu with every meal! I felt really good about the items I'd be getting, until it hit me I didn't think to include any desserts (after I'd submitted and it was too late to make changes). To say I felt genuine sadness about this is not an exaggeration. Sayonara for now, almond chickpea cookie dough.
I'm not a huge fan of needless waste, so I appreciated the simple, double-sided contents list and recipe guide.
Meal 1: Grain Bowl #1 (Brussels/Bites/Rice)
One of the nice things about Hungryroot is that the items are largely fresh and made with whole ingredients. The downside is the items spoil quickly. I decided to cook up the two grain bowls first and at the same time because components of each were already starting to go south. The Brussels were pretty brown, and the roasting veggies looked a little questionable. Neither had gone beyond the Best By dates, so I'm not sure what the issue was.
The Hungryroot recipe instructed to pan fry the kale quinoa balls, however, I opted to use the baking instructions supplied on the packaging. They came out nice and evenly browned. I microwaved the lentil quinoa rice mix, and did saute the shaved Brussels. The tahini sauce had a really lovely tang to it. I'm not generally a big sauce fan, but I think this dish would have been really lacking without it. I really liked this dish! My only complaint (if it's even a complaint) is that the Hungryroot site lists the kale quinoa balls in the Protein section, however, they only offer 3g per serving (about 4 balls). Fortunately, the lentil rice blend provides 8g. Still, it's a bit odd to me. Even though they were very yummy, I'll have to keep this in mind for future meal-building.
Meal 2: Grain Bowl #2 (Roasting Vegs/Bean Salad/Pesto/Rice)
As noted in Meal 1 of this week, the roasted veggies were looking a little iffy so I wanted to be sure to get them cooked ASAP. I figured both of the grain bowls would make great leftover meals, so I wasn't too bothered by it. I broke up the rosemary sprig and sprinkled it over the veggies in the roasting pan. The smell as they cooked was heavenly! This one took a little longer to prepare due to the baking, but no pan frying! I nuked the brown rice quinoa blend and just dumped the basil zucchini white bean salad (YUM!) and kale pesto on top. I wish I had let those last two come more to room temp. They were initially too cold for me to enjoy, so I wound up putting the whole dish in the microwave for a few seconds. I was super unsure about how this dish would come together, but I loved it! Everything was bursting with flavor and, OMG, look at those colors! This one was a big win in my book.
Meal 3: Beyond Tacos
Next up: Tacos! In Week 1, I worried I may have let the Beyond Burgers and butterhead lettuce sit a little long, so I was determined to get this dish knocked out on the earlier end of the week. I consider myself a decent cook with a pretty good handle on flavor profiles. I sensed immediately that this was going to be a very bland dish. I had some taco seasoning on hand, so I tossed it in with the Beyond "meat" while I cooked it. The recipe suggested using a pan to heat up the tortilla shells, but I opted to microwave them to save time and a second dish (the first pan was pretty crusted with "meat" residue). Flour tortillas definitely hold up better than corn, but for the gluten-conscious among us, they get the job done. The lettuce-to-sauce ratio was off for me, in that there was a bit too much lettuce but not enough sauce for this meal. Also, I would have preferred a fresh avocado to the crema sauce, but it was all right.
To spruce things up a bit more, I added some salsa from my pantry and a bit of leftover basil zucchini white bean salad from Meal 2. This one wasn't my favorite, but to its credit, it was quick and satisfying.
Meal 4: Veggie Noodles
I have never had (nor heard of) kohlrabi noodles, A.K.A. German turnip. Evidently they are high in fiber and a good source of vitamin C and potassium. Score! They tasted and smelled a bit like pumpkin when raw. Between the Hungryroot list and the packaging, there were 3 cooking options to choose from. On this day, I happened to be a bit more strapped for time than usual, so in the pan with a tablespoon of oil they went.
The noodles were filling in my belly and had an enjoyable texture! I wish I had cooked up the tofu first so that it was crispy; it sort of just faded into the dish. I loved the taste and texture of the superfood tomato sauce! With ingredients like red bell pepper puree, hulled hemp hearts, and crushed red pepper, it almost felt like a bolognese sauce. I'm kind of a snob about my own homemade spaghetti sauce, but this will definitely become a staple in my pantry for quick meals. The tofu didn't bring much to the dish flavor-wise, but overall it was a pleasant meal.
Meal 5: Pasta
The only upside to missing out on my beloved cookie dough was a bonus 5th recipe! I loved this meal. I was skeptical about the smoky green lentil salad working with the superfood tomato sauce, but WOW, it really came together. The texture was satisfying and everything felt healthy and nutrient-rich to eat. I added a bit of nutritional yeast on top for a bit of a "cheesiness", but honestly it could have gone without. My only regret was not realizing there was only 1 pouch of tomato sauce included in this delivery. I do love tomato sauce, so I'd loaded it up on Meal 4. I definitely would have liked some more with this meal. This one easily made 3-4 servings and was a very lovely lunch the next day.
Another unexpected surprise was this chickpea penne. 23 grams of protein per serving! These noodles were such a hit in my book that I brought them to the all-vegan meal I cooked for my family over the holidays. Largely not being vegan themselves, there were a lot of reservations leading up to the gathering, but being able to offer familiar-looking options like this earned rave reviews. I don't even think anyone realized they were eating chickpeas—score!
Snack: Red Pepper & Quinoa Cup
I had a few leftover credits while building out my cart, so I tossed this little snack in there. The packaging itself was cute (look at that foldable spork!) and convenient. It made a fine light lunch, but it was a bit too vinegary for my taste preferences. All things considered, I probably wouldn't reach for this option again.
Week 2 Verdict
At the end of Week 2, I'm still discovering ways to make Hungryroot work better for me. The option to let Hungryroot set your grocery list with pre-designed meals could be nice for some. Alternatively, for those who like control (and/or dislike waste), it's nice to be able to build it partly or entirely on your own, which I liked. The latter option can add a semi-significant amount of time to the experience if done thoughtfully. I've found you can definitely get more bang for your buck, as they say, if a little extra time is spent tailoring orders to your needs.
The meals themselves are fairly easy to whip up quickly and without much kitchen prowess, though they tend to be a bit muted flavor-wise. Maybe this is by design to appeal to more people since, after all, you can always jazz things up on your own with seasonings.
Overall, I'd say I'm still on the Hungryroot wagon and am excited to check out the next delivery (which will include 2 cookie doughs!)
Hungryroot Review - Week 1
This week's review is of The Medium Box: 4 or more two-serving meals (47 credits) for $99 per week.
My first impression upon unboxing was, "Wow! Look at all those colorful foods... and, wow, all that tofu!" I am not a huge fan of tofu and try to avoid eating it more than 1-2 times per month, but here it was in 3 of the 4 meals for this one week. No worries; I did know that I could change my preferences to opt for less/none going forward.
I'm not a huge fan of needless waste, so I appreciated the simple, double-sided contents list and recipe guide.
They also included a very minimal (but lovely) Kitchen Companion which offers suggestions for recycling the packing contents, along with some suggestions for other ways to bolster your meal with items you may have in your pantry or refrigerator already.
For the sake of keeping this post manageable, since it will ultimately show all 4 weeks of meals, we're going to skip the step-by-step cooking details. The cooking procedure was basically the same for each meal this week:
Heat 1 tbsp oil in a skillet over med-high heat
Cook/sauté (insert ingredient)
Set aside
Repeat for each additional ingredient
Combine ingredients; add sauce/dressing
Enjoy!
The good parts about this were the meals were super easy, super fast, and left minimal dishes in the sink. I feel like even the most clumsy-in-the-kitchen person could ace a Hungryroot meal. I was less a fan of all the oil and all that came with it (added fat/calories, an oil-splattered stove, and a lingering cooking oil odor throughout the house). It's also difficult to wind up with a sufficiently heated meal (to my preferences, anyway) since, by the time you finish cooking one component, the ones before it have cooled. It's still warm-ish, but I guess I like my food hotter.
Meal 1: Thai Peanut Veggie Noodles
I took stock of all the ingredients and tried to decide which seemed like they'd spoil first. I never seem to get through a whole bag of Brussels sprouts before they turn, so I figured I'd jump in first with the Veggie Noodles.
This dish incorporated shaved Brussels, butternut squash noodles, Thai peanut sauce, and—you guessed it—tofu. In particular, braised lemongrass tofu nuggets.
It called for only half the bag of Brussels sprouts, so I set the rest aside hoping to find a way to add them to another meal later.
As I mentioned earlier, I'm not a fan of tofu in general, and I especially was not wild about this style. The texture was somehow gristly to me. I didn't add any salt as instructed because I knew there would be some in the sauce, but I did load up on pepper because I love pepper. This recipe yielded 3 very satisfying servings. The orange from the squash kept tricking my brain to think there was cheese in this dish, but (of course) there was not. This meal wasn't super elegant, but it was tasty enough and felt like healthy eating.
Meal 2: Quinoa Grain Bowl
This grain bowl was made up of an Asian salad mix, savory spiced tofu bites, a brown rice quinoa blend, and Hungryroot house dressing. The instructions said to cook the rice blend in the pan, but I was worried about sticking, so I opted to microwave it for about 90 seconds. I've taken the lazy-woman's approach with other rice packages like this and they've always turned out great, so why not save myself a little trouble here? I liked this tofu better since it was smaller and more crumbly. I left it on the stove longer than the suggested 1 minute, and it came out browned and somewhat crispy. I wasn't completely sold on the idea of adding the dressing, but I'm always up to trying anything once (or twice!) so I rolled with it. It had a nice mustard-y tang to it, though none of the flavors were overwhelming. My friend with whom I shared the meal added hot sauce to his. I think if I had this one again, I might add some peanuts for a flavor and texture boost.
I heated the third serving of this up for lunch and skipped the dressing, which is more in line with how I normally eat. I liked it better this way.
Meal 3: Sesame Ginger Stir Fry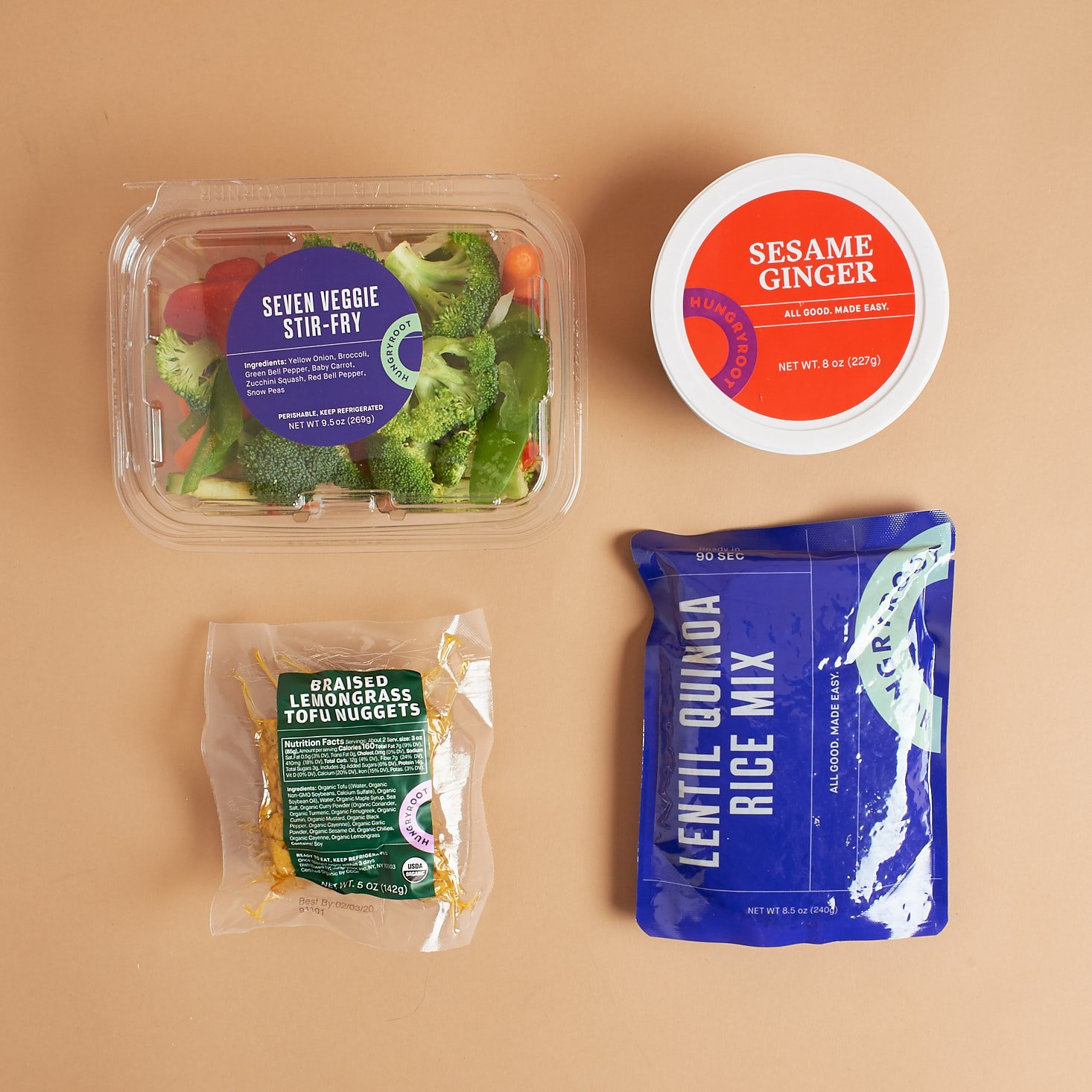 This Hungryroot box arrived late on a Tuesday, was photographed and then came home with me on Wednesday. By Saturday, when I went to cook this next meal, the seven veggie stir-fry mix that they'd sent looked fine, but it smelled far from fresh. I think the offenders may have been a few of the onion slices which felt pretty slimy. I tossed these, then rinsed and inspected everything else which did appear to be okay. This recipe also included the braised lemongrass tofu nuggets (that I didn't love in my first meal), a lentil-quinoa rice mix, and sesame ginger sauce. The instructions said to cut the nuggets in half, which did improve the texture and allowed for more crispy sides. I also cut the veggies into smaller, more bite-sized pieces because some of them were pretty big and would have taken a lot longer to cook. This meal was definitely most along the lines of what I'd normally eat, sans the sauce. I did add a bit of it, but certainly could have done without and been just as happy (maybe even more), especially since it had a lot of sugars and a surprisingly high fat content.
Meal 4: Beyond Burger Wrap
Of course, by now I've tasted the Beyond Burger—I would imagine most vegans, and even non-vegans, have. I'm generally happy to see them as an option on a restaurant menu because being limited to only house salads can get very old, however, I hadn't considered making them in my own kitchen. And here we are!
And because my meal preferences indicate gluten-free, this burger was given a lettuce-wrap "bun." I've never been good at neatly wrapping burritos so I didn't have high hopes for a 5-star plating job with this one. It also took some work to find large leaves that weren't already wilted. The date this container was opened was well within the best-by date, so I'm not sure what happened there.
Perhaps it's my American, full-plate conditioning, but I was surprised that there was no side dish with this recipe. Only the Beyond Burger patty, butterhead lettuce, and a slathering of spinach artichoke spread. I remembered the leftover shaved Brussels from Meal 1, so I fried them up in the burger "grease" with a bit of red pepper from my fridge. This meal was just ok--not the best, not the worst.
Desserts
Overall, the meals this week have been satisfying, but nothing truly knocked my socks off. That was until I dipped my spoon into the desserts. Ohmygoodness, the desserts. I am salivating just thinking about that almond chickpea cookie dough. I'm not wild about artificial, overly sweet things anymore and this stuff perfectly met my preferences. The black bean brownie batter was also wonderful, but something about that cookie dough... Mmm. Neither made it to the oven this week. #sorrynotsorry
Week 1 Verdict
At the end of Week 1, I am pleased with Hungryroot. I feel like there is still room for tweaking, but it was nice to not have to think too much or work too hard to get dinner ready. The food has all been largely fresh and contained natural ingredients—a big plus in my book. On their own, the dishes are somewhat neutral in flavor, but there is lots of room for additional seasonings and/or embellishment. I'm excited for my Week 2 shipment!
Thinking of trying Hungryroot yourself, or maybe you have some other tips? Let us know in the comments!