BoxyCharm is a subscription that is perfect for makeup and skincare lovers. It boasts a nice mix of eyeshadows, serums, cleansers, brushes, and anything else you could imagine. It is also one of those subscriptions that features a mix of big brands and also little indie labels which keeps the curation unexpected and fun. It is one I look forward to each month and 2021 had some real treasures! Let's take a look back.
Gallery: My 2021 Boxycharm Deliveries
About Boxycharm
BoxyCharm is one of the most popular beauty subscription boxes that we review, with lots of loyal customers. They promise 4-5 full-size beauty products each month from a variety of both indie and established brands, with a total retail value of over $100 in every box. The beauty items featured vary from month to month, and will include beauty tools as well as skincare and haircare items—but BoxyCharm definitely leans more makeup-heavy than other popular beauty boxes. The base box is $27.99 a month, but there are also Premium ($35/month) and quarterly Luxe (an additional $24.99/quarter) upgrades available.
Ships to: the US and Canada
What Boxycharm Got Right in 2021
Big and Exciting Brands
Boxycharm pulled together some insanely great brands for 2021. Like, stuff you would be buying in Sephora, but arriving by surprise and at a massive discount. Here were some highlights for myself personally this year: Natasha Denona, Farmacy, Violet Voss, Murad, Glam Glow, Beauty Bakerie, KVD Beauty, and more.
A Great Value
This box is $27.99 and generally delivers a value of at least $175 of full-size products. I generally see one big item that is worth the cost of the box (if not double!) which makes the other items feel like extras if you are looking at it strictly from a retail value standpoint.
Drop Shop Sales
Boxycharm has special sales multiple times a year with HUGE discounts on beauty products and tools across so many brands. The pricing is really amazing because items are up to 70% off. It is a great way to snag items you have had your eye on as well as snagging items you might have missed in your box curation.
What I Would Like to See in 2022
For 2022, I would love to see BoxyCharm continue to deliver amazing and high-quality brands. This is something they excel at and I have high hopes for the coming year.
I would personally hope to see less product crossover with IPSY even though they acquired Boxycharm. The subscriptions are better when they continue to have their own identities, and different products are a big part of that.
My Favorite Products from Boxycharm in 2021
From January 2021:
I wish I had a fun catchphrase to use when I really, really love a product. Because I would be using it for this oil-free moisturizer. This green goo is filled with such delights that I don't even know where to start. Going down the ingredient list here are the big players that jump out at me: Inulin (a prebiotic), betaine, niacinamide (I love her!), cucumber extracts (anti-inflammatory), papaya extract (exfoliation), a few different sizes of hyaluronic acid, and even more. It feels really cooling and nice on my skin and absorbs in a snap. Even my dry skin can appreciate this lighter weight formula for a day cream. It does have a lighter scent that comes from some essential oils at the end of the ingredient list, but it is pretty light and very pleasant.
From October 2021:
I was expecting this palette to be beautiful, but the sheer pigment kind of floored me. I feel like bright mattes especially tend to look insane in the pan then perform poorly, but not these. Everything in here was ready to party. The autumn theme was well executed and this color story is one of those where you could totally do a less dramatic day look but also go pretty crazy later on, all without leaving the palette. The shades were all pretty decent with a brush, though I prefer a finger for the metallics for sure. And I liked how each row was kind of broken up into its own look if you want a little guidance: Rose Gold, Purple Berries, or pure fall goodness.
From April 2021:
I really enjoyed this green ampoule. It has lots of wonderful things inside like jojoba, avocado oil, seaweed extract, and sea buckthorn oil. It also smells pretty wonderful because it has some blue tansy and lavender too. It's a medium weight that absorbs nicely on my drier skin, but if you are oilier it might feel a bit heavy, so I recommend sleeping in it. I applied some underneath a sheet mask then kicked back for 30 minutes before removing it. Pure bliss!
From February 2021:
I absolutely love anything that has to do with yuzu in beauty and food! This citrus is packed with so much vitamin C and smells really amazing. And while I liked this product a lot, I found that for my dry skin it wasn't moisturizing enough as a full-blown night mask. It has a kind of odd watery gel texture with little blobs of yellow floating about inside. It is also pretty funny, but you need very little to get a good layer on your face. The whole sensation smells wonderfully summery and is cooling. Inside there are delights like niacinamide, ceramides, retinol, and, of course, vitamin C. Vitamin C is one of those ingredients that literally benefits anyone because it can do so many wonderful things for our skin, like brightening, improving collagen production, boosting antioxidants – and more. So while this might not be an ideal night cream for me, I actually love it for daytime use.
From July 2021:
This cleanser had been on my wishlist for a long time, so I was thrilled to receive it this month! I am a huge fan of both oil cleansers and balm textured cleansers. They treat my drier/combo face so nice! This cleanser was super gentle and though it did foam a little, I didn't find it drying at all. It has a wonderful scent and you only need a little to get your face good and clean. My favorite way to use this cleanser is on my dry face. It starts to break down my SPF and makeup right away and provides a nice amount of slip for a little massage before I hop in the shower. I do think I prefer the Farmacy Green Clean Cleansing Balm, but I loved this stuff and will happily use the entire tube!
From June 2021:
As someone who has recently embraced cream blush with much gusto, I think that I might feel the same way about cream eyeshadow. That being said, this is anything but an everyday shade. It is really, really metallic and glittery! The texture here is thicker but very buttery, and it is easy to apply an opaque layer of this stuff to your lids (or wherever!) and smooth it into a perfect finish with your fingers. This shade is a champagne color with LOADS of very fine shimmering glitter. It doesn't ever totally dry down which keeps it comfortable on the lid.
From September 2021:
Oh, this stuff brings back memories. I remember when it first launched! It is that chunky grey mask with weird black spots we all remember and love. I couldn't afford the full-size back then so this feels weirdly luxurious. It also feels exactly like I remember it: cooling, tingly, and sometimes a little burny. Is burny a word? Spellcheck says no, but we are going with it. The ingredients inside this pot are arguably geared towards skin less dry than mine: kaolin clay, magnesium aluminum silicate (a type of clay), and pumice. But I love this stuff as a spot treatment, or in my case right now, a hormonal acne jaw treatment. It does a great job of drying out active acne while still keeping anti-aging in mind with the inclusion of cica, green tea, and other antioxidants.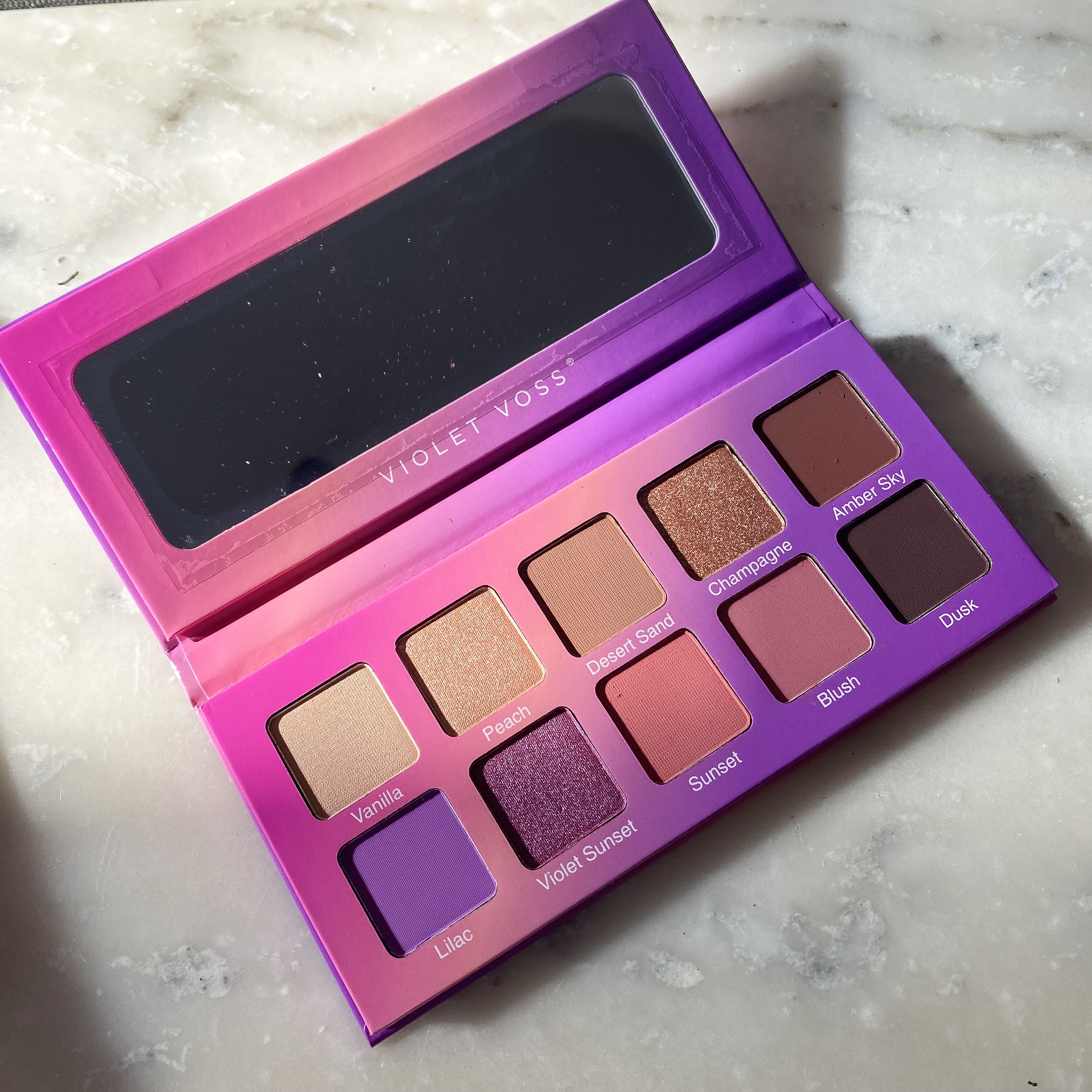 From November 2021:
Who hasn't looked at one of those especially purple sunsets and just fallen in love with the magical colors? This palette is an ode to that golden purple vibe and it does a pretty decent job of pulling from inspiration. It s a great mix of neutrals and bolder shades of purple and pink. I am usually pretty pleased with Violet Voss pigmentation and formulas, and these were no exception. They blend really beautifully and smoothly, and though there is some fallout here and there, it's nothing terrible. There are four shimmers and five mattes in here and the combinations feel endless. It is also one of those color stories that can do as demure or as bold as you like depending on the colors you choose.
From November 2021:
Well, these are pretty darn fantastic. Pads like this make it so easy to exfoliate with just a swipe. These have a mix of salicylic acid (acne-fighting), niacinamide (anti-redness, smoothing), and glycolic + lactic acids (exfoliating and brightening). I found them super effective but also surprisingly gentle. I personally wouldn't recommend these daily because over-exfoliation causes its own set of issues! But that only means this pot of 60 pads can last a really, really long time if you are using them 1-3 times a week. They aren't exactly drenched in the solution, so they might feel a little dry. But as long as you feel like you swiped a thin layer over the areas that need attention, you are good to go. They also so have a pretty significant chemical scent, but I have come to expect that from exfoliating products and didn't find it too intense to deter me from using these. I have been adding them to my routine for the last two weeks and my skin absolutely has a smoother texture, even if my pores will always be on the larger side.
Who Do I Recommend Boxycharm For?
BoxyCharm is a subscription for anyone who is makeup-obsessed. Sure, skincare and tools also show up, but those big-name makeup products are what this subscription is known for. If you are into the latest and greatest in your makeup collection, Boxycharm is a great value for adding to your collection monthly!
What were your fave BoxyCharm products this year? Let me know in the comments!