FabFitFun
1034 Ratings | 175 Reviews
FabFitFun is a quarterly subscription box. For $54.99 per season, subscribers can customize their own box of items in categories like beauty, fashion, and fitness. It's our readers' top pick for the Best Subscription Boxes of 2022, in categories for Women, Fitness, and more.
This box was sent to us at no cost for review. (Check out our editorial guidelines to learn more about how we review boxes.)
Founded in 2010, FabFitFun is celebrating their 22nd year in the business, which is an amazing feat as a subscription company. I myself started subscribing in around 2015, but only as a seasonal member, and have loved every box I have received. When the opportunity arose for me to review this box, I jumped at the chance to see exactly what the benefits of being an annual subscriber are, and I was pretty excited by them. Read below to find out what I discovered.
Annual Subscription Versus Seasonal Subscription
As an annual subscriber, you are able to add-on to and customize your box 2 weeks before a seasonal subscriber does. With pages and pages of add-ons available, you are able to choose items and swap them out until the window closes, so if something goes unavailable, keep a close eye and it may pop up again. As far as the actual box went, as soon as the customize window opened on April 29th, I logged into my account and scooped up all of my top picks, as everything was still in stock. I logged in just a day later and found the items with the highest retail value out of stock - so as a tip, you do want to log in early. (If you check daily, someone may swap their box and an item may come back as available, but it is quite a risk.) Not only do annual subscribers get first dibs, but they also get to customize more items than a seasonal member, which is definitely a perk. Once I chose my add-ons (more on that below), I carefully went through the customize options and chose ones that were best suited for me. While I know some people choose the highest retail values, I go for items I am actually going to use. Read below to see how I customized my Summer 2022 FabFitFun box.
What's Inside My FabFitFun Summer 2022 Box
Choice 1
All subscribers were able to choose one of the following for their Summer Box:
FREE PEOPLE Cara Seamless Bralette, Value $60
IGK Legendary Dream Hair Shampoo & Conditioner Bundle, $62
ELEMIS Pro-Collagen Night Cream, $96
SAMARA Shoulder Bag - Peony, $125
DRAPER JAMES Woven Seagrass Tray, $45
Throwback choice: Society6 Outdoor Blanket, $60
Luxe Choice: FoxyBae Rose Gold Blowout Dryer Brush Pro, $189.95 (to choose this option, you must pay an additional $10)
For the first category, I chose the Samara shoulder bag. Nothing subtly welcomes summer like a pretty pink purse. As a purse collector, I have a variety of styles in a multitude of colors, but since having kids I have become more practical. This faux leather cross-body is perfect to sling across your chest and still be able to carry your carload of groceries into the house without missing a beat. The strap is adjustable to a variety of lengths, but the only closure is a small snap. Being very lightweight, my shoulder didn't feel weighed down while carrying, and held a surprising number of items. Perfect for a night on the town, or a lunch date, this simplistic, yet chic bag is a nice addition to my collection. This purse is very highly priced, but to help justify the cost, Samara as a company contributes towards "The Soular Backpack" which is an initiative to provide light to children in East Africa.
---
Choice 2
All subscribers will be able to choose one of the following for their Summer Box:
OUAI Scalp & Body Scrub, $38 Value
Z Gallerie Multi-Use Storage Duo, $45
First Aid Beauty Ingrown Hair Pads & KP Bump Eraser Body Scrub, $40
Lilly Pulitzer Lounge Towel, $47.95
Material Kitchen Stacking Canisters - Set of (2) with Lids, $35
Throwback choice: Summersalt Neoprene Beach Tote (Green/Blue), $80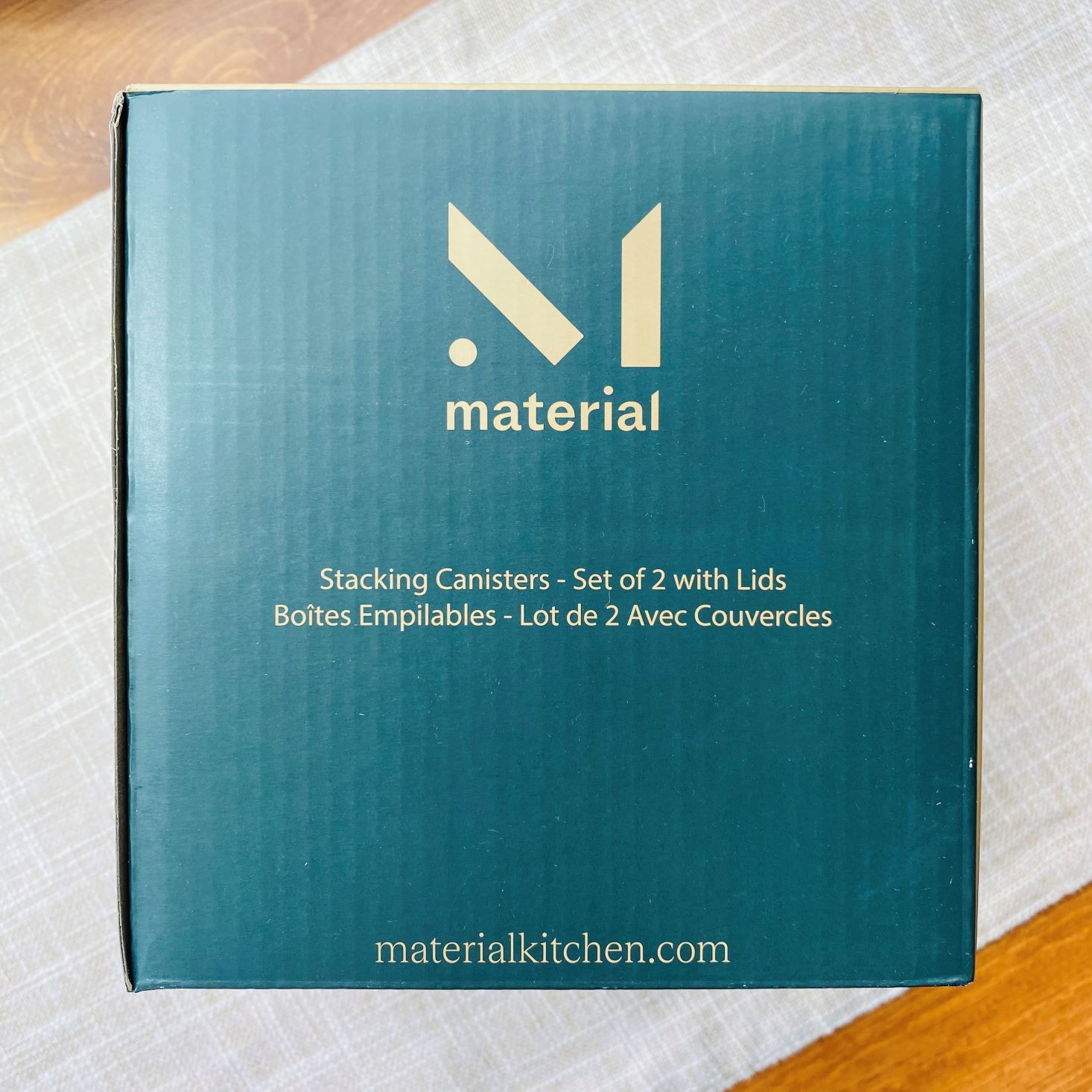 As my category 2 choice, I picked up this set of 4.25" wide by 2.5" tall glass and bamboo canisters. Almost the size of a 2 cup Pyrex container (pictured side by side above), the glass part is dishwasher safe, but the lid is hand-wash only. Needing all of the pretty storage I can get; I initially chose these as organizers for under my kitchen sink. After deciding I didn't really need them in there, I decided to use them as a button display for my great-grandmas button collection. Honestly, they were a bit smaller than I had anticipated, but seemed very well made and useful. I do want to highlight that choosing from this category was a bit of a hard decision, because the OUAI Scalp and Body Scrub is one of my faves!!
---
Choice 3
All subscribers will be able to choose one of the following for their Summer Box:
Cosmedix First Blush Brightening Acai Infused In Shower Face Mask - $54 Value
TULA Skincare® Protect + Glow - Daily Sunscreen Gel SPF 30 - $36 Value (US only)
Throwback Choice: COOLA Mineral Face SPF 30 Matte Finish Cucumber - $32 Value (CA only)
New Balance Ab Wheel - $29.99 Value
Throwback Choice: Rae Dunn Guac Salsa Bowls (with 2 Wooden Spoons) - $40 Value
Baublebar Build Your Own Necklace Clasp + 2" & 4" Necklace Extender, Sanctuary Project Rose Serenity Necklace Bundle - $76 Value
dr.brandt® skincare Do Not Age Time Defying Cream - $132 Value
Fenty Beauty Full Frontal Volume, Lift & Curl Mascara
With a retail value of $132, this category 3 choice, age-defying cream was sold out on the first day. I set my alarm to make my picks as soon as the time frame opened, and I am sure glad I did to receive this spendy moisturizer. I love Dr. Brandt products, and the fantastically sophisticated cube this cream came in was fun and unique. The moisturizer itself has a subtle plant smell, but is free of synthetic fragrances, parabens, sulfates, and phthalates. A little bit goes a long way, and it left my skin feeling hydrated and smooth. After a few uses my skin is honestly feeling a more supple and it hasn't caused my acne-prone skin to break out. Because of the steep price point, I love when they include items like this as a choice, had they not, I can't say I would dish out that kind of cash on a cream I've never tried before.
---
Choice 4
All subscribers will be able to choose one of the following for their Summer Box:
Truly Clear Truly Gone Acne Patches (72 ct) - $30
Illamasqua Gel Sculpt Contour (in Outline, Silhouette, Shadow) - $32
Lasting Smiles Sea Salt and Citrus Soy Candle - $45
Whish Beauty Whish Rose Hip and Lotus Firming Sleep Mask - $58
Throwback Choice: Poolside Water Resistant Pouch - $35 Value
TULA Skincare® The Cult Classic Purifying Face Cleanser - $28 Value
I love buying products that support and fund causes caring for people and the planet, so when I noticed this Lasting Smiles Sea Salt and Citrus candle as an option, I just had to choose it. Made from an all-natural soy wax blend and featuring a cotton wick, this candle smells amazing. Giving a beachy citrus vibe, it is the perfect addition to my home for summer. The simplistic design matches a multitude of decor styles and knowing part of my proceeds are being donated to a worthy cause makes me feel good.
---
Choice 5
Only Annual subscribers will be able to choose one of the following for their Summer Box.
SOAR Desk Mat - $29.99 Value
AHAVA Essential Day Moisturizer (Universal) - $69 Value
AHAVA Essential Day Cream Combination Skin (Acne Prone) - $69 Value
Cuccio Naturale Milk & Honey Cuticle Oil - $17.95 Value
grace & stella pink eye masks (12 pack) - $24 Value
grace & stella if eyes could smile cream - $35 Value
Throwback Choice: TF Publishing Co. Brain Teasers + Activity Book Bundle (Games, Puzzles, and more!) - $26 Value
Though this cuticle oil has a smaller retail value than some of the competing items, I have had this oil in the past, and just had to have another container of it. I don't necessarily use it as cuticle oil - I love slathering this stuff on my legs after coming out of the shower. The milk and honey fragrance is extremely calming, and how soft it makes my legs is amazing. Plus, did you see how pretty that bottle is? It even sits on its side to be more aesthetically pleasing on my vanity!
---
Choice 6
Only Annual subscribers will be able to choose one of the following for their Summer Box.
Anastasia Beverly Hills Matte Lipstick in Velvet - $20 Value
Anastasia Beverly Hills Satin Lipstick in Butterscotch - $20 Value
Billion Dollar Brows Condition, Color & Control Bundle - $63 Value
Natura Brasil Murumuru Hair Leave-In Conditioner - $27 Value
Fekkai Technician Color Shampoo Extended Color Vibrancy - $24 Value
Fekkai Technician Color Conditioner Extended Color Vibrancy - $24 Value
Indie Lee COQ-10 Toner - $36 Value
Throwback Choice: Monroé Watches Classique Watch in Sunburst Solérose - $105 Value
Throwback Choice: Sonix Bluetooth Speaker, $45 Value
Throwback Choice: Virginia Wolf Multi-Wear Wrap, $60
Throwback Choice: 2 PRODUCT BUNDLE: Watermelon Dewy Setting Spray, Aftersun Gel - $54.95 Value
Throwback Choice: 2 PRODUCT BUNDLE: ESPA Exfoliating Body Polish, Voesh Manicure Bundle - $58 Value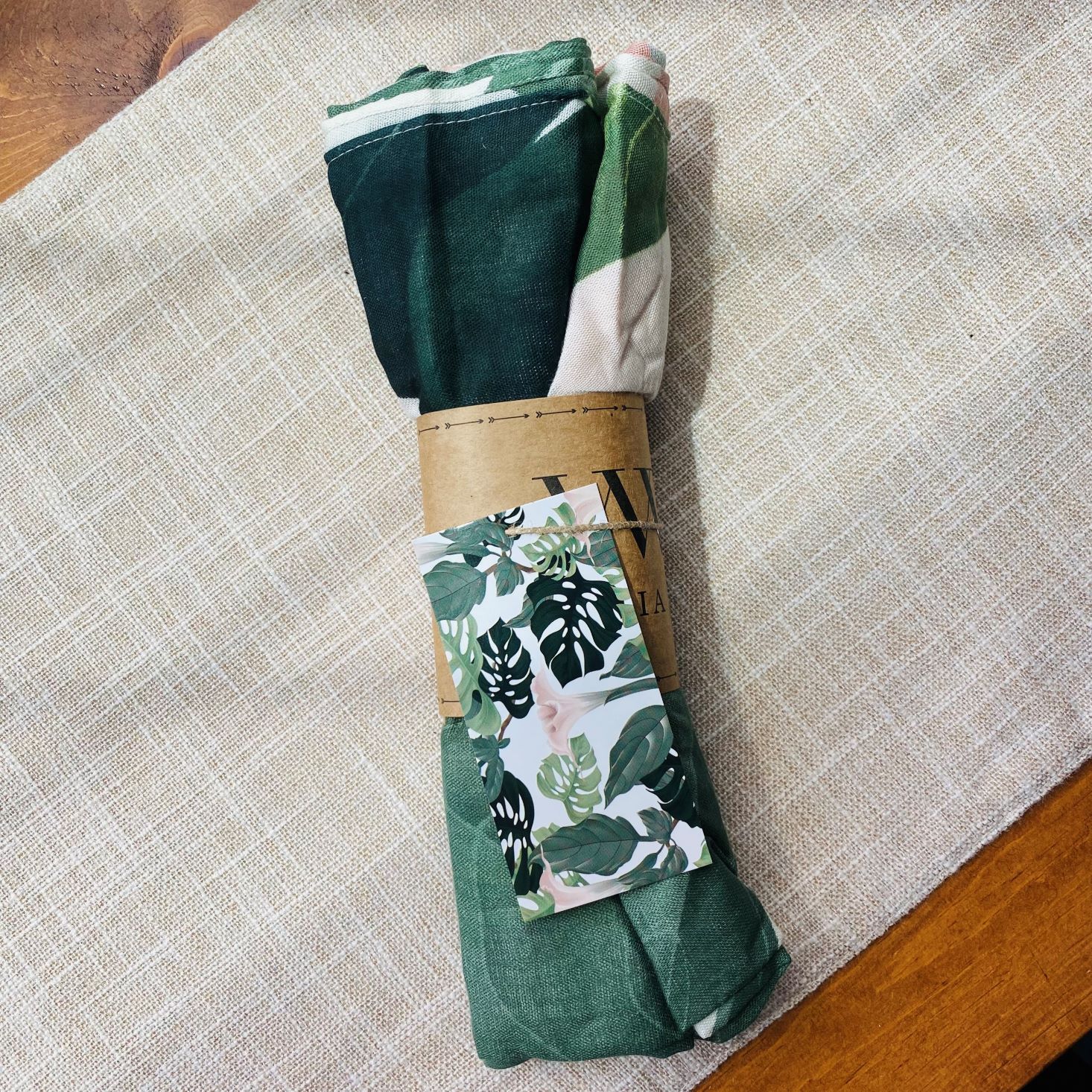 I didn't notice until now, but this green and blush multi-wear wrap is a "throwback" item from last year, which must have been when I had taken a break from subscribing. This large rectangular piece measures in at 42" X 80" fitting a size 0-20. With a card detailing how many ways it can be styled, I preferred it as a scarf, and found it to coordinate well with the Samara bag. Though $60 is insanely expensive for a wrap, I did find this all over the internet for half that price in case you are interested! Perfect for our Minnesota summers, I know I will get a lot of use out of this and am (in this instance) happy about a throwback item.
---
Surprise Item
All subscribers received a 7th item that was described as a mystery item.
Because I am an annual subscriber, I was able to customize picks #1-6. Number seven was a surprise item and turned out to be a Kayo Body Scrubber. Admittedly, I wasn't all that excited about this until I found myself covered in dirt from gardening. Being larger than my palm, I was able to place my fingers through the edge holes and scrub my legs and feet clean, all while getting a little massage. Easy to grip, use, and rinse out, this little piece of scrubber just may have saved my summer!
Summer Box 2022 Verdict
As I mentioned before, I have had a lot of experience with FabFitFun as a seasonal subscriber. Being an annual subscriber was new for me, and turned out to have a ton of perks, if you mark the calendar for customization day, that is! Like I said previously, I jumped on to customize within the hour it went live and was able to have the cream of the crop for choices. Within days, the top retail value items were gone, and by the time the customization opened for seasonal subscribers, the choices were pretty few. I appreciate the spoilers and though some of the items may not have been initially exciting, I was happy with the overall choices. I ended up really liking all of my picks, especially that Dr. Brandt moisturizer, which was valued at more than double the cost of the box. At only $54.99 per box, the cost of each of the 7 items came to about $7.85 a piece, with the total retail value of my box being $429.95, which is really incredible. And if that's not exciting enough, I also scored big in the add-on portion of the FabFitFun website. Check out below to see what I discovered in that realm of shopping.
FabFitFun Add-Ons Market
Like I said above, the day before customize day opened, add-on day arrived. Back when I first started subscribing, this included a few deeply discounted items that you had the choice of purchasing. Now it seems the list is endless, which is great because the risk of items selling out is a little less for seasonal members. In most instances, I have found the add-ons to be really good deals. If you are looking to try out an item for the first time, need to stock up on birthday gifts, or are just looking to treat yourself, I suggest checking here before shopping retail, as you can really save yourself some cash!
Here are the items I chose as my Summer 2022 FabFitFun Add-ons:
Last spring, I revamped my living room in a lighter, airier tone, and decided to incorporate a lot of beige and tan. Helping open up the space, I have opted for neutral decor paired with green and pink antique plates. Because I am a lover of candles, when I saw this beautiful woven candle I couldn't resist. The light vanilla scent and the fantastic outer decor fit perfectly into my decor. Not only does it act as a candle now, but once it is burned up, I plan on cleaning it out and using it as a shell container for the collection my grandma accrued on her many trips overseas. Dual purpose is always a good thing in my eyes!
As an educator, I go through more than my fair share of notebooks in a school year. Between writing lists, taking notes, and using them to explain other methods of working out a problem, I am always carrying one. To make sure I don't forget said notebook in a classroom or at a meeting, I purposefully purchase bright ones with fun patterns or prints. A little smaller than normal, this set of 3 floral notebooks was perfect for working on my summer school curriculum with my own kids. Giving me the ability to organize and plan, I have a notebook for each kid and myself. And doesn't that flowy, flowery vibe just make you happy?
Short Stories Tabletop Planter Gold Stripe - Discounted Price $19.00 Retail Value $32.00
Planters are expensive, and for anything decorative, you are typically looking at the price range of $20 or more, and that doesn't usually include the matching saucer. When I was scrolling through the add-ons, I immediately placed this gold and blue tabletop planter in my cart. Being of high quality, this ceramic pot is 4.75" X 4.75" X 5.75", and fits a 4" container plant. The sides are quite thick, and the tray on the bottom keeps water from leaking. Though I tend to do most of my gardening outside in the summer, my house is laden with plants as they are proven to help decrease anxiety all year round. This blue planter matched my bathroom decor perfectly, and because I didn't yet have a plant in that particular room, I decided I needed to add one. Loving the humidity from the shower, and the light from the window, my cascade snow plant is loving life, and looks really calming on my vanity.
Back in 2nd grade I fell off of a counter and ended up needing to wear glasses for 2 years. At the time I thought they were sooo cool- tie dye metal giant frames and all. After looking back at my 2nd grade school picture, I vowed that look would never come back, but here we are. At first, I couldn't get behind the large frame look, but after trying on a pair of blue blockers, I am a convert. I have a few other pairs and wear them almost every day as my job involves a lot of computer screens. This particular version features durable black frames, has a purplish-blue tint to the lenses, and when worn to school was told I looked like I should be someone in charge. I will take it!
I live in a one-bathroom house with 2 little boys and my husband. My morning routine involves 4 of us running in and out of the bathroom and this body towel wrap has been a lifesaver! I hate applying my makeup when I am dressed, but also struggle trying to tuck the ends of my towel around my body so it doesn't fall off when I am getting ready. The easy-to-use buttons on this towel wrap help the towel stay in place while drying you off and keeping your clothes free from any make-up messes! The only complaint I have is that it is made from microfiber, so my wretched cut up garden hands snag every time I touch it. Besides that, I love this piece and was extremely excited it was only $4.99, when I just came across an almost identical one at Target for over $20.00.
Woven Storage Basket - Discounted Price $16.00 Retail Value $28.00
Like I mentioned above, I have recently redecorated my living room to have more calming tones and decor, and this woven storage basket fits right in. Being beautifully made, I currently have it on a wooden chest ready to be filled, I just haven't figured out what yet. I noticed online they had a plant in it, but I'm just not sure. Any suggestions?
When scrolling through the add-ons, I discovered two different pairs of bluelight blockers. Being torn on which pair I should pick, I decided to just buy both. With a blue and clear tortoise shell print, these are similar in shape to the black pair, but came with a magnetic protective case and lens cleaning cloth. Helping ease my eye tension from looking at a screen so much of the day, these have decreased the number of headaches I get, and are kind of fun to wear!
Letter boards were all the rage a while ago, and I know I am probably late to the trend, but just couldn't resist picking this one up for $9.99. With a whole slew of plastic letters and emojis, I originally planned to bring this into my classroom featuring a positive quote of the day. As we are headed to the end of the year, I decided to keep it at home on top of my kitchen cabinet next to my antique cast iron sausage stuffer. Sort of random, but it looks cute, and my kids like reading the messages I write.
Smartwater - Bonus item $0.00 Retail Value $3.42
I have never purchased Smart Water because we have amazing well water at our home that is free. (My kids do think the Pete Davidson commercials are enticing, though.) As a bonus, I received a large 23.7 oz. bottle of lemon and dandelion flavored water and was interested to give it a try. I have made dandelion jelly before and found it tasty but haven't incorporated it into drinking water. This flavor combo was dang good. Citrusy and floral, it wasn't overpowering but made the water more interesting than plain and left me feeling very hydrated. I was happy to give it a try!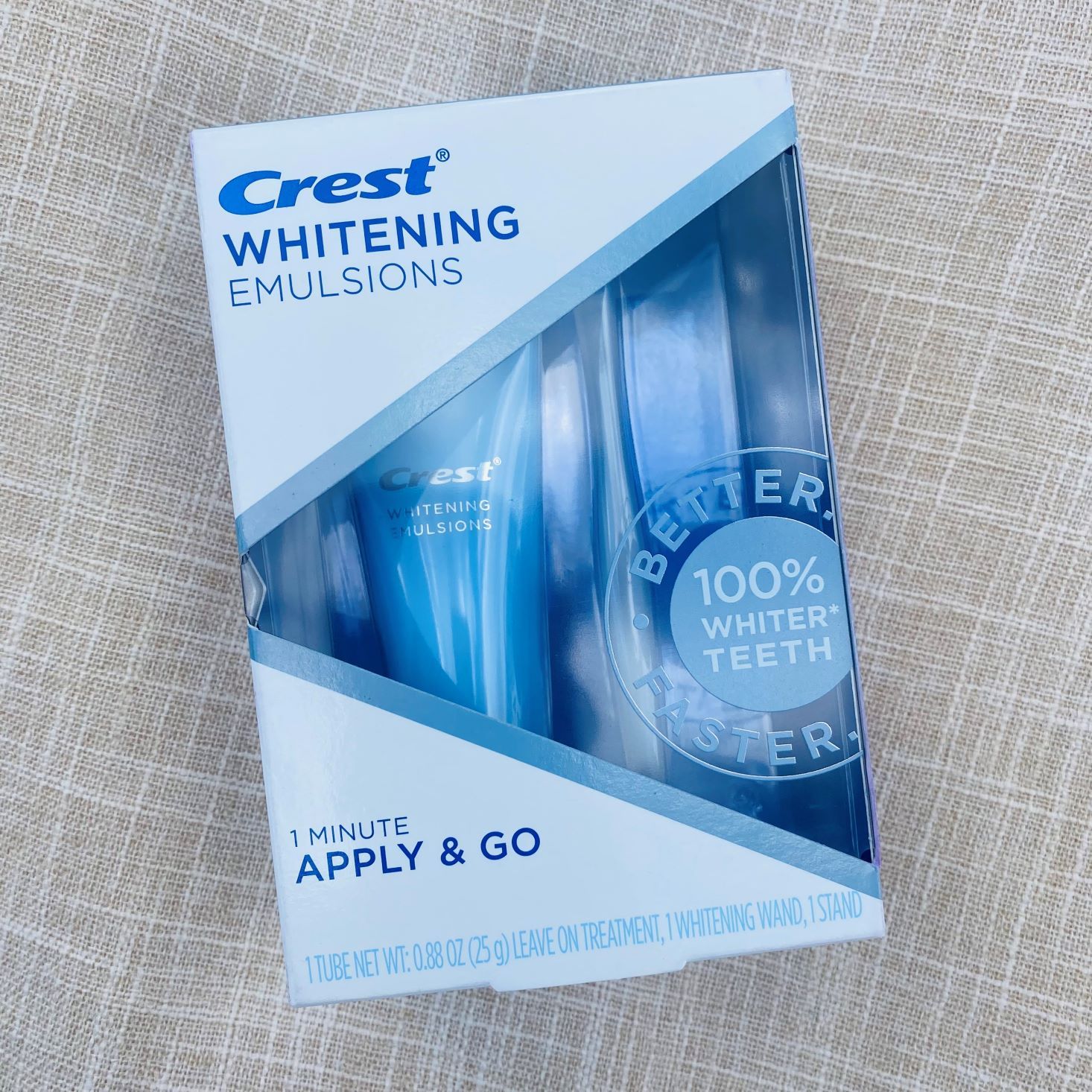 As another bonus, I received a "Crest Leave on Teeth Whitening and Wand" set. I have pretty sensitive teeth and have used a variety of teeth whitening kits and strips in the past, but ended up having to avoid cold foods after use. This kit is a bit different as it is a hydrating whitening treatment that is formulated with active peroxide droplets that whiten teeth with no sensitivity. Also interesting is that you can use it up to 4 times a day for a whiter smile. I have recently become a coffee drinker, and noticed a yellow tinge to my [used to be] pearly whites, so I couldn't wait to try this out. Applying a thick line of the paste onto the applicator tip, I gently brushed it all over my teeth and let it sit. It's a bit messy, and they do suggest waiting 30 minutes to eat or drink after applying, but it's not uncomfortable, and I had no sensitivity. I used it 3 times one day, 2 times the next, and 1 after that. 6 applications in and my teeth are noticeably whiter. I will definitely be purchasing this kit again in the future!
Add-On Market Verdict
I have only tried out the add-on market once or twice in the past, but because of the many choices now available, I went a little crazy. Finding items more than 75% off, and receiving bonus items for free, I found it a great way to stock up on presents for friends and myself. I chose ten items from the add-on market, and spent $99.95, saving myself over $180 off retail prices, which is huge!
To Wrap Up
Can you still get this box if you sign up today? No, the window for the Summer box has closed, but keep your eyes open for the Summer Edit box!
What do you think of the FabFitFun box for Summer 2022? Which items did you pick?