Scentbird
65 Ratings | 27 Reviews
Scentbird is a perfume subscription where you choose one fragrance per month. They offer a variety of authentic designer scents as well as makeup, skincare, and bath/body items.
This box was sent to us at no cost for review. (Check out the review process post to learn more about how we review boxes.)
About Scentbird
The Subscription Box: Scentbird
The Cost: $14.95/month. Save with longer subscriptions.
ACTIVE DEAL: Limited Time Only! Get 50% off your first box and a free case (reg. $15.95). No coupon needed - just use this link.
The Product: One 8 mL vial of a designer fragrance of your choice or allow Scentbird to pick for you; they have a "Scent of the Month" that they'll send you a preview card for, the month before. Or, go with a previous Deck of Scarlet palette, another makeup item, a scented candle, or a bath and body item like a hand cream or scrub. They are also now offering skincare.
Ships to: The US
Scentbird January 2020 Review
This month, I received Scentbird's "Scent of the Month." You can either opt for the scent of the month or you can fill a queue with fragrances of your choosing:
There was what is basically an advertising flyer for this month's scent, "Bella Blanca" by Oscar de la Renta.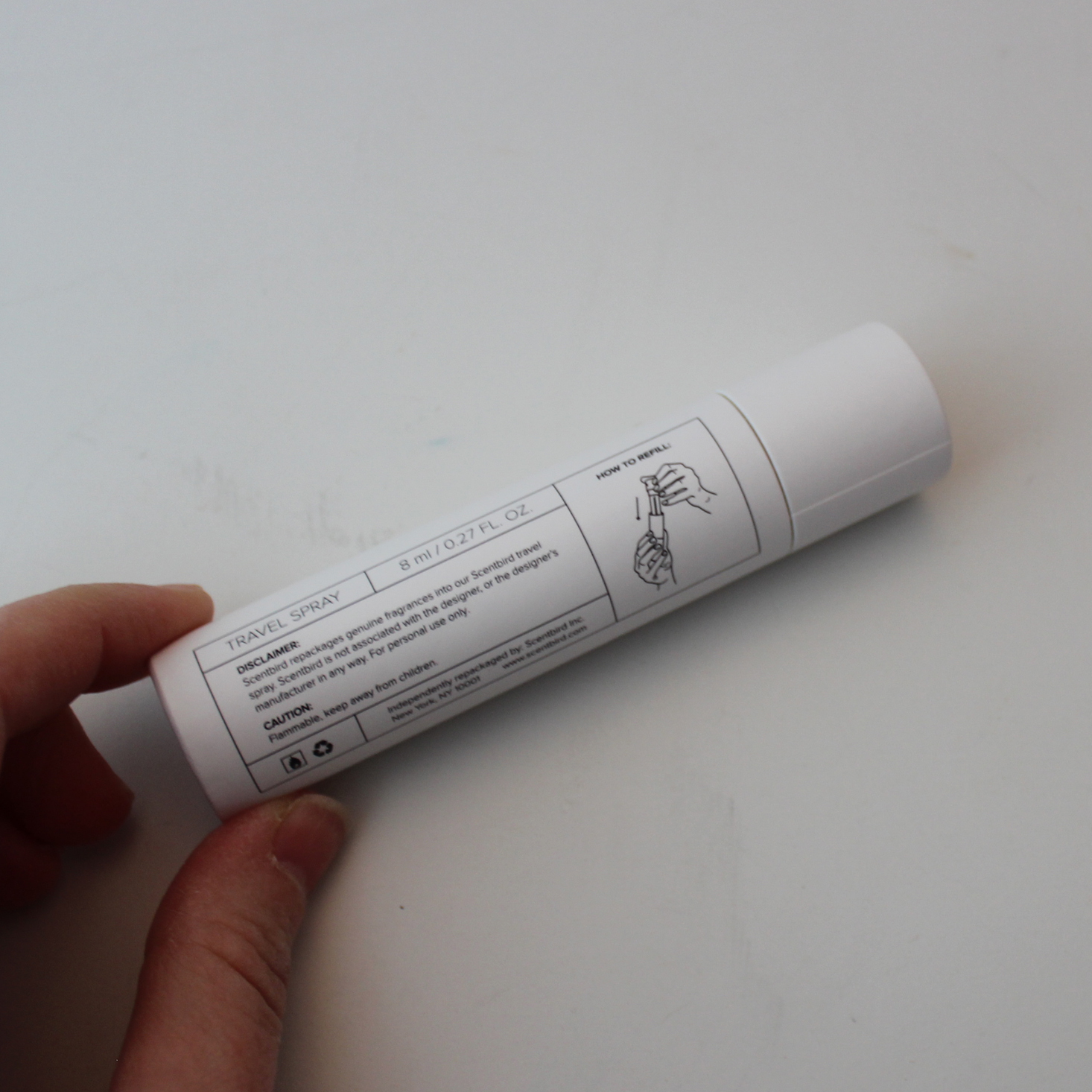 Your fragrance usually comes in a cardboard tube along with instructions on how to remove fragrances from the Scentbird holders and replace them. I haven't gotten a replacement holder in awhile but that is OK as I now have dozens of them at home.
Bella Blanca by Oscar de la Renta - Estimated Value $15.47 (Buy 30 mL for $58)
This fragrance was introduced in 2018 and is still in production. One thing Scentbird is particularly good about with their scent of the month is introducing you to new(ish) fragrances from well-known designers. They are usually ones that are not frequently found in GWPs so they are new to me, as is the case with this one.
Top notes here are jasmine, tuberose, and pear. Mid notes are lily of the valley, musk, and green leaves. Base notes are orange blossom, white iris, sandalwood, and rose.
After a couple of hours it is hard to detect the sandalwood. Both that and the musk are more present at the beginning, even though they're supposed to last longer as base and mid notes, respectively. This is mostly just floral on me after a couple of hours, although there is a little something else that I can't quite place. It could be the pear or the green leaves. But I can't pick out any one flower, it's a little generic after awhile. Normally I love rose, but it is hard to detect individually here.
It's odd, because normally I don't care for florals, but aside from being somewhat generic, this one is not bad. I can see myself wearing it every now and again. Please also keep in mind that this may vary quite a bit based on your body chemistry, and my description here is how it smells on me after some time.
This has somewhat strong sillage on me (although it does fade a little over time) and the longevity is moderate.
Verdict: The estimated value of my fragrance this month is $15.47. This is just about the same as the monthly cost of the subscription. This subscription is highly customizable, however, and your value can be a lot more if you research fragrances before adding them to your queue. With a fragrance subscription, though, maximizing value is not always the number one concern, because if you hate an expensive fragrance, it's not a good deal, but if you love an inexpensive fragrance and will wear it, then there is value for you. Also, of course, you have the option of choosing bath/body items or skincare or makeup with this subscription, so you don't accumulate lots of unused fragrance if you don't wear it every day. I think this fragrance is OK for me, probably not something I would have chosen on my own (even though I like sandalwood, musk and rose), but something I will wear every now and then.
To Wrap Up:
Can you still get this box if you sign up today? Yes, all you have to do is choose this fragrance for your queue.
ACTIVE DEAL: Limited Time Only! Get 50% off your first box and a free case (reg. $15.95). No coupon needed - just use this link.
Value Breakdown: This subscription is $14.95/monthly and this month, I received $15.47 worth of fragrance (but again, this is highly variable based on what scent or product you choose).
Check out our past Scentbird reviews plus some of our best beauty subscription boxes!
Keep Track of Your Subscriptions: Add this box to your subscription list or wishlist!
What do you think of the January 2020 Scentbird? What item or scent did you choose?