Ipsy
1909 Ratings | 396 Reviews
Ipsy is a monthly beauty and makeup subscription box. Each month you get full-size or deluxe-sized products, plus a cute makeup bag.
This is one of Liz's top recommendations if you are looking for a subscription box - the value and sample sizes are amazing. (Check out our list of the best beauty boxes for 2019 and our reviews of Cheap Subscription Boxes for more recommendations!)
(FYI – Just like Birchbox, Ipsy sends out many different variations of their bag each month – so my review is just one of the bag variations you might receive!)
My Subscription Addiction pays for this subscription. (Check out the review process post to learn more about how we review boxes).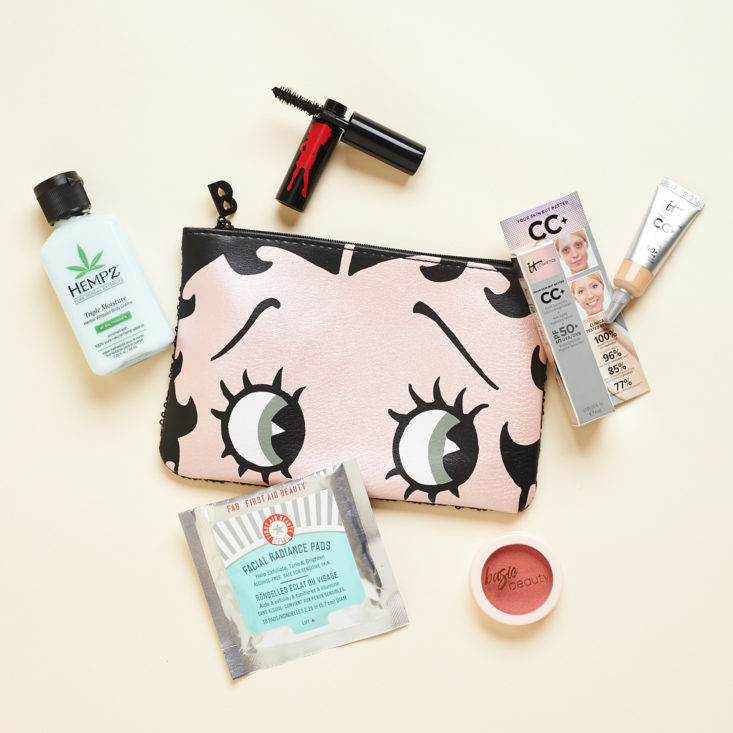 About Ipsy Glam Bag
The Subscription Box: Ipsy
The Cost: $12 a month + free US shipping. Save with an annual subscription.
The Products: Full-size and samples of makeup and beauty products. (Plus a makeup bag!)
Ships to: The US for free and Canada for $2.95
Delivered via: DHL or FedEx + USPS
Visit the Ipsy Swap Page to swap for any of the items you see in this review!
My Ipsy Glam Bag October 2019 Review
Included is a card detailing your included items.
Each month, Ipsy subscribers get a makeup bag in addition to their items. This month was the Betty Boop bag. The back has a scattering of black sequins. 
Hempz Triple Moisture Herbal Whipped Body Cream, 2.25 fl oz -  Retail Value $7.50
This brand always tends to remind me of a tanning salon for some reason. I don't generally love the tropical scents and this was no exception. It smells like an overpowered and slightly artificial blend of grapefruit and peach. To be fair, I really dislike food scents unless they have some sort of woody or spicy base. Formula wise, I did like this cream. It moisturized without being greasy and felt super light, which was shocking for the amount of hydration it gave my skin. I think this formula might come in a green tea scent if I remember correctly, which would be much more my sort of smell.
First Aid Beauty Facial Radiance Pads, 10 pads - Estimated Value $5.33 (Buy 60 pads for $32.00)
I never miss a chance to add an AHA acid to my skincare routine, and these pads are coated in a blend of lactic and glycolic acids. These work together to exfoliate your skin over time and improve radiance and texture. I think this mini pack of 10 is adorable and I appreciate the resealable sticker on top. This is a perfect little pack for travel.
Basic Beauty Jelly Blush in 'It's October 3rd', 3 g - Full Size! Retail Value $18.00
Ok, I love the shade of this blush. It is such a pretty pink! Not too peachy, not too baby pink. The texture is also quite interesting, as it is some sort of powder/jelly hybrid. You can apply it with either a brush or your fingertips and it gives such a natural flush. Because of the hybrid consistency, it feels really buildable and blends just beautifully.
A perfect pink.
Betty Boop x Ipsy Blink and Wink Mascara
I have conflicting feelings on this mascara because while it was a little clumpy, it did give my lashes loads of length. The clumps did comb out if I made a few passes, but I wasn't wowed by the formula. If they could have made this clump-free with that sort of lengthening power, I would have been obsessed!
IT Cosmetics Your Skin But Better CC+ Cream with SPF 50+ in 'Light', 4 ml - Estimated Value $4.88 (Buy a full-size 32 ml for $39.00)
Every time I start to think my complexion might be on the warmer side (I love warm shadows and lip colors) I get a sample that totally resets that opinion. Although this shade was called "light" it was WAY too yellow for me. There are two lighter shades in this formula, the lightest being "fair" and I think that would probably be the shade I needed for my overall neutral skin tone. I did really like the coverage of this formula and the fact that it has such a high SPF rating is awesome. I will likely make a trip to Sephora sometime this week to check it out in the right shade.
A little yellow for me, but I loved the formula itself.
Verdict: This Ipsy Glam Bag was ok this month. I really loved about half the bag, but the rest was not my cup of tea this time around. The overall value is at least around $35.71, though I couldn't figure out what the retail was on the Betty Boop mascara. All in all, this isn't the worst value for a $10 bag, but I hope next month has samples I might enjoy more. 
To Wrap Up:
Can you still get this box if you sign up today? Possibly! As of publication, there was no Ipsy waitlist. Check here to see what month you'll get first.
Good to Know: Ipsy sends out variations. You may get a completely different bag than me.
Value Breakdown: At $12 for this box, each of the 5 items (not including the makeup bag) has an average cost of $2.40.
Check out all of our Ipsy reviews and the best beauty subscription boxes of 2019, as recommended by our readers!
Visit the Ipsy Swap Page to swap for any of the items you see in this review!
Keep Track of Your Subscriptions: Add this box to your subscription list or wishlist!
What do you think of my October Ipsy Glam Bag? What items did you get in your bag?