My Fashion Crate
12 Ratings | 2 Reviews
My Fashion Crate is a monthly clothing subscription box for fashionistas. Each month, you get a mix of women's clothing items (S-3XL), such as shirts, dresses, accessories, and even gift cards curated to fit your sizing and preferences.
My Fashion Crate offers three subscription options—the Accessories Box (2-3 accessories, beauty items, or gift cards for $20/month), the Essentials Box (3-4 clothing items, accessories, or gift cards with a total retail value of up to $200 for $35/month), and the Premium Box (5-8 clothing items, accessories, for $49.95/month with a value up to $300).
This is a review of the Premium box, which costs $54.90 ($49.95 + $4.95 shipping).
This box was sent to us at no cost for review. (Check out the review process post to learn more about how we review boxes.)
About My Fashion Crate
The Subscription Box: My Fashion Crate
The Cost: $49.95/month + shipping
ACTIVE DEAL: for 10% off first order
CODE: MFCMSA10
The Products: A monthly mix of 5-8 items for women such as shirts, dresses, accessories, and gift cards, all curated to match the preferences you set when signing up.
Ships to: US for $5.95, Canada for $13, and internationally for $19.95
My Fashion Crate May 2019 Review
My Fashion Crate always includes an insert with descriptions of the items and their values. The front side of the page lists everything in the Essentials box, while the back gives you the Premium box details. They include pictures, which I always appreciate. 
Spring Blue Floral Chiffon Blouse, Size L - Listed Value $38
The light blue color and floral pattern of this sheer top will be cute and pretty for spring. This top is very comfortable and lightweight, but since it is sheer I'll need to wear a cami underneath. I think this top would look cute paired with some white crop pants.
Here I have it tied at the neck, but I think I prefer it open!
August Bamboo Sunglasses by Blue Planet Eyewear - Estimated Value $45
This particular pair of sunglasses is not on the Blue Planet Eyewear site, but they do have some fun new colors available in this style that retail for more than the $45 listed on this pair's tag. I recently received a pair of sunglasses from Blue Planet Eyewear in another box, and I wear them every day—they are such great quality and so comfortable. Plus, they are from an eco-friendly company that gives back by donating a pair of corrective glasses for every pair of glasses they sell.
This style is much more feminine than my other pair, and the bamboo arms make them feel very lightweight despite the larger frames.
At first, I was afraid that these sunglasses weren't the same quality as the other pair I own because the lightweight bamboo felt much different. I did notice that there's a tiny area on the arm that's splintered.
Fortunately, these have been working out just fine. I think the quality is great despite that tiny little crack in the bamboo. I love the large size of these frames, and the mirrored lenses are fun, too! These sunglasses also provide 100% UVA and UVB protection and are made from natural and recycled materials.
Making Shirts Bookmark by Bentoy - Listed Value $4
This next item feels a little out of place in this box, since there are no books or notebooks to go with it. I guess the shirt collar design goes along with a fashion-based box. This bookmark is cute and stylish and would make a cute gift to go along with a book!
Here it is at the top of the info card. It would look even cuter on a book page, for sure.
Lip Service Mini Lip Product Gift Set by Mirabella - Retail Value $30 (Found here for $15.00)
This lip set includes a cute lip mask and three mini lip products—a lip liner, lip gloss, and a lipstick all in a bag with a fun phrase on the front. These products are all free from parabens and gluten in addition to being cruelty-free.
Mini Lip Definer Pencil in Spunky - Retail Value $5.00
This liner is a nice berry pink color. It goes on smoothly creating a perfect outline. It was a nice complement to the lipstick in the kit.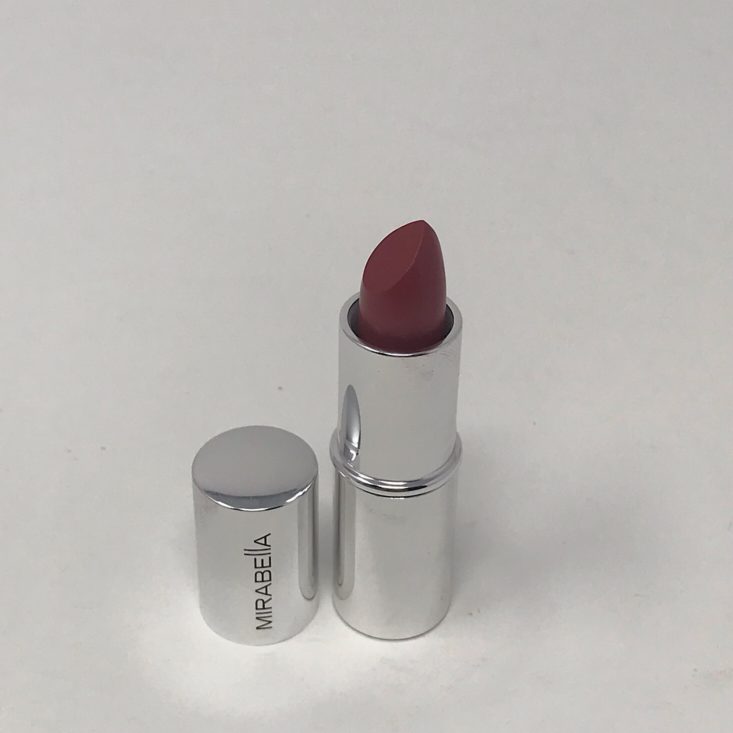 Mini Mulberry Mocha Lipstick - Retail Value $8.00
This lipstick was my favorite of the lip products! The color is actually a little bolder than what I usually wear, but the shade was very flattering and the formula itself was great. It went on smooth and had a light, creamy finish with a very slight sheen that stayed on for a while. This mini size is perfect, too, since I'm not sure I've ever finished a whole tube of lipstick before!
Mini Angelic Luxe Advanced Formula Lip Gloss - Retail Value $6.00
This lip gloss is a pinkish nude that has a little bit of metallic sparkle to it. It is subtle, so it just gives your lips a nice shine. The formula is moisturizing thanks to the lanolin and essential oils in it. It actually has a slight vanilla scent that I liked.
Here are the products swatched. From top to bottom, you'll see the lip definer, lip gloss, and lipstick.
Here I am wearing all three. They work really well together, and I love that they are all smaller sizes that I can throw into my purse!
Plump & Condition Lip Mask
I'm not really one to use lip masks, let alone plumping ones, but I can appreciate that they included one in this set! I haven't ever really had the desire to have fuller lips, and my experience with lip masks is that they just don't stay on. Just as this mask was about to slip off my face, I noticed a little bit of stinging. I decided to go ahead and remove it. I'm sure it was part of the plumping process, but I just wasn't feeling it. I did enjoy surprising my husband with my oversized jelly lips though!
The following items are only in the Premium Box:
Blue Button-Up Dress - Listed Value $55
I was excited to this dress in this month's box, but wow, my legs are not ready for a dress this short! I couldn't help but feel like Tom Cruise in Risky Business in this blue dress. It is super comfortable, and I love that it is longer in the back (that makes me feel a bit better about the length), but I still think it might be too short for me to pull off. It is also very tight across the chest, which always happens to me with button-up tops. I think wearing a cami underneath doesn't look too bad. I do love that the sleeves roll up and have a strap and button to hold them in place.
Sorry for the awkward picture where I might be showing too much, but I did want to point out that this dress has pockets! While I am always a fan of pockets, this dress fits a little too tightly for me to be able to utilize them. (Hence, the awkward photo.)
Here is a close-up of the dress. It's made of a nice pale blue cotton fabric. It seems to wrinkle easily. (I steamed it before these photos.) I haven't washed it yet, so maybe that will help.
You Are Awesome Cotton ECO Tote Bag by Love of Fashion - Listed Value $30 (Found here for $11.99)
This canvas tote is a solid, nice-quality bag. It even has a little pocket on the inside, but the price still seems to be a bit inflated. The Amazon listing price seems a bit more on par. The message on the outside is fun—I am actually planning on gifting this bag to my sister which makes the message even better, since it will let her know how I feel about her! I always have a bag like this lying around so I can throw things in it and go. This tote holds a lot and folds up easily when you're done, which is great.
Verdict: I enjoyed this month's curation from My Fashion Crate, especially in comparison to what I got last month. The sunglasses and lip set are definitely my favorite items, and the tote is a great item to gift to someone you think is awesome. The bookmark felt a bit out of place, but it was still cute and useful. I really like the button-up dress, but I don't think I can pull it off, unfortunately. Maybe I can use it as a beach cover-up, or throw it over some shorts? Overall, this was a great box for transitioning from spring to summer. I always think the clothing items are a bit inflated in price, but I feel like I still get decent value from the box as a whole. 
The total value for the Premium box comes to $202 (or $183.99 if you consider the Amazon value for the tote) this month, which is great for a $55.90 ($49.95 + $4.95 shipping) box. As for the Essentials box, the value is $117, which is still great for a $40.95 ($35 + $5.95 shipping) box. For the $14.95 extra paid for the Premium box, I received the blue dress and tote bag (valued at $85).  
To Wrap Up:
Can you still get this box if you sign up today? If you order now, you will receive the June box. From My Fashion Crate:
All packages ship on the 2nd week of the month. Your package takes 3~5 days to arrive after the notification email. Shipping takes a few days longer for Canada and International orders.
ACTIVE DEAL: for 10% off first order
CODE: MFCMSA10
Value Breakdown: This box costs $55.90 ($49.95 +$5.95), so here is what you are paying approximately per item:
Spring Blouse: $10.52

Sunglasses: $12.45

Bookmark: $1.11

Lip Set: $8.30

Blue Dress: $15.22
Tote Bag: $8.30
Alternatively, you are paying an average of $9.32 per item at $55.90 for this box with 6 items.
Check out all of our My Fashion Crate reviews, our readers' favorite fashion subscription boxes, plus the top women's boxes!
Keep track of your subscriptions: Add this box to your subscription list or wishlist!
What do you think of My Fashion Crate?