Loot Crate
232 Ratings | 90 Reviews
Loot Crate is a monthly subscription box for geeks and gamers and collectors of all ages. Each month they include themed collectibles and shirts that are exclusive items/variants at the time of shipment.
FYI - Loot Crate has shipping issues. We only recommend subscribing to any of their boxes if you are OK with boxes showing up late. (Possibly months late.) 
My Subscription Addiction pays for this box. (Check out the review process post to learn more about how we review boxes).
About Loot Crate
The Subscription Box: Loot Crate
The Cost: $19.99 plus $5 shipping a month
ACTIVE DEAL: Build Your Own Custom Crate! No coupon needed - just use this link.
The Products:
4+ items from your favorite pop culture franchises
A t-shirt every month and more licensed and exclusive items
Collectibles, gear, figures and more – $45+ value in every crate
Ships to: 27 countries including US, Canada, Australia, and the UK!
February 2019 Loot Crate 'Transform' Review
February's "Transform" theme features items from The Incredible Hulk, Naruto, Alita: Battle Angel, Adventure Time, and Transformers. That is quite an eclectic mix!
The box itself can be folded inside out and turned into a Hulk hand!
MEGAN SMASH?
It comes with a booklet that will detail the items in the box.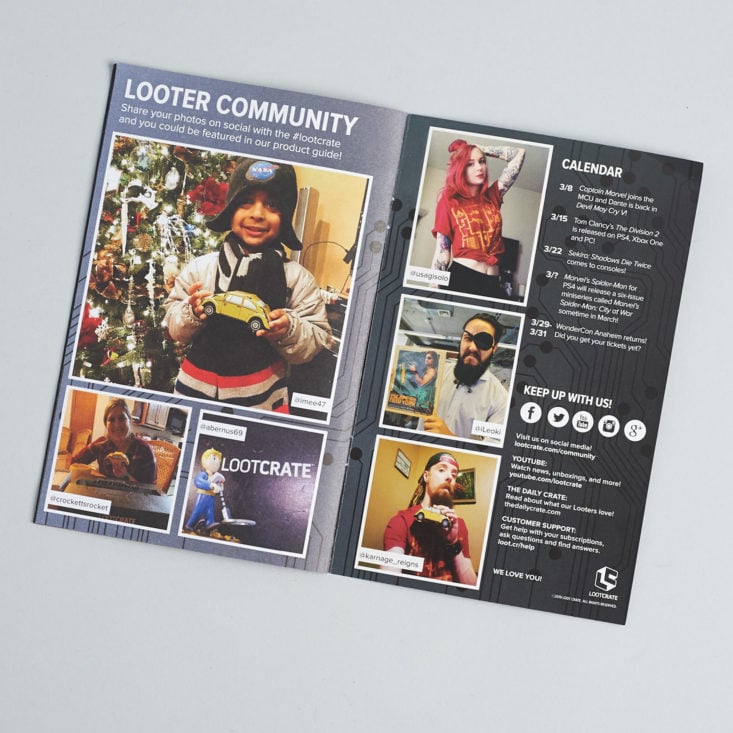 Let's dive into our items!
Alita: Battle Angel Pin 
I am seriously so impressed with this pin. It has so much detail it is a little mindblowing, especially for something so small! In addition to all the joints and different pieces of metal that make up this hand, you can also see a delicate filigree design across the palm and many of the components.
Adventure Time T-Shirt
Adventure Time is one of those magic cartoons that is both beloved by kids and adults because it is clever, fun, and really entertaining to watch. This shirt features all the different transformations of Finn throughout the series.
Hulk 3D Comic Standee
This thing is really cool! It really had this authentic 3D feeling to it and weight-wise it is a pretty substantial plastic. It is well painted and highly detailed, with a retro comic vibe. I can't imagine a more fitting addition to a box with a 'transform' theme.
Naruto Glass Tumbler
This tumbler is super heavy duty! I love the crisp illustration of everyone's favorite ninja against the beautiful blue glass. I can't wait to enjoy a craft brew from this tonight!
Transformers Double Sided Oversized Card
Lastly, we received a huge trading card featuring Omega Supreme. This thing is almost big enough to be framable. Like, bigger than a large postcard sized. It is also holographic which makes it feel extra special. I am not sure if you combine this in a deck with similarly sized cards or if you have to mix this with smaller ones, but I can't help but laugh at the thought of tossing down this massive card.
Verdict: This was quite a mix of franchises for Loot Crate. It almost makes me wonder if the curation and editing could be a little more specific, but I guess when you cast a wide net you end up pleasing more Looters? My favorite piece this box was honestly that highly detailed Alita pin. It was just really well done. I also love anything that is from Adventure Time, so the tee was a winner too. I am not the biggest Hulk fan (though I sure did enjoy wearing that Hulk hand) but I know someone who is, so the standee will go to a good home. I also have a soft spot for Naruto, so the glass will get a lot of use. The truly gigantic trading card is a little bit of a head-scratcher for me, but it was still a fun addition.
To Wrap Up:
Can you still get this box if you sign up today? No, You'll see the current them on the landing page – theme cutoffs are the 19th of each month at midnight EST.
COUPON – Save 10% off any length subscription, or $3 off month-to-month with coupon code ADDICTION or SAVE3
Value Breakdown: This box is $24.99 ($19.99 plus $5 shipping a month) meaning each of the 5 items included has an average cost of $5.00.
Check out all of my Loot Crate reviews to get more information on this subscription. Check out all of our Geeky Subscription Boxes in the Subscription Box List. Rate, review, and follow this subscription on the Loot Crate profile page.
What did you think of the February 2019 'Transform' Loot Crate?