Imagine spending hours — let's be honest here, imagine spending days — playing your favorite games and having fun in your own gaming zone without spending hundreds of dollars. Sounds like a dream come true, doesn't it? With gaming subscription boxes, you can save quite a lot of money on games while being part of the exciting world of games.
Thanks to gaming subscription boxes, you can explore hundreds, if not thousands, of titles. Pro-gamer? Novice? Just learning about the world of gaming? There's an option for you. Whether you are an amateur or a new gamer who has just started to get a hold on all the world of gaming has to offer, gaming subscription boxes are a perfect choice. That's why we've compiled a list of the nine best gaming subscription boxes to meet a variety of needs.
But don't be fooled — these gaming subscriptions are about far more than the games themselves; many serve to highlight all the fun gaming can bring into one's life. Apart from licensed games, these boxes provide you with high-quality gaming gear, figures, and souvenirs to collect. Gamers can now get everyday items inspired by their favorite video games.
So what are you waiting for? Read our list of the top 9 gaming subscription boxes.
The 9 Best Gaming Subscription Boxes
1. The BAM! Gamer Box - Best Gaming Subscription Box For Collectible Enthusiasts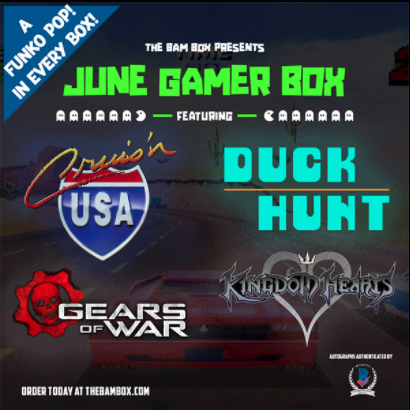 About the Subscription: If you like collectibles, you'll love subscribing to the BAM! Gamer Box. A monthly mystery subscription box, the BAM! Gamer Box features a range of products inspired by geek, nerd, sci-fi, and horror variants, along with exclusive pop culture collectibles.
Why does this box top our list of the 9 best gaming subscription boxes, you ask? Because it is created by gamers around the globe to introduce fans to the wild world of gaming. It is the ultimate cost-effective subscription box for collectors, as each box has an authentic, hand-signed celebrity autograph inside.
The ultimate collector's experience for gamers, the BAM! Box collection offers games like Donkey Kong Country, Mortal Kombat, Five Nights at Freddy's, Dragons Lair, and many more. Apart from licensed game versions, you also get a celebrity autograph authenticated by Beckett Authentication Services, which is one of the leading third-party autograph authenticators.
Along with a game, the box also contains items such as game props, fan art, enamel pins, pop culture, horror items, and more. In addition, you will get an authentic celebrity autograph delivered to your door every month. With the month's change, each box will also contain opportunities to enter giveaways. Each package includes a limited edition or an exclusive item, so act fast.
The Cost: Prices start at $29.99
2. Loot Gaming - Best Gaming Subscription Box for Gamers Who Love Variety
About the Subscription: When you can't find a gaming box that suits your peculiar needs, Loot Gaming is here to help. This gaming subscription box has it all. No matter what your gaming preference is, Loot Gaming has a subscription box for you. Choose from a range of epics and licensed items with a mix of 4-6 pieces of official gear and collectibles like figures, shirts, home goods, and much more. This gaming subscription box is perfect for gamers who find themselves drawn to both classics and new releases.
Did you know that Loot Crate is the worldwide leader in fan subscription boxes? The company partners with industry leaders in entertainment, gaming, animation, and pop culture to deliver its fans monthly themed crates.
Every month, gamers receive a curated collection of extraordinary items from the best pop culture franchises delivered at your door. Loot Crate ensures to provide different stuff in every crate, including t-shirt, collectible figures, home goods, and much more. The company has a habit of picking an alien franchise that shares a common idea and puts together a bundle of collectibles that you won't find anywhere else.
The box can contain T-shirts, mugs, plush toys, figurines, and more, depending upon the theme of the month/season. In addition, you will receive gaming gear from classic retro games and new AAA titles.
Want to learn more about Loot Gaming? You can read our reviews here.
The Cost: Prices start at $29.99.
ACTIVE DEAL: Save $3 off of your first month
CODE: SAVE3
Buy your Loot Gaming box here.
About the Subscription: If you are a puzzler who is so focused they'd rather sacrifice their sleep in favor of finding the next clue and solving the mystery, you must subscribe to this box. An excellent gaming subscription box for mystery fans, puzzle solvers, and travel enthusiasts, the kit contains everything you need for a fun night at home. Explore a new city and culture every month while trying to decipher clues and solve related puzzles. You will also learn about different regions of the world as you solve riddles and puzzles.
The players have to make their way through the city, visiting places of interest and experiencing local personalities. Finally, the goal is to reach a hidden website where the gamer will enter a secret code and unlock the next adventure.
Finders Seekers is a fun family game and can be great for a birthday theme party. All of the items included in the box are fun and engaging, and it feels like being part of an Agatha Christie story.
You will get a mystery puzzle featuring a new destination theme each month. Locations include Toronto, San Francisco, Athens, and other places. There's no luggage necessary — just an internet connection will let you all set to visit these mysterious places. Moreover, there is a series of props and papers along with a welcome letter to get you started. And in case you get stuck somewhere while solving puzzles, the website will help you move on.
Want to learn more about Finders Seekers? You can read our reviews here.
The Cost: Prices start at $30.
ACTIVE DEAL: Save $5 off and get free shipping!
CODE: NEWYEAR18
Buy your Finders Seekers box here.
4. Elder Scrolls Crate - Best Gaming Subscription Box for Action Role Players
About the Subscription: This is a quarterly subscription box featuring items from the action role-playing fantasy video game, The Elder Scrolls. Every three months, the subscribers get a crate of 4-6 licensed and exclusive collectibles and much more from Tamrie. Playing the game is an excellent experience with never before seen, high-quality The Elder Scrolls Loot. The articles are made with fine details, especially the helmet replica and the cloth map.
Elder Scrolls Crate gives you new daily and weekly tasks that grant you various rewards, such as gold or experience, and a new currency called Seals of Endeavor. Players can use this currency to buy any of the currently available Crown Crate items in the game.
The new Endeavors system means that The Elder Scrolls Online gamers will be able to acquire XP scrolls, pets, cosmetics, and even rare mounts via gameplay, as well as through real-world money loot box gamble.
Enjoy your game with 4-6 original and officially licensed collectibles, apparel, and gear inspired by the characters, locales, and lore. A nice hoodie to keep you warm is an added item in the box.
The Cost: Starts at $49.99.
Buy your Elder Scrolls Crate here.
5. Mario's Mystery Block - Best Gaming Subscription Box for Nintendo Fans
About the Subscription: Mario's Mystery Block is a collection from the pioneer of interactive entertainment, Nintendo. The box is a collection of the best Nintendo licensed merchandise, including toys, clothing accessories, novelty products, and other video game-related goodies.
With the rich history that Nintendo offers, you can be sure that there is something for everyone – toys, clothes, amiibos, candy, plush, hats, accessories, and much more.
The Nintendo Game Boy holds the prestige of being the first-ever video game outside earth. Interestingly, Aleksander Serebrov was reported to carry the game console with him on one of his space trips and played Tetris at times when there was nothing else to do.
The mystery box will always keep you guessing for your favorite character or console, which may be in next month's theme.
Mario's Mystery Block is thematically identical for all its subscribers. However, while you sign, the company asks a few questions to customize the Mystery Block appropriately. There are plenty of exciting items to expect from the box, like coins, super mushrooms, fire flowers, action figures, etc.
You will also get a t-shirt along with some gaming accessories and other fun video game-related goodies.
The Cost: Prices start at $29.99.
Buy your Mario's Mystery Block here.
6. Geek Fuel EXP - Best Gaming Subscription Box for Self-Proclaimed Geeks
About the Subscription: Full of gaming merchandise, this gaming subscription provides you with a box of premium geeky moments in pop culture that created our childhood. Remember those movies, games, TV shows, and cartoons we used to love as kids? Geek Fuel EXP takes us down to the memory lane that brings us back to movies, TV shows, toys, and other events that used to inspire our inner hero.
A team of pop culture commandos designs Geek Fuel, and each box has exclusive essentials for your home or office. From figures to geeky gear, all items are 100% exclusive and hard to find. You will cherish memories as all these unique products transport you back to your childhood.
Subscribers to Geek Fuel EXP will also receive one or two Toxic Crusaders figures. The box has an information card with details about each item and features a game with every delivery. In every delivery from this gaming subscription box, you will receive 6-8 officially licensed and exclusive products like games, toys, gear, collectibles, and other epic stuff. You will also get exclusive t-shirts and other household essentials, which you will not find anywhere else.
Want to learn more about Geek Fuel? You can read our reviews here.
The Cost: Prices start at $29.
7. The Heroes Tower - Best Gaming Subscription Box for Sci-Fi Lovers
About the Subscription: Tower Heroes is a defense game on ROBLOX where you can learn about the heroes in the game, events, codes, maps, and more. This mystery box is full of pure geekiness, superheroes, villains, trading card games, anime, sci-fi, and more.
The Heroes Tower also offers Mini-Science fiction Mystery Box. You have to select Sci-Fi as your category while subscribing to the gaming box or mail the request with specific themes.
The crates can be opened by spending a certain amount of coins and provide you with a random skin depending on the crate. The skin is a cosmetic to customize your towers. Some skins are exclusive to specific towers, while others come from codes.
Every month, the subscriber will receive a new box with a variety of different items. You will receive 5 to 9+ items in each box depending on your subscription Mini, Geeky, or a Premium Box. Some of the things are even handcrafted to make the package more exclusive for you.
The Cost: Prices start at $26.
Buy your Heroes Tower box here.
8. AirDrop Crates - Best Gaming Subscription for Franchise Gamers
About the Subscription: AirDrop Crates is a monthly gaming subscription box that contains a mix of gaming-related accessories. With new gear and themes every month, it's a great way to fully immerse yourself in the gaming world. Prepared for fashionable people, most of the items come from popular franchises with broad appeals, such as Star Wars, Marvel, and The Witcher.
Do you want to call on troopers who are ready to conquer ahead of you? Be the last warrior inside or choose to defeat the elder dragon. This is the right time to survive, with a gaming box of Survivor Crate.
The monthly boxes are centered around a theme. For example, the PowerCrate will include a Thanos pillowcase, a Venom stress ball, and a God of Wars button. The company supports all players with gaming products as well as exclusive AirDrop accessories and source the best quality items. Apart from providing exceptional values each month, AirDrop Crates also gives monthly giveaways that are automatically entered to have a subscription with the company.
5-8 different items with officially licensed products, accessories and apparel, collectibles, eatables, and much more. The items that are placed inside the box are gaming-related to let you enjoy gaming at your best.
The Cost: Prices start at $28.95.
ACTIVE DEAL: Receive 15% off of your first purchase.
CODE: 15CartOff
9. Video Games Monthly - Best Gaming Subscription for Retro Gamers
About the Subscription: Craving that retro gaming feeling? Nostalgic for the systems that made you fall in love with gaming in the first place? This is a monthly subscription service for vintage game lovers, as the box delivers retro video games to the gamers who own classic gaming systems from the old years as far back as the 1970s.
Just choose your gaming system along with the games in your library, and the exclusive game tracker ensures that the player never receives a game they already own.
Now enjoy an elite game collection with a bunch of tasty snacks to reach the next level of a game. Finally, get yourself immersed with roleplaying games with a set of rare and customized dice for every battle. Sounds interesting? You can even test your creativity with quality terrain sets and many mystery games.
Depending on the plan, you will receive a set of three or ten games, with a guarantee that you will never get a duplicate game. After you have finalized your game, it is good to choose the game system and click the check box for each game you owe. Again, keeping your library up to date will ensure that you never receive a duplicate game.
The Cost: Prices start at $34.99.