Play by Sephora Smarts K-Beauty Skin Innovation Review – October 2018
---
This post may contain referral/affiliate links. If you buy something, MSA may earn a commission. Read the full
disclosure
.
Play! by Sephora is a monthly beauty and makeup subscription. Each month they send you six samples, a PLAY! BOOK of tips and tricks, and a PLAY! PASS for in-store learning.
Sephora recently launched a special Play! Smarts K-Beauty: Skin Innovation Box that is available for purchase in the app and on the Sephora site! (This box is a one-time-purchase and separate from the subscription.)
This box was sent to us for review purposes. (Check out the review process post to learn more about how we review boxes.)
About This Box
The Box: Play! Smarts K-Beauty: Skin Innovation
The Cost: $20
The Products: The Play! Smarts K-Beauty: Skin Innovation is available in Fair or Medium/Tan and includes:
– belif eye cream
– Laneige lip mask
– Erborian cream (Fair or Medium/Tan)
– Saturday Skin treatment
– belif face cream
– Glow recipe face mask
– Access to an exclusive live-streamed CRASH COURSE
– A limited-edition, reusable beauty bag
– Informational SMART CARDS for each product
– SMART PASS good for 50 bonus Beauty Insider points with online or in-store purchase
Ships to: US
Our Review
Each box comes with a Play! Pass, which is a card you can use at Sephora (in-store) to get 50 extra rewards points, and you can also get one-on-one tutorials and tips of products from a Sephora consultant.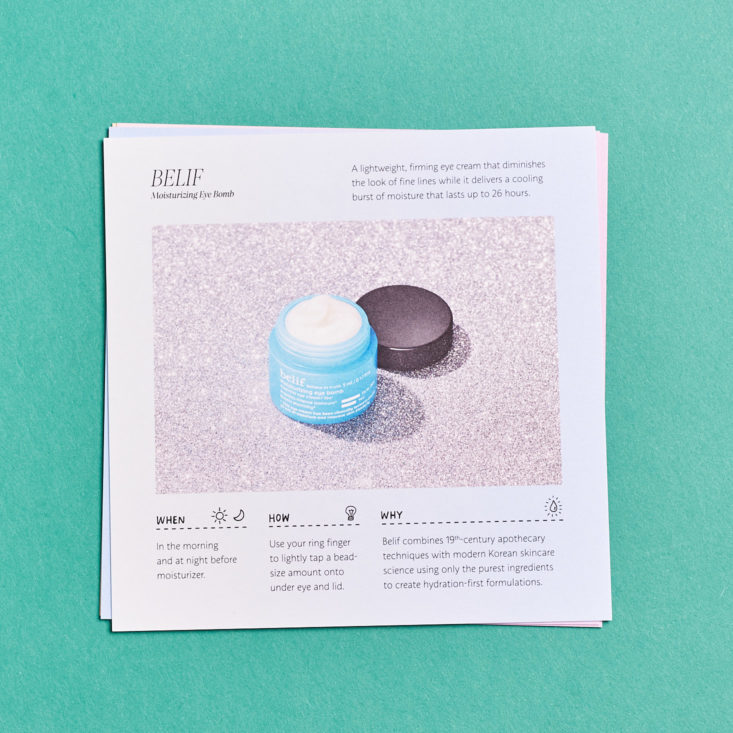 And the beautiful bag:
I loved the contrasting interior & exterior colors. The bag is the perfect size to hold makeup and a phone for a night out.
Now, on to the items!
GLOW RECIPE Watermelon Glow Sleeping Mask – 10mL – Estimated Value $7.33  (buy a 30 mL jar for $22)
I smoothed a thin layer of this mask across my face and it felt really cooling on my skin and absorbed quickly. I was a bit concerned it would leave a mark on my pillow but it didn't. When I woke up in the morning I could see a bit of residue on my face. After I washed it off I did think my skin looked brighter.
Saturday Skin rub-a-dub Refining Peel Gel – 10mL Estimated Value $3.73  (buy a 75 mL jar for $28.00)
I used a drop-sized amount and rubbed it in circular motions on my face after I washed my face at night. I think I maybe should have used a little bit more because after the first 20 seconds it definitely felt a bit dry, and like there wasn't much product left on my face. Nevertheless, after I washed that off I could distinctly feel how soft my skin was. My face felt like a baby's bottom!
Laneige Special Care Lip Sleeping Mask – 2.5 g Estimated Value $2.50 (buy a 20g jar for $20.00)
For the past few weeks, my lips have been so chapped and I've been looking for a fix, so this was a perfect inclusion in this month's box.  The consistency was in-between a cream and a gel and has a berry scent. It's a thick cream and looks almost like a gloss when on. When I woke up in the morning my lips were definitely smoother and stayed hydrated throughout the day. I loved this product!
Belif Moisturizing Eye Bomb – 2.5 g Estimated Value $4.80 (buy a 25 g jar for $48.00)
This gel is ultra hydrating and cooling on my eyes. My under eyes are particularly dry, so it's tough for me to find anything that keeps them hydrated all day but isn't heavy. I used this before I slept and when I woke up my skin was smoothe and I also felt like I had less puffy bags under my eyes in the morning.
Belif The True Cream – Moisturizing Bomb – 10 mL – Estimated Value $7.60  (buy a 50 mL jar for $38.00)
The feel of this cream was super lush, and I loved the feeling on my finger while I was scooping it out of the pot. The cream goes on evenly and doesn't leave a white residue. It sinks in and makes my skin feel ultra-moisturized. This is another item that I'm super excited to have before the winter weather dries out my skin.
ERBORIAN CC Crème High Definition Radiance Face Cream Skin Perfector – 5 mL – Estimated Value $4.84  (buy a 45 mL tube for $44.00)
I've never tried CC cream before so I was intrigued by this one. I could sense how it could be a good base layer to brightens your skin. I don't think that the coloring was a great match for my darker complexion, as I felt it gave me a bit more of a chalky look.
Verdict: I really liked my Play! Smarts K-Beauty: Skin Innovation box this month! Each of these skincare products was high-quality and perfect for the upcoming season. The estimated value total adds up to $30.80 – a good value from a $15 sample box!
To Wrap Up:
Can you still get this box if you sign up today? As of publication, you can still get this box!
Check out all of our Play! by Sephora reviews and all of our reviews of Cheap Subscription Boxes for other similarly priced boxes!
Keep Track of Your Subscriptions: Add this box to your subscription list or wishlist!
What do you think about the Play! Smarts K-Beauty: Skin Innovation box?