BoxyCharm Subscription Box Review – August 2018
BOXYCHARM
BoxyCharm is a full-size beauty and makeup subscription box. They always provide a great value compared the cost of the box. (If you are a makeup addict – I HIGHLY recommend this box!)
This box was sent to us for review purposes. (Check out the review process post to learn more about how we review boxes).
The Subscription Box: BoxyCharm
The Cost: $21 a month
SPECIAL OFFER: One of the brands featured in this box, NOTE Cosmetics, kindly provided us with an exclusive coupon just for MSA readers! Now through 8/15/2018, use code Note25SUBADDICT to save 25% on their site!
The Products: 5-6 beauty items that will include nail care, skin care, makeup, haircare, fragrance and more. (At least 4 of those items will be full-sized).
Ships to: US and Canada
There's a small booklet that folds out to reveal the theme which is "Life of the Party".
Then each item is detailed with the retail values. This one was also curated by Laura Lee whose palette is featured this month.
See how this glam gang wears the items!
Lastly, there are coupon codes for Laura Lee and Smashbox!
Laura Lee Party Animal Eyeshadow Palette – Retail Value $19.00
(All subscribers will receive this)
Wow! I knew what was coming due to the spoiler, but these colors are so vibrant and awesome! The palette comes with a mirror, of course, too.
I love reading the names of makeup colors and I began to giggle but then realized how true these ring for me on a night out. There are six in all that go from (clockwise from top left) a super unique matte yellow that has a greenish tone (Issa Party), to a bright matte turquoise (Damage Control), bold shimmery lapis blue (Karaoke), deep sparkly purple (Hungover), brilliant glittering pink (Bottoms Up), and a vivid matte orange (Dranks). True, these are daring to wear for the average person (like myself) but I get geeked out on thinking of the fun possibilities too! *Stay tuned next week to see how to wear this palette from office hours to happy hour!* For now, I've swatched below.
House of Lashes Bombshell Lashes, 1 pair – Retail Value $9.00
(This is one variant of several House of Lashes available, or you may receive Becca Primer or Tarte Mascara)
These are familiar lashes to me since I've seen them around before. The packaging is adorable and they house one pair of handmade lashes. These are said to made of human hair on their site, so although I'm not a false lashes expert, that sounds premium to me.
The varying lengths give these a more natural look even though they are so much longer and fuller than my given lashes. They come slightly sticky so you can size them on to your lids and trim to fit, but you'll need glue to hold them into place for prolonged wear. The info card lets me know that I should get a good 15 wears out of this single pair as well.
Smashbox Be Legendary Matte Lipstick in Totes, Full Size 0.1 oz. – Retail Value $21.00
(This is one variant of several Smashbox lip products available)
I love getting familiar beauty brands so seeing this Smashbox lipstick was a pleasant surprise! I love the square tube that comes with gunmetal grey accents. It feels very "luxe" to me.
The creme stick is a lot brighter on than it looks and delivers a bold matte color that feels really moisturizing. While it doesn't have the same staying power as some liquids I use, that also means it doesn't stain my lips which I appreciate. Swatched below!
Wander Beauty Baggage Claim Gold Eye Masks x3 – Estimated Retail Value $12.50 (Buy a box of 6 for $25.00)
Next are gold eye masks that said to "brighten, hydrate, and reduce the appearance of dark circles". If you've read some of my other beauty box reviews, you'll know that my dark eye circles are a main concern of mine and I'm always up to try a product that will help.
Normally 6 come to a box but they've graciously sent three sets which is pretty great since using something like this just once rarely yields immediate results. I appreciate that I'll get to use this product three separate times before deciding if I want to go for a full box.
Making sure not to place these too close to my delicate eye area, I remove them from their protective plastic to reveal a white fabric side and the gold foil side you can see above. The foil goes face up and helps retain heat while preventing evaporation of all that good serum. Like a face mask, I left these on for 10-15 minutes (as directed) and then massaged the remaining serum into my skin. These felt cooling while on and I can tell these would be especially nice to use the next morning after a long night out. Time will tell if these have long-term effects to battle those bags.
Bang Beauty Chocolate Gel Eyeliner, 0.12 oz. – Retail Value $22.00
Coincidentally, the last time I reviewed BoxyCharm back in May, I received another pot of gel eyeliner, but in black.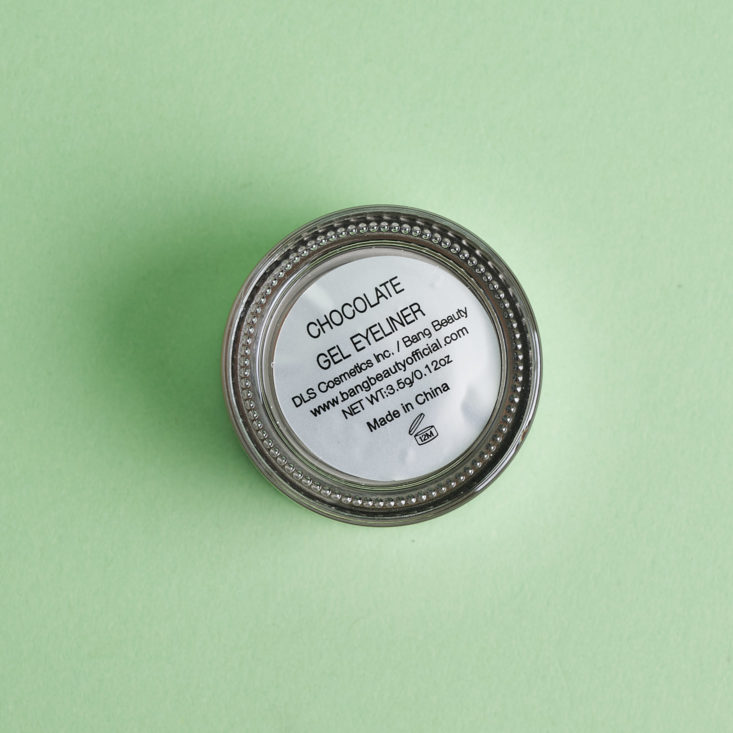 This one is a creamy chocolate brown that comes in a cute clear pot that you'll use a liner brush to apply.
The pigment on this one isn't as intense, but that means I can use it as a brow tint that has a built-in gel! Makeup can be so fun! This is luckily really close to my brow shade so I'll probably go for it since I'm more of a black eyeliner gal. Swatched below!
Adesse Sweet Almond Cuticle Oil – Retail Value $18.00
Finally, they've rounded out this month's box with a super useful nail product! I am all about getting my claws sharpened and polished at the salon these days and don't own much nail color anymore. In between visits though, I've noticed my cuticles getting wrecked due to excessive hand washing and the likes, so this cuticle oil is a welcome gift!
All I have to do is brush this pleasant smelling sweet almond oil on like I would polish but around those dried out cutes' to make them moisturized and soft again! This will be added to my weekly if not daily routine!
Here are all six shadows, the lipstick, and the gel eyeliner swatched!
Verdict: For $21.00 for this box, I received six items worth an awesome $101.50 retail! I found each product to be a great quality and I'm super excited to incorporate this super bright palette into my makeup arsenal. The lashes are the only thing I won't use frequently, but they're fun to have around and a great score for those who wear falsies more often.
To Wrap Up:
Can you still get this box if you sign up today? Yes! This BoxyCharm is still available to grab!
Value Breakdown: At $21.00 for this box, here's what you are paying approximately per item:
Eyeshadow Palette: $3.93
Lashes: $1.86
Lipstick: $4.34
Eye Masks x3: $2.59
Gel Eyeliner: $4.55
Cuticle Oil: $3.72
Check out all of my BoxyCharm reviews and the Beauty Subscription Box Directory!
What do you think of the August 2018 BoxyCharm Box? Would you like to see a tutorial on how to wear those bright shadows?
BoxyCharm ($25 per month) is one of the most popular beauty subscription boxes that we review, with lots of loyal customers. They promise 4-5 full-size beauty products each month from a variety of both indie and established brands, with a total retail value of over $100 in every box. The beauty item...
read more.
Marne is a lipstick connoisseur, record collector, and twice over cat mom. She loves discovering new clean beauty brands and has quite the collection of beautifully packaged serums and moisturizers.
Marne is a lipstick connoisseur, record collector, and twice over cat mom. She loves discovering new clean beauty brands and has quite the collection of beautifully packaged serums and moisturizers.
You Might Also Like
Our reviewers research, test, and recommend the best subscriptions and products independently; click to learn more about our
editorial guidelines
. We may receive commissions on purchases made through links on our site.