Splendid Spoon Review
New Recipes = New Reasons for Being
Splendid Spoon is a prepared meal delivery service with a focus on wellness and a menu rich with plant-based breakfasts and lunches—and, they just rolled out noodle bowls, which make great options for dinner. They have a healthy selection of nutritious smoothies, bowls, and soups, all of which are free of dairy, gluten, and soy. All their offerings are packaged individually for grab-and-go convenience, in BPA-free bottles and bowls that are pre-portioned and can be enjoyed either cold or with a quick heat-up.
The newest addition to the Splendid Spoon menu is a duo of wellness shots boasting anti-inflammatory, digestion-aiding, energy-boosting, and immune-system-promoting qualities. They can be added to any plan! On top of that, Splendid Spoon has recently added some new flavors of smoothies and bowls into the mix, broadening your options for nourishing breakfasts, lunches, and snacks. And, spoiler: they are incredibly delicious!
About Splendid Spoon
Plans & Pricing
Splendid Spoon has four plans to choose from with add-ons available.
$65.00 for 5 smoothies delivered weekly. ($13 per meal)
$95.00 for 5 smoothies and 5 bowls delivered weekly. ($9.50 per meal)
$135.00 for 5 smoothies, 5 bowls, and 5 soups delivered weekly. ($9 per meal)
$185.00 for 5 smoothies, 5 bowls, 5 noodles, and 5 soups delivered weekly. ($9 per meal)
They also just introduced an option for a noodle-only pack.
$80 per week for 5 noodle bowls. ($16 per meal)
Here's the deal with Wellness Shot add-ons:
$5 for 1 wellness shot.
$10 for 3 wellness shots.
$20 for 5 wellness shots.
This box was sent to us at no cost to review. (Check out our review process post to learn more about how we review boxes.)
Splendid Spoon ships domestically to residences and businesses in all lower 48 states.
They partner with FedEx to ensure your package is handled properly during transit. Here are some things that are good to know:
As of 9/8/20 they are currently in-stock and delivering on schedule during COVID-19. 
Your delivery can be left without a signature, but it's ultimately up to your local courier's discretion whether it's safe to leave a package.

They recommend asking someone to accept the delivery for you if you are unable to due to the dry ice.

Delivery windows are from 9 am-6 pm for businesses and 9 am-9 pm for residences on Wednesday or Friday, depending on which day you choose.
Here's a quick guide on how to handle and recycle your Splendid Spoon items:
Meals ship with dry ice and recyclable Climacell insulation to make sure your delivery arrives chilled.

Let dry ice evaporate in a well-ventilated area away from children and pets.
Do not handle with bare hands or ingest. Dry ice is extremely cold (-109 F) and may cause burns.
Your dry ice should evaporate naturally within a day.

Break down the box and add it and other packaging to your recycling bin, or take to your local recycling facility. (It's all 100% recyclable!)
Add rinsed & empty bottles & bowls to your recycling bin, or take to your local recycling facility.
The plastic they use is BPA-free.

Smoothie bottles & lids are #1 PET plastic.
Bowls are #5 PP plastic, & bowl lid is #4 LDEP plastic.
Preferences & Allergens
Splendid Spoon is a completely plant-based, gluten-free, and dairy-free meal plan. They can also make substitutions to accommodate common allergies. When you first place your order, select from the list of common allergies or avoidances provided. Note that meals that contain these items (i.e., tree nuts, mushrooms, etc.) will then be flagged. You can then go in and edit your menu and remove these flagged meals. If you do not remove the flagged meals they will substitute for you with an allergen-free meal.
Signing Up
It's easy to get started with Splendid Spoon. Once you choose a plan (which you can edit at any time, so long as it's 6 days before your delivery) you can handpick each smoothie or bowl you want to receive. If you don't pick, they will auto-select the right amount for you and send it out. Splendid Spoon kindly sent us what's new and therefore made our selections this time around.
Right now, they have 16 smoothies to choose from, 30 grain bowls and soups, 5 light "Reset" soups, and 6 noodle bowls meant to be eaten over the course of one day as a reset to your digestive system. They also have 2 wellness shots with more varieties on the way. If you're browsing Splendid Spoon and something catches your eye, you can hit the little "thumbs up" icon for the menu item of interest and they'll prioritize things like it for future deliveries.
If you need to skip a delivery—or you change your mind and want to unskip it—just head to the "My Deliveries" tab of your account and you'll see all your planned delivery dates available with a toggle to indicate whether or not you'd like to receive a box that week. It's easy to plan ahead if you know you have travel coming up or need to take a break for any reason!
My Splendid Spoon Review
Splendid Spoon just released a slew of new flavors on 9/9 in their smoothies and bowls (namely: noodles!), plus a new detox shot. They sent us a box filled with these new meals to try. In the days of yore I was a coffee shop hopper who sipped local joe while I worked my way through the morning, paused for lunch from a small biz serving up healthy food, then wrapped up my day at another cafe or at home. Just like many others, I began exclusively working from home in March. At the beginning of my home workdays I was motivated to craft epic egg sandwiches or farmer's market salads, but as time went on lunch became later and lazier, and I found my days becoming less productive. I'm a big believer in taking a true midday pause and fueling yourself properly, so Splendid Spoon seemed like a great option that would be both quick and healthy.
My delivery included this card, which gave an intro to Splendid Spoon, and some info on the subscription.
NEW! Wellness Shots
This Wellness Shot has been available since earlier this year, but it's still got the little "New!" flag thingie on it when you view it on the Splendid Spoon site. The ingredients list is simple: ginger, orange juice, lemon juice, and oregano extract. My report of this small-but-mighty shot is similar to Marne's from her SS review: it's a blast of ginger zest that really brings the fire to your throat and belly, and lasts a good few minutes after the shot has been consumed. I can see the benefit to truly shooting this drink—like, in one fell swoop—but I've always found that to be an overwhelming experience so I took it in three gulps.
I've made homemade versions of this drink (with raw garlic instead of oregano extract) over the years as I've felt a cold coming on and they taste similar. I felt healthy when I took this Wellness Shot but I'll say from previous experiences that these ingredients do an effective job of staving off a cold if you catch it early.
One million thumbs up for this Detox Shot! Made with apple juice, lemon juice, aloe juice, kale juice, moringa, and spirulina, it goes down a lot smoother than the Wellness Shot. It's loaded up with great nutrients, but it still tastes sweet. I usually go for a run or bike ride in the mornings, and while I wait until after to eat a full breakfast, I usually like to take a bite or a sip of something to tide me over. I would gladly drink one of these every day to serve that purpose!
Smoothies (Breakfast)
This tart lil' guy was the first smoothie I tried. I was pleased that it wasn't too sweet, as sometimes I have a hard time feeling satisfied by a cold, sugary drink when I'm super-hungry or need to replenish. But, nay! The combo of purified water, organic pineapple juice, organic dragon fruit, organic raspberries, avocado, organic pea protein, organic chia seeds, organic vanilla extract, and Himalayan pink salt were a great combo. When I make my own smoothies at home, a little avocado makes things thicken right up, but in this case the consistency was pretty thin. The chia seeds did add a bit of texture, but they didn't get in the way. I love that pea protein can be seamlessly added into drinks without affecting the flavor, as is the case here!
I'm here to tell you exactly what you're hoping to hear, which is that this smoothie tastes like melted ice cream. Yep, it's the best possible outcome I can imagine for purified water, banana, almond butter, organic coconut nectar, organic cacao nibs, organic baobab powder, organic pea protein, organic swiss chard juice, organic vanilla powder, organic spirulina, organic peppermint, and Himalayan salt. My initial thought was, "why can't actual ice cream have this many nutrients packed in?" but honestly, this smoothie is basically a milkshake, so we're good.
If you're looking to replicate the classic cabana smoothie stand flavor, Mango Guava is going to be your jam. It's light and sweet and fruity and a little thicker than the others. The ingredients are purified water, organic guava, banana, organic mango, organic lime, organic flax seeds, organic camu camu powder, and Himalayan salt. Come to think of it, it tastes a lot like a mango Naked juice—though the Splendid Spoon version is undoubtedly healthier!
This isn't uncommon for Splendid Spoon deliveries, but my food arrived partially frozen, which you can see from the smoothie above. It took a couple of days to thaw out in the fridge, but I'm sure setting it on the counter would've sped things along. Again, I was expecting a really sweet flavor from this Strawberry Goji smoothie, but again it wasn't over the top. On the Splendid Spoon site it's even touted as a lower sugar option! The ingredients include purified water, organic strawberries, cashew butter, organic coconut flakes, organic pea protein, organic baobab powder, organic goji berries, chia seeds, organic vanilla powder, organic cinnamon, and Himalayan salt. Perhaps the cashew butter and the salt are to thank for balancing the flavor out.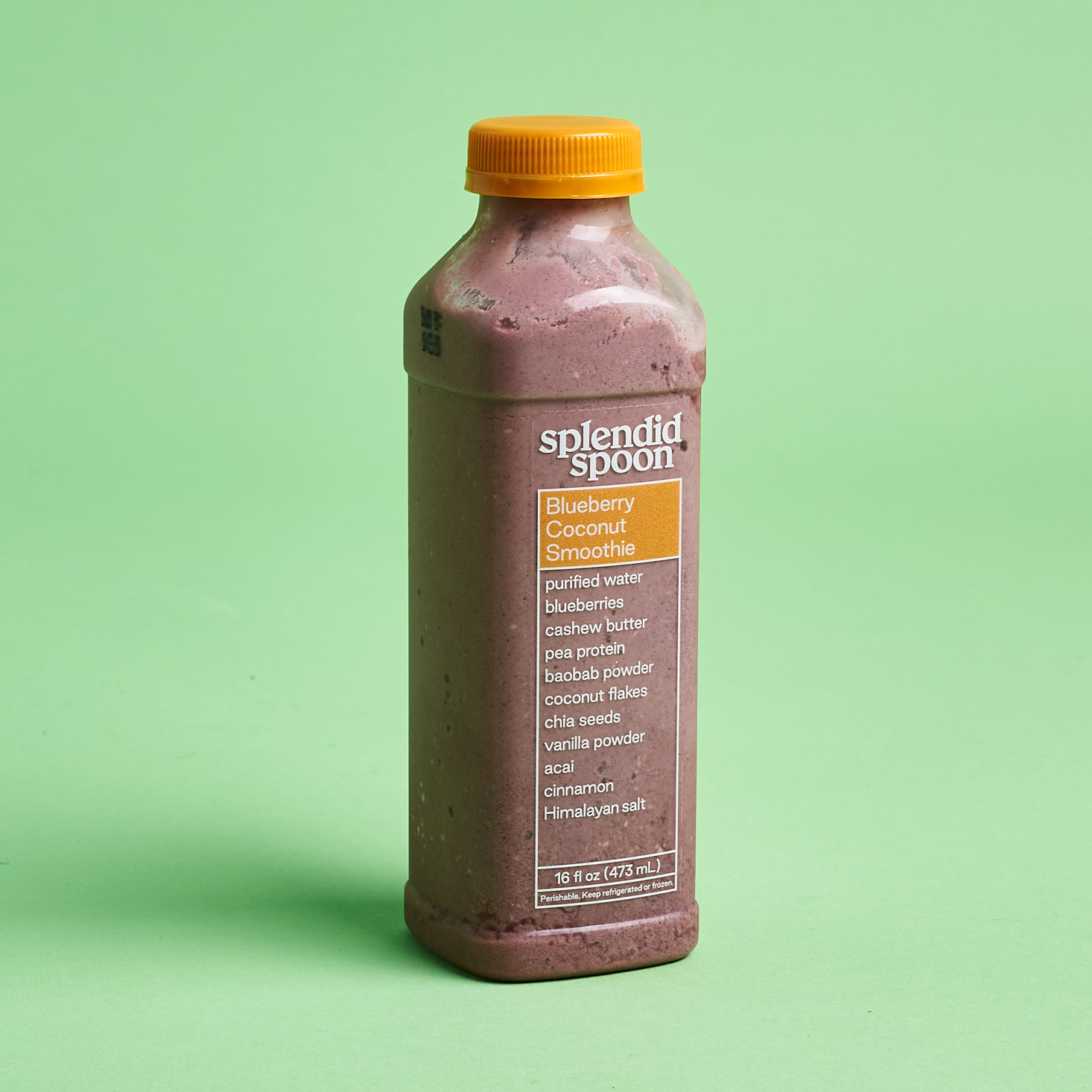 This smoothie has such a well-balanced flavor. I concur with what Marne said in her review, that it has a cinnamon-forward taste and a nice air of coconut. It's got purified water, organic blueberries, cashew butter, organic pea protein, organic baobab powder, organic coconut flakes, organic chia seeds, organic vanilla powder, organic acai, organic cinnamon, and Himalayan salt in it, and it's working very well. I did find some slimy chia seeds in my teeth after drinking this one, which I admit I kind of love.
Noodles & Bowls (Lunch or Dinner)
I'd like to highlight something that Marne stated in her Splendid Spoon review, which is that these bowls indicate a serving size of 2. For reference, each contains 2 cups (12 oz) of food. On days when one of these bowls was the only thing I was eating for lunch or dinner, it made the perfect-sized meal for 1. Some days I shared a bowl with my daughter, and on those instances I ate it alongside something else—say, a slice of bread or a small salad. So, it's my assessment that it could span 2 light meals if it's supported by other meal elements!
The veggie bolognese bowl is a quinoa-based dish with mushrooms, carrots, cashews, wild rice, and hemp seeds mixed in. It was mighty tasty! The flavor was totally there, no salt needed, and the consistency offered a nice update to a flavor I typically associate with a pasta dish. I loved this bowl as-is but also would've enjoyed it poured over salad greens.
Splendid Spoon just introduced rice noodle options to their menu of bowls. *Chef's kiss* Fantastico! This was so, so delicious. I pan cooked this dish to heat it (as directed, which is to plop it in the pan with 1-2 tablespoons of water), and the rice noodles softened to such a lovely consistency. The kale meant that the pesto didn't offer a basil blast, but it was still flavorful and satisfying—I couldn't believe it was vegan, because it tasted kind of cheesy! I found it needed a hint of salt and pepper to get it to perfection, but had I not been able to season it for any reason I still would've enjoyed this dish. The tiny almond chunks added nice texture.
The Red Curry Noodle bowl was such a fresh-tasting meal, and a little spicy, too. Honestly this can be said of all the bowls I tried, but this one especially tasted like restaurant quality, with no artificial flavor whatsoever, just pure deliciousness courtesy of red curry paste (chili pepper, garlic, shallot, salt, lemongrass, sugar, kaffir lime, galangal, coriander, cumin, cardamom, and citric acid) flavoring its sweet potatoes, kale, and rice noodles.
NEW! Creamy Butternut Squash Noodles

I was vibin' on the noodle bowls in my Splendid Spoon delivery in a big way. Something about a warm, filling, healthy pasta lunch is oh-so-satisfying to me. I agree with the name of this dish that it was indeed creamy. It was a smidge sweet, sort of in the way that Thai food is, which I personally am not too big on and decided to counterbalance with a sprinkle of Romano cheese (eek, sorry vegans!). It was also a little spiced in an autumnal way—it lists cinnamon as an ingredient—which was a fun touch. The teeny-tiny broccoli florets offered a pleasant little somethin' to sink my teeth into; something to break up the smooth creaminess of it all. Overall a yummy lunch!
My opinions of the Splendid Spoon bowls I was sent range from "pretty great" to "utterly fantastic" up until this point. I was so surprised and bummed to encounter one I really didn't like. For me, this bowl had an overpowering smoky flavor that reminded me of something I might find in a craft whiskey cocktail. I passed it one along to my husband to finish, and he didn't actually detect the same smoke flavor that turned me off, but after having taste-tested most of these bowls by my side, he wasn't as impressed with this one as the others. So odd because typically a cauliflower, chickpea, spinach, and tahini dish would be totally up our alley. I have to wonder if my impression of this bowl would've been different had it been another rice noodle dish instead of sorghum. I don't mind sorghum, but it is a firm grain that requires a bit more work than a soft noodle, and may have contributed to why this bowl wasn't as inviting to me.
My Verdict
When it comes to the flavors, quality, and nutrition of Splendid Spoon, I can't rave enough. I'll break it down by category:
Wellness Shots—Each one was insanely good for different reasons. The Wellness Shot was a zesty blast of vitamins and the Detox Shot was an easy-going-down supplementation to healthy eating. Both delicious.
Smoothies—The smoothies were actually large enough that I rarely finished them in one sitting. I know that wouldn't be the case for everyone, but in my day-to-day they made the most sense split between a post-workout drink and a late-afternoon snack. That made the value go up for me! My family makes homemade smoothies regularly, so any potential future Splendid Spoon boxes might be more bowl-heavy for us, but it was a treat to have new flavors in our rotation.
Noodles & Bowls—These were the hero of the box for me. I was incredibly impressed with how fresh and complex everything tasted, and how filling it was for a midday meal. I wish I had a never-ending supply of these bowls and I have my eye on a bunch of their other flavors that look incredible! The noodles are a genius addition to their selection, and while in retrospect they made better lunches than dinners for me, they were quite filling and would absolutely work for a quick dinner solution.
When it comes to pricing...depending on the plan you sign up for, these meals will cost anywhere from $9-$16 per item. With their most popular plan each comes to $9.50, which is actually comparable to (if not less than) what these things would cost from a local juice shop or restaurant. On one hand, I could argue that part of what justifies the greater cost of a smoothie or lunch when enjoyed "out" is the atmosphere. On the other hand, as someone who is committed to a healthful lifestyle but who is having trouble keeping up with it due to time and resource constraints, I may rather spend a few extra bucks to have quick, healthy meals on hand than eat pretzels for lunch and wilt through the rest of my day.
I totally relate to anyone who thinks this subscription doesn't feel feasible long-term. I can also see instances when it would be a fantastic option short-term, like when my husband broke his ankle a couple of months ago, leaving me the sole able-bodied adult to care for our toddler for awhile (and work and feed us, etc.). Or for new parents in the early days after bringing a baby home. Maybe for someone who is actually reporting to an office and needs something enticing to help them resist ordering take-out every day.
Bottom line: Splendid Spoon may be pricey, but it stands up to its cost in terms of great quality, fantastic flavors, and nutrition.
Will you be trying Splendid Spoon's new flavors? Do you have any favorites?