My Care/of Review
Personalized Vitamins and Minerals Made to Match Your Lifestyle
There are a lot of different vitamin and supplement subscriptions out there, and MSA readers have weighed in their favorite wellness and self-care subscription boxes. Before I embarked on my own personal Care/of adventure, I have to admit, I was quite loosey-goosey with taking any vitamins or supplements. I used a daily prenatal vitamin, peppering in additional folic acid and fish oil here and there whenever I remembered. I was disorganized and never committed to any regimen. I hated the clutter on my counter, so I kept all of my bottles inside my medicine cabinet, and so 'out of sight out of mind' really set in. I would remember that I forgot to take my supplements on my car ride to work, cursing myself for about 10 seconds before moving on to my next fleeting thought. In the past, I was never totally sure of what vitamins I should take. When I entered my thirties, I decided that I should embrace my truth; my diet intentions never come to fruition, and I needed to supplement my dietary needs to feel my best.
Enter: Care/of. This vitamin subscription service promises a simple process where I just have to visit their website, where within 5 minutes, their quiz will guide me through to their recommendations tailor-made for yours truly. The packaging alone is a game-changer, with my daily vitamins stowed inside a portable little packet, so I could stash them in my bag, desk, and get on with life- easy-peasy! So how did Care/of really mesh with my routine? Read on for all the nitty-gritty details in this Care/of Personalized Daily Vitamins review!
This box was sent to us at no cost for review. (Check out our review process post to learn more about how we review boxes.)
About Care/of Personalized Daily Vitamin Packs
The Cost
Plans start at $20.00 per month with free shipping to the U.S. and Canada.
The Product
Care/of offers a classic multivitamin, individual letter vitamins and minerals, powdered supplements, and additional wellness products.
Care/of Pros & Cons
Care/of Pros
Vitamin packs are sustainably made with plant-based film.
All supplements have research ratings ranging from 'Limited Research' to 'Traditionally Used'.
Some vegetarian, Non-GMO, and Gluten-Free options are available.
Powders can be incorporated into your monthly shipments.
Care/of has a transparency and honestly policy; they provide knowledgable guidance to tailor your supplements to your needs and inform you on what is in them/where they come from.
Daily packs contain all of your supplements for a stress-free and guess-free experience.
Supplements are consolidated into a cute box for easy storage and access, no more plastic bottle clutter!
Care/of Cons
May be pricier than other dietary supplement and vitamin brands available on the market.
Good to Know
Ingredients are sustainably sourced throughout the globe.
There are some vegetarian, vegan, non-GMO, and gluten-free options.
My Care/of Review
The Quiz
I kicked off my Care/of journey with a short quiz that asks the hard-hitting questions about health concerns and goals by simply allowing selections from a straightforward menu. You can choose 3-5 concerns; I chose digestion, heart, and bones.
Based on my three concerns and my recommendations and lifestyle quiz results, Care/of recommended a prenatal, fish oil, calcium, and probiotics. I've taken all of these supplements before on and off, but I was excited to have my 30-day supply, all inside one neat little package.
My Personalized Supplements
Probiotic Blend - Retail $9.00
Using B. lactis, L. rhamnosus, and L. acidophilus, Care/of's probiotic blend gives your gut a dose of "good bacteria." This supplement helps to regulate digestion and research shows that it even helps strengthen your immune system. This inclusive pill is non-GMO, vegetarian, gluten-free, and vegan too! I have a sensitive stomach, which is why I was determined to start a daily probiotic, and I was impressed with how much lighter I feel; my stomach hasn't been as bloated, even when I treated myself to an empty bread bowl (read: a loaf of sourdough) for dinner.
Fish Oil Supplement - Retail Value $16.00
Care/of uses a cold press extraction process to daintily retrieve vitamins A, D, and E as well as eight precious fatty acids. Each serving (two capsules) contains 200mg of omega-3 fatty acids from EPA and DHA. They use wild Alaskan salmon, which is an excellent source known for naturally containing fewer pollutants and heavy metals. This capsule doesn't have a nasty fishy taste or aftertaste for that matter. Tons of research shows the benefits this supplement has for your heart and brain function, and, if you're pregnant, a fetus's brain development. This fish oil supplement is non-GMO and made in the U.S.
Calcium Plus - Retail $5.00
Calcium Plus is a non-GMO, vegetarian, and gluten-free supplement that research shows support bone health. What good is a calcium supplement if it is not formulated to be properly absorbed? Care/of addresses this issue by combining it with vitamin D3 and vitamin K2 to take the calcium where it is most needed... your bones! As you age, calcium gets more difficult to absorb, and I am currently breastfeeding, so I have two depleting factors that made me want to up my calcium levels.
Prenatal - Retail $18.99
When I was pregnant, I got migraines from doing research to find the perfect prenatal. I needed everything+ to help my baby grow and thrive, and I didn't want to take any shortcuts. Care/of could have saved me so many headaches back then! This supplement has 22 essential nutrients including folate from methylfolate, iron, vitamin D, and choline. I was also relieved to learn that it is also formulated using chelated minerals to make it easier for someone with a sensitive stomach to digest; one serving is three tablets, and I found that I could take them with or without food.
Does Care/of really work?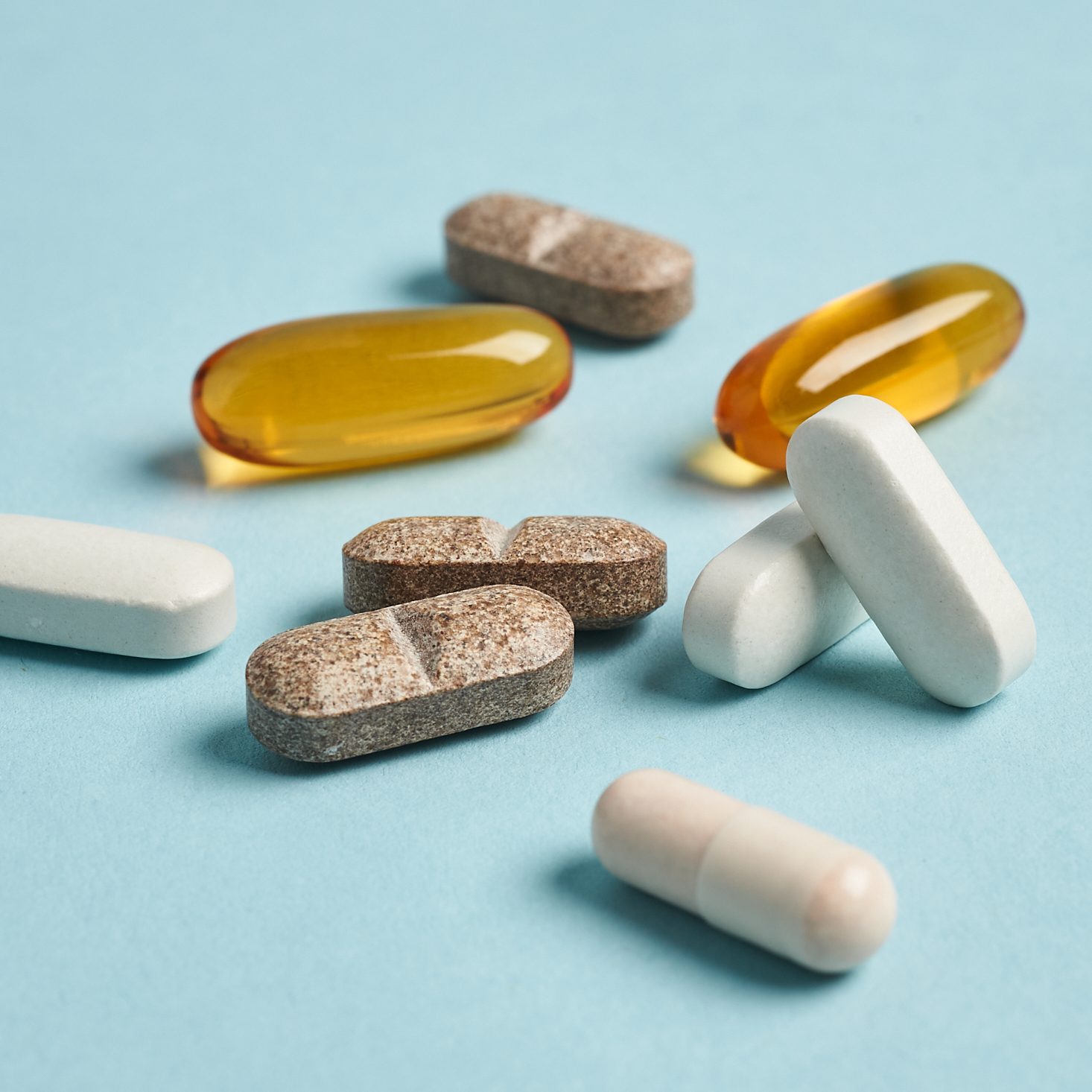 The Promise: Care/of guarantees honesty and transparency, which as a consumer, is so important to me. When you subscribe to one of their products, you know exactly what you are ingesting, where it came from and the research behind its intended purpose.
The Reality: After combing through the literature in my box and their website, and habitually taking their supplements for 30 days, I am thoroughly impressed. I feel great! Maybe this is TMI, but in the past, I felt like I was literally peeing out all of my supplements. Care/of puts ingredients into forms of each nutrient that are easiest for the body to digest and absorb, and the proof is in the pudding... or toilet.
How is Care/of Packaged?
Care/of arrives in sustainable packaging, where some is compostable, and some is recyclable. Compostable packets are hidden inside of a fully recyclable (and stylish!) box. No more plastic battles cluttering up this countertop (or causing harm to the environment)!
Can I adjust my Care/of supplements shipments as my needs change?
You take the online quiz to build your personalized recommendations for the monthly packs, but the results are really only a helpful suggestion. Ultimately, you can pick and choose whatever you like. As your needs change, your monthly supplements can be adjusted to suit them.
What kinds of vitamins and supplements does Care/of offer?
Care/of has a wide assortment of products in their roster, including several letter vitamins (think complex Bs, citrusy Cs, and sunny Ds), multivitamins, minerals (e.g. calcium, magnesium, iron, zinc, etc.), herbs (ginseng and more), probiotics, and naturally sourced specialty supplements, and powders (e.g. assorted collagens, protein powders, and boosts to customize your mix with superfoods and more). They also offer intriguing extras, like quick sticks to help you with everything from an Extra Batteries energy boost to a Chill Factor stress support, and even blender bottles to get your custom mixes ready for on-the-go.
What types of health goals does Care/of aim to address?
Care/of offers high quality supplements to aid or boost needs in a variety of areas, including immunity, brain, energy, eyes, sleep, stress, heart, joints, skin, hair, nails, prenatal, digestion, bones, and fitness.
Is Care/of convenient?
Extremely. Care/of has streamlined my supplement regimen by making their product so accessible. They transformed me into a responsible and compliant vitamin consumer! Never had I ever taken vitamins 30 days straight... until now! The packaging and monthly subscription really speak for themselves. 
Are there alternatives to Care/of?
If you like the idea of a vitamin supplement subscription, but you're not sure Care/of is the right monthly subscription for you, there are a few competitors that could be a better fit.
Care/of vs. Ritual
Ritual prides themselves in serving up several one and done multivitamins catered to women, men, kids and pregnant women. They also offer protein products; however, they do not offer personalized vitamins specific to your needs. 
All Ritual products are certified vegan, gluten-free, dairy-free, soy-free, nut-free, non-GMO, and manufactured in the USA.

Ritual's multis range from $30-35.00, whereas Care/of's monthly packs start from $20.00, and you can build on to customize your experience.

Ritual is intended for those searching for the perfect multitasking multivitamin, a one-and-done 

supplement.
Care/of vs. Persona
Persona takes Care/of's service a little further by offering even more personalized service by including AM and PM packs (if needed), as well as separating vitamins according to whether they need to be taken with food.
Persona takes into consideration any medications you may be taking, and their assessment also records your weight and height for proper 'dosing'.

Individual product prices are not available, but for example, the cost of a similar daily pack from Persona came to almost $120.00 for me, not including a separate probiotic compared to Care/of's $50.00 price tag.

Persona is geared toward anyone wanting to take a serious step into nutrition with the ease of daily packets.
Care/of vs. Hum Nutrition
Hum Nutrition provides a personalized experience, assessing your needs with a quiz, then guiding you through their recommendations, which includes a lot of supplements focusing on bettering hair, skin, nails and body appearance. 
Hum has cheeky vitamin names like Mighty Night and Moody Bird, and they offer different forms of vitamins like powders, gummies and tablets.

Bottles of Hum Nutrition supplements range from $10-$60.00.

Hum's trendy, colorful bottles and supplement names cater to consumers ages 18 and older.
To learn more about how these subscriptions compare with one another, and gather all of your options before diving in, check out our side-by-side comparison of the most popular vitamin subscriptions!
Is Care/of worth it?
We've covered a lot of info in this Care/of review, but one big question remains: is Care/of worth it?
There are a lot of vitamin supplement subscriptions out there to choose from, and it can be difficult to figure out which one is right for you. What sets Care/of personalized daily vitamins apart? Well, first and foremost, Care/of is the most convenient and eco-friendly way to stay on top of your health needs. There is so much research involved in supplement shopping and their 5-minute quiz totally took care of that. I loved grabbing a personalized packet that greeted me every morning with everything I need to help me meet my health goals, and I do not miss the plastic bottles junking up my countertops! Care/of is a thoughtful and transparent company; all of the information on their supplements is a click away including where each is manufactured and the research behind its uses. I thoroughly enjoyed my month of Care/of, and I intend to keep the party going! My monthly shipment cost came to $48.99, but subscription prices start at $20.00, and vary depending on your needs.
Ready to subscribe? Make sure to sign up using our coupon below to ensure you get the best deal.
You can try Care/of for yourself here: 
---
Have you tried Care/of? Head to the comments section and let us know!
---
---