Birchbox
657 Ratings | 188 Reviews
Birchbox sends samples (and sometimes full sizes) of new and exciting beauty products from top brands for $15/month. Birchbox is one of the original beauty subscription boxes and is a great way to discover new makeup, hair care, and skincare products without breaking the bank. I received one of the two curated Clean Beauty options.
This is one of our top recommendations if you are looking for a subscription box - the value and sample sizes are amazing. (Check out our list of the best beauty boxes for 2021 and our reviews of Cheap Subscription Boxes for more recommendations!)
My Subscription Addiction pays for this subscription. (Check out the editorial guidelines to learn more about how we review boxes).
First Impressions
Included is a product card that lists the products in your Birchbox on the front, with a Birchbox Tip listed on the back.
Now, on to the items!
Mascara is one of my favorite makeup products. It's so easy to just apply and have a set of bold lashes to elevate a look. I found this mascara really thickened my lashes, in an homage to the name 'Drama Bomb.' This product is definitely for a dramatic look and really lengthened and darkened my lashes. I like that it doesn't clump, smudge, or get dry and flaky. It's long-lasting and comfortable for all-day wear. The formula is hydrating, containing avocado oil, castor oil, and golden jojoba oil. It also uses a combination of rice wax and synthetic beeswax to create this creamy, smooth, volumizing formula. I was also happy to see that the product is vegan and cruelty-free. It's not waterproof, but its other attributes definitely make up for that.
I'm not sure if this is the right product for my hair. I have very thick, curly hair, with a 3C/4C texture, and this product sort of disappeared into my hair. I'm not sure if perhaps I would have seen more results if I had more product, 15 milliliters is not a lot. But I could see how this leave-in conditioner would work wonders for someone with thinner or finer hair. The product was super lightweight, which means it would not weigh down even the finest of hair. It's formulated to calm frizz, hydrate, and leave hair shiny and soft. The scent is a very sophisticated, fancy smell that reminds me of a salon. The product is easy to apply to hair.
I'm always excited when I see a product that contains biotin. Biotin has always worked really well to strengthen and lengthen my hair. This mask felt very luxurious, and it left my hair feeling soft and noticeably less frizzy. The scent smells like a very high-end salon, and I only had to let it sit for about five minutes to see results.
I am a big fan of the brand Hero Cosmetics. I love their Hero patches and their facial cleanser. I'm really excited to use the cleanser and this toner together. I like how gentle this product is on my sensitive skin. Some toners can be very irritating and leave my skin feeling tight and dry. This product is much more moisturizing than I am used to for a toner, but I love how soft and refreshed it leaves my skin. After application, I felt like my face was glowing and ready for serum. I think that this is a really solid everyday toner, and it is a product that I am likely to repurchase.
I feel like I always need hand sanitizer nowadays, so receiving a new one in a subscription box is much more exciting than it would have been two or three years ago. This sanitizer has a light lime scent that smells clean and bright. The formula includes aloe vera, which makes this product much less drying on my hands. I also appreciate the convenient travel size. It's perfect to leave in the cupholder in my car or toss into a bag if I'm on the go.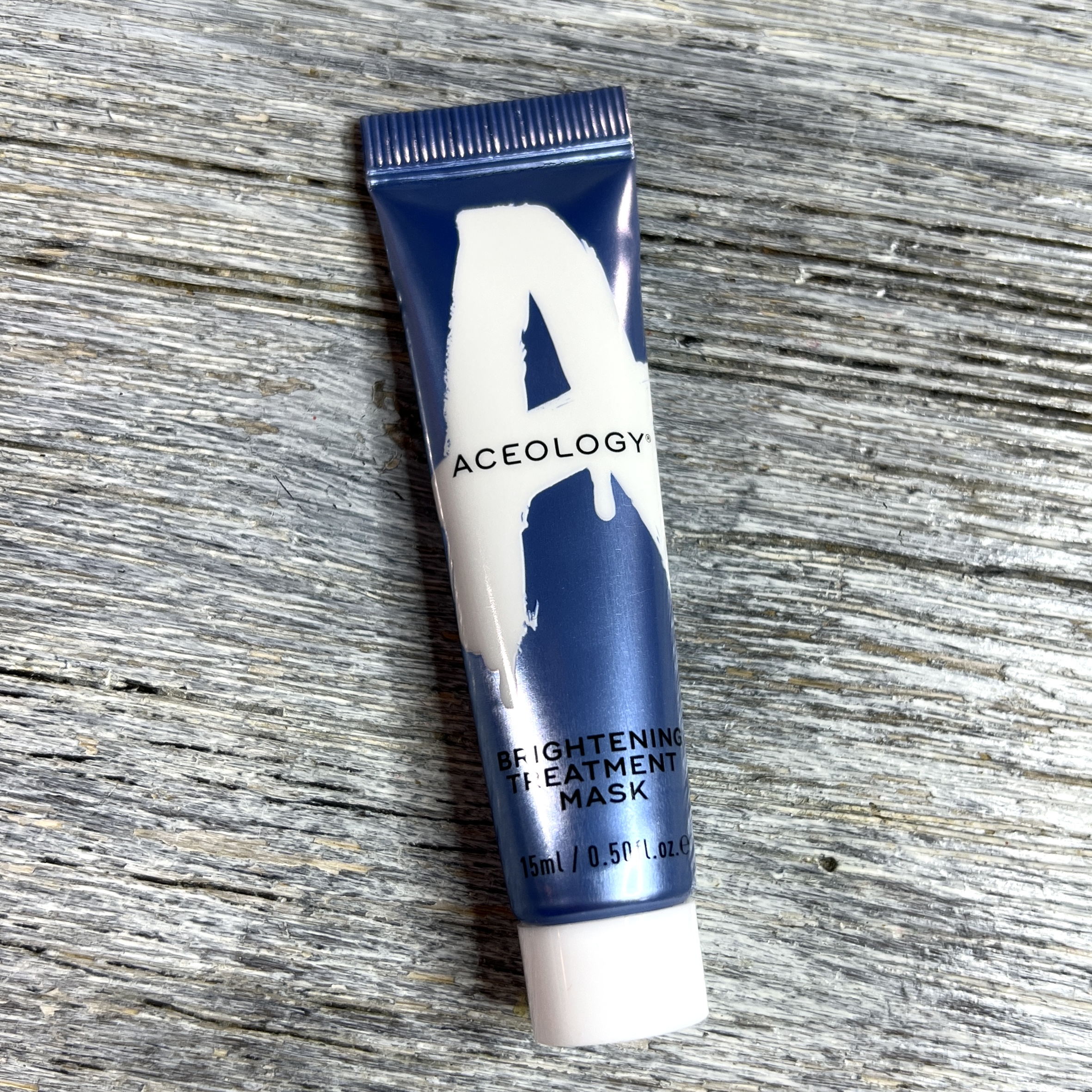 I really like sheet masks and peel-off masks as opposed to wash-off masks, so I was very happy to see that this product is a peel-off mask. The cool pearlescent 'Elsa' blue color makes it extra fun to use. It was easy to apply with a mask brush, and once it dried down, I was able to peel off the whole mask in one or two pieces. It left my skin feeling so soft and my complexion glowy. It felt like this mask pulled out absolutely all the gunk from deep in my pores, and I was really impressed with how easily I was able to peel off the product without any tugging or pulling on my skin. 
Verdict
I really liked this month's Birchbox. There wasn't really anything Christmasy about it, but I enjoyed a lot of the products. The Hero Cosmetics toner is a lovely hydrating toner that I am excited to use in tandem with the other Hero products I've received in the past. The UOMA Beauty mascara is perfect for creating a very dramatic look, and I love how hydrating and smudge-proof the formula is. The cool pearlescent color of the Aceology mask, plus how clean and bright it makes my skin feel, makes it a win for me, and I also was happy that my hand sanitizer was replenished with the Merci Handy lime sanitizer. It's hydrating instead of drying, and the scent is clean and refreshing. I was impressed with the Luseta Beauty hair mask. It was a salon-quality mask that provided a noticeable difference in my frizz after only five minutes. The Oribe moisturizing cream wasn't a big enough sample for me to determine whether or not the product works for my hair, but from the lightweight consistency, I can tell that it would work very nicely for some of my friends with thinner or finer hair. Overall, I really enjoyed this month's box. There was a little of this and a little of that, all from quality brands.
Keep Track of Your Subscriptions: Add this box to your subscription list or wishlist!
Value – Was This Box Worth It?
The Cost: $15
Value Breakdown:
Mascara $10.95
Moisturizing Cream $5.27
Hair Mask $2.16
Toner $3.00
Hand Sanitizer $4.00
Face Mask $15.92
The total value of my box was $41.30, which is a good value for a $15 box.
Other Things You Should Know
Can you still get this box if you sign up today? No, you'll likely start with next month's box.
What do you think of the December 2021 Birchbox?