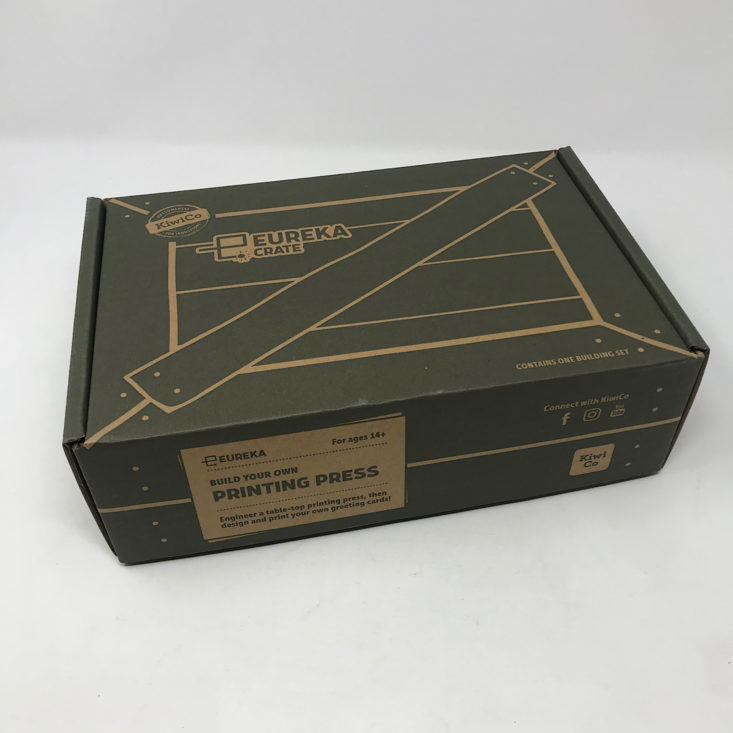 Eureka Crate by KiwiCo
2 Ratings | 1 Reviews
Eureka Crate (from parent company KiwiCo) is a subscription box for teens and adults ages 14-104. It arrives every month with all the materials and instructions needed to create a functional, lasting object with a focus on engineering. The goal of these projects is to use science and math to solve real-world problems while inspiring the recipients to become creative innovators.
KiwiCo offers boxes for a variety of different age groups: 
This review is of the $29.95 a month Eureka Crate, for 14-year-olds and up.
This box was sent to us at no cost for review. (Check out the review process post to learn more about how we review boxes).
About Eureka Crate
The Subscription Box: Eureka Crate
The Cost: $29.95 per month + free shipping. Save with longer subscriptions.
The Products: Detailed instructions and all of the high-quality materials needed to create a unique, lasting, and functional engineering project as well as a Maker's Guide that explains the science and technology behind it.
Ships to: The U.S. for free, Canada for $3.95 per month, and worldwide from $4.95-$6.95.
KiwiCo Eureka Crate "Printing Press
"

Review - March 2020

 

The project for this month is to make our own Printing Press. We received this Maker's Guide which is full of helpful information related to our project along with the directions. This month they included some information about linkages and the Gutenberg Press. They really explained it all so well in relation to our project! My favorite section is the "Behind the Design" page where they go into detail about their own process in creating this month's project. It looks like they printed over 300 cards through their testing process and the longest any team member went without realizing they had an ink mustache was 6 hours!

 

Our directions are separated into various sections which makes it so much easier since it breaks it down into smaller, more manageable tasks. The instructions are always clear and easy to follow with detailed, colorful pictures to reference. They even include information on troubleshooting, which can be very helpful!
Part A: Build the Backbone
The first step was to add a foam sticky piece to this smallest wooden piece.
Then I inserted that piece into the slot in the arm and added one of these blue support rods and secured that with a metal pin. I had to make sure that the pins were facing the right direction each time but this was both illustrated and marked on the wooden pieces making it easy to follow along with.
I added another support rod to the other side and then placed the other arm using more pins to secure everything.
Part B: Assemble the Handle
Then I added a spacer and handle to one end of the piece I had just created and secured it with a pin.
I added sticky foam to the larger E piece and stuck that into the handle along with a support rod and a pin.
I wrapped this small wooden piece with a sticky foam rectangle and then stuck it into the hole in the center of the longer wooden piece.
I inserted the end into the end of my handle and secured it with a zip tie and trimmed the ends.
Then I slipped this plastic tube over the side after adding a zip tie and then secured the zip tie once I had the other side of the handle in place.
Part C: Add the Stamping Plate
To start on the stamping plate I had to connect some wooden pieces to the other pieces I had assembled using support rods and pins. I placed the last wooden piece with foam over it in place and added the other side to finish it off.
Next, I assembled the pieces to form the printing plate. Again, I connected this to the pieces I had already assembled and then just matched up the slots and added more support rods and pins. I also stuck two of these smaller wooden pieces with the holes in them into the side of the press.
They provided long screws and a mini screwdriver so that I could secure those wooden pieces to the plate.
Part D: Construct the Body
Now it was time to construct the body. I added the foam U stickers to the marked spots on the body pieces and then stuck these two plastic pieces in place and secured them with more screws.
Then I added some springs to the two long bolts and inserted them into the other holes on the plastic piece and secured it with the smaller screws.
I then lifted and shifted the entire unit so that it was ready to add the body pieces to it.
The body was attached using more support rods, spacers, and pins and just making sure I had everything lined up and the pins facing the right direction.
Then I added these plastic pieces to the longer wooden pieces and hooked one of the long springs to it before securing it to the side of the body pieces.
I stretched the coil down and hooked it to the bottom plastic piece and it made the whole thing pop open. Then I did the same to the other side.
Then I stabilized the base by adding these wooden pieces with some foam stickers in between to help keep the fit snug. The KiwiCo plate at the front was a nice touch to finish off the look!
I fit this larger wooden piece in place over the top and then added the large black foam piece and my press was complete!
Here is the finished press!
To operate it you press down on the handle. There is also a way to keep the printing plate up by pressing in the pin and lifting up slightly so that the bolts hold it in place making it easier to add your stamps.
Part E: Add the Ink Pad Holder
The last step was to make the ink pad holder. I had to fit the wooden pieces together and secure them with zip ties and then add another wooden piece to the front.
Then I wrapped this piece in foam and stuck it in place and lined up the larger piece of foam to the larger wooden piece.
I added some bolts and a spring to the center and then lined up the other piece I had assembled on top of it and used spacers and screws to secure it all.
They provided this ink pad for us and even included two packets of extra ink for when we run out!
I pulled back on that front piece and slipped the ink pad in facing down. It was a tight fit the first time, but has since loosened up!
They provided a set of rubber reusable stamps for us and even some notecards to use. The stamps are really durable and so cute! I love the graphics they chose and I feel like it's a good mix.
They included detailed instructions in our booklet for designing your stamps and printing your cards.
I arranged the stamps I wanted on the plastic printing plate and then placed a piece of paper over it and flipped it to see how it would look once printed.
I secured the plate to the press using these rubber bands to hold it.
Time to print!
Here is my first run and my second. I did have to apply some pressure to get the ink on for the second run.
They even included some markers for us to use to decorate our cards!
I added some color and then played around a bit with adding even more detail to my card and attempting to place second and third layers of stamps!
I did have these pieces leftover and I could not find them anywhere in the book! They are pictured in the booklet with the contents photo, but there is nowhere that I could see them being used. They look like they are maybe to hold something together or to form a stand? I don't know what they could be! But since my press works without them, I guess that means they aren't necessary!
In our booklet, there is usually a design challenge section like this one which is always a great extension of the project. This month they have some really great ideas for how we can use our printing press with other household items to make stamps. You could definitely get really creative with this one!
Verdict: This was another really cool and unique project from Eureka Crate! They provided so much insight into the design and mechanics of this printing press and they made sure to include so many extras so that we can really put it to use. The reusable stamp stickers are so cute and work well, and I love that they thought to provide extra ink for us. The notecards and markers were also thoughtful inclusions, too! I was impressed with how thorough this project was and as always it was well organized and fairly easy to put together since the directions were so detailed. This project was a winner for me this month!
To Wrap Up:
Can you still get this box if you sign up today? It is possible you might get this crate, but it is not a guarantee. From KiwiCo:
Crates are assigned each month based on availability and your crate history - not all subscribers receive the same theme each month.
Check out all of our KiwiCo reviews and the best boxes for teens!
Keep Track of Your Subscriptions: Add this box to your subscription list or wishlist!
What do you think of Eureka Crate?