Stitch Fix Women's Clothing Box Review – September 2019
Stitch Fix is a personal styling service. When you sign up you take a pretty in-depth survey of your sizes, your style, and pricing preferences. After choosing when you'd like to receive your delivery, your stylist handpicks 5 items based on your preferences. The fee for this service is $20, and that includes free shipping and free returns. And if you keep any of the items they send you, you get to deduct the $20 fee from the total. (If you keep all five items, you also get a 25% discount!)
My items are reflective of my style and price preferences, so your Stitch Fix may be completely different!
My Subscription Addiction paid for this box. (Check out the review process post to learn more about how we review boxes).
About Stitch Fix
The Box: Stitch Fix
The Cost: $20 styling fee (pay for whatever items you keep minus the $20 credit)
The Products: 5 clothing and accessory items selected for you based on your Style Profile.
Ships to: The US, and the UK as of May 2019!
Good to Know: In addition to Women's and Men's options, Stitch Fix launched Stitch Fix Kids! Check out our reviews to learn more.
Stitch Fix for Women September 2019 Review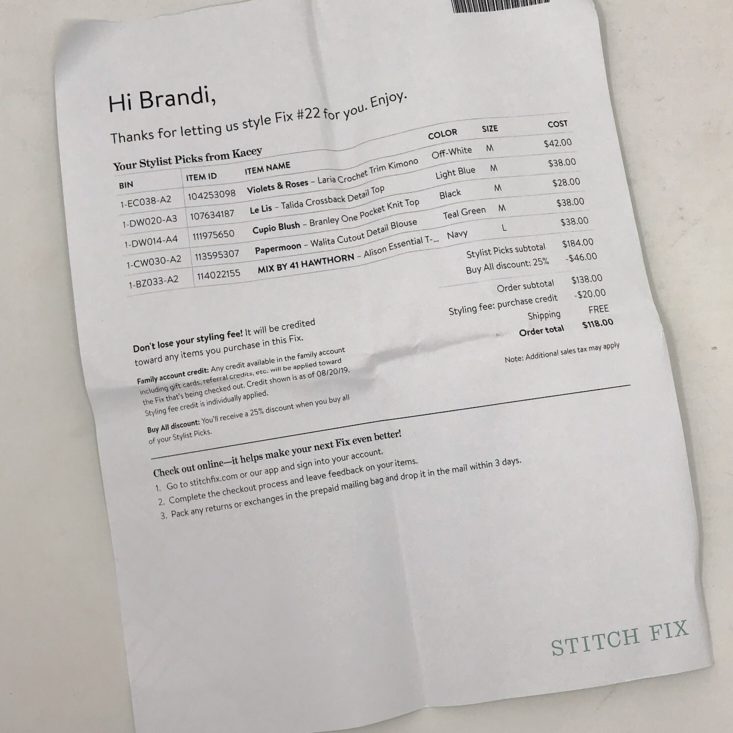 This is the invoice that was sent in the box. As you can see, it provides specifics on the brand, size, and price of each item. They also give instructions at the bottom for how to check out and either purchase or return your items. My total came to $184.00, but with the 25% off (which they take off BEFORE deducting the $20!) and the $20 credit, my total drops down to $118.00. That's a savings of $66.00 on these items. 
This is my style sheet that includes a note from my stylist and features the five items I received along with different outfit suggestions and accessories that might pair well with them. My stylist, Kacey, gave me some great tips for outfit pairings this month!

Walita Cutout Detail Blouse by Papermoon, Size M – Cost to Keep $38.00

I really loved this top when I first saw it. The colors and halter style are so nice and the cutouts on the front of the top are really fun! I did size down to a medium this month and it seemed to fit me pretty well everywhere, except for right under the armpits it seemed to come up a bit high for some reason.  I'm not sure that's a complete dealbreaker though since normally I have the opposite issue of it being so low that my bra shows at the sides. What do you think? Does it look too tight/high in the armpits?

Talida Crossback Detail Top by Le Lis, Size M – Cost to Keep $38.00

I love the colors and design of this one and I think the fun strappy detail in the back is really cute. I just wasn't super happy with how this one fit on me – it felt sort of frumpy the way it was laying in the front. It's hard to tell in the photos, but I feel like it lost some of that romantic look that the beautiful color and black and white florals gave it. The top itself is really comfortable since it is so flowy and very lightweight.

Branley One Pocket Knit Top by Cupio Blush, Size M – Cost to Keep $28.00

I love this top! It is so my style with the thicker fabric that has a bit of a sheen to it. It fits really nicely and is comfortable, plus it is super long, which is awesome since that can sometimes be hard to find in tops for myself! It seems like just a basic tee, but the material is a lot thicker and nicer made from a blend of polyester, viscose, and spandex. I also really like the simplicity and sophistication of a simple black tee that I can dress up or down.

Alison Essential T-Shirt Swing Dress by Mix by 41 Hawthorn, Size L – Cost to Keep $38.00

This dress is really not something I would have chosen for myself, but it ended up being one of my favorite items this month! Normally, a simple T-shirt dress like this would look terrible on me since they are usually pretty straight in cut and I have wide hips, but this has a swing style that is completely flattering, even on my hips! The fabric is stretchy and comfortable and while it's thin, it is still a heavier dress in general thanks to the wider skirt. I can see myself throwing this one on a lot when I need to make it out of the house quickly and want to give the appearance that I've made a little bit of effort! It also seems like a piece that will transition well into the fall season. 

Laria Crochet Trim Kimono by Violet & Roses, Size M – Cost to Keep $42.00

The fabric, colors and lace detail of this kimono are super pretty, but I really did not enjoy the sleeve length of this one. My stylist mentioned pairing it with the t-shirt dress, but I admit, I didn't even try them together since it felt like an odd pairing to me. I think I would really love this kimono as a blouse, but the silhouette feels more suitable as a beach cover-up to me. Maybe it's just me, though? I've never claimed to have the best fashion sense… Also, looking at these photos, I think I need to try this one with a pair of jeans, too.

The Verdict: This month's Stitch Fix was really great as far as matching my style and it was especially affordable in comparison to other Fixes I have received. My stylist does a great job of selecting items that I love and also taking me just a bit outside of my comfort zone. Honestly, at this point, most of my issues always come down to the way they fit my body or how confident I feel in them. I've always been a picky shopper, so it's pretty amazing that a complete stranger is able to do such a great job! I have so much fun seeing what my stylist sends each month and trying it on when it's convenient for me and in a low-key (other than the photos I share with you all!) setting. I think if you can take the risk for a few months while your stylist learns about you, it's worth the $20 styling fee to have this service when you need it!

To Wrap Up:

Can you still get this box if you sign up today? Stitch Fix curates its boxes based on each individual's preferences as well as what's available. What you get might not be the same as what I got, but you also might get something that fits your style and body even better than the looks above! Sign up and see what they choose for you!

Value Breakdown: This box cost $20 with free shipping and returns. The total retail value of the items inside is $184.00. The invoice lists the cost of each item next to it, but if I keep all 5 items, then I get a 25% discount. The $20 styling fee for the box is applied to the purchase no matter how many items you keep, and in this case, it would bring the total down to $118.00. That's a discount of around 36% for these items.

Check out all of our Stitch Fix Reviews and more personal stylist subscription boxes!

Keep Track of Your Subscriptions: Add this box to your subscription list or wishlist!

What did you receive this month from Stitch Fix? 
Stitch Fix
How do subscribers rate Stitch Fix?
---
Want more Stitch Fix? See our:

Never miss a post: get email alerts about Stitch Fix!

Enable notifications (

) to get the latest Stitch Fix spoilers, reviews, deals, and news delivered to your inbox.
---