PinkSeoul Mask Subscription Box Review + Coupon – April 2019
---
This post may contain referral/affiliate links. If you buy something, MSA may earn a commission. Read the full
disclosure
.
PinkSeoul is a monthly Korean beauty subscription box curated to your skin type. They focus on customized, full-sized, and curated products that are designed to guide you in your K-beauty journey of discovery. You can also shop their online store for more K-beauty goodies!

PinkSeoul offers 3 subscription types. The PinkSeoul Box is $39.95 every two months with a retail value of over $60. The PinkSeoul Plus Box is recommended for subscribers age 35+, $49.95 every two months with a retail value over $80. These two boxes are shipped bi-monthly and each box contains at least 4 full-sized items plus an accessory item. The PinkSeoul Mask Box is $29.95 every month with 10 customized mask products and an accessory item.
This review is of the Sensitive Skin Type, PinkSeoul Mask, $29.95 a month, box.
This box was sent to us at no cost for review. (Check out the review process post to learn more about how we review boxes.)
About PinkSeoul
The Subscription Box: PinkSeoul Mask Box
The Cost: $29.95 per month + free US shipping
The Products: 10 K-beauty mask products customized to your skin type plus an accessory item or full-size cosmetic/skincare item
Ships to: USA (free shipping), Canada ($8.95 shipping), and other countries listed here ($15.95 shipping)
PinkSeoul Mask April 2019 Review
Prior to purchasing a subscription, PinkSeoul will ask you several customization questions. Some products are more appropriate/recommended for a particular skin type so be sure to figure out what your skin type is!
Here is the info sheet for this month's box.
The Saem Kiss Button Lipstick in Red Warmer – Retail Value $10
Every month we receive a non-mask bonus item, and this month it was this lipstick from The Saem. I am a big fan of the packaging – to push up the lipstick you click the bottom like a pen! This is nourishing like a lip balm while providing the strong pigment of a lipstick, and it was comfortable to wear.
Holika Holika Rose Hydrogel Mask – Retail Value $4.50, Listed Value $7
This mask was delightful. I love hydrogel masks because they are extremely comfortable, and this mask had actual rose petals in it. My skin loves rose, and this was soothing and hydrating to wear.
Holika Holika Soothing Cat Baby Pet Sheet Mask – Retail Value $4, Listed Value $6
Holika Holika Whitening Seal Baby Pet Sheet Mask – Retail Value $4, Listed Value $6
These masks are FUN. They are character masks designed like the animals on the front, and the cat mask was soothing and the seal mask added brightness. I tried the cat mask out while taking a bubble bath and slightly tipsy, and the (not MSA-appropriate) selfies I took are a joy to look back on. Skincare should be fun, and these delivered.
From Nature Age Intense Treatment Mask – Listed Value $5
There were a lot of From Nature masks featured in this box, and I am pretty sure this brand is new to me. I liked how well this fit my face, and I used this as the last step in my skincare routine before going to bed one night and I was happy with how hydrated my face was when I woke up the next morning.
A'Pieu Cicative Zinc Sheet Mask – Retail Value $2, Listed Value $4
A'Pieu Cicative Magnesium Sheet Mask – Retail Value $2, Listed Value $4
A'Pieu is one of my favorite K-Beauty brands, and I think their sheet masks are some of the best out there in terms of performance and cost. These masks were thin and fit my face well, and since they were very saturated with essence I was able to wear these for a long time (my favorite way to do it).
A'Pieu Madecassoside Gauze Mask – Retail Value $5.53 (found here for $4.98), Listed Value $4
I literally squealed when I pulled this out of the box – the A'Pieu madecassoside line is one of my favorite K-Beauty product lines, and my skin absolutely loves it. This is a great mask to reach for if you're experiencing a breakout or sensitivity because the Centella extract is soothing and nourishing to your skin.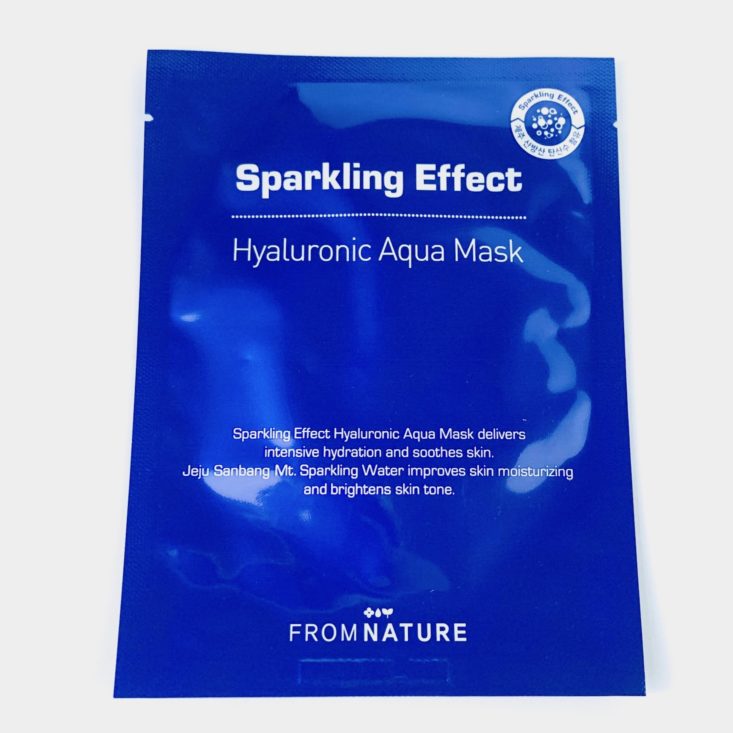 From Nature Sparkling Effect Hyaluronic Aqua Mask – Listed Value $4
This was your basic hydrating sheet mask, but I liked it. The material was thin and fit my face well, and it added a good dose of moisture to my thirsty skin.
From Nature Collagen Hydro Honey Mask – Listed Value $3
From Nature Aloe Vera Soothing Mask – Listed Value $3  
I liked both of these – they both were very thin and fit my face well, and they both were cooling to my skin (which is always something I enjoy). I didn't notice a scent with the aloe mask, but I thought the honey mask had the faintest scent of honey that was pleasant.
The Verdict: I really enjoyed this month's box from PinkSeoul. All of the sheet masks performed well for my skin, and I enjoyed experiencing brands like A'Pieu, From Nature, and Holika Holika. There were some discrepancies between the listed value and the price I was able to find the masks for online, but take that with a grain of salt because of the cost of importing these masks (usually, buying K-beauty from US-based sellers will cost more than buying it from overseas and waiting for the long delivery times. Value-wise, this box had a total value of $47.03 going by retail values and listed values when retail values weren't available online.
To Wrap Up:
Can you still get this box if you sign up today? No, you will receive the June box.
Value Breakdown: At $29.95 for this box, here's what you are paying approximately per item:
The Saem Lipstick: $6.37

Holika Holika Rose: $2.87

Holika Holika Cat: $2.55

Holika Holika Seal: $2.55

From Nature Age Intense: $3.18

A'Pieu Zinc: $1.27

A'Pieu Magnesium: $1.27

A'Pieu Madecassoside: $3.52

From Nature Sparkling Effect: $2.55

From Nature Honey: $1.91

From Nature Aloe: $1.91
Alternatively, each of the 11 items has an average cost of $2.72.
Check out all of our PinkSeoul reviews and more of our best beauty boxes!
Keep Track of Your Subscriptions: Add this box to your subscription list or wishlist!
What do you think of PinkSeoul Mask Box?