NewBeauty TestTube
125 Ratings | 34 Reviews
NewBeauty TestTube is a bi-monthly beauty and makeup subscription box. Every other month they send you a tube full of deluxe and full-size beauty samples and you also get a digital subscription to New Beauty Magazine. It's a little pricier than other beauty subscriptions, but in general, the value is usually great.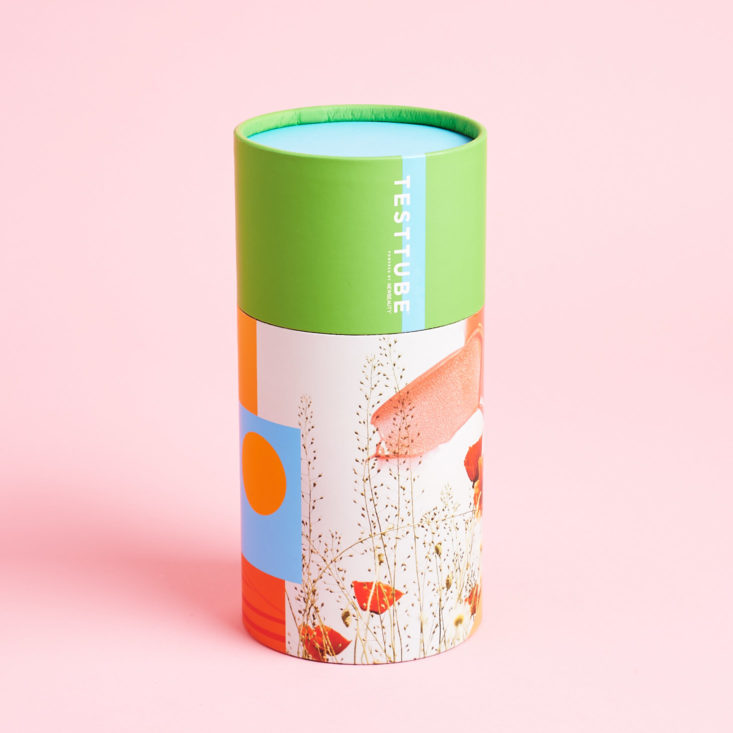 This box was sent to us for review purposes. (Check out the review process post to learn more about how we review boxes).
About This Box
The Subscription Box: NewBeauty TestTube
The Cost: $29.95 a box plus $8.95 shipping (ships every other month)
The Products: Deluxe and full-size beauty products. (This subscription also includes a subscription to New Beauty Magazine).
Ships to: US only
Our March/April 2019 Review
NewBeauty TestTube is one of my favorite subs because they send really unique and new items, many of which I have never even heard of! This booklet is a great reference for each item we received this month. It is full of additional info, interesting facts, and editor commentary.
Now, on to the items!
Sunday Riley A+ High Dose Retinoid Serum - FULL SIZE! Retail Value $85.00
Hear that sound? It's me screaming. The sub always has a hero item that knocks my socks right off. This time it is this Sunday Riley Retinoid serum that nearly costs three times what the sub does. Literally, I could end this review here and be thrilled. But oh no, we got more. Let's stay here in Sunday Land for a second and discuss this FULL FREAKING SIZE bottle. I have sampled this before and I love it because the literal moment I turned 30 I became obsessed with retinols. New to this stuff? This article is a great place to start learning. They are one of the best things you can slather on your face to help with fine lines and wrinkles. If you are super serious you can get an Rx for a more potent formula (which I recommend if you can swing it!) but this little bottle is full of magic too, and even though the dose is lower, it also means your skin likely won't become as agitated as an Rx level of this stuff. If you aren't worried about lines and wrinkles yet (lucky you!) this stuff is also awesome for acne and acne scars. Retinoids can make your skin super sensitive, so if you are a newbie, maybe try every other night to see how your skin reacts. I cannot stress enough how important sunscreen is for your skin if you are using this or a similar product. You should be wearing it anyways, and I just know all of you are already doing so, but it is worth repeating. Please do me a favor and follow up any retinol usage with a moisturizer. It can really be drying, especially when you are getting used to it. Let me get off my soapbox here for a second to tell you about this specific serum. It is a little runny, doesn't have much of a smell, and absorbs quickly! It has a whopping 6.5% formulation, making it one of the stronger over-the-counter formulas. I love using this at night under a heavy night cream. On a purely superficial note, the bottle is really pretty and makes me feel special when I hold it.
AMOREPACIFIC Youth Revolution Radiance Creme and Masque, 0.2 oz - Estimated Value $23.53 (Buy a full size 1.7 fl oz here for $200.00)
BOOM. Another winner for me immediately. AMOREPACIFIC is another one of my top 5 fave skincare brands, so as you can imagine, this box is going quite well for me so far. This brand is really into the science of their botanicals, specifically green tea. Their Essential Creme Fluid is my all time favorite daytime moisturizer. This is a new product to me that I have never tried, mainly because I don't have $200 to throw at face creams. I do wish the sample size was larger, but honestly, this box started off with a full-size $85 serum so I am just being bratty at this point. This formula is super rich, but somehow not heavy. Your skin feels like absolute velvet. It has white peony to help skins overall texture, and of course, this brand's famous green tea extract which is full of antioxidants and smells amazing. This week my routine has been the Sunday Riley serum at night, followed by this dream cream. I wake up in the morning looking like I had a facial during the night.
Purvari Organic Rose Petal Mist, 1 fl oz - Retail Value $18.00
This mist is made from roses, but honestly, it doesn't smell like roses at all. While I do find this odd, I like the formula. A ton of rose waters out there are just water with rose essential oil, which does smell awesome, but is much less effective than this formula when it comes to overall skin benefits. This company steam distills rose petals and for this 1 oz. bottle it took at least 25 roses! I like to use formulas like this to add hydration to my face during the timmer, set makeup, or before an expensive night cream or serum to extend the product and save me $$$. This stuff feels really soft on my skin, and gives a nice cooling effect and also a hydration boost.
Sulwhasoo Essential Balancing Emulsion EX, 0.5 fl oz.- Estimated Value $7.46 (Buy a full size 4.22 fl oz here for $63.00)
This is another AMOREPACIFIC brand, so it is good stuff. While the bottle could be bigger, I really can't complain. This is a great lightweight all-around moisturizer that has all those healthy botanicals that this brand is known for. It smells fresh and clean, and absorbs quickly, leaving skin instantly hydrated and calm. This cute little bottle is perfect for stowing away in your purse but is rather difficult to squeeze product from.
Gilchrist & Soames Essentiel Elements Fresh Neroli Shower Gel, 12 fl oz - FULL SIZE! Retail Value $29.99
Another full-size whopper. This gel smells like pure summer, and rain, and oranges. It also has a deeper woody note that gives it more complexity. I really love the scent and find that after a shower it clings to my skin for hours, letting me catch whiffs of it through the beginning of my day. It lathers beautifully, even without a sponge or puff, and leaves skin feeling clean, but not dry. It is also phthalate and paraben free.
Raeka Beauty Turmeric Cucumber Peel Off Mask, 2.5 fl oz - FULL SIZE! Retail Value $29.50
I wasn't super excited about this product, because, after a fall and winter full of turmeric products in boxes, I was a little turmeric-ed out. This one was a pleasant surprise though because you really only smell fresh cucumber! This gel is thick and clear and takes an almost absurdly long time to dry, so use it when you aren't in much of a hurry. It is very cooling and made for a super relaxing mask experience. It was very easy to peel off, leaving none of the dreaded little spots that you have to battle with to get off your face. My face didn't seem much different after use, but experience-wise, I liked this one.
Miracle Fruit Oil Miracle Fruit Seed Oil Treatment, 0.5 fl oz - Estimated Value $14.71 (Buy a full size 1.7 fl oz here for $50.00)
So this hair oil comes from that berry that makes tastes change from sour to sweet. According to the brand's site, this oil has never been used before in hair or beauty products, which makes me question why that is. What I can say, is that this worked really well on my hair with just a drop or two, taming my flyaways easily. The texture reminded me much of other similar hair oils, but this has a sweet but tart scent that was unique. I don't know if this berry oil is a new hair power player, but for me, I was satisfied with this sample.
VMV Hypoallergenics Grandma Minnie's Boo-Boo Balm, 0.28 oz- Retail Value $17.00
I find the packaging on this tube weirdly cute. It feels sort of vintage. The formula is moisturizing, made of Petroleum and coconut oil. You can smell the coconut oil scent, but it is very faint. While I liked this product and I am happy to sample it, this seems like such a tiny tube for $17! I can't help but feel you might be better off spending much less for a good little tub of coconut oil.
Grande Cosmetics GrandeLIPS Hydrating Lip Plumper Gloss in Sugar Plum, 2.48 ml - FULL SIZE! Retail Value $27.00
This product can be polarizing, but I have always tended to like it because it does provide a plumping effect with a minimal tingle, unlike some other brands which produce pure lip FIRE. I have naturally full lips, but I still like this product because it makes mine look super glossy and just a little bit fuller. I like this muddy plum gloss because it is really sophisticated and shiny. I am less crazy about the click bottom application system, but you can't always have it all!
Verdict: NewBeauty TestTube, did you guys curate this box just for me?! I am obsessed with this round. The Sunday Riley Serum in a full size was so exciting, and I love that there were two smaller samples from one of my fave brands, AMOREPACIFIC. The rose mist felt like a luxury, and the big bottle of shower gel with its summery dream scent was a treat too. I enjoyed using the peel off mask, and trying out the hair oil, both from brands I had never heard of. The boo-boo balm is a great addition to my on the go purse kit, and of course, I love making my lips even bigger with the lipstick. Gosh, I just love this sub so much! You always get an insane value for the $30 box cost. This month has a value of around $250, which is nuts. Crazy. Just buy it, if only for that Sunday Riley serum. And if you hate that serum, well, mail it to me!
To Wrap Up:
Can you still get this box if you sign up today? Make sure to email [email protected] before you order to confirm which box will be your first shipment.
Value Breakdown: At $38.90 for this box (including shipping), here's what you are paying approximately per item:
Sunday Riley Serum $13.11
AMOREPACIFIC Creme $3.63
Rose Mist $2.78
Sulwhasoo Lotion $1.15
Shower Gel $4.63
Cucumber Peel Mask $4.55
Miracle Fruit Oil $2.27
Boo Boo Balm $2.62
Grande Lips $4.16
Alternatively, each of the 10 items in this box has an average cost of $4.32.
Check out all our NewBeauty TestTube reviews, and the Beauty Subscription Box List!
Keep Track of Your Subscriptions: Add this box to your subscription list or wishlist!
What do you think of the March/April NewBeauty TestTube?