Loot Gaming
16 Ratings | 0 Reviews
Loot Gaming, from Loot Crate, focuses on gaming with its monthly themes. You can expect licensed figures, collectibles, apparel, accessories, and more.
This month's theme was 'Off World'.
This box was sent to us for review. (Check out the review process post to learn more about how we review boxes).

About Loot Gaming
The Subscription Box: Loot Gaming
The Cost: $28.95 (plus $5 shipping)
ACTIVE DEAL: Save $3 off of your first month
CODE: SAVE3
The Products: 4-6 premium items, including wearables, most items will be exclusives.
Ships to: Worldwide!
December 2018 'Off World' Loot Gaming Review
You'll get a large fold-out information sheet. One side features a 28×22 fold-out poster for your wall featuring the Normandy from Mass Effect.
The reverse side will walk you through the items in the crate.
Loot Gaming Galaga Pin - Value $5?
The box always has a themed pin. This is one of two retro items in the box and features Galaga.
Gear Of War Blanket - Value $30?
This is a 40x50 inch Gears of War themed blanket - it features the Gears of War logo along with a bunch of the in-game weaponry.
Halo Spartan T-Shirt - Value $15?
This is one of the better designs I've seen for a Halo shirt! This feels like a super subtle shout out to the Halo franchise.
Galaga Tote Bag - Value $15?
This. This is just so cool. This tote captures Galaga in all of its glory!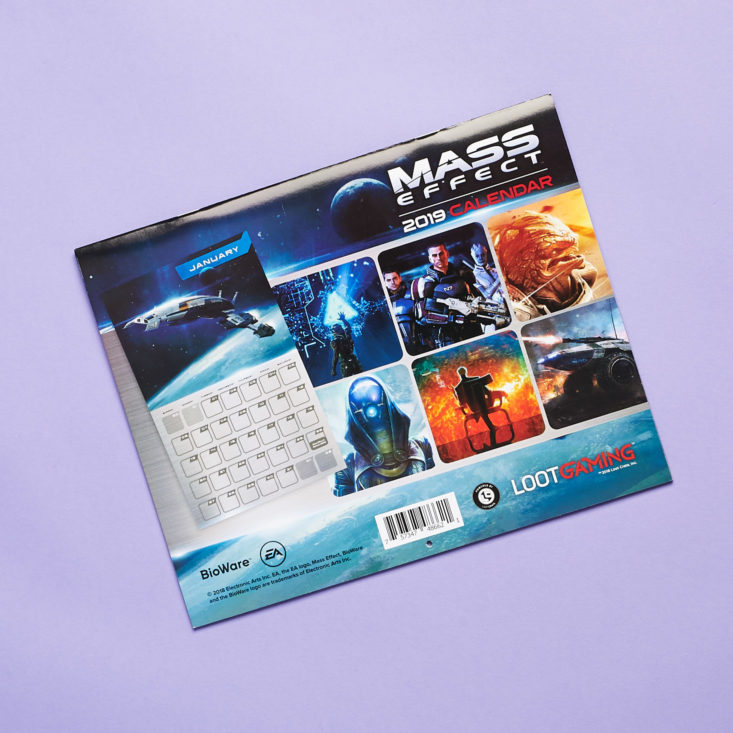 Mass Effect Calender - Value $10?
Finally, keep track of 2019 with Mass Effect characters and vehicles with this official BioWare calendar.
Verdict: This month felt better than most for me! I actually really love the Galaga items, the blanket, and shirt - so overall, it's a win. This did arrive later than expected (it came around mid-January) - at the very least, at least now you can keep track of all of the delays and shipment schedules. So, you might have to be ok with getting items late if you're planning on subscribing.
To Wrap Up:
Can you still get this box if you sign up today? No - You'll have until the 27th of each month to get that month's theme!
Coupon – Use coupon code SAVE3 and save $3 off of your first box or ADDICTION to save 10% off (saves more money on longer length subscriptions)
Check out all of my Loot Gaming Reviews to get more information on this subscription. Check out all of our Geeky Subscription Boxes in the Subscription Box List. Rate, review, and follow this subscription on the Loot Gaming profile page.
What did you think of the December 2018 'Off World' Loot Gaming?