Wantable Style Edit
16 Ratings | 7 Reviews
Wantable Style Edit has been a major player in the subscription styling service market for years now, and I have been really enjoying their plus size styling service! In addition to Wantable Style Edit for Women, Wantable also offers Women and Men's Fitness boxes.
This review is of the Wantable Fitness Edit, $20 a month, box. 
This box was sent to us at no cost to review (Check out our review process post to learn more about how we review boxes.)
About Wantable Style Edit
The Subscription Box: Wantable Style Edit
The Cost: $20 styling fee per month, plus the cost of whatever you decide to keep. The styling fee is deducted from your purchase. You save 20% off everything if you keep the entire shipment!
The Products: 5-7 apparel items handpicked to meet your price, style, and size preferences
Ships to: U.S. only for free (both directions!)
Wantable Style Edit December 2018 Review
When I signed up for this service, I took a pretty lengthy quiz in which I indicated my price, size and style preferences. I would expect what I receive to be reflective of my tastes, and for these boxes to vary quite a bit from subscriber to subscriber. There is also a note from my stylist, Tatjana. It explains why she chose the items she picked for me.
This is the invoice of the items they sent me this month. On the right, it shows my cost to keep each item. The total comes to $478. If I keep everything, I get 20% off, plus I get my $20 styling fee deducted. That means a potential discount of $115.60. That's a deep discount!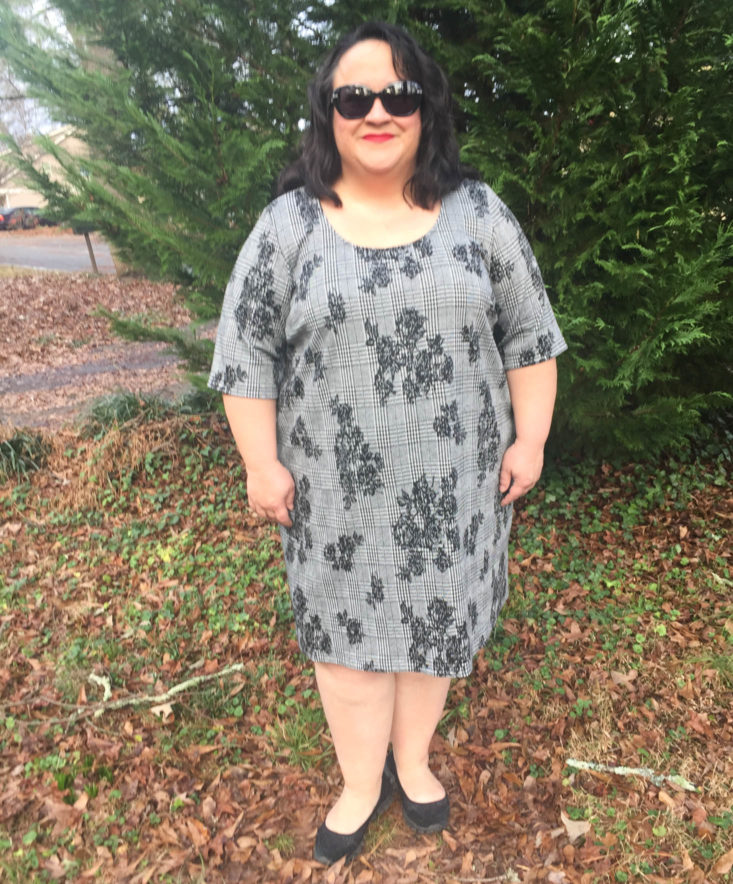 Jacquard Elbow Sleeve Dress by Michel Studio - Cost to Keep $79
Every once in a while, Wantable sends me a repeat of an item they have sent before. They sent me this same dress in October. It's a cute print and a nice A-line cut in a poly blend. But, I didn't buy it then, and I don't think I'm going to buy it now.
Long Sleeve Floral Dress by DEX - Cost to Keep $70
I absolutely LOVE the print on this poly blend floral dress! It's exactly my kind of floral. Unfortunately, I don't think the cut is really flattering on me. I think I will have to pass.
Jasmine Printed Top by Kut From the Kloth - Cost to Keep $68
I also love the print on this chiffon top, and I love most everything in that raspberry color. This top is a little more sheer than I like, but I could wear a cami underneath and it would look just fine. The only problem I really have with it is the tabbed sleeves... They don't keep the sleeve in place, and the sleeves slip out and look sloppy and weird (as pictured). I'm afraid I will have to pass on this one also.
Carter Girlfriend Mid Vintage Wash by Jag Jeans - Cost to Keep $94
These jeans are awesome! They fit like a dream, too. They are soft with the perfect amount of stretch. They have a great wash, and I like the red stitching in the cuffs. These are definitely keepers!
Long Sleeve V-Neck Slub Tee by W. by Wantable - Cost to Keep $59
I don't necessarily blame Wantable for sending me a top like this... I know lots of women like long tunics, but I have the absolute wrong shape for a long tunic. This color is not great on me, either. It's a cotton knit, and it's obviously super comfortable, it just isn't for me.
Long Sleeve Floral Knit Top by Guilt Trip - Cost to Keep $58
I probably love wallpaper print more than I should, but the fact remains, I love wallpaper prints! This is a cotton knit top, and it's the perfect length for me. The notched neckline and the lace trim are also really cool details. The color scheme is awesome! I love it!
Long Sleeve Wrap Top with Mesh Yoke by DEX - Cost to Keep $50
Redemption! It's the same print as the floral dress above but in blouse form! I LOVE it! It's the same poly blend fabric, but with a mesh yoke across the back. I think the cut and fit are both great for my shape, and I simply can't get over that print! Score!
The Verdict: I really usually love my Wantable Style Edit! This month was a mixture of hits and misses, which is to be expected, but I love the DEX blouse and the jeans so much. I feel like, in terms of cost and value, Wantable sends a good mix of inexpensive and pricier pieces. I also love that they send seven pieces! It's so fun!

To Wrap Up:
Can you still get this box if you sign up today? Wantable curates its boxes based on each individual's preferences as well as what's available. What you get might not be the same as what I got, but you also might get something that fits your style and body even better than the looks above! Sign up and see what they choose for you!
Value Breakdown: This box cost $20.00 with free shipping and returns. The total retail value of the items inside was $478.00. The cost of each item is listed alongside it above, but if I choose to keep at least 5 items, I get a 20% discount. The $20.00 cost of the box would also be applied to the purchase, meaning I'd end up spending $362.40 for the whole box. Ultimately, that's a savings of about 24%. The average price per piece is $68.29.
Check out all of our Wantable Style Edit reviews, the Women's Subscription Box Directory and the Plus Size Clothing Subscription Box Directory for more clothing subscription services!
Keep Track of Your Subscriptions: Add this box to your subscription list or wishlist!
What do you think of Wantable Style Edit? What did you receive in your box this month?