Marvel Gear + Goods
6 Ratings | 0 Reviews
Marvel Gear + Goods is a Marvel-themed bi-monthly Loot Crate subscription.  This is a 'Partner Crate' from Loot Crate, so you'll be only receiving official Marvel collectibles, apparel, home goods and more. It's also bi-monthly - so expect it at your doorstep every other month.
My Subscription Addiction pays for this subscription. (Check out the review process post to learn more about how we review boxes.)
About Marvel Gear + Goods
The Subscription Box: Loot Crate Marvel Gear + Goods
The Cost: $36.99 + $5 S/H
ACTIVE DEAL: save $4 off of a monthly subscription, or 10% off of longer length subscriptions
CODE: ADDICTION
The Products:
Official apparel, home goods, gear & more you can't get anywhere else

4-6 items from across the Marvel universe

Themes based on the greatest characters in the Marvel Universe

$75+ MSRP value in every crate

Delivered every 2 months
Ships: Worldwide!
November 2018 Marvel Gear + Goods 'The Lair' Review
This delivery is all about the villains - it features Loki, Red Skull, Hydra, and the BIG-bad Thanos.
It arrives with an information card that details the items in your box.
Red Skull Pin - Value $10?
Every delivery comes with a pin. They've had different variations of pins (my favorite were the comic book cover pins) - this continues the character-centric pin with Red Skull. These are much larger than the core-crate pin, so if you love pins - these are some of the best from Loot Crate.
Loki Long Sleeve Tee - Value $20-25?
This month includes a long-sleeve t-shirt featuring the God of Mischief - Loki.
Loki certainly has that mischievous look - and the gold definitely represents him well.
Hydra Lapel Pin - Value $15?
I thought his was cool from the box to the pin itself.
The lapel pin is just cool - and looks like something that you might see in a movie.
Thanos Bookend - Value $15-20?
The big-bad of the Marvel Universe is here to hold up those books.
It's simple - but I love it. I might actually end up using this to hold up my vinyl collection.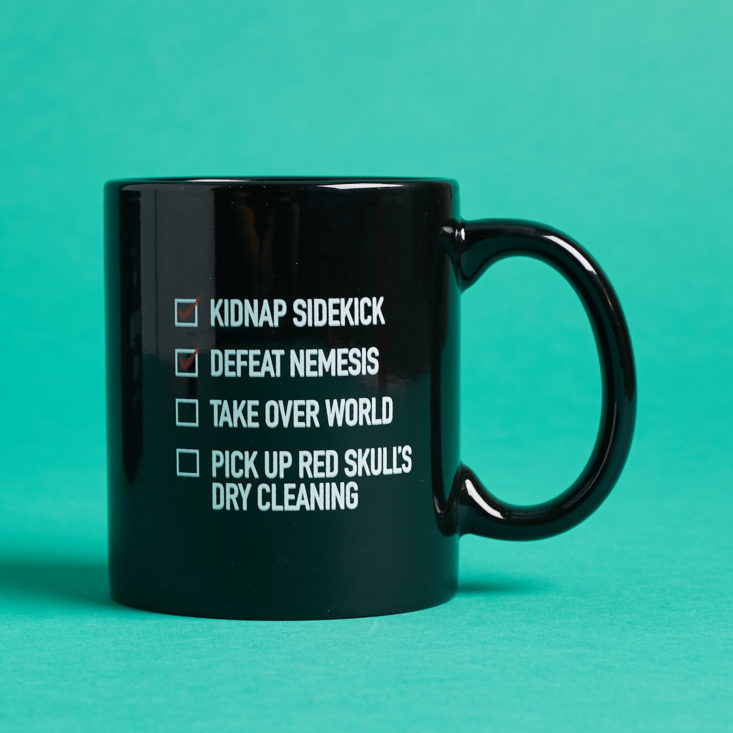 Hydra Employee Of The Month Mug - Value $10-15?
I can imagine a disgruntled Hydra employee relegated to desk duty just sipping on this. I love the checklist, too - plus, that classic comic artwork.
Marvel Villains Art Print Poster - Value $10-15?
This is the same type of poster as the Spider-Man poster - which I loved. It rounds out the villain crate with a nice poster for the wall. These are printed on thinner paper, but it arrives in a protective tube.
Verdict: Loot Crate is having a lot of shipping issues with their crates - they've just canceled their Star Trek crate, too - so you're going to have to be alright with potential delays when subscribing to any lines right now. Looking at just the items, this is up there with the Spider-Man crate as one of my favorite Gear + Goods deliveries - with my favorite item being the Thanos bookend.
To Wrap Up:
Can you still get this box if you sign up today? No, your first theme will be displayed on the landing page.
Coupon – Use coupon code ADDICTION to save 10% off of any length subscription. It will save you $4.20 on a single month subscription!
Check out all of my Marvel Gear and Goods reviews to get more information on this subscription. Check out all of our Geeky Subscription Boxes in the Subscription Box List. Rate, review, and follow this subscription on the Marvel Gear and Goods profile page.
What did you think of the November 2018 'The Lair' Marvel Gear + Goods?