Monthly Box Of Food And Snack Review – October 2018
Monthly Box of Food and Snacks is a new monthly snack box from thatdailydeal.com:
Get an assortment of delicious, brand name snacks and food delivered to straight to your doorstep every month for one low price! Almost everything you receive will be full sized items with well know brand names. Includes a variety of snacks from granola bars, chips, cereals, etc. A lot will even be organic! Please note, this box is an insanely good deal, so some best by dates could be just passed or about to pass or they could even have a year left on them. If you are a frugal shopper you understand that best by dates are arbitrary and the packaged foods we will be sending are perfectly fine after the best by dates. Items that could potentially melt will only be included in the cooler months. You may receive multiples of some items, but we will always send a good variety each month.

Some things to consider: Have a big family to feed? Feel free to order multiples, but keep in mind that it might result in doubling up on the exact same products or you could get completely different products. It will vary from month to month. Received something you aren't interested in? Give back to your community by donating the unwanted items. Have someone you want to send a care package to like a student in college or a grandparent? Let us do the work for you by shipping this box directly to them!
Each box has a huge variety for all sorts of snack preference: sweet, salty (or both), spicy or healthy.
My Subscription Addiction paid for this box. (Check out the review process post to learn more about how we review boxes.)
About This Box
The Subscription Box: Monthly Box of Food and Snacks
The Cost: $29.99 + free shipping
The Products: Brand name snacks and food- think granola bars, cereal, crackers, and chips
Ships to: US
Monthly Box of Food and Snacks October 2018 Review
As soon as I opened my box, I was greeted with an advertisement to join another subscription. That was it. Nothing from Snack with Me; no introduction, no thank you or even a generic card from That Daily Deal. That was dissapointing but it is what it is, I guess.
Boom Chicka Pop Cheddar Cheese Popcorn, 4.5 oz – Buy a 3-pack for $7.95
150 Calories │10g Fat │14g Carbs │3g Protein (per ¼ cup) – Expires Dec 8, 2018
The first item we received is a snack-time favorite around here: popcorn. We received it in Cheddar
Cheese, which is my favorite to mix with caramel popcorn. The size is a normal size you'd find at the grocery store.
Belvita Protein Biscuits in Banana Chocolate Chip – Retail Value $5.98
200 Calories │8g Fat │23g Carbs │10g Protein (per biscuit) EXPIRED
The next item we received is an 8-pack of these breakfast bars by Belvita in Banana Chocolate Chip. I did feel the calories were a little high for a snack but paired with an apple it makes for a pretty good breakfast on the go. I personally HATE bananas (wish I loved them, just don't) and no one else in my family seemed interested. These would probably go to the office breakroom if they weren't expired.
Annie's Snack Mix Muddy Bunnies, 9 oz. – Retail Vale $3.81
130 Calories │3.5 g Fat │21g Carbs │3g Protein (per ½ cup) – Expires December 1, 2018
These make for a pretty good after-school snack for my oldest kiddos!
They are an organic mix of crackers, pretzels, breadsticks and chocolate bunny grahams dusted in a chocolate coating. We got a full-size box.
Chex Mix Jalapeno Cheddar – Retail Value $2.21
120 Calories │3.5g Fat │21g Carbs │2g Protein (per ½ cup) Expires November 21, 2018
These were a hit with my 10-year-old son who loves all things hot and spicy. These things were gone in just two days, which is great considering the expire soon. He said they weren't that spicy but after a few minutes of eating them the spice hit and he loved it! We got this in an average sized bag.
Bonus! It's a Box Top item!
Rondeletti Crème Wafers in Cookie and Crème, 3.88 oz. – Retail Value $1.18 (Currently out of stock)
120 Calories │4g Fat │20g Carbs │10g Sugar (per 4 wafers) – Expires January 4, 2019
As soon as I opened these, I was welcomed with a chocolate scent that was a little overwhelming. The kids absolutely loved them, though! These are perfect for an addition to an ice cream sundae. They were hard to find, though, and remind me of those items that they have in the checkout lines at Ross. Either way, they were a hit with the kids and with the expiration date a few months away, they will not go to waste.
Jack Links Beef Stick in Original – Estimated Value $2.25
190 Calories │16g Fat │3g Carbs │8g Protein – Expires February 20, 2019
My husband loves these things! They are a great low carb snack on the go! They are a pretty big size too, at 1.5 ounces. I was unable to find the value on Wal-Mart's site, but think they are about $2.25; I just bought one for my husband last month and don't remember the exact value.
Kit Kat Minis Unwrapped, 8 oz. – Retail Value $2.98
210 Calories │11g Fat │27g Carbs │3g Protein (per 9 pieces) – Expires March 2019
These were a definite win for me! Kit Kat's are my favorite chocolate candies in the whole world. I love popping them in the freezer before I devour them. I also like smashing them up and adding them to ice cream. I got them in the normal size you would find in the candy aisle at the grocery store.
Power Crunch Snap Stick in Peanut Butter Honey, 3 – 1.13 oz. – Buy a box of 12 for $23.14, found here for $10.49)
175 Calories │11g Fat │8g Carbs │11g Protein – Expires December 9, 2018
Man, these were hard to find online! Made for kids by Power Crunch, these were a hit for my 7-year-old gymnast! A perfect snack after an hour practice and an instant favorite. I am really impressed with the nutritional value too, low carb (even lower sugar at just 4 grams!) and high in protein. I was happy to receive 3 bars but wish that this was a snack we received an entire box of. We will be purchasing these more!
HK Anderson Peanut Butter Filled Pretzel Nuggets, 2 – 4 oz. bags – Buy an 18 oz. container for $4.98
150 Calories │ 7g Fat│ 16g Carbs │ 5g Protein (per 10 pretzels)– Expires December 21, 2018
These bags pack some serious flavor!
Each pretzel is FULL of peanut butter. While I like peanut butter, I do not love it so this snack wasn't for
me. But, as was most of the snacks we got, they were a hit with the kiddos.
Buncha Crunch Sweet & Salty Snack Mix, 6 oz.
190 Calories │11g Fat │ 21g Carbs │ 3g Protein (per ¼ cup serving) – Expires November 2018
These were also really hard to find online in this size! I was able to find individual portion sizes though. They were also really yummy, with white chocolate morsels, peanuts, chocolate chip cookies and buncha crunch. They are really on the expensive side, though, at up to $3.35 a pouch, which is one serving. I have a feeling they won't be making these for much longer which is why they are hard to find and when found are a little on the expensive side.
Chocolate Twizzlers, 12 oz.– Retail Value $2.23
120 Calories │ 1g Fat │ 26g Carbs │ 1g Protein (per 4 pieces) – Expires December 2018
Twizzlers, eew. Chocolate flavored Twizzlers, eeew?? I obviously am not a fan of Twizzlers and chocolate flavored Twizzlers are no different. I think it is an odd combination, chocolate licorice. My kids tried them, though, and my son liked them (he likes anything chocolate) and my daughter didn't. These aren't a hit at our house.
Pistachio Flavored Oreo Thins, 10.1 oz. – Retail Value $2.98
140 Calories │ 6g Fat │ 21g Carbs │ 1g Protein (per 4 cookies) – Expires November 8, 2018
I love Oreos. I love pistachios. I have never before seen pistachio flavored Oreo's.
They weren't that bad, though! I think it's because they were the thins. I normally Oreo by opening the cookie and eating the icing and then the cookies, but I was a bit uneasy just trying the pistachio icing so I ate it as it came. How do you Oreo?
York Peppermint Patties Minis Unwrapped, 8 oz. – Retail Value $3.83
150 Calories │ 3.5 g Fat│ 31g Carbs │ 1g Protein (per 6 patties) – Expires November 2018
I've had these before but they aren't the first candy I grab at the store or the movies (or the second since yall all know I grab a Kit Kat first). I also don't think I can eat a whole serving; the peppermint gets a bit overwhelming. But they are a good candy. I threw these in the fridge, I am not sure how they would freeze.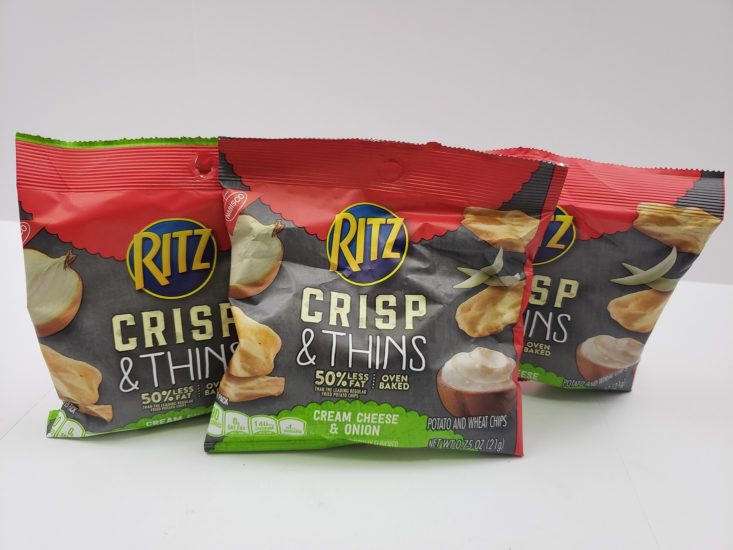 Ritz Crisp & Thins in Cream Cheese & Onion – Buy a box of 12 for $4.74, found here for $3.67
90 Calories │ 3.5g Fat │ 15g Carbs │ 1g Protein – Expires November 6, 2018
These things were surprisingly good! I just wish they weren't so flaky. When I opened them, I thought I was eating sour cream & onion not cream cheese and onion. If I would have read that right, I wouldn't have tried them (super picky eater here) but I am glad I read it wrong! They were pretty good and reminded me of the breading on parmesan chicken. Pretty tasty.
Verdict: We got a wide variety of snacks; all kinds of candy and other sweet and some salty and a few protein bars. I wish they included some sour things though, that would have been cool and would have evened out all those sweets. I don't like how we received the expired box of breakfast biscuits, though. All the other items also expire in the next couple of weeks or months. We received 14 different snacks for $29.99 a month, including free shipping. If you are looking for a surprise variety in snacks and don't want to go to the store yourself, or need to shop for a bunch of people, like for an office, then this box may suit you.
To Wrap Up:
Can you get this box if you sign up today? No two boxes will be exactly alike—there is no guarantee that two boxes shipped in November will have the same items. 
Value Breakdown: This box costs $29.99 and I received 14 different kinds of snacks. That works out to $2.14 per type of snack!
Check out all of our Monthly Box of Food and Snacks reviews more snack subscription boxes in the Food Subscription Box List!
Keep Track of Your Subscriptions: Add this box to your subscription list or wishlist!
What do you think of Monthly Box of Food and Snacks? 
Snack With Me
How do subscribers rate Snack With Me?
---
Want more Snack With Me? See our:
Never miss a post: get email alerts about Snack With Me!
Enable notifications (

) to get the latest Snack With Me spoilers, reviews, deals, and news delivered to your inbox.