Plated
43 Ratings | 23 Reviews
Plated is a weekly meal kit delivery subscription that delivers you pre-portioned ingredients and recipes to help you make chef-designed recipes at home. They offer different weekly menus and randomly pick recipes for you based on preferences you submit when you sign up. If you'd rather pick your own recipes from the weekly menu, it's easy to hop in and change your order on their website or their handy-dandy app.
Plated is committed to using sustainably sourced seafood, seasonal produce, and meat that's free from antibiotics and added hormones. Like most meal kits, Plated won't include standard pantry items (think salt, pepper, olive oil). They will, however, email you to let you know what pantry items you should have on hand for that week's box. Prep time and dietary details are listed in each recipe. And if you love a recipe, you can rate it and download a digital recipe card via your online account. (Highly rated recipes sometimes come back as "Encore" recipes for you to order again, so don't forget to leave your star rating each week!)
Check out all of our reviews of Meal Delivery Services to see every meal kit subscription box option!
This review is for the 2 recipes (4 plates) plan, which cost $48.00 per week (+ $6.00 shipping). I chose to have chicken, beef, shellfish, and fish as options to include in my recipes.
My Subscription Addiction paid for this box. (Check out the review process post to learn more about how we review boxes.)
About Plated
The Subscription Box: Plated
The Cost: Recipes begin at $12.00 per plate:
2 recipes (4 plates)= $48.00 per week (+ $6.00 shipping)

3 recipes (6 plates)= $72.00 per week (with free shipping)

4 recipes (8 total plates)= $96.00 per week (with free shipping)

Dessert costs $4.00 per serving (available after your first order)
LIMITED TIME DEAL: Save 25% off your first 4 weeks of Plated with any subscription plan (up to a $159.20 value)
The Products: All of the pre-portioned fresh and seasonal ingredients you need to make chef-designed recipes at home in your own kitchen.
Ships to: 95% of the U.S. (Currently, Plated does not ship to Hawaii and Alaska, and there are also a few cities in Texas, including San Antonio, Corpus Christi, Laredo, and Midland, where they don't yet ship.)
Good to know: Plated was recently purchased by Albertsons.
Plated July 2018 Review
Plated sends each meal mostly packaged together in a plastic bag, except for meat and any larger produce that may not fit. Each individually wrapped item is marked with the meal it belongs to so you can organize them in your refrigerator upon unpacking. I really appreciate this extra step to keep things organized and easy for me when unpacking!
Buffalo Chicken Meatball Sliders with Carrot Fries and Greek Yogurt Ranch 
Calories per Serving: 990
Total Prep and Cook Time (listed): 35-45 minutes
Actual Time to Cook: 45 minutes
Plated recipe cards come with a short description on the front and include the estimated prep and cook time and the calories per serving. On the other side, you'll see a list of ingredients, what you'll need from your kitchen (ingredients as well as tools), recipe tips, and step-by-step directions with photos.
I started this month by setting all of my ingredients out and chopping. Here you will see my sliced carrots, lemon, chives, and slider buns. This looks like I am going to prep for a summer cookout!
Next, I made my Greek yogurt ranch. I love ranch but would have never thought to make it with Greek yogurt. Most likely a slightly healthier version! In my bowl, I have my Greek yogurt, mayonnaise, lemon juice, chives, and then salt/pepper to taste.
From there, I formed my meatballs. I added one egg yolk, breadcrumbs, mozzarella, and one packet of Siracha to my ground turkey. I just mixed that all together with my hands and formed into balls.
Time to season everything with salt, pepper, and a little olive oil in my baking pan. Into the oven it all goes!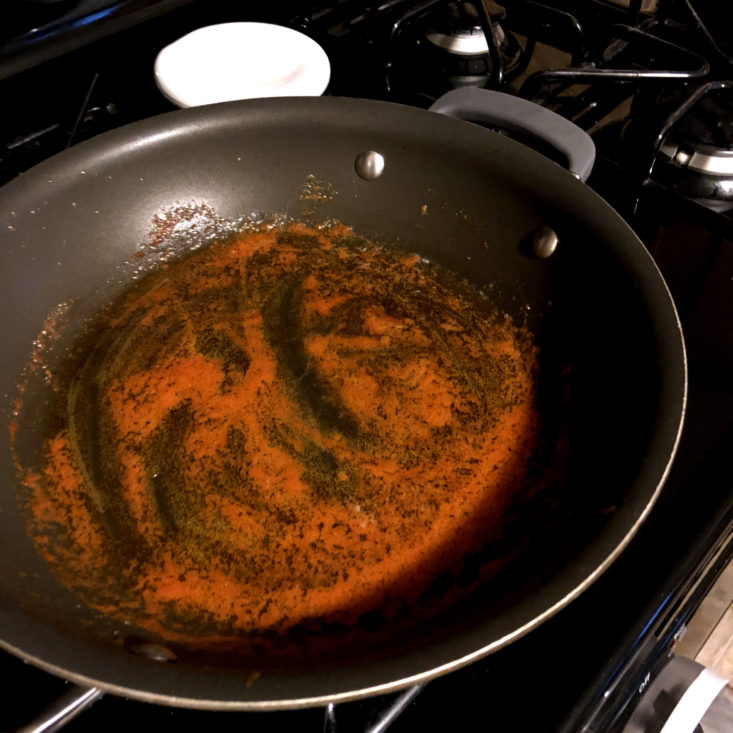 While my meatballs and carrots were cooking in the oven, I made my sauce. All I had to add to my hot pan was butter and Siracha. I wasn't thrilled with the amount that this made considering this is meant to be a buffalo chicken slider so I added a bit more butter and Siracha that I had in my fridge already. Still not a ton of sauce but it should work!
Once I got my meatballs and carrots out of the oven, I added the meatballs to my sauce to soak in all of that yummy buffalo sauce juice.
Time to eat! Look at how delicious this looks! You can use that Greek yogurt ranch dressing on your slider and dip your carrot fries in. So creamy and delicious! The sliders were super filling, there were three for each of us, and the bun was extra buttery. I've never had carrot fries before, but I am going to be making more this week because I absolutely loved them! They were so sweet with a light crunch and paired so nicely with that ranch and chives. My only complaint is that there just wasn't enough of that buffalo sauce. I love buffalo anything but I want it to be dripping in the sauce, so I could have used a ton more to really get the full buffalo slider experience that I was hoping for. This was the perfect summertime meal!
Parmesan-Crusted Chicken with Roasted Tomato Caesar Salad 
Calories per Serving: 690
Total Prep and Cook Time (listed): 20-30 minutes
Actual Time to Cook: 30 minutes
Here is our second recipe card, I love reading through the recipe tips that are listed on the back of each card.
With this meal, I started off by making my breading since there wasn't a ton of chopping needed for this recipe. In my bowl, I added parmesan, breadcrumbs, spice packet, and a drizzle of olive oil.
Onto the chicken! I started by pounding the chicken to around a 1/4 inch thickness. In a larger bowl, I added my chicken, mustard, and olive oil. I let this all marinate together for a bit before dipping the chicken in my breadcrumb bowl.
Into the oven the chicken went!
While I waited for my chicken to cook, I simply chopped the ends of my lettuce and made my dressing. The recipe provided anchovy paste and garlic, but those are both ingredients that I am not in love with so I decided to pass on adding them to the dressing. Instead, my dressing is made with mayonnaise, salt, pepper, lemon, and a light drizzle of olive oil.
That's it, such an easy and fun recipe! This looks like summer on a plate, I love it! My husband described this perfectly, "basically a deconstructed Caesar salad but better." The chicken really was the star with this dish, but the second runner-up are those tomatoes! They were lightly drizzled with olive oil, spice, and packed in the oven. Paired with the dressing, everything was so rich and creamy. I loved how simple this dish was while being packed full of flavors. I also really enjoyed the larger pieces of lettuce that gave this little salad a big crunch that I really crave during the warmer months. This recipe was a real all-star!
Verdict: This month's Plated was incredible! I love both meals and that they didn't take too long to cook, with very little prep needed. My husband and I were both surprised how much we loved the salad, but it is going to be a recipe that I cook again and again. Buffalo sauce is something that we don't mess around with in Pittsburgh, we want it soaked onto everything and anything so that is what I am used to. Which is most likely why I was slightly sad to see such little sauce come out of the ingredients, but I still loved the dish so much. The carrots were a huge surprise to me and are going to be making an appearance this week for dinner as well!
To Wrap Up:
Can you still get this box if you sign up today? No. The Plated menus change weekly and you need to lock in orders before shipments go out.
Coupon - Save 25% off your first 4 weeks of Plated with any subscription plan (up to a $159.20 value)
Value Breakdown: This box cost $48.00 + $6.00 shipping, which is $13.50 per meal.
Check out all of our Plated Reviews and discover more meal boxes in the Meal Subscription Box Directory!
Keep Track of Your Subscriptions: Add this box to your subscription list or wishlist!
Would you eat the meals I cooked from Plated this week?