Purple Carrot
2 Ratings | 5 Reviews
Purple Carrot is a meal kit subscription box that specializes in 100% plant-based vegan dishes. In addition to the standard plan, they also offer a high-protein line called TB12 Performance Meals curated by plant-based pro-athlete Tom Brady!
I'm not a vegan, but I'd say about 70% of what I eat is plant-based. I'd love to increase that percentage, so I'm excited to have Purple Carrot's help! I'm eager to learn some new recipes that can satisfy my curious palate. Too many salads or basic bowls and I start reaching for the cheese again.
Check out all of our reviews of Meal Delivery Services to see every meal kit subscription box option!
Purple Carrot believes in the healing power of plants, as well as the fact that many plants are less stressful on the environment than meat production. They demonstrate their eco-friendly values in their recyclable boxes and non-toxic ice packs (with recyclable plastic wrapping). Their site states that "the vast majority of our packaging is reusable, recyclable, biodegradable, or compostable."
My Subscription Addiction paid for this box. (Check out the review process post to learn more about how we review boxes.)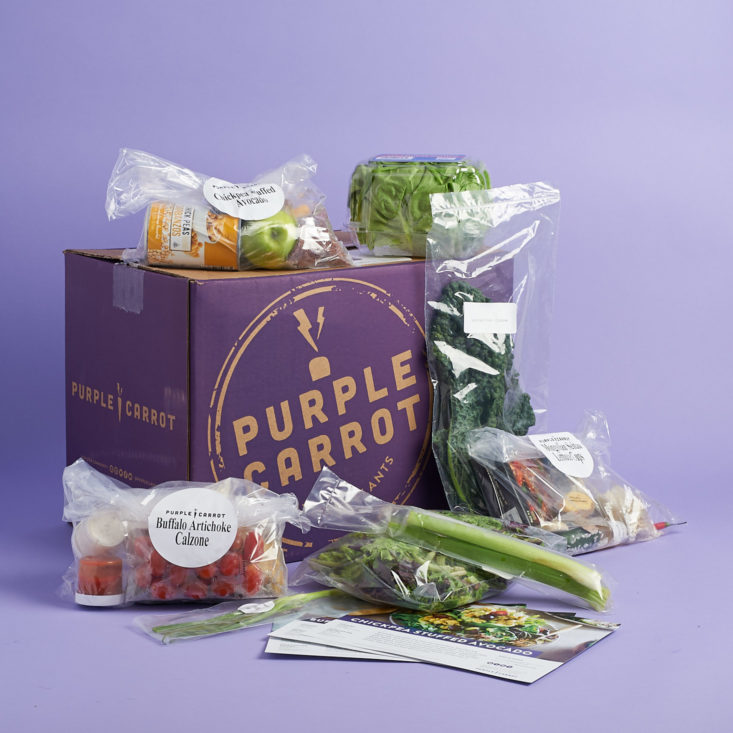 About Purple Carrot Plant-Based Vegan Meal Kit Delivery Service
The Subscription Box: Purple Carrot
The Cost: $12.00 per serving or $72.00 per week
[current-coupon]
Good to Know: You can skip or pause shipments so long as you do so by the deadline each week. You can see several weeks worth of menus ahead in your account so you can conveniently set your schedule. Note that unlike other meal kit subscriptions, everyone gets the same three meals each week. (Subscribers can't pick and choose from several recipes.)
The Products: Everything you need to make three vegan dinners each week! Purple Carrot expects you to have several basic tools and ingredients, including olive oil, salt, and pepper. They supply the rest, plus an easy-to-read recipe card for each meal!
Ships to: Contiguous US
Purple Carrot June 2018 Review
Purple Carrot Chickpea Stuffed Avocado
Calories per Serving: 910
Prep & Cook Time, According to Purple Carrot: 25 minutes
Actual Prep & Cook Time: About 25 minutes
I've made mock tuna salad with chickpeas before, and I love the dish. It's one of those non-meat versions of a traditional meat dish that really does make a decent substitute. The key is the meaty texture of the mashed up chickpeas and adding lots of flavorful mix-ins like onion, celery, and any other goodies you'd expect in regular tuna salad. (If you're into relish, I highly recommend adding some to really bring out that authentic deli tuna vibe.)
This recipe uses vegan mayo as a binder (though I've tried super clean versions that have you mash an avocado right into the chickpea to create that creaminess) and grapes, curry powder, scallion, and celery as the add-ins. I'm only so-so on grapes in salads, but I'm glad I ended up using them—the sweetness and gentle acidity do the same thing a sweet pickle relish would do, plus it helps the warm curry flavors pop more.
The chickpea salad is served "stuffed" inside an avocado half and set atop a bed of greens, quinoa, and sliced green apple. It ends up being a really lovely, hearty meal, full of healthy fats, protein, and oodles of green veggies. If you can't tell from my quotes in that first sentence, I'm giving a side-eye to the idea of a "stuffed avocado". From the description on the recipe, they expect you to knock the seed out of the avocado and fill that void with the salad. The only problem is that doing so would leave you with, what, like, 4 chickpeas? My dish ended up with the chickpea salad spilling over and out of the avocado in a Thanksgiving-cornucopia kind of way. I feel like the presentation wasn't quite clear/impressive enough to repeat in future versions of this salad (though the flavors definitely were), so if I make this dish again, I might slice or chop up the avocado and distribute it more evenly through the greens, rather than leaving it bulky and whole on top.
Purple Carrot Vegan Mongolian Seitan Lettuce Cups
Calories per Serving: 570
Prep & Cook Time, According to Purple Carrot: 25 minutes
Actual Prep & Cook Time: About 25 minutes
I was dishing about this dish (heh heh) with my MSA teammate and long-time vegan, Emily, when it arrived, and both of us were skeptical as to whether these lettuce cups would hold a candle to our reigning favorites—the P.F. Chang's Vegetarian Lettuce Wraps. (Sure, they're a chain-restaurant food, but they're deeeeelicious and shockingly enough, vegan!)
This Purple Carrot recipe uses seitan (P.F. Chang's uses tofu in theirs), cucumber, pine nuts, celery, and a flurry of spices and sauces in their Asian-inspired, hand-held creation. Cooking the meal was surprisingly easy (except for the rice, which is always tricky for me—the top half of the pot was perfect, but a ton of the rice stuck to the bottom!) and took just one big pan and a small pot. I love when a recipe sympathizes with my hatred of doing dishes! I've not cooked with right-out-of-the-box seitan before (if I have, it's already prepped, such as tossing Whole Foods seitan wings onto a salad, etc.), but that process was pretty simple. I sliced it up, tossed it in the pan, and stir fried it with tamari, garlic, rice vinegar, and the other yummy ingredients. The different liquid ingredients cooked down into a slightly sticky sauce that made my kitchen smell amaaaaaazing.
I can't say these were the most glamorous little bundles to eat (there was some fallout as I munched my way through each one), but wow were they ever good. The slight bit of heat from the peppers combined with the sweet sauce made these cups easy to crave. There's enough lettuce and filling to make about three small or two medium sized cups per person, and they're surprisingly filling. I ended up using a couple leaves of butter lettuce per cup, just to make them a little more structurally sound, but I think that also helped the dish fill me up faster, thanks to all the fiber. This is one of those recipes I'll be hanging on to and remaking again and again, I just know it. The filling could be just as yummy by itself, on top of a rice bowl (maybe with some more veggies, like carrots and broccoli mixed into the stir fry), or even on a sandwich. Look out, P.F. Chang's!
Purple Carrot Vegan Buffalo Artichoke Calzone
Calories: 840
Prep & Cook Time, According to Purple Carrot: 40 minutes
Actual Prep & Cook Time: About 50 minutes
I was pretty hesitant about this last dish, firstly because I don't really love buffalo flavors (sometimes they can get suuuper overpowering and honestly, a little gross), and secondly because the recipe has you make your own dough. Your OWN DOUGH! As an intermediate cook at BEST, the prospect of making calzone dough felt kinda scary. Now, I say that, and looking back on the process, it's... extremely easy. But throughout, I was like, oh gosh, oh gosh, I hope I don't over-knead it... oh gosh, why is it sticking to literally everything in sight? Oh gosh, I don't have plastic wrap... can I wrap it in tin foil? Did I just ruin the recipe? Oh gosh, oh gosh, oh gosh...
Maybe watching too much Great British Bake Off has skewed my understanding of how difficult baking is, or at least just how big or small a mistake you can make before the dish is deemed a failure. While I don't think Paul Hollywood would find my calzone dough particularly impressive, in the context of this recipe, it turned out to be... passable!
Apart from the dough, this dish is pretty simple. You essentially toss all of your filling ingredients into a large pan on the stove and cook them up with the buffalo sauce. One word of warning. If you think buffalo sauce is pungent when you eat it, be ready for what happens when you add it to a warm pan. I don't want to be overdramatic, but I can say that the heat made the peppery quality of the buffalo sauce bloom into the air and interact with my sinuses in a way that made me think "Is this what being pepper sprayed is like????" Once I got some air flow going, things toned down, but my eyes and nose were getting zapped that first minute or two. So! That's not to scare you away, but definitely to say 1) maybe open a window, and 2) maybe don't breathe in right over the pan.
And I really urge you not to get discouraged by my pepper plight because WOW. WOWWWW. This thing was YUMMY. The peppery quality that was overwhelming in the air is perfectly delectably mellowed by the tomato, artichoke hearts, and kale inside the dish to a point where I couldn't get enough. My first stab at pizza dough was light and crisp—its pita-thickness was just enough to hold the filling neatly and securely inside without becoming chewy or bulky. The tenderness of the artichoke hearts created a meaty heartiness to each bite, and the kale and tomato added a lovely duo of earthy bitter and sweetly acidic flavor. It was great with the refreshing salad side. It tasted fantastic with the vegan blue cheese dipping sauce. But I could easily make a meal out of just this calzone. Maybe even just the filling!
Verdict: Holy smokes, was this ever a good box. Sure, the structural arrangement of the "stuffed avocado" salad was a little awkward, but the flavors were perfect and the dish was tremendously filling. And the rest of the dishes were equally awesome. I could honestly eat those lettuce cups or that calzone every day for a week and be perfectly happy.
The only concern I have for Purple Carrot, which I tend to have with every box of theirs, is that if you're new to vegan cooking, some of these recipes might leave you thinking that it takes a lot of work to make something delicious. This was the first set of recipes I've received that didn't require a food processor, but having to make the pizza dough was (though I'm a little embarrassed to admit) kind of intimidating. They also tend to leave you with leftover ingredients (I ended up with leftover raw ginger and butter lettuce in this one), so if you're an inexperienced cook who doesn't know what they'd do with leftover ingredients (or maybe opted for this box specifically to avoid wasted/extra food to deal with), then that's likely a bummer. 
But I'm encouraged by the dishes in this week's box! There were slightly simpler, faster recipes that didn't require anything fancier than a few basic kitchen tools (a few pans, a baking sheet, a few bowls, a stove, an oven), and the flavors were awesome. I also didn't get the feeling like I was having to constantly jump between pans/corners of the kitchen to keep up with the recipe. The price is still a little steep, at $12.00 per serving—I'm lucky that where I live, I could easily get takeout or pop by a restaurant and get a similarly sized vegan entree for around that same amount (and not have to cook it myself). But I do hope they keep exploring this more approachable side of vegan cooking—even without fancy equipment or too many components going at once, you can create some really delicious dishes!
To Wrap Up:
Can I still get this box if I sign up today? No. Purple Carrot rotates it offerings week to week. However, you can sometimes find recent recipes on the Purple Carrot site!
Coupon - Save $20 off your first order with code NEWCARROT!
Value Breakdown: Each serving costs $12.00, meaning this box cost $72.00.
Check out all of our Purple Carrot reviews and lots of meal prep boxes in the Food Subscription Box Directory!
Keep Track of Your Subscriptions: Add this box to your subscription list or wishlist!
What do you think of Purple Carrot?