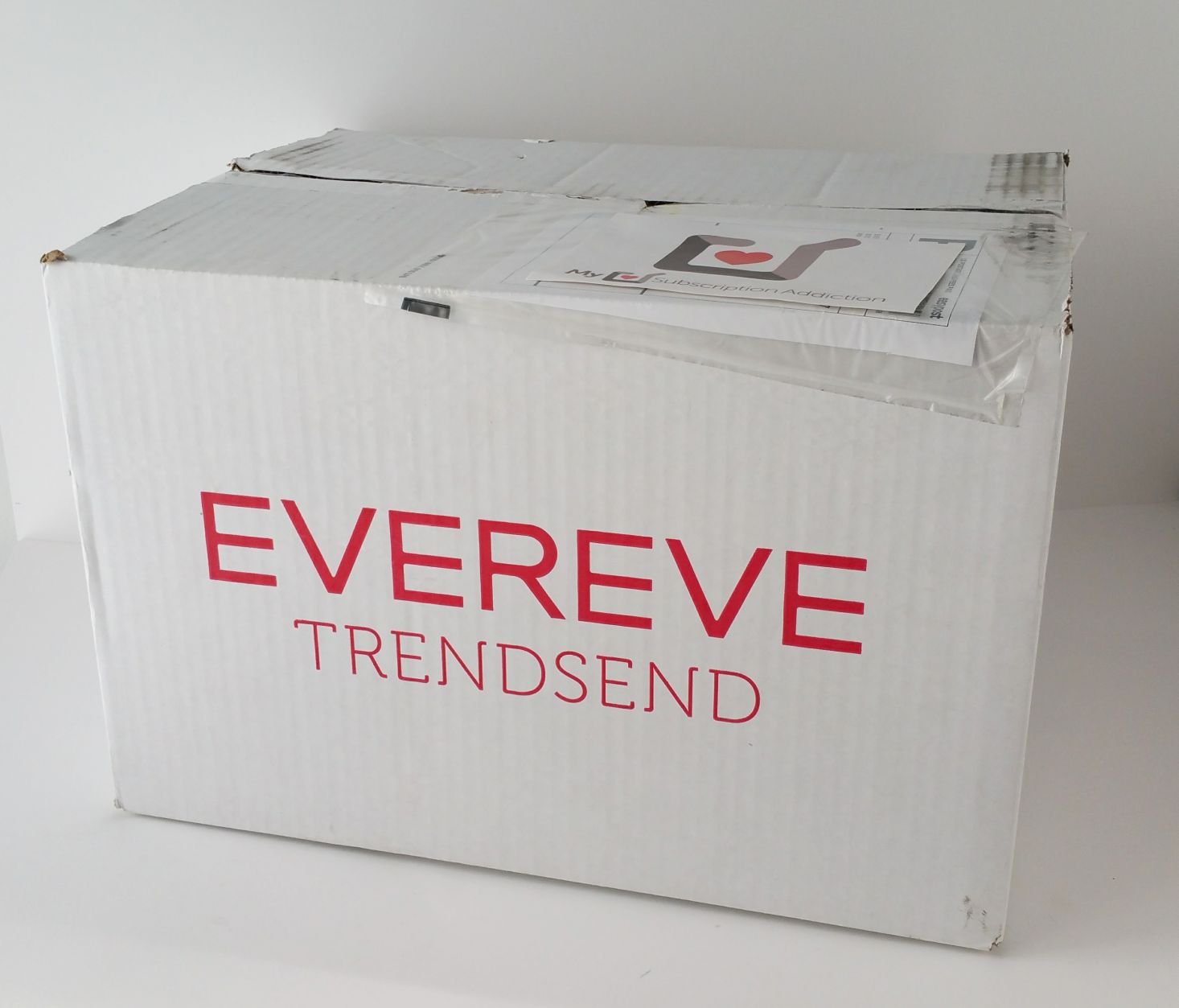 Trendsend by Evereve
4 Ratings | 3 Reviews
Trendsend is a personal styling service created by Evereve, a nation-wide retailer specializing in styling moms.
Trendsend brings the styling experience of Evereve's stores to the comfort of your home based off of your personal preferences and style profile. You can choose to receive Trendsend every month, every other month, or quarterly. You can also choose to receive a Trendsend box at any time, without signing up for a subscription.
FYI – the items in my Trendsend boxes are selected for me based off of my preferences and style profile, so other boxes will look completely different!
My Subscription Addiction pays for this subscription. (Check out the review process post to learn more about how we review boxes).
The Subscription Box: Trendsend by Evereve
The Cost: Trendsend recently updated their model so the $20 styling fee has now been waived! Going forward, there will only be at $1 processing fee when your order is created. You pay for whatever items you keep. Learn more here.
The Products: 2-3 outfits: each box will contain 6-8 items, including tops, bottoms, dresses, and accessories (they offer sizes 0-14).
Ships to: U.S. + APO addresses
Check out all of our Trendsend by Evereve reviews and the Women's Clothing Subscription Box Directory!
Keep Track of Your Subscriptions: Add this box to your subscription list or wishlist!
Each box includes a letter from your stylist about the items she picked for you and why.
Also included is a list of prices for each item, though every item comes with an Evereve price tag anyway.
Here's the first outfit my stylist sent me…
Peyton Jensen Off Duty Cold Shoulder Top – Cost to Keep: $68
I'm in love with this top. It's so flattering and ridiculously soft. One problem I've run into when trying the cold shoulder trend is that the shoulder holes are so close to the neck that my bra straps show. This one is great because the holes are further out and more on my upper arms.
Kut from the Kloth Catherine Boyfriend – Cost to Keep: $89 (on sale for $79.99)
These are really nice – I actually was introduced to Kut from the Kloth through Trendsend and have a few pairs, including a Catherine boyfriend in a non-distressed style. I like these, I just don't think I can spend money on cropped jeans right now when there has been at least 13 inches of snow fall this past week and it's 10 degrees outside, lol! It'll be a while before I could wear them, although I supposed I could also wear them with knee-high boots.
Harriet Isles Bar Drop Hoop Earrings – Cost to Keep: $13.99
I like the design of these a lot. I wish they were silver, though. I don't wear gold much.
I think the size and style of these are great, though!
Here's the second outfit I was sent…
Double Sided Plaid Infinity Scarf – Cost to Keep: $19.99
I would normally wear this outfit with taller boots (like my combat boots) or these pants with flats in the summer, but I wanted you to be able to see the pant length.
This scarf is so cute! And soooo warm. The plaid is great colors and right on trend. (I never feel like I know how to wear scarves with my hair down because I feel like it looks weird.)
AG Robyn Denim Jacket – Cost to Keep: $169
This jacket is also awesome. The proportions work really well for me and the fabric was nice and stretchy. Definitely high quality.
Sanctuary Peace Trooper – Cost to Keep: $109 (on sale for $99.99)
Another pair of cropped pants, which it's too cold for right now, but I love how they pull this look together. I don't ever wear camo prints, but this is done very subtly so it works alright.
BRAEVE Wheeler Peak Swing Sweater – Cost to Keep: $28
This sweater is alright. It fits okay, but the material isn't very soft and it's a little see-through. Had the fabric been amazing, I would have kept this. This is the lowest price I've seen for a top from Trendsend, so I wanted to love it, but I just didn't.
Verdict: This Trendsend by Evereve was alright. I really loved the cold should top, but at almost $70 it was just over budget for me for one top. I did keep the scarf, though! All in all, I had fun with this Trendsend and I liked the outfits that my stylist put together for me.
I also want to note: often, a couple of my Trendsend pieces are on sale on Evereve's website – which I think is particularly the case because I have "send me sale and clearance items" selected in my style profile. When I've emailed them about this difference, they've said they'll give me the website price (this does not apply if you walk into a local store and see an item on sale for that location – they don't price match store sales). If you subscribe, I would just suggest double-checking the website's pricing before sending your items back to make sure that, if something is on sale, you can email or call and confirm you get the sale price. I've had no issues with this in the past.
What do you think about Trendsend by Evereve?