Mama Bird Box
0 Ratings | 0 Reviews
Mama Bird Box is a subscription box that sends items that moms need or want during pregnancy to encourage moms towards healthy, happy pregnancies. When you sign up (or send a gift) you input the mother's due date and the box follows along with you!
This is a review of their box for 9 months (each box is designed around a specific month in your pregnancy, so the contents of these boxes stay pretty much the same, whenever you order).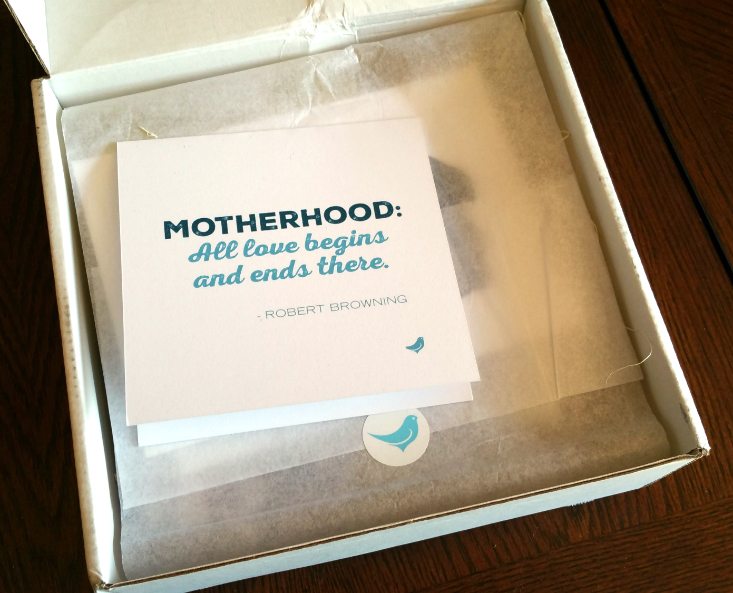 They include items that "go beyond pregnancy and can easily be incorporated into life as a mother."
This box was sent to us at no cost for review. (Check out the review process post to learn more about how we review boxes.)
The Subscription Box: Mama Bird Box
The Cost: $34.95/month, $99.95/3 months, $194.95 for 6 months – all with free shipping
COUPON: Use code ADDICTION for $5 off your first order!
The Products: Each box contains at least 4 items that encourage moms towards a healthy, happy pregnancy, and things that moms need and or want during pregnancy.
Ships to: US
Check out all of our Mama Bird Box reviews and the Mom Subscription Box Directory!
Keep Track of Your Subscriptions: Add this box to your subscription list or wishlist!
Inside the box is a folded card with item info and a little note to you, specific to that month of your pregnancy!
Here's the info sheet, describing the items featured.
Mama Bear Card – value: $3.99
Apothederm Stretch Mark Cream - sample
Bella B Nipple Nurture Breast Wipes – value: $3.99
I was introduced to this brand through pregnancy subscription boxes, and I really like it. It's all natural and has good ingredients. I'm not sure breast wipes are something I think I'd recommend as a necessity but I got these in another box and liked keeping them with my pump equipment.
Birds & Bees Teas Postpartum Herbs Sitz Bath – 1 oz, value: $3?
If we're getting real with this 9-month pregnancy box, sitz baths are wonderful. They're soothing and I think they helped with healing. They're also not something anyone told me about before I had my baby so I think it's a great idea to include in the last pregnancy box for new mamas to already have on hand.
Headband – value: $9.99?
Mama Bird Box included this headband to hold your hair during labor – and I think it's so pretty! I love the floral print and the colors.
Pease in a Pod Labour Support Massage Oil – 1 fl oz, value: $6.95
This massage oil has sunflower oil, vitamin E, jasmine oil, rose oil, clary sage oil, lavender oil, and rosemary leaf extract. Everything is certified organic except the vitamin E, and is safe for relaxation (or pre-delivery) purposes. I love massage oils so I was happy to see this.
Verdict: I'm happy with this Mama Bird Box. I think they picked some great products geared for the ninth month of pregnancy (including some very practical items, even if they're not particularly fun or trendy things). I can definitely see how their choices help encourage happy and healthy pregnancies!  A lot of these items were hard to find values for so I can't guess an exact value, but I estimate about $30, give or take. 
What do you think about Mama Bird Box?