Candy Club Subscription Box Review + Coupon – March 2016
---
This post may contain referral/affiliate links. If you buy something, MSA may earn a commission. Read the full
disclosure
.
Candy Club is a candy subscription that sends 2-3 pounds of premier, brand name candy directly to your door each month.
My Subscription Addiction pays for this subscription. (Check out the review process post to learn more about how we review boxes.)
The Subscription Box: Candy Club
The Cost: $27.99 + $6.99 shipping per month ($19.99 + $6.99 shipping per month with a year subscription)
COUPON: Save $20 Off Your First Month's Membership with coupon code twitter20
The Products: Up to 3 pounds of candy (from classics to contemporary favorites) packed into 3 of Candy Club's signature containers.
Ships to: US
Check out all of our Candy Club reviews and find other candy boxes in the Sweets Subscription Box Directory!
Candy Club recently added several different club options that help tailor boxes to suit different candy preferences. Subscribers can now choose between three clubs: "Sours & More," "Classics," and "Favorites."
To help determine which club is right for you, subscriptions now begin with a fun online quiz! (Though, if you don't like your quiz results, you can always pick a different club.)
Each Candy Club Box comes with a card detailing the month's featured candies.
On the reverse, nutritional details are listed along with any relevant allergy information.
Jelly Babies are very popular in Britain, and they're one of my favorite candies of all time! The gummy centers are softer and less chewy than gummy bears, and they're covered in a light starch coating that keeps them from sticking together. Fun fact from Candy Club: " in 1963 fans of the Beatles pelted the band with Jelly Babies after it was reported that George Harrison liked eating them!"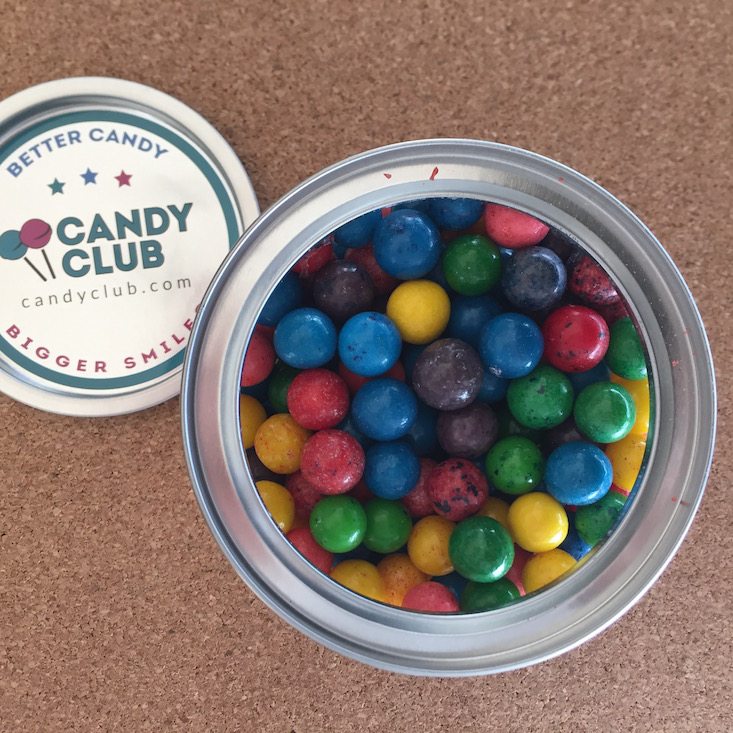 These sweet & sour candies start out hard and crunchy and soften as you chew on them. Flavors include: lime, cherry, strawberry, lemon, blue raspberry, and grape. I like them all, but a few of the flavors are mouth puckeringly sour!
Chewter's Minibala Fruit Filled Candies
Chewter's Minibala candies are so small! They come in four flavors: grape, tangerine, strawberry, and lemon. Here's a close up:
I love the small size of these candies, and the flavor is nice. I tend to prefer gummies over  hard candies, though, so I may pass these onto a friend.
Sweet's Chocolate Flavored Salt Water Taffy
Sweet's has been making their salt water taffy since 1910, and it's different from the taffy found along the eastern shore. Instead of pulling the taffy, Sweet's whips it to create a softer, less sticky product.
Verdict: I always have a blast with Candy Club! This month, my favorite item is definitely the Jelly Babies, but I also enjoyed the sour balls and chocolate taffy. In terms of value, Candy Club says that each box will have a retail value of $60. You can certainly pay that much for candy at high-end candy stores (like Sugarfina and Dylan's Candy Bar), but I think it's important to point out that nearly all of the candy in this month's box is available for much less if you buy it in bulk online. Still, even though this subscription doesn't offer superb value for money, I think it's a lot of fun. Receiving a giant box of candy every month always puts a smile on my face!
Do you have a sweet tooth? Do you subscribe to Candy Club?