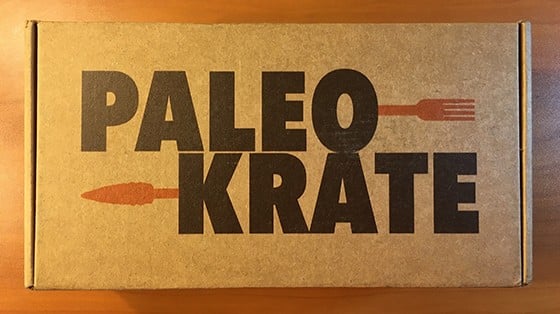 Paleo Krate
0 Ratings | 1 Reviews
Paleo Krate is a Paleo-friendly snack subscription box that "not only helps you maintain your cravings in a healthy way, but reinforces your will to achieve your goals."
This box was sent to us at no cost for review. (Check out the review process post to learn more about how we review boxes.)
The box was delivered by USPS.
The Subscription Box: Paleo Krate
The Cost: $34.95 per month + $3.95 shipping (more savings on longer subscriptions)
ACTIVE DEAL: Save 20% off any subscription!
CODE: MSA20
The Products: 8-10 Paleo diet friendly snacks
Ships to: US and Canada
Check out the Food Subscription Box Directory too!
Every month comes with a Paleo Krate recipe card.
Raw Crunch Bar Organic Dark Chocolate - $2.50
The name "Raw Crunch" says it all-- this bar is a solid amalgam of nuts and seeds with some dark chocolate chunks here and there. If you're a fan of nuts you're sure to like this.
Raw Crunch Bar Organic Blueberry Lemon - $2.50
Raw Crunch Bars are handmade, gluten free, and certified organic. I didn't really taste the blueberry and lemon flavors but I still enjoyed it overall. This is definitely a snack that can carry you over to the next meal.
Jenny V's Paleo Snacks Matcha Cookies - $4.50
I will eat just about any matcha flavored food these days and this was no exception. It's a dense but soft and chewy cookie that's packed with flavor. The matcha flavor actually wasn't very noticeable but I liked it nonetheless. There are three cookies total.
RxBar Protein Bar in Mint Chocolate - $2.17
This has a strong mint chocolate flavor and the consistency is reminiscent of chocolate fudge. The texture was so surprisingly dense that just a few bites filled me up. 
Artisan Tropic Cassava Strips: Sea Salt 1.75oz - $1.99
This was my favorite item from the box. Artisan Tropic is a family owned business based in Charlotte, North Carolina that makes healthy tropical snacks. These cassava chips are delightfully crunchy with the perfect hint of sea salt. I'm not sure if I can go back to regular over-salted potato chips now...
Artisan Tropic Plantain Strips: Naturally Sweet 1.75oz - $1.99
My boyfriend ran off with this one and said it was "really satisfying." He really liked the semi-sweet taste, the thickness of each chip, and commented on the high chip-to-air ratio in the bag. Then he asked for more.
Paleo Baking Company Paleo Chocolate Cake and Muffin Mix 7.3oz - $6
I'm very excited to try this, maybe to make for a party in the future. There's a recipe for making muffins or cake on the back of the bag. All Paleo Baking Company mixes are gluten, grain, dairy, refined sugar and soy-free.
Verdict: This month's curation was great. You don't even need to be on a Paleo diet to enjoy and appreciate the snacks. However, the value adds up to about $21.65. This is slightly more than half the cost of the box plus shipping. I don't expect food subscriptions to have high value, especially not one that seeks to find unique snacks for a Paleo diet. Paleo Krate advertises 8-10 snacks per box while I only received 7, so maybe the low value this month is unusual. That said, I cannot justify paying almost $40 for $22 worth of snacks.
What do you think of this month's Paleo Krate?