Subscription Box Coupons
Want to try out new subscription boxes without paying full price? This list of subscription box coupon codes captures the latest codes for the best boxes!
---
Little Passports Flash Sale – Save Up to $40 Off Subscriptions!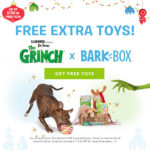 Last Day! BarkBox Flash Sale – Free Bonus Toy Every Month + Limited Edition Grinch Theme!
Box Of Style Coupon – Free Rush Shipping!
Le Tote Coupon – $10 Off Your First Two Months!
GlossyBox Coupon – Save 20% Off Subscriptions!
ShaggySwag Coupon – Free Christmas Sweater with Subscription!
All Deals:
---
Getting The Latest Deals