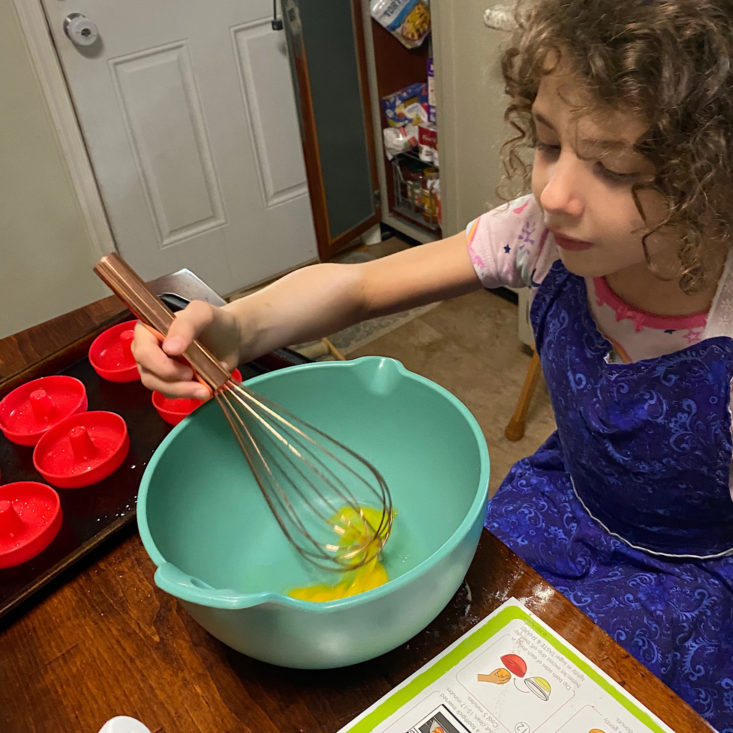 Raddish Kids Review: Our Cooking Experience
Is this cooking club for kids worth a try?
Raddish Kids is a monthly subscription box service geared towards any child between the ages of 4-14+ (parents are encouraged to help younger children) to teach them cooking skills and instill confidence in the kitchen. Each month you will receive 3 recipe guides, a quality kitchen tool, a creative kitchen project, a table talk card, an apron patch, and a grocery list that will aid in teaching new kitchen skills.
My kids are always excited to help me in the kitchen and this Raddish Kids box felt like it would be a great fit for us! If your child is enthusiastic about cooking or you want a structured way to spend some time with your child that doesn't involve a ton of planning on your part, then this Raddish Kids cooking kit might be for you!
As someone who loathes meal planning each week, I enjoyed having some recipes and a shopping list ready to go to lighten the load. I love the idea of teaching my kids life skills as part of our homeschool learning and this cooking club seemed to be a fun way to add in a very important aspect of daily life and instills my kids' confidence in the kitchen. As for my kids, they enjoyed their experience using the Raddish kit and the recipes!
About Raddish Kids
The Monthly Subscription Box: Raddish Kids
The Cost: $24 + free shipping (save with longer subscriptions)
The Products: Three recipe cards, a quality kitchen tool, conversation cards, a Raddish apron patch, a grocery list, and a creative kitchen project. They have a sibling add-on option which will include an extra patch and kitchen tool for $5 extra per month.
Ships to: The U.S. for free, Internationally for $7
Billing Cycle: Monthly
Good to Know: A Raddish apron is included free with 6 and 12-month subscriptions. You can purchase an apron separately with a monthly subscription for $15.
Interested in the monthly box? Check out our past Raddish Kids reviews here.
This box was sent to us at no cost to review. (Check out our review process post to learn more about how we review boxes.)
Pros & Cons
Pros
It's fun and educational.
This box is well-organized with easy to follow instructions.
You learn a new culinary skill and get to work with a new kitchen tool.
They encourage family time through their conversation starter cards.
There is an emphasis on basic kitchen knowledge such as washing your hands and measuring.
The recipe guide is thorough and the pictures make them easy to read.
It instills confidence in the kitchen.
Your child will learn valuable life skills and hopefully gain an appreciation for cooking.
You can add a sibling tool and patch for just $5 each month.
Cons:
In terms of value, you may feel that it falls a bit short since you don't get a lot of cooking tools in each shipment.
It can get costly once you add in the cost of ingredients for the recipes.
This does require some parental help whether it's supervision or shopping for the groceries needed.
How Does Raddish Kids Work?
Each month Raddish Kids will send you a kit with 3 different recipes that highlight new culinary skills along with a new kitchen tool that you can use with your recipes. The food ingredients are not included, but you will receive access to a shopping list when your box ships so you can have everything you need on hand when your box arrives.
Most of the items on our shopping list were pantry staples like flour, cinnamon, sugar, eggs, and butter. I did have to buy some fresh herbs, apple cider, a few vegetables, ricotta cheese, and a whole chicken. This shopping list is a great learning opportunity for your child since they can help you mark off what you already have and shop for the amounts needed at the store.



This email also included a bonus recipe, some dietary modifications, and access to their bonus bites which you can check out at the end of this review.


Here is a closer look at one of the dietary modifications. These are also printable!
Add-On Options
If you pay upfront for a 6-month or 12-month subscription, you will receive a free apron in your first box and save a little bit off the monthly cost. They do give you the option to purchase an apron for $15 with a monthly subscription and they also offer a sibling option where you can pay just an additional $5 each month and receive a tool and apron patch for a sibling. They allow you to add up to 3 siblings, which I thought was great for families with multiple kids or maybe grandparents who want to cook with multiple grandchildren!
What's Included in Your Raddish Kids Kit?
So what exactly is included in each monthly kit if you don't receive the food ingredients? Let's find out!
Your kit will include this nice colorful envelope full of the recipes, shopping list, and activities for the month.
Inside is a card that lists the theme and describes what's in the box. There are three culinary skills that we are highlighting; kneading dough, roasting chicken, and mastering measuring spoons. They also list the 3 recipes and note the 3 collectibles which were silicone donut molds, our iron-on patch, and some pop-out table cards.
Apron Patch
This month's theme is Harvest Party and we received this beautiful embroidered iron-on patch to add to our apron.
Silicone Donut Molds
This is our tool for this month, a set of six small silicone donut molds. These seem to be a nice quality item!
Table Talk Cards
This is the set of table talk cards we received. They punch out and have a glossy coating. I love this idea and how it encourages conversations. We actually used ours while we waited for our donuts to bake and it was fun to have a chat with my kids about donuts and spices!
Harvest Party Games
They include an activity in your kit and this month they provided some harvest party games. I love that they told us everything we would need and then provided 3 different activities that we could do together. They even provided some cards that we could cut out to play Fall Danger! with. This game was a bit above my children's level, but it's an excellent game to play with older kids. The other two activities involved doing some autumn doodles and playing a game of telephone with a harvest twist. I thought these were all cute and engaging! They were also simple enough to complete on the spot which I appreciated.
They even had this fun corn maze printed on the back of our packet.
Raddish Kids Recipes
Herb-Roasted Chicken
The first recipe was for herb-roasted chicken. I have to say, I was impressed with the quality of the recipe cards. Not only were they large and colorful with detailed images, but they also had a glossy coating which made them easy to wipe clean. The front of the card describes our chicken and provides active kitchen times and the cook time as well how many servings the recipe yields. They also noted the culinary skills and kitchen connections which were cooking techniques and kitchen safety.
Inside the ingredients and tools are clearly indicated on the left panel with a note to make sure you always wash your hands and have an adult present. Then it lists the recipe in very simple steps with illustrations that accompany each one. This would be very easy for a child to follow along with. They even included a broth recipe using the bones which I thought was such a great touch! On the very back, they discussed the featured culinary skill of roasting a chicken with some tips and important notes on what temperature it should be after cooking.
I did try this recipe, although there are no process photos since I was working with raw chicken. I thought it was very simple, but it required removing giblets and placing herbs inside the cavity which most kids will probably find gross and cool at the same time. The chicken was delicious and my daughter couldn't get enough (my son is not as adventurous), even though I accidentally cooked the bird upside down. This recipe was distracted mom-approved since it still turned out even when I made a mistake!
Sweet Potato Gnocchi
My husband and I were both excited about this recipe even though I knew my kids would be hard-pressed to try it (we are still in the picky phase - hopefully, the older children this is geared towards would be more adventurous!) and I thought it looked simple enough! This recipe highlighted the skill of kneading dough and our card included some fun activities involving root vegetables and making a fall to-do list.
I loved how easy this was to prepare! I actually doubled the recipe and boiled two sweet potatoes. Then I placed them in an ice bath when they were softened and I peeled and grated them. Then I mixed that up with the rest of the ingredients. After kneading it, I divided my dough and then rolled each section into a  long rope before cutting it into pieces. Then these boiled for just a few minutes before going into a pan with butter, seasonings, and sage.
This was my first time making gnocchi and I definitely cut my pieces too large so they were slightly too doughy, but the flavor was excellent! The next day I sauteed some prosciutto and added it to the gnocchi with some fresh parmesan and it was even better than the first night we had it! I'll definitely be making this recipe again. This was also a great lesson to show the kids that you don't always make something perfect the first time!
Apple Cider Donuts
The final recipe was the clear winner this month, so much so that we've already made it twice! The only ingredient I had to buy for this one was apple cider which really makes the flavor of these donuts. I had my daughter follow along with me and it was a great introduction to measurements which was the skill we were focusing on for this recipe.
We sprayed our silicone molds with some cooking spray and then she read the card and told me which ingredients we needed while I gathered them for her.
We measured out our dry ingredients and added them to a bowl.
Next, we mixed up our wet ingredients. She cracked the egg perfectly (we've been practicing), which we celebrated before she whisked it up and added our apple cider and other wet ingredients to it.
Then she combined all the ingredients and stirred it up before dividing our dough into the molds. This part was a little bit messy, but we managed!
These went into the oven and then we let them cool before popping them out of the molds. Fortunately, they came out clean and were very easy to work with!
Then it was time to dip them in butter and coat them in a cinnamon-sugar mix.
Here are our finished donuts. They were really good! They formed a nice dense cake donut with a hint of apple cider flavor, but of course, that buttery cinnamon sugar on top is what really makes them!



This one got a thumbs up from all 3 kids (and mom and dad!). As I said, we've actually already made these again because they were so simple to make and delicious!
Bonus Bites



Some of the fun bonus bites that they had online included a lesson plan and even a Spotify playlist that we could listen to as we baked.
Here is a closer look at the lesson plan. It is extremely thorough and could turn this into a very educational, yet fun (and delicious!) experience for your child.
The Verdict
This kids cooking subscription box seems like a simple premise, but all of the engaging extras and educational value that they provide throughout really make this a box worth checking out! They are teaching skills that your child can use the rest of their life while making it fun and instilling confidence. Cooking can teach you so much and I love that Raddish Kids recognizes this and strives to provide a thorough experience that incorporates so many different aspects of cooking and learning into the box. While you have to buy the ingredients, there are enough fun extras that I think make it worth it. We had a lot of fun cooking together and I loved how easy it was for my daughter to follow the recipes, which were delicious!
What do you think of Raddish Kids? Looking for other great ways for you and your kids to spend quality time in the kitchen? Check out our list of other kids cooking subscription boxes.