MUD WTR Review
A Coffee Alternative With an Edge
There are a few food truths I hold to be self-evident. #1. Under-seasoning is a crime. #2. Pancakes are better than waffles. #3. Coffee is everything. I've been a loyal coffee drinker since I was in my teens, and it's rare there's a morning when I don't start my routine with a mug of joe. (Some might even tell you that it's unwise to speak to me before I've had my first sip.) This might make me an unlikely candidate for a coffee alternative, but I'm an open-minded lady with insatiable curiosity. When the opportunity presented itself to review MUD\WTR, I was immediately intrigued. What does this coffee alternative offer that my regular coffee doesn't? Is it healthier? How do you make it? What does it taste like?
In this review, I'm going to explore these questions and more. I'll look at what's in the "mud," explore the claims, brew a cup (or two), and give you my honest opinion on how it tastes. Will a coffee alternative be able to dazzle this coffee devotee? Let's find out!
Determined to stick to real coffee? Check out our list of the best coffee subscriptions!
About MUD\WTR & Pricing
MUD\WTR is available for purchase without a subscription, but significant savings are available if you sign up for regular shipments. The subscription service is called MUD\WTR VIP.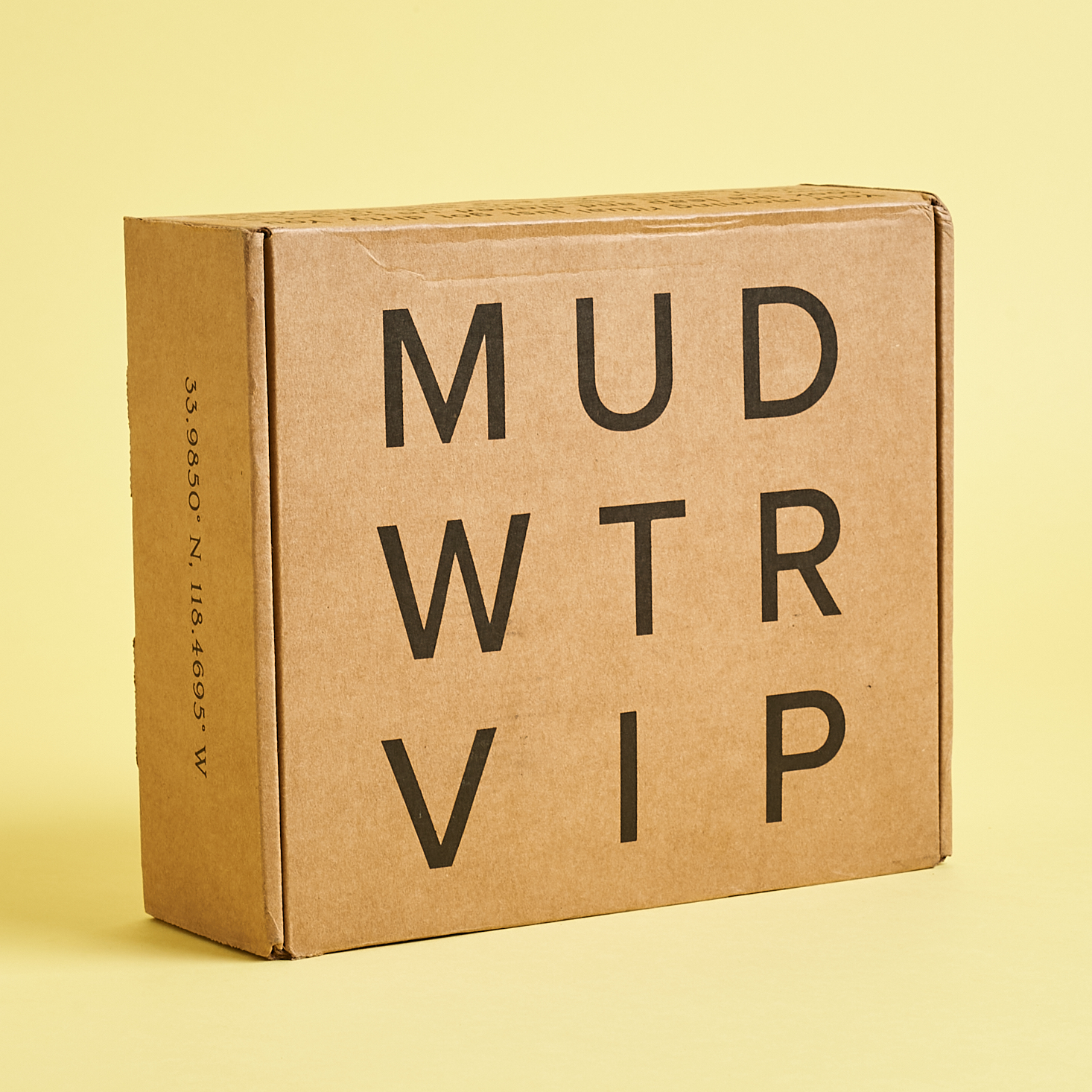 The Product: MUD\WTR VIP 
What's It All About: MUD\WTR VIP is a recurring subscription sent every 30, 60, or 90 days. The first shipment contains a 30-serving tin of Mud coffee alternative, plus a frother, sample of creamer, and some branded stickers. Subsequent shipments replenish your Mud stash. 
The Cost: $40 per shipment. ($1.33 per serving of Mud.) Shipping is free for all recurring shipments.
Can I Buy Without Subscribing: Yes! You can make one-time purchases on the MUD\WTR site.
This box was sent to us at no cost for review. (Check out our review process post to learn more about how we review boxes.)
---
Switching to a Coffee Alternative
What Is It?
My first question after finding out that Mud is a coffee replacement was simple: if it's not coffee, then what is it? Here's an answer straight from the source:
MUD\WTR™ is a coffee alternative consisting of organic ingredients lauded by cultures old and young for their health and performance benefits. With 1/7th the caffeine of coffee, mud gives you natural energy, focus and more without the jitters and crash.
Okay, with this, they had my attention. I read further and was intrigued to find out that MUD\WTR was born out of the founder's disappointment with how coffee was affecting him; he loved the ritual of drinking coffee (as do I) but wanted something that wouldn't affect his sleep cycle, create dependency, or give him a boom/crash. He wanted something like coffee that would do more— help him hone his mental clarity, increase his physical stamina, and support his immune system. The idea for Mud was inspired by Indian Chai, a piping hot tea brewed with a blend of spices, and shaped by a desire to create a drink that would taste good and perform. The company founder did some research and selected a number of different ingredients that are known for their health benefits, and he began working in his own home kitchen on what would ultimately become Mud.
What's In It?
So, what's in Mud? The site is very transparent about what goes into the mix, so let's lay it all out on the table and look at the ingredients, one by one.
Before we dive in, though, I want to take a second to point out that I am not a medical professional, and I am not here to evaluate wellness claims or debate the benefits of these ingredients. I am a food reviewer, and my expertise lies therein. (Similarly, when I review coffee, I don't claim to be an authority on the benefits or drawbacks of caffeine. But I can tell you whether the beans are nicely roasted, what the flavor profile is like, and how it makes me feel.) I will, however, point out this disclaimer posted on MUD\WTR's site: "These statements have not been evaluated by the Food and Drug Administration. This product is not intended to diagnose, treat or prevent any disease." My own view (for what it's worth) is that many foods have inherent health benefits. Personally, I like to be informed about what I'm eating, but I try not to lionize or vilify ingredients, and I rarely treat food as actual medicine.
Chai is a blend of ingredients like naturally brewed and flash-dried black tea powder and 100% certified organic powdered spices: ginger, cardamom, nutmeg, black pepper, cinnamon, cloves. With just enough caffeine to induce alertness, numerous benefits, and a complex flavor profile that rivals coffee - chai is what gives Mud it's soul.
Cacao is Mud's most abundant ingredient both for its flavor and effect. Cacao was worshiped by the Mayans, fueled the daily diet of the Aztecs, and has been labeled the "food of the gods" by many subsequent cultures. It makes sense, because it tastes as good as it makes you feel.
Reishi was added to support wellbeing and immunity. This mushroom has been used in Chinese medicine for over 2000 years and is commonly called the "king of mushrooms" for its adaptogenic qualities. It has many polysaccharides and beta-glucans that are known to help support healthy immune function.
Chaga is a mushroom that grows on birch trees. Eastern cultures have been drinking chaga for centuries for its overall benefits and soothing properties.
Cordyceps was chosen for its physical performance benefits. Originally used by high altitude Tibetan herdsman, cordyceps is now used by many to support energy, stamina and athletic performance.
Lion's mane was added to support mental performance. A newly-hyped nootropic in western cultures, lion's mane has been a part of Chinese and Japanese medicine for centuries.
Curcumin is an antioxidant flavonoid found in turmeric that supports the body's normal inflammatory response through optimization of cytokine production.
Salt supports hydration and a balanced ph level. In addition, it helps get the digestive system flowing and gets your body some much needed minerals.
Cinnamon contains phenolic compounds, flavonoids, and antioxidants that make it one of the most beneficial spices on the planet.
---
My MUD\WTR Experience
Signing Up
When you sign up for MUD\WTR VIP, you can select how frequently you'd like to receive refills of Mud.
If you're not ready to subscribe, you can make a one-time purchase in the shop. (However, it's worth noting that shipping is free and discounts are provided on recurring purchases.)
My MUD\WTR Box
Your first box will include a 30-serving tin of Mud, a frother (for super-efficient mixing), a sample of plant-based creamer, and some branded stickers. Follow up shipments will just top off your Mud supply. (Though, you can also sign up for recurring shipments of creamer, if you want to incorporate that into your beverage routine.)
I received a booklet full of information about Mud, recipe suggestions, and details on other available products.
Here are the branded stickers I received in my box. (Lookout! One of them's got just a little bit of an attitude LOL.)
Mud Tin 30 Servings- $50
I've gotta say, my first impression of the packaging was pretty great. I'm a sucker for clean, minimal design, and this canister of Mud certainly hit all the right notes. I love that Mud comes in an all black container and the creamer comes in all white. *chef's kiss*
Creamer Sample- Buy a box of 15 for $20.
I received a single packet of plant-based, powdered creamer. Here's a description:
It's plant-based, vegan, sugar and gluten-free and made from coconut milk and MCT oil. It's a powder, so you just need to add a scoop to your mud to turn it into a super powered silky smooth latte.
Mud Whip- $15
I didn't actually own a frother before receiving this box, so this is a welcome addition to my kitchen tool cabinet. It charges via an included USB cable and is capable of 19,000 RPMs. It comes with a travel case and has 3 heads included. As far as frothers go, this one is well-designed and well-made. (Though, I feel an opportunity was missed to call this the MUD\WHP— ha!)
How to Make the Mud
The booklet provides clear prep instructions: combine 6 grams of Mud with 12 ounces of hot water and stir with the frother. (FYI 6 grams of Mud powder is roughly equal to one level tablespoon.)
Did you happen to see that page in the provided booklet that tells you how to use the frother? Well, I did not bother to read it before I frothed my Mud, and Mud went flying all over my kitchen. (Taking wagers now: how old will I be when I finally realize that instructions are there for a reason?)
Once everything was cleaned up, I got ready for the taste test. First, I wanted to explore the aroma— I always sniff before I bite. Because of all the talk about mushrooms, I approached my first whiff cautiously. Would it smell like dried porcinis? Nope, not at all. This stuff smells amazing. It reminds me of chai: spicy with a strong note of cinnamon. Or maybe even spiced hot chocolate. This surprised me. With all the unfamiliar ingredients, I was expecting something a bit more... weird, I guess? I was wrong. This stuff smells great.
The taste, however, I wasn't quite so keen on. As in the aroma, the flavor is dotted with the familiarity of cocoa and chai, but there's more going on. There's a savory, umami flavor that I picked up in the first sip that I didn't love. As I continued to drink, I got used to it, and by about mid-cup, I'd settled into the flavor and started enjoying the taste. If I'm honest, I don't think the flavor is quite as good as chai or (my beloved) coffee, but once I got used to it, I found it pleasant enough.
What I can tell you is that even though Mud only has 1/7th the caffeine of a cup of coffee, it perked me up. I skipped my usual cup of joe so I could enter my taste test with my full morning grogginess, and while this didn't give me the same jolt I get from coffee, my eyes were open a teensy bit wider for sure.
What If I Drink My Coffee (Alternative) With Milk?
I wanted to commit to the MUD\WTR experiment, so I also skipped coffee the following couple of mornings. On the second day, I tried Mud with the provided creamer. I used the entire packet in a measured cup of Mud, and I'm not sure it made that much difference, honestly. The coconut-based creamer didn't add that much color or creaminess to my cup, though it did give the drink a little punch of rich nuttiness. To be fair, I never use powdered creamer, so this probably isn't a product I would use anyway. Instead, the next morning I went all in and whipped up a Mud latte. (I love a hot espresso drink on a cold day, so this seemed like a solid test.) I steamed some oat milk, added it to my cup of Mud, squeezed in a smidgen of honey, and topped the drink with a pinch of nutmeg. Of all the ways I sampled Mud for this review, the Mud latte was my favorite. The creaminess of the milk added a velvety smoothness, and the little bit of sweetener complimented the cinnamon and spices. Mud is naturally sugar-free, and while I usually enjoy drinking my coffee black, I think the flavor of Mud benefits from a hint of sweetness. My first two mornings drinking Mud, I appreciated the taste of my drink. The third morning, I enjoyed it. 
---
My Verdict
This was my first time trying "mushroom coffee," and I went into this review without any preconceived notions. I was excited to see what awaited me. I gave up coffee for three days in favor of Mud, and it was quite the experience. Will I turn my back on coffee forever and become a MUD\WTR enthusiast? Probably not. But I enjoyed getting to know Mud. I'm actually going to share some of my remaining supply with my mother; she loves the ritual of coffee but can no longer handle a full dose of caffeine. She switched to decaf years ago, and part of me wonders if maybe MUD\WTR is the product she's always been waiting for. (I'll make sure to update the comments section if she loves it enough to buy a tee-shirt!)
Ready to try MUD\WTR for yourself?
---
Have you tried Mud\Water or any other coffee alternatives? Head to the comments and let us know how it went.
Want to stick to coffee? You'll find a full list of coffee subscriptions worth trying in this list!