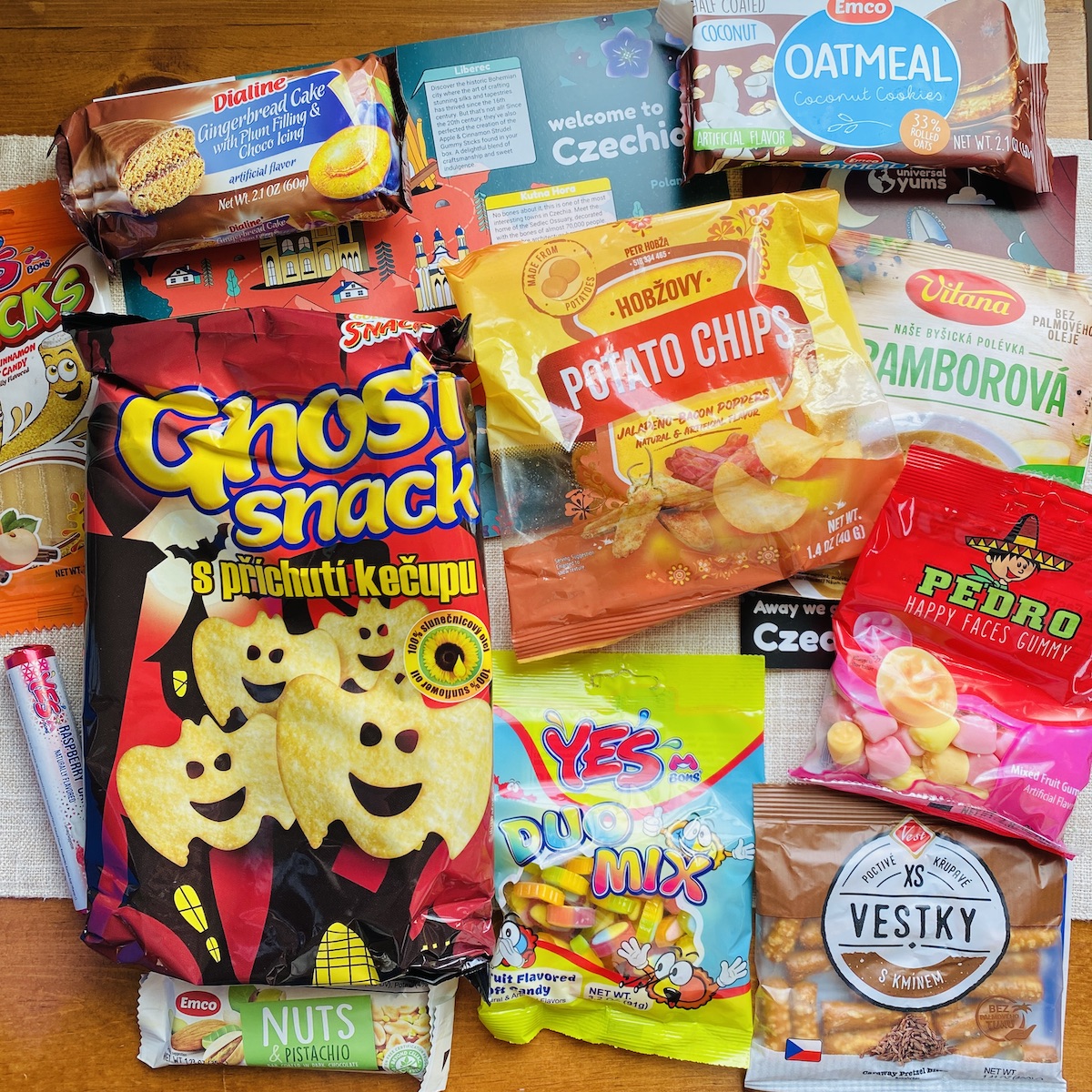 Universal Yums
43 Ratings | 33 Reviews
Universal Yums is a snack subscription box that sends out snacks and candies from a different country each month. The contents of the boxes change each month as they highlight the best snacks from each featured country, but you can always expect a mix of flavors: salty, sweet, spicy, fruity, and more. Only authentic snacks from the featured country are included in this box. Choose from the Yum Box for $17.00 per month, the Yum Yum Box for $29.00 per month, or the Super Yum Box for $45.00 per month. (You also have the option to save by purchasing a 3,6-, or 12-month plan.)
This review is of the Yum Yum box, which is $29.00 per month.
Author's Note: The cost of this box increased last year, but now has gone back to the original prices!
This box was sent to us at no cost for review. (Check out our editorial guidelines to learn more about how we review boxes.)
First Impressions
September is here, and along with it are some fantastic snacks from Czechia. My great-grandma was born in Czechoslovakia, so receiving this box was really neat as I have historical reference to around that region. With school starting and a new routine at hand, admittedly, our family has been a bit stressed.
After a long week, we were all very excited to see the customary blue and white Universal Yums box sitting on our doorstep! Not only is this subscription a tasty experience, but it's educational too. Read below to find out what we discovered this month.
What's Inside the Box
Each and every month we receive a fun, illustrated map that shows where our Yums are coming from. This month we received a map of Czechia packed with fun trivia. The back side hosts the usual Yum Scoreboard and scavenger hunt. Also included in this box is a helpful pamphlet that guides you through a typical day in the Czechia via trivia, recipes, photography, and activities. Delicious AND educational!
Potato chips are a weakness of mine, and coupled with jalapeño and bacon almost makes me go weak in the knees. These salty, delicious chips are perfectly crunchy with just the right amount of jalapeño and bacon flavoring. These flavors come through as realistic rather than fake, and I am a big, big fan. A perfect amount to compliment a sandwich for lunch, these are definitely my new favorite.
Back in the early 2000s, my dad worked night shift at the paper mill and lived off of tubes of Certs. These little round raspberry candies remind me of the fruit flavored ones, but in a larger size. With a fresh raspberry taste, these little chalky candies are quite tasty and give me one last reminder of summer!
If one likes apple pie, they will most likely enjoy these apple and cinnamon strudel gummy sticks. Delicious in flavor, these flavorful sticks are chewy, sugary, and sweet with the best apple and cinnamon flavor. Because these flavors aren't terribly common in the candy world, this was a great change of pace, and the kids absolutely loved them.
This was definitely my favorite snack of the month! Jam packed with pistachios, nuts, and dark chocolate, this crunchy bar had the best hint of sweet and was jammed with protein. Perfect for a mid-day snack, this bar kept me filled until dinner and was really the highlight of my day!
I am all about oatmeal and coconut, and when paired with chocolate in cookie form, I am all over it. These thin cookies were perfectly balanced in flavor and were really tasty in flavor. A great dessert snack with the perfect amount of sweetness, these go great with a big glass of cold milk. The kids really liked them, as did my husband!
Caraway is not one of my favorite flavors. Reminding me way too much of black licorice, I just couldn't get on board with the flavoring of these pretzels. Salty and cute in their little stocky forms, they were just too potent and I didn't like them. The kids gave them a try and had the same feelings. What were your thoughts of these little guys?
How cute are these smiling ghosts? Crispy, and melt in your mouth, these little corn ghosts are packed with a tomatoey flavor and are really quite tasty. I was also impressed with the size of the package. The kids loved the shape and flavor, and both packed a ziplock baggie full for snack.
Gingerbread can be touch and go for me, and in this form, it was a definite no. Very spicy in flavor, this cake was quite dry, and I didn't enjoy the plum filling. Maybe my palette just isn't mature enough for this dessert, but I just couldn't get into it. My kids took one whiff and wouldn't even try it, so we stuck it in my husbands lunch pail. Will he eat it? I'm not quite sure, but we will see!
How cute are these little smiley face gummies?! With bright colors and adorable faces, these super sweet fruit chews are delish. Featuring flavors like black currant, pear, lemon, pineapple, and more, these are a bit more sophisticated than some of the American flavors, and the kids loved them!
Another winner this month was this package of sour gummy bites. Strange in texture because of the gummy outside and chewy middle, these citrusy snacks were really tasty. In a cute oval shape with bright colors, the kids thought these were really fun to eat and packed a couple baggies full for their snacks at school. What fun treats this month!
The last item we received was this package of Czech potato soup mix. I am obsessed with potato soup and make a ham version monthly because we enjoy it so much. Because homemade soup is pretty time consuming, I am happy to try this packaged version. While I haven't had time to make this yet, (fall baseball sure is time consuming!) I am hoping to whip this up soon to give it a try!
The Verdict
Universal Yums is a fantastic subscription. Not only is it fantastic to buy for yourself, but it makes a very unique gift as well. Featuring a great curation of snacks from a different country, this box has us immersed in a new culture through food, all while learning about day to day life through the pamphlet. Overall, we enjoyed almost every snack, and loved the inclusion of the soup mix. While this box is darn tasty, it is also educational and fun. We already can't wait to see what's in store for October. Any ideas where we might be headed next?
Scorecard Picks:
Favorite: Dark Chocolate Nut Bar
Runner-Up: Bacon Jalapeno Chips
Worst Yum: Chocolate-Covered Gingerbread with Plum
Most Unusual: Caraway Pretzel Bites
Keep Track of Your Subscriptions: Add this box to your subscription list or wishlist!
To Wrap Up:
Can you still get this box if you sign up today? Yes, as of this review's publication, if you sign up now you can choose to receive the Czech Republic, Greece, or Indonesia box.
Value Breakdown: This box is $29.00 per month (including shipping). I received 11 individually wrapped snacks which average out to $2.63 per item.
Which Universal Yums snack would you most like to try?