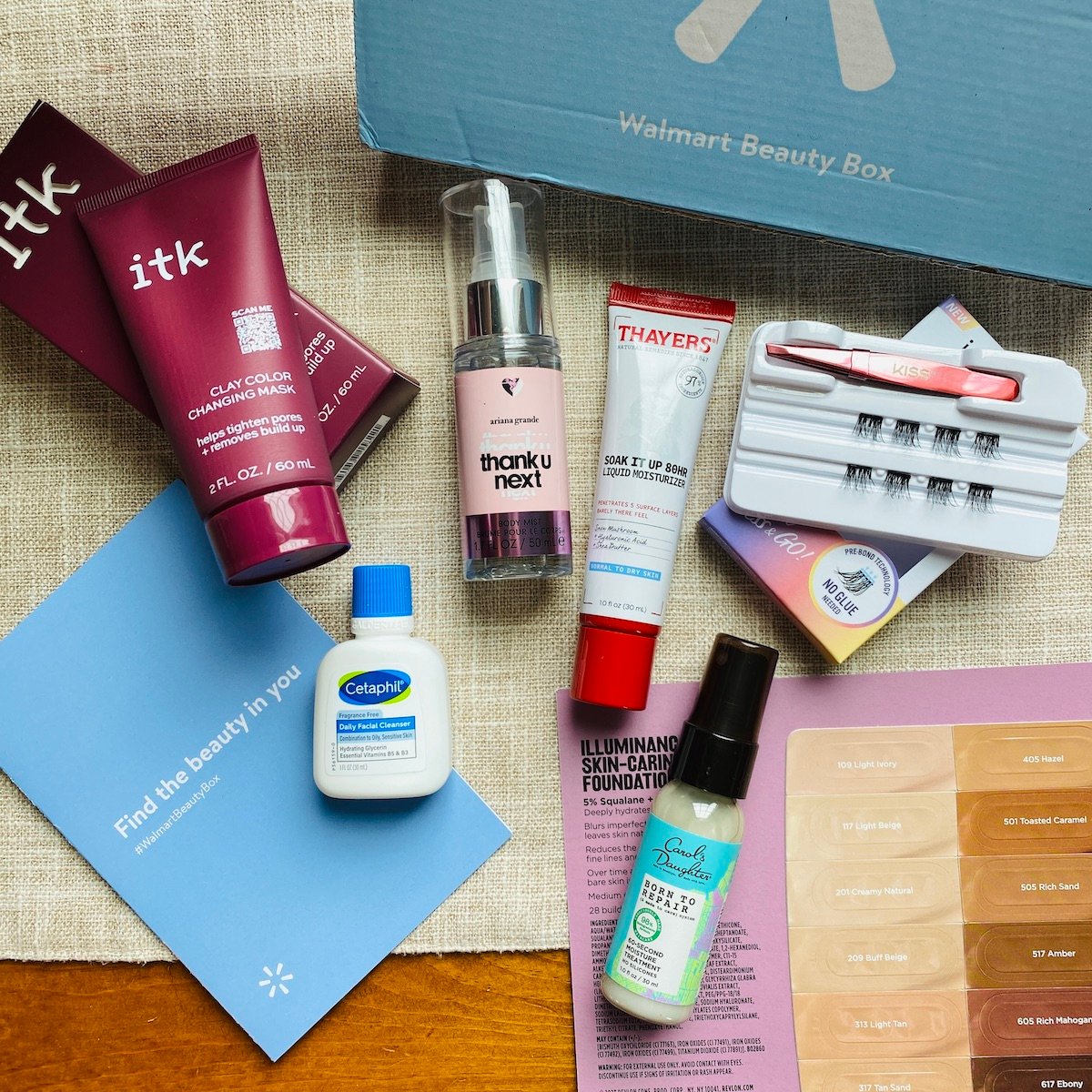 Walmart Beauty Box
373 Ratings | 119 Reviews
The Walmart Beauty Box is a quarterly beauty sample subscription box from Walmart. When you sign up you will answer a series of questions about your skin tone, skin concerns, hair type, and more. The answers are used to provide a more personalized experience so that they can tailor your box to you. For $6.98 + free shipping, you receive beauty samples from brands carried by Walmart.
This box was sent to us at no cost for review. (Check out the editorial guidelines to learn more about how we review boxes.)
First Impressions
Although we still have almost a full month of summer officially left, the chilly nights and shorter days are definitely giving off fall vibes. With the local county fairs over and school starting in two weeks, it's time to get back to reality. I am sooo not ready for fall, but I can say, receiving the Fall 2023 Walmart Beauty Box early did ease the pain of this transition and I discovered some neat, new products. Read below to find out just what this season's box had in store.
This quarter we received a pamphlet detailing the self-care collection offered for fall. With over 12 different options listed, you are guaranteed to receive seven great finds. Being a mix of skin care, hair care, and make-up, the choices were rounded out quite well, but just what size items did they send?
I've been subscribed to the Walmart Beauty box for as long as I can remember, and I do believe I have received a product from Cetaphil almost every single season. Don't get me wrong, I'd much rather receive this than another Liquid I.V. drink pack, but I'd love to see more variation in brands. Back to Cetaphil, I do really like this brand. As a young teenager that struggled with acne, my dermatologist recommended this cleanser time and time again. Now that my skin has settled down, I have gotten a bit more adventurous with my cleansers, but can appreciate the functionality of this Fragrance Free Daily Facial Cleanser.
It truly is gentle and contains Glycerin and Vitamin B5 and B3 for hydration. Perfect for packing in a travel case, I do like the size, and it really does come in handy when at conferences and on vacation. Not a very exciting start to this month's box, but definitely a useful one!
I can honestly say, the box just got a lot more exciting! Full size products always amp me up, and because I love clay masks so much, I was really excited for this product. Sheet masks terrify my husband, and while clay masks are a close second for him, this was totally worth it. With skin tightening properties, and a fun color changing aspect, I loved applying this product.
Made with kaolin clay, jojoba seed oil, and glycerin, this mask wasn't gritty or smelly, but applied smooth and had only a clean smelling odor. Going from white to peach, this mask dries fast and left my skin feeling hydrated and smooth. Besides being totally awesome, because it is full size, it is almost double the cost of the box in value! Yay!
Thayers is a brand that's been around since 1847, but I can honestly say that I've never tried their products. Because I enjoy trying new things, I was intrigued, especially since the label mentions being made with 97% natural origin ingredients. With a title like "Soak It Up 80HR Liquid Moisturizer" I was impressed, but did it fit the bill? Thin in consistency, this moisturizer wasn't what I was expecting when applying.
Made with snow mushroom, hyaluronic acid, and shea butter, it then made more sense. Drying quickly, this didn't leave my skin feeling wet or heavy, but rather cool and hydrated. While I can't say if I noticed hydration for 80 hours after applying, I can say this was a great moisturizer for normal skin that dries fast and doesn't leave your hands greasy after application. A great inclusion for a fall box, and a great addition to my purse!
Honestly, I don't think I've worn body mist since my mom stuck the Victoria's Secret versions in my Christmas stocking back in high school. A little nostalgic for sure, I had visions of heavy floral scents with this version in mind, and boy was I wrong! Very light and the perfect amount of sweet, I could pick up on notes of pear and raspberry with a hint of sugar. Definitely not overpowering, this is a great fragrance to spritz, and one that is perfect to throw in an overnight bag to give you the perfect amount of freshening up.
Receiving any "Carol's Daughter" item makes me happy, as it reminds me of my grandma and my mom. Beside's the brand name, I have had good luck with these products in the past, though I had not tried the Born to Repair 60-second moisture treatment before. I have very fine hair and it snarls and tangles extremely easily. Because I've been working on growing this mop out for the last 10 years pairing that with highlights, I am in need of moisture, and this was a neat way to achieve that. Spritzing in my hair after shampooing, I let this sit on my head for 1 minute. When the timer went off, I rubbed in my conditioner and rinsed. Because I have a lot of hair, this didn't give me enough for more than one use, but I did notice a difference. Also, the fruity, clean smell is amazing!
I am not a false lash gal, me and my "Too Faced Better Than Sex" mascara have gotten along just fine without them. Don't get me wrong, I tried applying a strip of them once, and I couldn't get them to stick and never tried again. That being said, I've never tried the "clusters", so I was intrigued. With 8 little bunches of lashes and a tweezer, I gave these a whirl, and definitely rode the struggle bus.
Because this isn't a full size pack, you are given a tweezer instead of the application tool. That was my first problem. It was very hard to grab the cluster and stick it on when you didn't have the press. Second of all, they just felt odd on. I did manage to apply 4 clusters to one of my eyes, and honestly in the photo you can hardly tell which one has the fake lashes. For the amount of time it took to apply, I can just live without them. I would however, now like to just try them for fun using the actual press! Does anyone use these on the regular?
Revlon Illuminance Skin-Caring Foundation Sample Card
The last item we received was a sample card of Revlon foundation. I appreciated the inclusion of 12 different colors, but the fact that there was hardly even a single swipe made it hard to color match and test. I used light tan for my forehead, tan sand and creamy natural mixed for my one cheek, and hazel for the other. The consistency felt nice, but receiving on a sample makes it hard to gauge what it's actually going to be like. A neat way to give it a try, but I'd need a few more cards to get the full gist.
Like I mentioned above, we kept busy this summer with baseball and our local county fairs. Entering a slew of vegetables and flowers, Buxton was a great helper and only licked half of my foundation off!
Verdict
With an extra early fall delivery, I was pleasantly surprised to see Walmart's Summer Beauty Box on my doorstep so soon! Though there were less picks this season, I can fully say this box was definitely worth the $6.98 price. Walmart has been upping their game lately, and while I didn't have great luck with the lashes, I did like giving them a try, especially at a reduced price. Overall, I utilized every product included and was really excited that they included a full size item. With this curation, I am already excited to see what they will have up their sleeve for the winter quarter!
What did you think of the fall box? Did you get the same variation, or something different?
Keep Track of Your Subscriptions: Add this box to your subscription list or wishlist!
To Wrap Up
Can you still get this box if you sign up today? Yes, the fall box is currently shipping now while stocks last.
Value Breakdown: At $6.98 shipping for this box and  items, you are paying approximately $0.99 per item.
What do you think of the Fall 2023 Walmart Beauty Box?