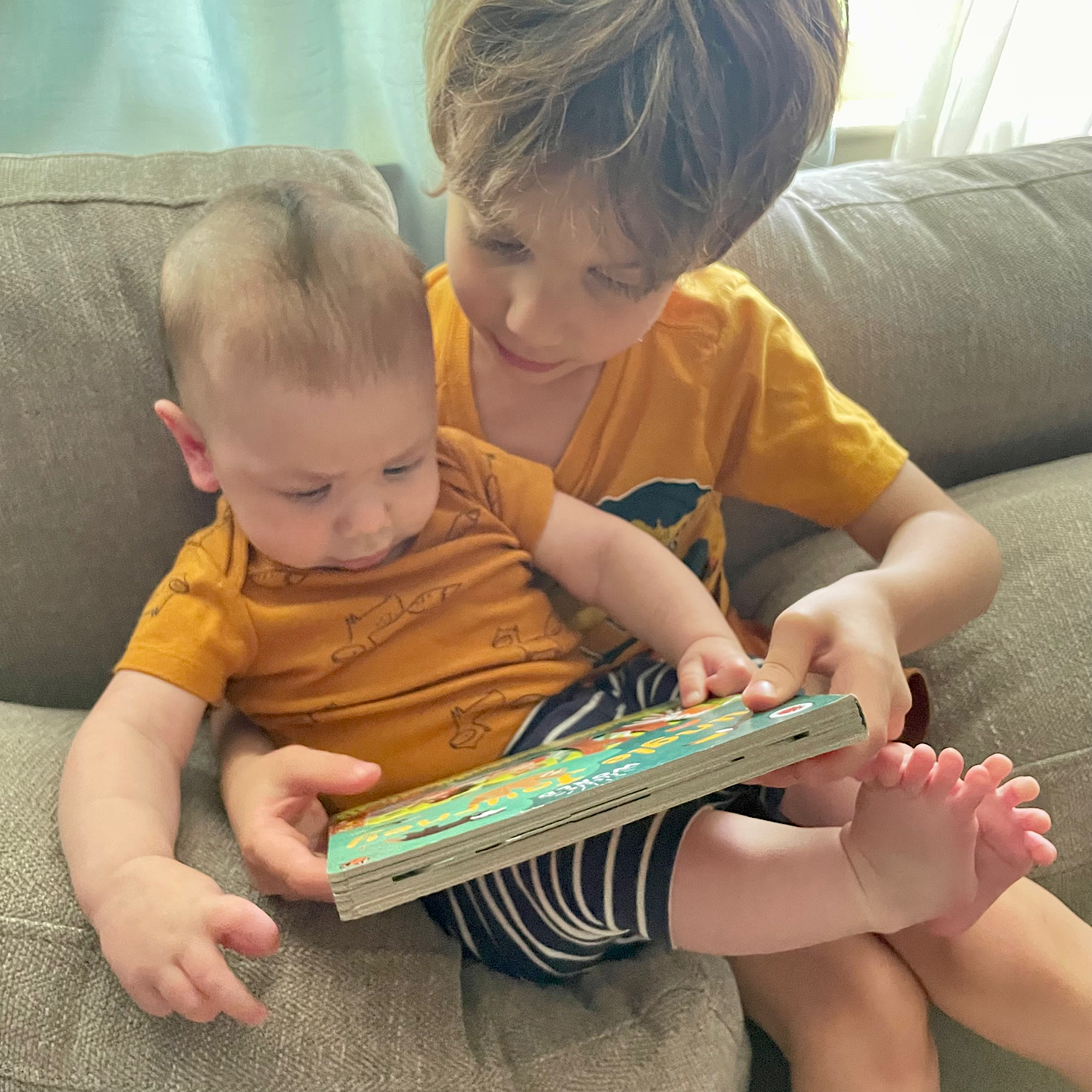 Lillypost
5 Ratings | 3 Reviews
Lillypost is a monthly book subscription box for children that donates one book to a child in need for every box purchased. They offer three subscription options:
The Board Book Box - 4 books for ages 0-3,

The Picture Book Box - 3 books for ages 4-7, and

T

he Mixed Book Box - 2 picture books and 1 board book for all ages.
This review is of the Mixed Book Box for $19.95 per month + $4.95 shipping. This option includes board books and picture books for families with children in both age ranges.
This box was sent to us at no cost for review. (Check out our editorial guidelines to learn more about how we review boxes.)
You can choose to have your books wrapped each month for an extra $5 per shipment. Having the books wrapped and ready to open makes it feel like a special experience each month!
First Impressions
A fun jungle book and a book about a wolf (my daughter's favorite animal); I knew these would be hits!
Inside the Lillypost May 2022 Box
Lillypost always sends us a set of Finnley the Fox stickers along with a little note that introduces their coloring contest for the month. Kids can draw directly on the box and incorporate Finnley into the monthly theme, then share it on social media for a chance to win a prize. This month is all about flowers for spring!
This jungle-themed book is full of vibrant colors and cute animals! It also has some great descriptive language throughout, and even better, there are fun tabs to pull and open making it a great tactile experience for little ones as well. Some of the tabs actually surprised us and had more tabs inside of them, opening it up to be quite tall! And of course, it melted my mama heart when my son was reading it to the baby.
The baby definitely loved the bright colors!
Lone Wolf  by Sarah Kurpiel - Listed Value $17.99
Firstly, I really loved the sweet aesthetic of this book with the muted, neutral tones and the simple illustrations. Maple the family dog looks just like a wolf and so she sets out to see if maybe she might really be one. In the end, she finds out that being a wolf is a lot harder than she thought! My kiddos and I enjoyed this sweet and funny tail. 😉
Smug Seagull by Maddie Frost - Listed Value $17.99
To finish out our books this month, we ended on a silly note with the book that was probably the kids' favorite. If you've been to the beach, you may be familiar with just how pesky those seagulls can be (ever had your toddler spill Goldfish crackers? It's downright terrifying!). The seagull in our story is quite smug about his swiping skills, until one day he seems to lose his swipe! Luckily there is a nice little crab who shows him that there is another way to get what he wants. This book was funny and charming, and I loved the comic-book style throughout!
Value - Is it Worth It?
The Cost: $19.95 per month + $4.95 shipping. Save with longer subscriptions.
Value Breakdown:
Jungle Journey: $8.99
Lone Wolf: $17.99
Smug Seagull: $17.99
The total retail value of the books we received comes to $44.97 which is a savings of about $20.07 since this box costs $24.90. That's a pretty great value!
Key Takeaways
We loved our Lillypost book selections this month! There was something bright and tactile for the younger ones, a sweet story, and some silly seagull fun to round it all out! 
Keep Track of Your Subscriptions: Add this box to your subscription list or wishlist!
To Wrap Up:
Can you still get this box if you sign up today? Yes, your first box will begin processing immediately, but you might not receive the same books. Per Lillypost:
New books are added weekly and it will always be a fun surprise for both the child and the parents!
What do you think of Lillypost? Leave your own review below!