First Impressions is a series that introduces and reviews new brands to My Subscription Addiction, drawing from readers' requests for an insider's first look. Interested in seeing more reviews from this brand, or have another box in mind that you'd like to see reviewed? Let us know in the comments.
Unbloat is a daily supplement formulated with natural ingredients to give you bloating relief and digestive support. It is offered on a subscription model to guarantee daily and continuous intake, as the goal is to ensure you always have your daily supply to build a meaningful habit.
I was intrigued, so I had enlisted my friend, Oriana, to test out Unbloat with me. She is constantly struggling with bloating and has tried home remedies and supplements to control her bloating. For the next 14 days, we took Unbloat to see if it could live up to the hype.
My Subscription Addiction received this box at no cost in exchange for an honest review. (Check out our editorial guidelines to learn more about how we review boxes).
First Impressions
Our Unbloat bottle arrived in a classic cardboard box – nothing fancy here. The packaging was fairly plain, but we were excited for the bloating relief, not the unboxing experience. The bottle is made of a sturdy dark purple glass-like material, which the website explains protects the probiotics inside against UV damage. It's heavy and protective, and it makes the pills feel special in a way. The instructions were simple and visible on the front of the jar: two pills daily. The bottle lists the ingredients (we counted at least 40) but is otherwise discreet and simple. We both felt it was nice looking enough to leave on our dresser or nightstand.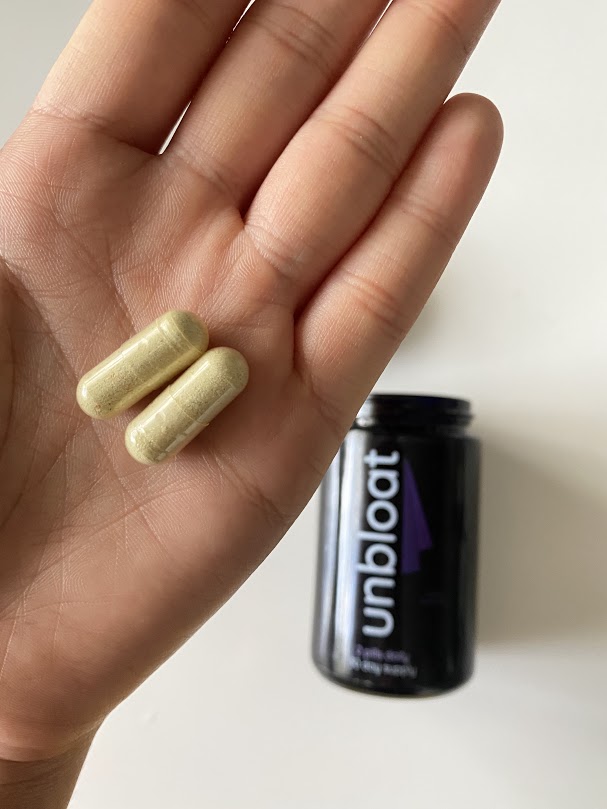 The pills themselves are fairly sized. I would say they're your average supplement pill. I liked that they're vegan-friendly, while my friend was all excited about the non-GMO fact. They have a beige-to-green shade and smell like… licorice? Not my favorite flavor, but definitely very natural.  (We later figured out it was the combination of fennel and ginger we smelled - two ingredients that support digestion and calm stomach irritation.) I would call the taste "not bad"; my friend called them "funky" - but it's a pill, and it's easy to swallow and build into our daily routines.
The Breakdown
From Unbloat: Unbloat is the first and only comprehensive solution for persistent daily bloating. Taking two pills a day over time gives your body everything it needs to fully digest food, prevent the buildup of gas and harmful toxins in the gut, and live life bloat-free. 
What It Claims to Do: Unbloat claims to do a lot more than just deal with your bloating issues. It's marketed as an all-inclusive solution for gut and digestive health. Unbloat claims to help with:
Regulating bowel movements and experiencing the easier passage of waste due to the presence of magnesium citrate and two kinds of fiber
Promoting a trimmer waistline by flattening your tummy to its natural shape due to the 21 digestive enzymes, which help the body fully digest foods, preventing the buildup of bloating gasses
Boost health and immunity while supporting gut health due to the 25 billion live probiotic organisms in every dose - far more than we would consume daily from yogurt and other ordinary foods
Unbloat claims that you will experience relief from your worst bloating symptoms the day that you take it, and that you'll eventually experience freedom from bloating in 10-14 days with daily use.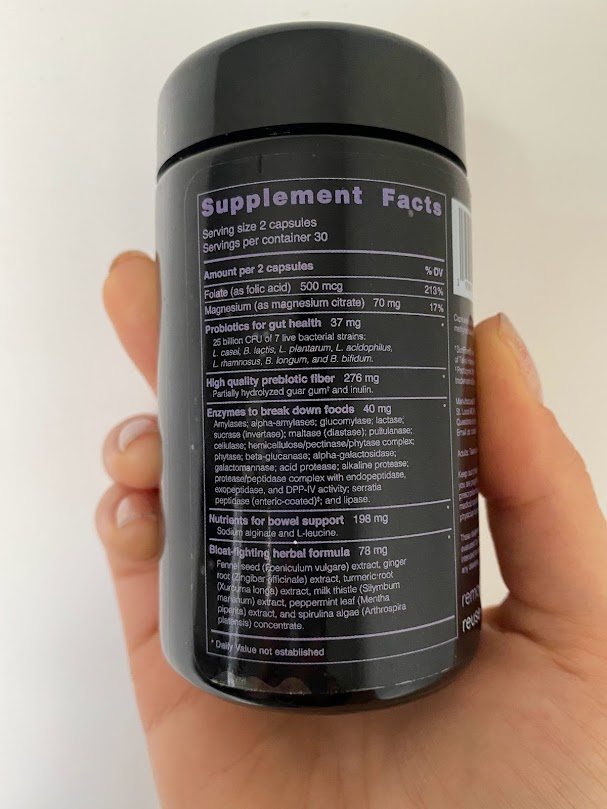 How It Claims to Work: Unbloat is formulated by a board-certified gastroenterologist. The formula has over 40 natural ingredients that work together to provide lasting relief from common bloating issues. Out of all the ingredients in this formula, these are their all-stars:
21 Digestive Enzymes: Unlike other digestive support supplements, including HUM Nutrition's Flatter Me, Unbloat has more enzymes than other brands. These little enzymes help break down food faster, so your body digests them quickly to prevent the buildup of gases in the stomach.
7 Key Probiotics: While the formula doesn't have a vast number of probiotics known for their many gut health benefits, it includes the seven strains most closely tied to bloating reduction, and the 7 that they have chosen are known to support the body's waste-eliminating process.
6 Herbal Remedies: Peppermint, fennel seed, turmeric root, and spirulina algae are some of the herbal remedies in the formula – and also what explains the flavor. These herbs help fight indigestion and constipation, promote smooth stomach feelings, and support the health of gut tissue.
4 Essential Nutrients: I was surprised to find out it also has magnesium, folic acid, sodium alginate, and L-leucine; these nutrients help support digestive health and remove excess water from the body.
2 Prebiotic Fibers: These are included in the formula to act as "food" for the probiotics in the formula to support good bacteria in the gut. They also help push food through the digestive tract, which further reduces feelings of fullness and bloating.
My Thoughts
Before
After
Before sharing my thoughts, I must make a disclaimer: I didn't take these pills as indicated for the first two or three days. I honestly attribute this to the packaging because it only says take two capsules daily. So, I took them when I remembered – usually after lunch. However, after scouring their website, I realized it says to take them on an empty stomach first thing in the morning.
Once I figured it out, the first days were interesting. The first days Unbloat had the opposite effect on my body. While I wasn't feeling bloated, I was constipated. But for this piece, I continued taking the supplement.
I kept my flexitarian diet and daily workouts the same to see if this would truly make a difference. By days 5-6, I wasn't seeing an un-bloated belly per se, but I was experiencing some change. After my meals, I would feel lighter and less tight, including my many cheat meals with plenty of delicious foods and sauces. I would notice my belly wasn't wrangling so much and that overall my movements were more steady.
Oriana's Thoughts
Oriana's bloating levels before trying Unbloat
After
These two weeks, I feel that Unbloat probably helped a good deal with my bloating issues. I say "probably" because I ate pretty healthy these past couple of days. Still, I had foods that would typically make me feel heavy and bloated on many days – and I didn't feel that way!
One thing I didn't love was the flavor. Fennel is just not my favorite scent or taste, I suppose.  These definitely don't taste like any other supplements I've tried - but of course, the licorice flavor only lasts a minute, and the positive effect seems to last all day.
I have to give Unbloat credit: taking it made me feel less heavy and more comfortable after eating, even when I had junk food.
Value – How Much Does Unbloat Cost?
An Unbloat subscription starts at $49 for one bottle, though you can sometimes snag a coupon with the subscription to get them cheaper. This includes free US shipping and their 30-day risk-free guarantee. You can also skip or cancel any time. Another subscription option that is ideal for couples or families who want to try Unbloat together, includes two bottles for $89.
Compared to other digestive supplements out there, Unbloat is significantly more expensive. For example, HUM Nutrition's Flatter Me is only $26 or $19.50 if you subscribe for three months.  However, it contains far more ingredients, in far higher quantities - and if you were to try to piece these ingredients together on your own (as I tried to do on Amazon after reading the full list), you could easily spend $200 and still not complete the whole list.
My Verdict – Is Unbloat Worth It?
While I would prefer an even more affordable option, as someone who deals with occasional bloating, I would be willing to keep spending the $49 each month to ensure I feel lasting relief.  It wasn't a product I set out to spend money on, but now that I have found it, I am going to stick with it.
My friend's verdict was very similar. She says, "if you enjoy the licorice flavor and afford the $49 price, I would recommend Unbloat; especially if you have serious bloating problems and nothing else has worked.  It's worth giving it a try."
---
Have you tried Unbloat? What are your thoughts? Or maybe you've been attempting another enzyme or digestive supplement. Let's talk in the comments.