Universal Yums
51 Ratings | 41 Reviews
Universal Yums is a snack subscription box that sends out snacks and candies from a different country each month. Choose from the Yum Box for $16.00 per month, the Yum Yum Box for $27.00 per month, or the Super Yum Box for $41.00 per month.
This review is of the Yum Yum box, which is $27.00 per month.
This month's box takes us to Turkey! Let's dive in and discover this month's Yums!
This box was sent to us at no cost for review. (Check out the review process post to learn more about how we review boxes.)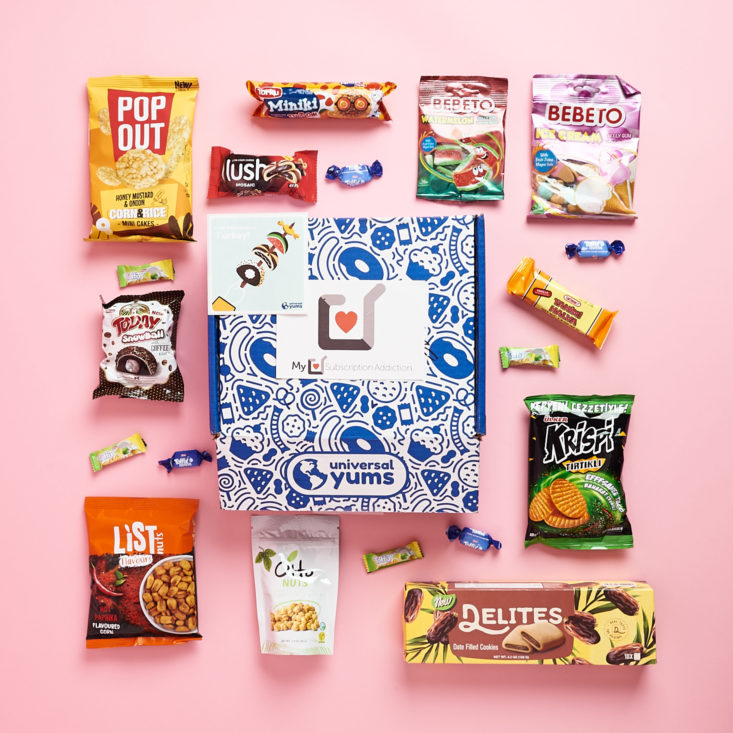 About Universal Yums
The Subscription Box: Universal Yums
The cost: $27.00 per month + free U.S. shipping (save with a prepaid annual plan)
The Products: The contents of the boxes change each month as they highlight the best snacks from each featured country. However, you can always expect a mix of flavors: salty, sweet, spicy, fruity, and more. Only authentic snacks from the featured country are included in this box.
Ships to: The U.S., Canada, U.K., Australia, and Israel
Universal Yums "Turkey" Review
Did you know in Ankara, Turkey, they have a public library exclusively featuring books picked from the trash? Or that per capita, Turkey is the world's largest consumer of tea? I didn't either until opening this month's Universal Yums Turkey box! While my family tasted our way through Turkey, we learned some really interesting trivia, received a new recipe, and received a lesson in tasseography! How were this month's treats you ask? Read below to find out what we thought of them.
Every month we receive a brightly illustrated map that usually shows where our Yums are coming from. This month's map of Turkey included fun facts and trivia about Bursa, Istanbul, Ankara, and more. On the opposing side, we have the "Yum Scoreboard," which includes a list of the box's treats and an area for you to score each of them. We also received some info suggesting Yums from the Yum Shop based on items you may have loved from this box. Again, we didn't get a clue for our next box, but we did get to complete a fun scavenger hunt.
Though I adore trying out the snacks, I find the most important inclusion of this box to be the monthly pamphlet. This handy dandy book is filled with info about each snack including ingredients, nutritional info, and a fun fact. We also get to delve a bit more into Turkish culture by exploring Turkey through pictures, recipes, trivia, games, and poetry! My boys and I love sitting down with this booklet and soaking in all of the information while munching our way through the snacks of said country. It makes for an educational and fun experience we are all sure to remember.
Baharat Spice Cracker Chips - Buy a pack of 4 for $4.80
What is baharat you ask? Well, thanks to our booklet, we learned that it is a blend of spices that is insanely popular across all of the Middle East, especially in Turkey. It usually contains a mix of onion powder, parsley, garlic, thyme, and paprika. We found these crunchy, rippled cracker chips to be perfectly seasoned and extremely savory. Not too spicy, yet spunky enough to bring our roasted hot dog lunch to life, these babies were so tasty they were gone before Charlie could even say "dessert."
Vanilla Tahnin Halva - Buy a pack of 4 for $4.40
Two treats in, and another new term: halva, aka... an extraordinarily crumbly ground-sesame confection. This plain-looking white bar is everything but boring! The sweetness of the sugar is complemented with a savory, nutty flavor that somehow reminds me of a hardened spoonful of sugar milk after eating a bowl of Rice Krispies. Not sure if anyone else was getting that vibe, but I actually kind of grew fond of it - though, in 90-degree heat, it was pretty much melting in my hand as well as my mouth. The kids thought this was okay, but not good enough to ask for seconds.
Cocoa Cream Mosaic Cookies - Buy a pack of 24 for $7.20
How cute are these little cookies? I love the mosaic pattern, and even better is the hazelnut cream in the middle! Not only are these cookies crunchy, sweet, savory, and rich, but they look really fancy on a dessert plate. Like you probably know, I am obsessed with hazelnut flavoring, and these really hit the mark for me. Sorry kids - mommy stashed these away before you could give them a try... Better luck next time!
Salted Roasted Chickpeas - Buy a pack of 6 for $4.80
I don't have a lot of experience with chickpeas, but I found these salted roasted ones quite tasty. Crunchy and almost tasting like a nut of some sort, these do tend to get a bit dry in your mouth but are seasoned with the perfect amount of salt. I do have to say, these little morsels are addictive, and their flavor paired well with a Mike's Hard Black Cherry Lemonade - hey, it was a long week!
Coconut & Coffee Snowball Cake - Buy a pack of 10 for $5.00
Looking fairly similar to the Hostess snoball snack cake we were given the opportunity to try Turkey's rendition, which is flavored with coconut and coffee. While I enjoy a morning cup of coffee (more for the caffeine than the taste) I usually don't choose coffee-flavored desserts. I was actually surprised at how tasty this snack cake was though when I tried it. Perfectly sweet with the boldness of the coffee beans, this little cake was moist and pretty, plus stuffed with a beautiful cream. The flecks of coconut added a nutty flavor and texture and all in all I would eat another one. My kids were scared when they read coffee in the title, so they each took a tiny bite and wanted to move on. More for me!
Turkish Sour Watermelon Gummies - Buy a pack of 10 for $5.00
When Charlie saw these watermelon gummies in the box, he literally squealed - he's gummy obsessed! To no one's surprise, these were his favorite item in the box as they were sweet with the perfect amount of sour, fun-shaped, and fruity. Hank sophisticatedly nodded his head in approval, and I concurred, but Charlie downed most of the package before we could even look in the direction of the bag for seconds.
Mastic Toffees 
Oh my. Did you try these? I have to know what you think. I have tried these good old "Mastic Toffees" in the past and didn't like them then, but thought I'd give them another chance. Well, folks, my taste buds have not changed....these still tasted like I was chewing on a pine bough. Sweet, with an earthy pine flavor, these reminded me of a "spruce gin cocktail" my husband once ordered me. Let's just say I have done my own ordering since......
Melon & Lime Chews 
Now we're talking. These melon and lime chews were much more my style. Sweet and mild, these chewy little bites really tasted like a honeydew melon mixed with lime. The kids loved these and thought the John Deere color combo was amazing.
Toasted Paprika Corn Nuts 
Growing up I hated corn nuts. I think it was more because of the smell than anything, but I pretty much steered clear of those things. Because I have a rule that I will try everything I am sent in this box, I grudgingly gave one kernel a try...and guess what? I LOVED it! Covered in Turkish paprika, these corn nuts are spicy, and I love everything about them....except the way they make your breath smell! That aside, my kids thought these too were amazing and asked to divide them up so they could each take some for a snack at school. Yum!
Date Ma'amoul Cookies - Buy a pack of 4 for $4.80
Growing up, if my grandma didn't have homemade cookies in the cookie jar, she always had a package of Nilla Wafers or Fig Newtons sitting in her cupboard. We had to be really desperate for something sweet to open up the Fig Newtons, but as I have gotten older I have become more fond of the flavor. These cookies look just like the traditional Fig Newton but are stuffed with real dates. There is definitely a difference, and I couldn't stop eating these. The soft, sweet dough and the fresh, sweet dates really came together for the perfect change of pace, and let's just say I ate more than my fair share.
Ice Cream Gummies - Buy a pack of 6 for $5.40
Boy, I thought Charlie was excited when he saw the watermelon gummies....you should have seen him when he caught a glimpse of these! Coming in blueberry, strawberry, and vanilla flavors, we loved them all. While they didn't taste like an actual ice cream cone, the flavors were bright and yummy (including the caramel flavored cones) and were really fun to eat. Send us all the gummies, please!
Honey Mustard & Onion Rice Cakes - Buy a pack of 6 for $4.80
Honey mustard is one of my go-to condiments so I was excited to experience it combined with a corn and rice cake. Mixed with onion, the honey mustard really showed through, for an unexpectedly tasty treat. Though I usually associate rice cakes with stale chips, this version was well flavored and actually was a nice change of texture for me. The kids did not appreciate this Yum, thinking the flavoring was too strong, so they let me have the bag to myself....such gentlemen I have!
Orange & Cocoa Cookies - Buy a pack of 10 for $5.00
Lastly, we received these beautiful orange and cocoa cookies. I thought the mosaic cookies were pretty, but I have to say the fancy edges coupled with the orange jelly and light addition of sprinkles make these the cutest treat in the entire box. Normally chocolate is my go-to for a dessert, but I fell in love with these cookies. My grandma loved making orange cookies, and always had a box of those chocolate orange sticks laying around, so I'm not sure if it was the nostalgia I was hungry for, but either way, I was definitely a fan of these.
The Verdict: The Turkey Universal Yums box was one of our favorites this month! Usually, we like most items and have a few things were really don't care for, but this month we liked everything except for the Mastic Toffees. What a win! Not only were the treats tasty, but we also enjoyed the balance of sweet to savory items. I love the fact that we get to experience a new country each month without getting out of our pajamas. I can't wait to see what next month might bring. Where do you think we will be headed? 
Scorecard Picks:
Best Yum: Date Ma'amoul Cookies
Runner-up: Orange and Cocoa Cookies
Worst Yum: Mastic Toffee
Most Unusual: Honey Mustard and Onion Rice Cakes
To Wrap Up:
Can you still get this box if you sign up today? No. Each month they ship your box no later than the 15th day of the month. The first month you will receive a box varies based on availability and may depend on your order's size.
Value Breakdown: This box is $27.00 per month (including shipping). I received 19 individually wrapped snacks which average out to $1.42 per item.
Check out all of our Universal Yums reviews and the best snack subscription boxes!
Keep Track of Your Subscriptions: Add this box to your subscription list or wishlist!
Which Universal Yums snack would you most like to try?