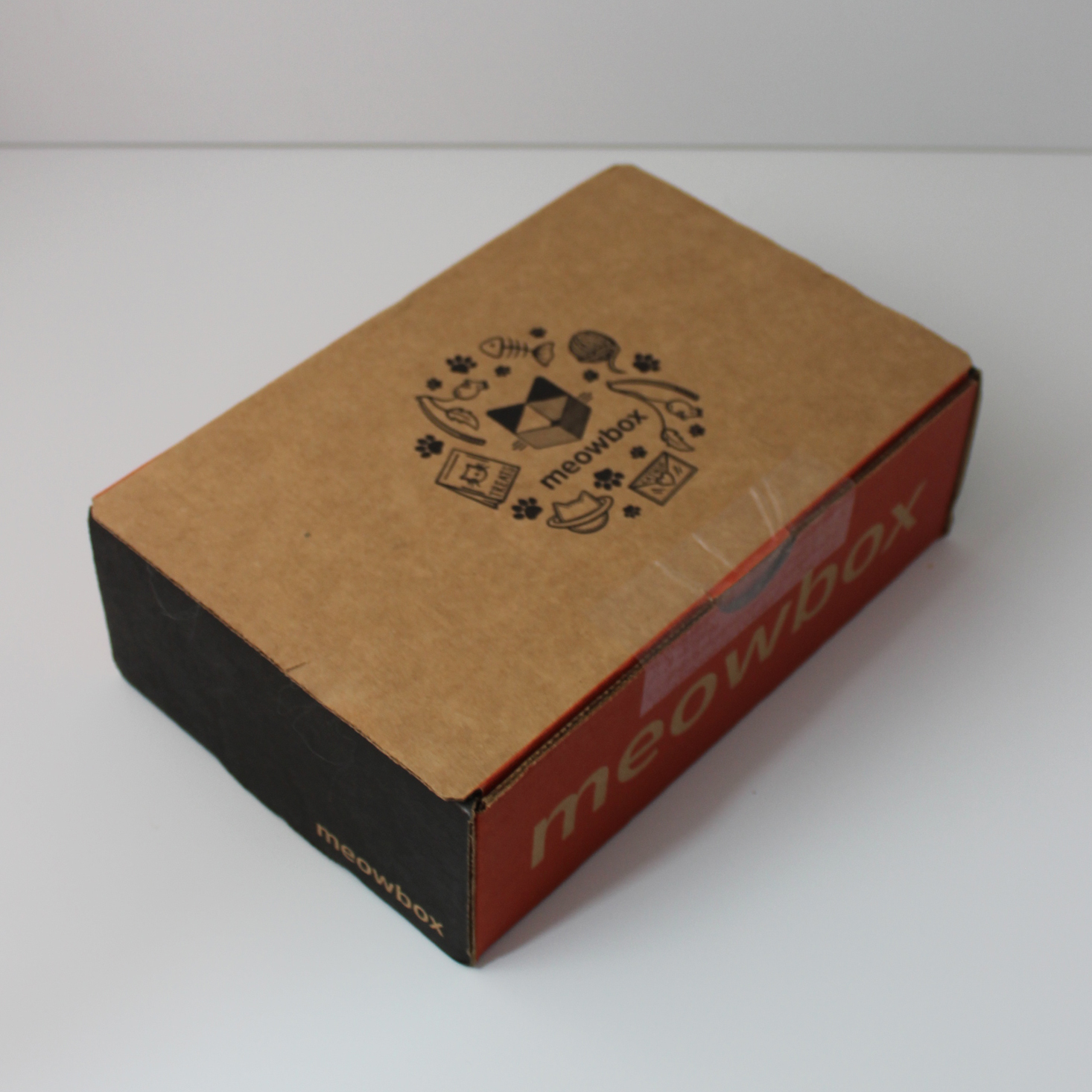 meowbox
15 Ratings | 2 Reviews
meowbox is a monthly subscription box for cats filled with fun, unique toys, and natural, grain-free, organic, and/or locally-made treats.
FYI, COVID-19 Update: meowbox is currently experiencing some shipping delays. Please allow an extra 5-7 days for delivery! Also, one item from the box was a bit late from the manufacturer this month, so it shipped about a week later than usual.

My Subscription Addiction paid for this box. (Check out the review process post to learn more about how we review boxes.)
They even put your cats' names inside the lid!
About meowbox
The Subscription Box: meowbox
The Cost: $22.95 a month with free shipping. You can also choose bi-monthly deliveries with free shipping.
The Products: 5-7 toys and treats per month for your cat.
Good to Know: meowbox will substitute non-food items for cats with special dietary requirements. (There is a box to check during the signup process if you want to do this.) And for every meowbox you buy, they give one can of food to a shelter cat!
Ships to: The U.S. and Canada for free
meowbox January 2021 Review
meowbox has a lot of exclusive toys that are usually pretty popular with my cats. From my perspective, it's nice to see some things that don't turn up in other cat subscription boxes:
The information card typically just gives a URL for finding out more information about the items in the box. The illustration is adorable, as usual. This month had a workout theme.
On to the items:
Kitty Kettlebell Cat Toy
This is pretty cute (maybe I think so because I have a lot of real kettlebells and I use them regularly, although not 20 kg, as 10 kg is about my upper limit at the moment…). It has a soft, fuzzy texture and the boys (Madison and Monkey) liked rubbing their faces on it. It is a catnip plush toy (i.e. has stuffing) and seems to be well made, and a good size for cats to toss around on their own.
Avocardio Cat Toy
I also think this one is adorable. Meowbox frequently has very cute toys (I'm sure putting a face on everything helps…). My cats were mostly interested in the arms and legs on this one (don't worry, they are attached well). This one has a similar texture to the kettlebell and is in the same ballpark in terms of size.
Vermont Homegrown Dumbbell Cat Toy
There's often one handmade toy in the box. Unfortunately, it is a bit difficult to find information on this company because most of the Google search hits are for a cannabis company of nearly the same name. Anyway, this is a felt toy filled with catnip and no other stuffing. It has kind of a big profile but is thin and not too heavy. Monkey likes these all-catnip toys the best out of my current crew.
Skippy Kitty Rope Cat Toy
This month we did not get a wand or dangler (you often do) but we did get this rope, which has a lot of similar qualities. The handles remind me a little of dental toys with netting on them (no idea if such things actually clean the teeth). This was a favorite of Sneaky's; she's really my only wand cat at the moment.
My Mighty Lion Lick'n Chicken Recipe Cat Treats (2.65 oz) – Estimated Value $2.93 ($3.75 Canadian, found here for $3.38 Canadian)
These treats were well-liked by all three of my cats. They are Canadian so they're not practical to get in the U.S. unless they show up in the meowbox shop, but they're not currently listed there. They are semi-moist, grain-free treats and they do smell a little but it's not too bad (at least it's not fish). We've had these before and if you seal the bag properly they will last a long time without drying out.
Kitty pictures:
(Madison is black, Sneaky is calico, and Monkey is tan and white.)
Verdict: I couldn't calculate a total value for January's meowbox because the items weren't all yet for sale in their shop. This was a fun month from meowbox. As always, all the toys fit the theme nicely, and I appreciated the variety of toy types and textures (so did my cats). The treats were a big hit as well.

To Wrap Up:
Can you still get this box if you sign up today? It is too late for the January box, so your subscription would likely start with the February box.
Value Breakdown: At $22.95 for the subscription plus free shipping, you are paying approximately $4.59 per item.

Check out our past meowbox reviews and other great cat subscriptions in the Pet Subscription Box List!
Keep Track of Your Subscriptions: Add this box to your subscription list or wishlist!
What did you think of the January 2021 meowbox? Do you subscribe to any cat boxes?