Home Chef
30 Ratings | 18 Reviews
Home Chef is a meal kit subscription that delivers a weekly box of the pre-portioned ingredients needed to make 2-6 meals that feed two, four, six, or eight people. Home Chef advertises easy recipes that can be made in about 30 minutes. They say their ingredients are fresh (though they don't provide a lot of information about their sourcing practices), and they offer vegetarian, gluten-free, and calorie/carb-conscious recipes.
This is a review of my customized delivery that includes two 2-serving dinner options (at $9.95/serving) for two people, and one 6-serving dinner option ($7.49/serving) for the week ($84.74).
Delivery is free for orders over $49. Shipping is $10 for orders less than $49.
My Subscription Addiction paid for this box. (Check out the review process post to learn more about how we review boxes.)
About Home Chef
The Subscription Box: Home Chef
The Cost: Meals for 2 start at $6.99 per serving, and delivery is free for orders over $49. Shipping is $10 for orders less than $49.
The Products: Fresh ingredients and chef-designed recipes—everything you need to make restaurant-quality meals at home.
Ships to: 98% of the U.S. You can check to see if Home Chef delivers to your zip code while signing up.
Home Chef February 2020 Review
When you first sign up for Home Chef, you take a short quiz about your meal preferences and dietary restrictions. They ask what you like to eat, as well a what you tend to avoid. Based on your answers, Home Chef will choose recipes for you to get each week. As is the case with most meal kit services, you can log in and hand-select the recipes you'd like to receive. Note though, that the more particular you are with your diet, the fewer options you'll have.
Let's take a look at what was in our green "delicious deals" envelope:
The last few months, there have been almost a library of promo cards. It was refreshing to only see three this time around! We have appearances from Grove Collaborative, Geico, and Naked Wines, which Megan can tell you all about.
So, about the packaging situation...
If you've been here before or are already a subscriber to this meal kit, it's business as usual. If you're new here, welcome—and allow me to explain! The box was cushioned and insulated with packaging comprised entirely of recycled water bottles. The whole lining can be placed in a curbside recycling bin, in locations that accept RIC 1 recyclables. How easy is that?
Beneath the insulated flap lies all of this month's meals, neatly packaged into individual, recyclable bags with convenient handles and slide-zip closures. Underneath the ingredient bags is another cardboard divider that keeps the meats separated from everything else and chilled with the help of a reusable/recyclable ice pack.
As previously mentioned, every Home Chef meal comes in a plastic bag, except for the meat and some ingredients that are too large (such as ears of corn). Most things tend to fit, though.
The bags are also labeled with the title of each recipe for clarity. They really thought of everything!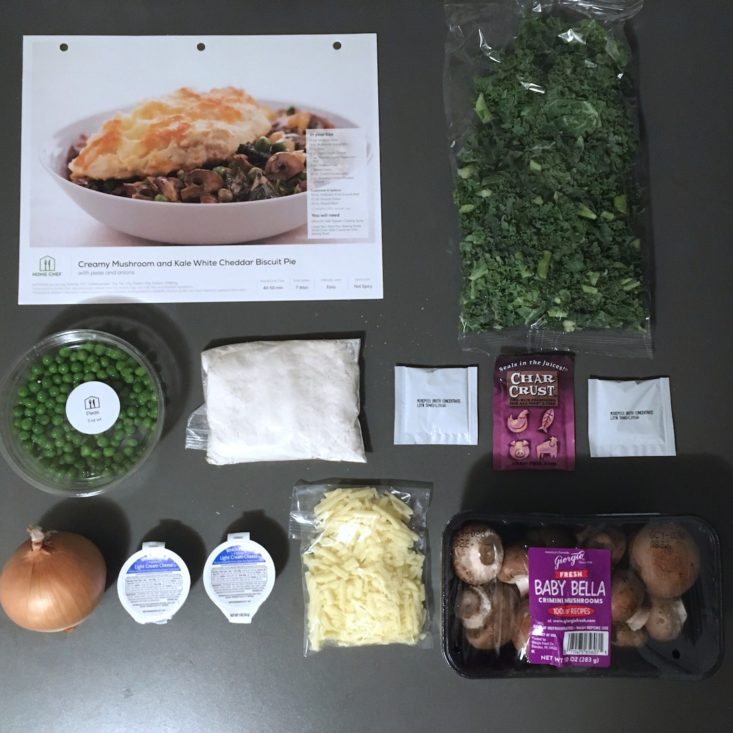 Meal #1: Creamy Mushroom + Kale White Cheddar Pie with Peas + Onions
Calories: 571 per serving
Time to Table, According to Home Chef: 40-50 minutes
Actual Time to Table: 55 minutes
Cook within: 7 days
Difficulty: Easy
Spice Level: Not Spicy
When I was perusing my options for this month's review, this pie had my guy's name all over it. He loves biscuits like no other and is really fond of vegetarian meals. I also like both of those things, so everyone wins!
Like any meal kit, I started by rinsing off the kale in a wire mesh strainer and cleaning all the 'shrooms with a damp paper towel. The recipe suggested quartering the mushrooms but I prefer them sliced, so I did that and chopped the whole onion. Super easy!
In a large non-stick pan over medium-high heat with a touch of olive oil, I cooked the mushrooms for 6 minutes, largely leaving them alone so they could brown nicely. To the mushrooms, I added the onions and kale for another 6 minutes until the kale wilted and the mushrooms softened. Greens and mushrooms are some of the most commonly-used produce in my own cooking, so this dish already appealed to me greatly.
To the veggies, I added 3/4 cup water, the mirepoix base, peppercorn rub, cream cheese, a pinch of salt, and a pinch of pepper. The pan was pretty hot at this point so it didn't take long for the cream cheese to melt down and for everything to come to a simmer. I let the sauce thicken for 4 minutes before killing the heat, then stirred in the peas and half of the shredded cheddar. Looking beautiful!
While the vegetables were simmering, I combined the biscuit mix with 1/4 cup of water, then stirred until a dough formed. I could've gotten away with adding more water but was afraid of making it weird, so I left it a little crumbly.
The recipe suggested using a 1-quart casserole dish, but I only had this 3-quart 9x13" dish handy and figured it'd be fine. I poured in the veggie and sauce mixture, tore off some of the dough into little blobs on top, and finished everything off with the remaining shredded cheddar. Everything went into a 400 degree F oven for 21 minutes until the biscuits were a gorgeous golden brown.
Now, I knew this recipe was going to be good, but I didn't expect it to totally blow me away. Imagine my delight when it did just that! The veggies were tender and the biscuits were perfect for sopping up the delicious, savory sauce. I was pretty surprised by how filling the portion size was as well. This was such a hearty, comforting dish that you could serve it to a diehard carnivore and they'd never notice the meat was missing. Well done, Home Chef. Well done.
Meal #2: Meatballs Marsala with Campanelle Pasta + Peas
Calories: 612 per serving
Time to Table, According to Home Chef: 60+ minutes
Actual Time to Table: 4 hours and 23 minutes
Cook within: 5 days
Difficulty: Easy
Spice Level: Not Spicy
Last month I finally went for one of the 6-serving offerings from Home Chef and it was great! For this type of meal, it's $7.49/portion compared to the standard $9.95/portion for two-serving meals. I thought it was really nice having all of those leftovers to enjoy throughout the week. When I saw Home Chef is now offering slow cooker meals, you know I had to give one a try. I love my veggie-patterned crockpot, though admittedly, I don't use it nearly as much as I should, so I was pretty excited to bust out the ol' gal and see what happens.
I was feeling pretty terrible the day I made this dish, so the less work I had to put in, the better. After cleaning the mushrooms with a damp towel, I gave them a quick slice. Then, in a mixing bowl, I combined the ground beef with the seasoned panko, 1/4 tsp salt, and 1/4 tsp pepper. The recipe suggested forming the mixture into 12 evenly-sized meatballs, but I was able to make 20! They weren't quite bite-sized, but perhaps enough for two bites.
As I was unboxing this meal, I thought, "why did Home Chef send me this random plastic bag?" Turns out, it's a crockpot liner! I've never used one of these before and almost didn't use this one because of the horrific visions that pranced through my head: melted plastic ruining six servings of delicious food, the destruction of my cherished vegetable-printed appliance, chaos reigning for all eternity... But for the sake of review, I called upon my bravery and used it anyway.
It took some trial and error to get the liner on properly but I got it. To the crockpot, I combined 1 cup of water, the marsala wine, demi-glace, flour, 1/4 tsp salt, and 1/4 tsp pepper, then whisked it all together. When the sauce was nice and smooth, I threw in the mushrooms and topped them with the pearl onions and all 20 of my little meatballs. All that was left to do was put on the lid, crank the heat to high, and hang out for the next three and a half hours. It was the perfect window of time to do a load of laundry, vacuum my home, and melt into the couch while enjoying season 6 of RuPaul's Drag Race. A Sunday well spent, if I do say so.
At the 3.5 hour mark, I placed a large pot of salted water on the stove to boil, then cooked the pasta for 6.5 minutes until nice and al dente. The recipe suggested 8-10 minutes but that would've been too long for my tastes. Your mileage may vary. I was sure to save 1/2 cup of the pasta water before straining it, which you can see in the left corner.
My meatballs cooked up so nicely! Also, the rich scent of the marsala and demi-glace made my home smell like a savory paradise. At the 4-hour mark, I stirred in the peas, pasta, and pasta water.
Revisiting these images while writing this review is making my stomach growl all over again! I was so pleased with how this meal turned out and how little it asked of me. It was incredibly savory, hearty, flavorful, and downright comforting on a dreary winter Sunday. My dinner partner and I got about 5 total servings from this meal: one bowl for each of us to start, then he got seconds, and we ended up with 2 generously-sized containers of leftovers to enjoy for lunch the next day. They reheated very well! I wasn't too crazy about the pearl onions, so if I were to attempt this again in the future, I'd just opt for sliced onions instead. It's a minuscule complaint for such a divine meal.
Meal #3 (that I ordered): Green Chili Chicken Thigh Tostadas with Corn + Cheddar Cheese
Meal #3 (that I received; details below): Italian Sausage Stuffed Mushroom Pasta
Time to Table, According to Home Chef: 10-15 minutes

Actual Time to Table: 47 minutes

Difficulty: Easy
Spice Level: Mild
All right, I have some explaining to do. As I was unboxing this delivery, I received a bag of ingredients for Italian Sausage Stuffed Mushroom Pasta even though I had ordered the Green Chili Chicken Thigh Tostadas. The funny thing is, I was considering ordering the pasta dish but opted for the slow cooker option instead. Were they reading my mind? I also received the chicken thighs for the tostadas instead of the Italian sausage for the pasta. So, I reached out to the kind folks at Home Chef with my situation and they replied within minutes with a generous apology and quickly credited $19.90 back to my account. Home Chef's customer service has always been excellent, this time especially so. I let them know the food wouldn't go to waste and decided to forge ahead with what was given to me.
All I had to do for prep work was chop up the green onions and separate the hollow tops from the solid ends. Because I'd received chicken thighs instead of the Italian sausages, I patted them dry on a plate and seasoned them with salt and pepper, which is the standard protocol for poultry ingredients in Home Chef recipes.
In a very small non-stick pan with a little bit of olive oil and the butter packet on medium-high heat, I toasted the panko for 2 minutes until slightly browned. From there, I killed the heat and stirred in the tops of the green onions and all of the red pepper flakes. I don't normally get so heavy-handed with the RPF after compromising quite a few recipes in the past, but the flavors of this dish seemed on the mild side without the sausage, so why not get a little spicy, right?
In a large non-stick pan with a touch of olive oil on medium-high heat once more, I let the mushrooms cook undisturbed for about 4 minutes. The next step was to add the sausage and green onions, but I didn't feel right cooking the chicken with the mushrooms for some reason, so I opted to cook them in another pan off to the side and to let the mushrooms and green onions do their thing for longer than suggested since there was plenty of time. It felt like it took one eternity for the chicken thighs to cook in their own pan, but once they were ready, I mixed them into the veggies, then added in the chicken base, 1/4 cup water, and cream cheese. Once the cream cheese melted and the sauce simmered for 2 minutes, I stirred in the pre-cooked pasta.
Voila, my finished dish! I thought this meal did just fine with the chicken thighs in place of the Italian sausage, though I do see what some additional spice from the sausage would've done for the flavor profile. Regardless, the toasted breadcrumbs with the green onions really set this recipe over the top. It was creamy, filling, and just like the other dishes before it, really comforting. Also, I realize all three recipes I cooked this month have similar (if not identical) ingredients and are close in appearance, but sometimes, the heart wants what it wants, and for this month, my heart wanted mushrooms, greens, and soul-soothing carbs.
Verdict: Home Chef is my greatest treat every month. Even though there was a recipe snag this month, I still loved the dish and was once again completely delighted by HC's customer service. I'll definitely be opting for more slow cooker meals down the line! The convenience and leftovers were completely worth it and I recommend giving one a try. My overall cost for this month was more than my typical total ($84.74 compared to $59.70) but that's because of the 6-serving dish at $7.49/portion. This delivery included ten portions across all 3 meals, bringing the cost to $8.47 per serving, which you'd be hard-pressed to find with takeout meals of equal quality. For budgetary reasons, I don't recommend Home Chef as the exclusive source of your meals, but as a monthly supplement to what you're already eating, it's fabulous.
To Wrap Up:
Can you still get this box if you sign up today? Since Home Chef menus change weekly and you must choose them ahead of time, you won't be able to order these dishes unless they are offered again in the future.
Value Breakdown: At $84.74 for this box, the 2-serving dinners were $9.95/portion and the 6-serving dinner was $7.49/portion (with free shipping). Per Marne's advice, it's always a good idea to get at least one add-on (or a third dinner) if you're only ordering 2 meals since it pushes you over the free shipping threshold. Why pay for shipping when you could just have more food, you know?
Check out all of our Home Chef reviews and find other meal kit boxes in this list recommended by MSA readers!
Keep Track of Your Subscriptions: Add this box to your subscription list or wishlist.
How has your Home Chef experience been?