Vintage Bead Box Subscription Review – December 2019
Vintage Bead Box is a monthly DIY craft subscription box providing you with beads and findings manufactured between about 1930 and 1970.
My Subscription Addiction pays for this subscription. (Check out the review process post to learn more about how we review boxes.)
About Vintage Bead Box
The Subscription Box: Vintage Bead Box
The Cost: $25/month
The Products: Beads and findings made from a variety of materials (glass, wood, semiprecious stones, metal, acrylic, etc.). Most were manufactured between 1930 and 1970.
Ships to: The US (free), Worldwide (additional shipping charges will apply)
Vintage Bead Box December 2019 Review
All Vintage Bead Boxes are now themed. This month's theme was "Baby, It's Cold Outside":
There isn't a traditional information card with this box because, owing to the nature of the contents (i.e., limited supply), every box could be a little different.
A note on prices: Because these beads are vintage, they can't be purchased separately from any sources. Further, materials, country of manufacture, and more, can be a little difficult to determine precisely. Thus, I have opted not to provide prices in this review.
Please note that no directions are given and you have to supply your own needles, stringing materials, tools, and findings.
Faceted Glass Beads
You'll usually get at least one variety of glass beads in Vintage Bead Box. This month was heavier on the glass. Here are the first glass beads, some faceted white ones. I used some of these in a pair of earrings, which you can see below.
Faux Pearl Beads
Faux pearls are another Vintage Bead Box mainstay. I love seeing all the different sizes, shapes, and colors, as today's faux pearls tend more towards classic round styles. These have an interesting texture and I made dangles out of a couple of them for use in earrings.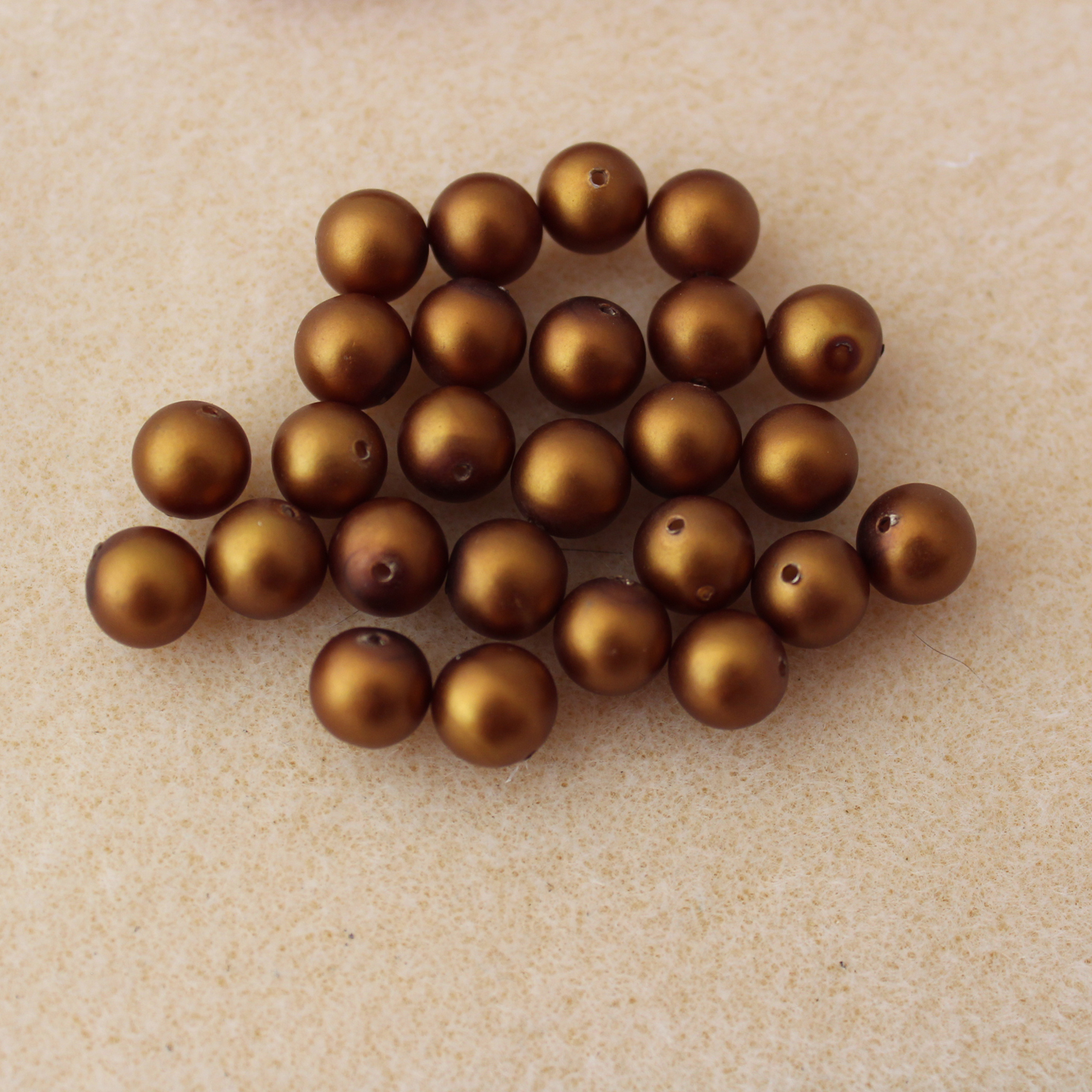 Faux Pearl Beads
Here is a second set of faux pearls. These are such a warm color and could work for so many different occasions depending on what you pair them with. You could use them in place of a gold, or with some other earth tones (like some brown jaspers and/or agates), or by themselves in a bracelet with some brass spacers.
Wedding Cake Lampwork
I am not sure where "wedding cake" in the name of these comes from, but it is actually quite nice to get so many matching lampwork beads. I haven't had this many of the same kind before and am not yet sure what to do with them. (Usually, lampwork beads are expensive and larger and obtained in smaller sets of 2-7 beads.) I have a feeling the look will change a lot depending on what colors I match them with.
Metal Plated Glass
Something that seems to have been common decades ago but not so much anymore is metal plated glass or plastic. What's great about these is that they have the look of metal but are so much lighter, which expands the possibilities for use. I used most of these in some earrings this month.
Bead Caps
I think this is the first time I've received bead caps in Vintage Bead Box. They are pretty close to the metal plated glass in color so they could be used together. I have recently been collecting a lot of gemstone rounds, though, so these will probably get used with those to add some color and texture variety to a necklace or bracelet.
Glass Beads
These are a few different sizes and shapes of smooth red glass beads. I got so many beads in this box this month (10 items when usually there are 8 or 9) that I haven't gotten around to using them yet but I do think they are a lovely holiday color and I am a fan of red glass in general. Also I think they go quite nicely with numerous other beads from this shipment.
Frosted Acrylic Beads
Acrylic beads are also a Vintage Bead Box mainstay. Vintage acrylic beads are commonly available but they come in so many different sizes and shapes and colors, they're just a lot of fun. They're lightweight, which opens up a lot of possibilities for use. The frosted finish here kind of reminds me of ice or snow and the color is such that they'll really go with anything. They are graduated in size which suggests use in a necklace, so that's probably what I'll do.
Snowflake Obsidian
You'll usually receive a few semiprecious gemstone beads in this subscription. It's normally chips or rounds, so I'm happy to see these rough drops (not really sure what to call the shape). I have a fair amount of snowflake obsidian already in my collection which means it will be easy to find something to coordinate with them. This shape is a bit unusual and these are drilled at one end, so they would best be used in a necklace or some earrings.
Faceted Glass Beads
And last, but not least, another set of faceted glass beads. These are a lovely red color. There are enough that I could use them as a center row in right angle weave, if I'm in the mood for bead weaving, or they'd also work in a stringing project, perhaps with something black like onyx or obsidian.
Here is a project I did with some of this month's beads:
So first you see some tools I gathered; we'll get to the catnip bubbles in a minute. I used two types of wire, a 22 gauge for the earring part and a 28 gauge for the wrapping part. These are "jeweler's antique bronze" and I honestly don't remember buying them but I guess I did because I had them. They are from Fire Mountain Gems. I took some headpins in a similar color and made dangles out of two of the larger glass pearls. I cut two lengths of the 22 gauge wire and shaped it into a more round shape around the catnip bubbles bottle (really just here because it was the first cylindrical thing I saw in roughly the right size).

Ordinarily I would hit it with a mallet a bit to work-harden the wire (which was dead soft) but I didn't want to hit a plastic bottle, so just know that I did a lot of fiddling with the wire shape as I worked. Then I made a loop in one end of each wire and bent the middle to a point. Next I laid out the white faceted glass beads and metal plated glass beads to see how many I would want. I wrapped a bit of the 28 gauge wire near the point of the 22 gauge wire and started stringing and wrapping beads around the larger wire. I wound it around a few times when I was done, repeated for the other earring, and added the dangles. Then I did a lot more shaping to get them sort of even and cut off a bit of extra wire in the back so they weren't too long. Here is the end result:
Verdict: I did not calculate a value for Vintage Bead Box, as explained above, but if you divide the total cost by the number of items, you are paying about $2.50 an item. This seems quite reasonable to me. If you browse Etsy or eBay, you can find similar groupings of vintage beads and findings for prices ranging from $2-$7 (and beyond). There were so many round beads this month! I actually found that to be kind of a fun design challenge.

For what it's worth, everything arrives clean. I suspect at least some of it is from deconstructed vintage jewelry (but honestly, that is OK by me – I get fun beads and things stay out of the landfill). It is all clean and, so far, manufactured pretty well. Some beads show a little wear but that is part of the charm of working with vintage beads. Plus, a lot of the items are unusual and you'd have a hard time finding equivalents made from modern materials.

To Wrap Up:

Can you still get this box if you sign up today? This subscription ships very early in the month, so your first shipment if you signed up now would come in January. (Also, your box might not match mine exactly since many vintage beads are in short supply.)

Value Breakdown: At $25 for this box, you are paying about $2.50 per item.

Check out my past reviews of Vintage Bead Box and see more of our best arts and crafts boxes!

Keep Track of Your Subscriptions: Add this box to your subscription list or wishlist!

What did you think of the December 2019 Vintage Bead Box? Do you subscribe to any beading or craft boxes?
Vintage Bead Box
How do subscribers rate Vintage Bead Box?
---
Want more Vintage Bead Box? See our:

Never miss a post: get email alerts about Vintage Bead Box!

Enable notifications (

) to get the latest Vintage Bead Box spoilers, reviews, deals, and news delivered to your inbox.