Knit Picks "Fan Favorites" Subscription Box Review – July 2019
Knit Picks is an online yarn and knitting supply company that specializes in providing high-quality materials at a reasonable price. They recently launched a line of monthly subscription boxes featuring their products!
The options for boxes are as follows: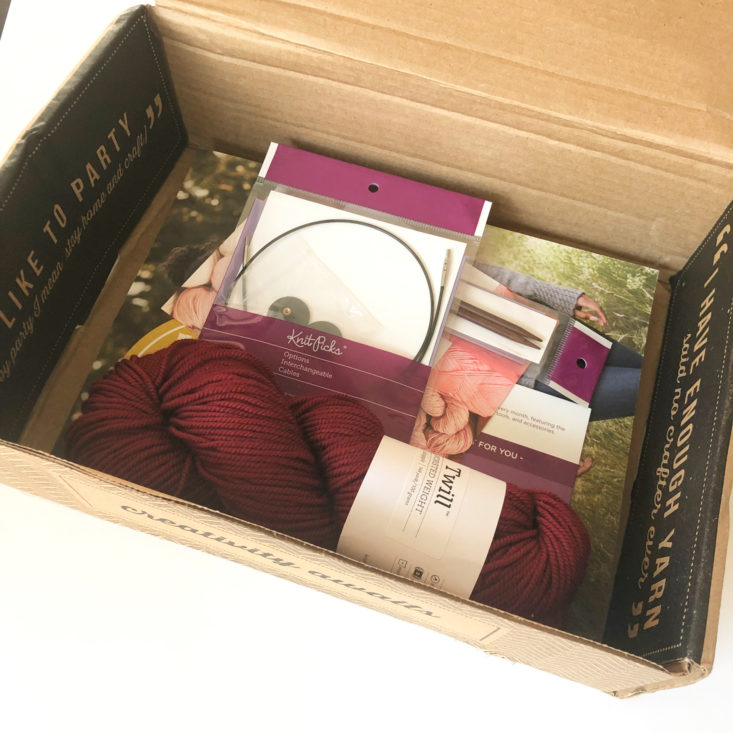 This review is of the Fan Favorites box, $48.00 per month. This is the box that won your vote last month! Vote in the comments for which box you'd like us to review next!
My Subscription Addiction paid for this box. (Check out the review process post to learn more about how we review boxes.)
About Knit Picks
The Subscription Box: Knit Picks Fan Favorites Box
The Cost: $48.00 per month + shipping (other plans available starting from $27.00, and save with longer subscription plans)
The Products: A surprise assortment of yarn, patterns, knitting needles and tools, and fun extras
Ships to: the US and worldwide
Knit Picks Fan Favorites July 2019 Review
Knit Picks is a fantastic online store for knitters and crocheters, and it's always been one of my favorite places to shop for yarn and tools! They recently launched a line of subscription boxes that feature different products from their in-house yarn and pattern lines. 
A card is included in the box that details the contents of this month's Fan Favorites Box. The description reads:
Kick off your summer crafting with a little bit of everything, including our brand new beautiful tropical hardwood needles, Cocobolo, and new staff favorite, Twill yarn.
There was a second card in the box that goes into more detail on each of the different boxes available. MSA plans to review a different box type from Knit Picks each month, and we are leaving the choice up to you! Please let us know in the comments below which box type you'd like to see reviewed for August!
Now, onto the good stuff – the yarn!
Knit Picks Twill Yarn in color Crabapple – Retail Value $12.99
The yarn sent this month is a gorgeous berry red color. The Twill base is a newer one to Knit Picks, and it looks absolutely lovely. The strands have a high twist and it's very bouncy and springy to the touch.
This is a worsted weight yarn and contains 149 yards in 100 grams. It is 100% superwash merino wool, and it feels very soft and not scratchy at all. It's machine washable, which is always great for any knitted items you wear a lot or anything you plan to gift!
Best of Knit Picks Pullovers and Cardigans book – Retail Value $34.99 (currently on sale for $23.99)
Instead of one pattern in the box this month, Knit Picks sent us a pattern book! This is the "Best of Knit Picks" and it features 10 sweater and cardigan designs. The book is 209 full-color pages, and I've included photos of each of the patterns below.
The book devotes many pages to showing full charts of the same sweater pattern in multiple colorways. While in theory, this is a nice idea, I feel like it is a little bit redundant. The charts and patterns are exactly the same for each of these iterations, and while it's nice to see different color options, the book devotes many, many pages to these separate charts.
There are some great sweater patterns in this book! All of the patterns are designed for Knit Picks brand yarn, but you can of course substitute yarn of your preference. My personal favorites are the Caddington Wrap and the Princess Pullover – I'm really into the textured stitches on both of these. Which pattern would you cast on first?
Knit Picks Cocobolo Interchangeable Tips, Size US 7 (4.5mm) – Retail Value $8.99
Knit Picks Options Black Interchangeable Cable, 32″ – Retail Value $1.99 (currently on sale for $1.59)
If you've been reading my Knit Picks reviews for a while, you know that I'm a huge fan of their Interchangeable Needle sets. This Cocobolo line is brand new to the shop, and my goodness – these needles are gorgeous! I love the warm wood color with the silver joins. They look very elegant, and they are made very nicely. I love how smooth the wood is – I have never experienced a snag or pull on my yarn from a Knit Picks wooden needle.
I used this set of needles for a new sweater project I'm working on, and I completely fell in love with them! I'm usually a die-hard metal needle fan, but these Cocobolo needles might just convert me to a wooden needle lover! I loved them so much that I bought the complete set… whoops!
We also received a 32″ black cable set that came with two end stoppers and a tightening key. I love that this subscription box sends needles and cables fairly frequently – it's a great way to build up your needle stash and try new things!
Since the yarn sent didn't directly correlate to the pattern book, I decided to use the yarn to make a quick hat. I used the Ravelry search function to find a hat pattern that used 150 yards of worsted weight yarn and settled on the Prim hat pattern by Andrea Mowry.
This yarn has been so wonderful to work with! It's so soft and bouncy, and I think it shows off the definition of the cables in this pattern. I also love the deep berry color – it's making me excited for fall now!
I had plenty of yarn in the skein to make this entire hat, and I even had a little bit left over. The hat is super stretchy and soft, and I love the fit of it. My favorite part of this design is the twisted stockinette – it's a new stitch technique to me and I love the fun texture!
Verdict: I thought this was a great Fan Favorites box! I really liked getting to try out brand-new items, such as the Cocobolo needles and the Twill yarn. I also appreciated that we got an entire book of patterns – this is a classic that I know I'll get a lot of use out of for years to come. 
For $48.00, we received one skein of yarn, a pattern book, and a set of interchangeable needle tips with a cable for a total retail value of $58.96. Knit Picks advertises the boxes as having a $60 value, so this is spot on with what they promise. If you know you are a fan of Knit Picks products, or you want to try new yarn and knitting/crochet items at a discounted price, I think this box has a great value!
To Wrap Up:
Can you still get this box if you sign up today? Yes, if you sign up before August 15th, you will get the July 2019 box—but act fast.
Value Breakdown: At $48.00, here's approximately what you are paying for each item:
Knit Picks Twill Yarn – $10.58

Best of Knit Picks Book – $28.48
Cocobolo Needle Tips – $7.32
32″ Cable Set – $1.62
Check out all of our Knit Picks reviews and the best arts & crafts subscription boxes of 2019!
Keep Track of Your Subscriptions: Add this box to your subscription list or wishlist!
What did you think of the July 2019 Knit Picks Fan Favorites Box? 
My Subscription Addiction is planning to review each of the box types on a rotating basis, and we are letting YOU choose which one we review next. Leave a comment below on which box you would like to see reviewed next month: the Fan Favorites box, the Skill Builder box, the Sock Yarn box, the Crochet Lover box, or the Sock Labs box! Thank you!
Knit Picks
How do subscribers rate Knit Picks?
---
Want more Knit Picks? See our:
Never miss a post: get email alerts about Knit Picks!
Enable notifications (

) to get the latest Knit Picks spoilers, reviews, deals, and news delivered to your inbox.